Oxford Cancer Centre Building, NHS Cancer and Haematology Centre Project, Design, Property Images
Oxford Cancer Centre
NHS Health Development in Oxfordshire, England – design by Steffian Bradley Architects
13 Mar 2009
Oxford Cancer Centre Building
Oxford's New Energy Efficient Cancer Centre Opens
The new Oxford Cancer Centre and adjacent facilities, designed by Steffian Bradley Architects will be opening its doors to its first patients on 16 March 2009.
The Cancer and Haematology Centre, which include surgery and diagnostic facilities and a private patient wing is part of the Oxford Radcliffe Hospitals NHS Trust.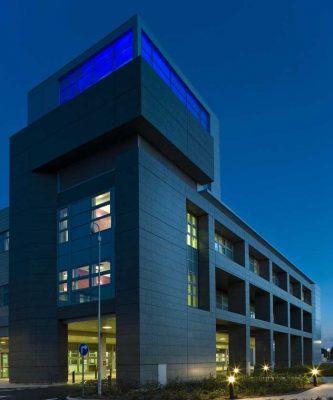 Photos SBA © Andy Spain
The award-winning Cancer Centre contains a range of environmental measures to make it one of the most energy efficient NHS centres in the UK. The 35,000m2, £109 million unit includes extensive use of natural lighting as well as a geothermal heating/cooling system that is the largest built in the UK to date. The hospital also features rainwater collection, passive solar shading and extensive natural ventilation. Once fully up and running, the building will require 70% less energy and emit 60% less CO2 than a conventional hospital of the same size. The Hospital won a CIBSE Low Carbon Performance Award in late 2008.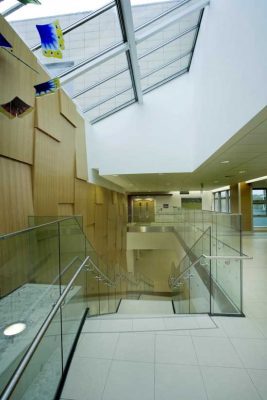 Central to the design is the welfare of the patients and staff, through the focus on natural light, air and materials. The architecture constantly connects to the outside world and nature, as this has been proven to greatly enhance the recuperation process of patients.
The building has a deep-plate ground floor, where much of the diagnostics is carried out, with three pavilions above, which each surround courtyards. All patient areas in the pavilions are naturally lit and ventilated, with corridors ending in windows, rather than blank walls and skylights are widely used.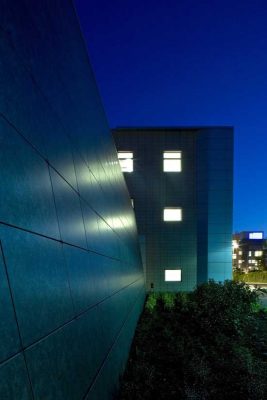 The new centre was 60% prefabricated off site, and has flexibility for 20% future expansion. The centre includes 6 LINAC radiation cancer treatment machines, 2 C.T. scanners (with computerised tomography), and gamma cameras.
Ron Vestri, Studio Leader at SBA, said:
"From a medical point of view, the design is cutting edge. A large element within this philosophy was getting as much natural light into the building as possible and enabling people to see pleasant views outside. If people can see green fields and smell fresh air they feel better. It's something built into our psyche."
Vickie Holcroft, Director of Relocation, Oxford Radcliffe Hospitals, said "We are immensely proud of our new facilities. It will deliver not only clinical excellence but also benefit our patients and staff in providing services in a beautiful, eco-friendly, light and natural environment".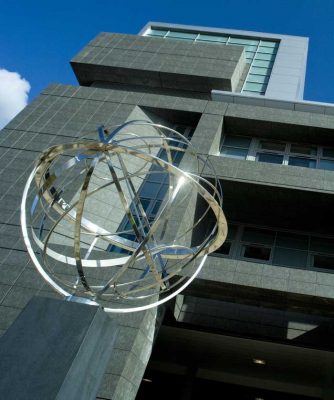 Oxford Cancer Centre – Environmental Credentials
Geothermal heating and cooling
Rainwater harvesting
Passive solar shading
BMS fully integrated with all FM, medical and communications systems
Extensive use of natural ventilation
Innovative design reduces installation time and cost
Flexibility for 20% future expansion
System resilience and standby capacity
60% prefabricated off-site service installation
Fully computer modelled thermal simulation and solar shading design
NHS Environmental Assessment (NEAT) "excellent" score of 71.59
Oxford Cancer Centre – Building Information
Architect: Steffian Bradley Architects
M&E consultant: Halcrow Yolles
Main contractor: Carillion
Structural engineer: WSP
Facilities management: GSL
M&E contractor: Haden Young
Oxford Cancer Centre Building information received 130309
Location: Oxford
Oxford Buildings
Oxford Architecture Designs – chronological list
Middle East Centre, St. Antony's College
Zaha Hadid Architects
University of Oxford Building
Selection of Hospital Designs
University College London Hospital
Maggies Oxford
Wilkinson Eyre
Maggies Cancer Centre Oxford
Selection of Cancer Centres
Maggies Cancer Centre Inverness
Comments / photos for the Oxford Cancer Centre Architecture page welcome
Website: Oxford