National Sawdust, NS Williamsburg Brooklyn Building, Manhattan Architecture Design
National Sawdust Brooklyn Building, NYC
New York Built Environment Project, NY Architecture design by Bureau V, USA
Dec 1, 2015
National Sawdust Williamsburg, Brooklyn
National Sawdust in Williamsburg, Brooklyn, NY
Design: Bureau V, Architects with SLAB Architecture and Arup, NYC
White maple performance floor: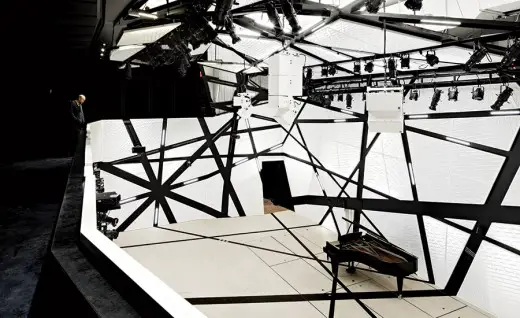 photograph © David Andrako, Brooklyn
Adopting the name of the factory once housed within the century-old building's shell, National Sawdust will provide composers and musicians a setting in which they can flourish, and a place where they are given commissioning support, mentoring and other critical resources essential to create, and then share, their work. For audiences—serious fans and casual listeners alike—the venue will be a place to discover genre-spanning music at accessible ticket prices.
Graffiti-covered former factory facade: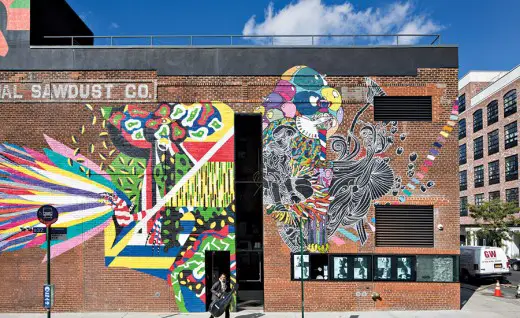 photograph © Floto + Warner/OTTO
Describing their design approach to the venue, Bureau V states, "In order to move forward, we decided to look back. At its core, the design of National Sawdust is a retooling of the 18th century chamber hall model as an incubator for new music." The wonderful anachronism of the chamber hall provides a simple but vital resource to musicians and composers of all genres: a home where they can dwell, compose, experiment, rehearse, record, and premiere new work. National Sawdust provides an extraordinarily intimate space—with a capacity ranging from 120 to 350—to experience genre-spanning music, at accessible ticket prices.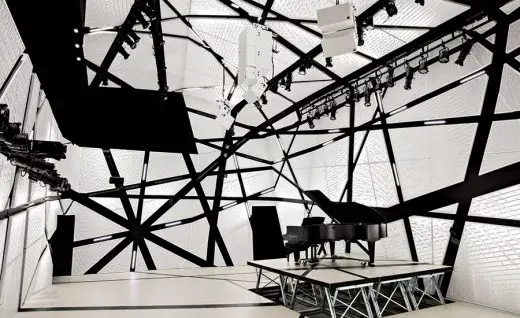 photo © David Andrako, Brooklyn
National Sawdust's design maintains the building's historic brick exterior while providing a refined new interior. Bureau V worked closely with acoustics and theatre teams at Arup, to devise an acoustically-driven chamber hall with a wrap-around balcony that accommodates 170 patrons in row seating, 120 patrons in cabaret seating, or up to 350 standing guests. With variable stage configurations that can be lowered flush with the floor, the double-height venue can also hold a 70-piece orchestra for rehearsals and recordings.
Interior view: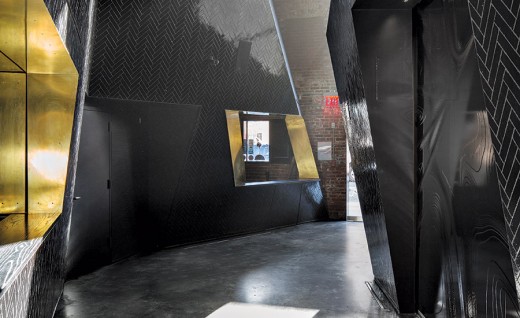 photo © Floto + Warner/OTTO
Characterized by the insertion of a highly articulated crystalline form into the rough brick envelope of a former sawdust factory, National Sawdust combines the historic European concert hall with the contemporary multi-media, blackbox theatre, where the reverence and splendor of the former meet the experimentation and candor of the latter.
With Arup's acoustics team, Bureau V devised a custom skin that wraps the interior, made of perforated metal and fabric composite panels supported by an intricate network of recessed channels. This skin system remains visually translucent yet acoustically transparent, enabling sound to travel through it freely, while generating a wrap-around sculptural enclosure, which creates a seamless experience for a wide repertoire of performance.
Bureau V wrote a series of custom software programs to help navigate and optimize this complex, three-dimensional interior membrane. This elision of design and technology allowed for the aesthetic and formal design to be thoroughly integrated with the critical requirements of the space. The hall's formal shape, structure, A/V infrastructure, spatial acoustic strategy, lighting requirements, and perforation pattern became one architectural system.
Upon entering the building, patrons first encounter a double-height, sculptural lobby space illuminated by a custom marble and neon chandelier designed by Bureau V. As the house opens, a 10ft x 10ft acoustically-rated, vertically-sliding door ascends to reveal the chamber hall. The door then closes to seal the room acoustically prior to performances. The building will also house two bars and a restaurant, also designed by Bureau V, featuring James Beard Award-winning chef Patrick Connolly.
Section: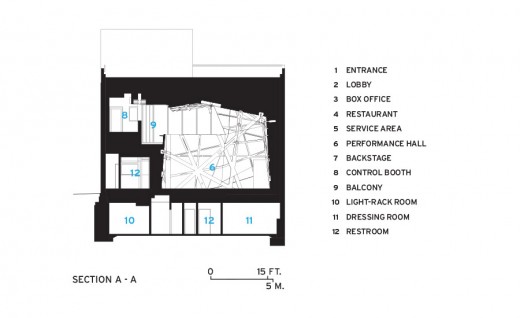 image © Bureau V, Architects
Plan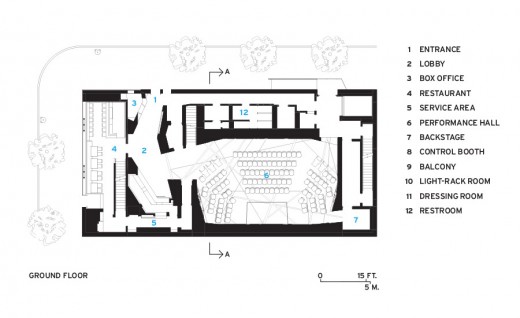 image © Bureau V, Architects
According to the Architectural Record, "Every part of the concert hall was determined by computer modeling and meticulous acoustic testing. In order to insulate the space from outside noise and vibrations, the performance hall has a multilayered concrete floor slab and concrete-block walls, isolated from the existing structure on a chassis of springs."
1 Sep 2015
National Sawdust Williamsburg, Brooklyn
National Sawdust in Williamsburg, Brooklyn, NY
Design: Bureau V, Architects
NATIONAL SAWDUST, THE HIGHLY ANTICIPATED, NON-PROFIT
MUSIC VENUE DESIGNED BY BUREAU V
TO OPEN OCTOBER 1, 2015
IN WILLIAMSBURG, BROOKLYN
80 North 6th Street (at Wythe Avenue), Brooklyn, NY
BROOKLYN, NY – (September 1, 2015) – Bureau V, the multi-disciplinary architecture practice that designed the non-profit music venue National Sawdust (NS), is pleased to announce that the $16 million, 13,000-square-foot, state-of-the-art space will open in the culturally vibrant Williamsburg section of Brooklyn on October 1, 2015.
The chamber hall will feature custom chairs designed by Bureau V, which combine audience and musician ergonomics with the aesthetics of the project.
With acoustics, audio-visual and theatre designed by Arup, National Sawdust provides an intimate and enveloping audience experience, with an optimized balance of variable sound absorbing, diffusing, and reflecting surfaces, and state-of-the-art performance, recording, and broadcast technology. The result is a rich auditory experience to accommodate a range of repertoire, both amplified and unamplified.
The chamber hall is housed in a solid concrete shell floating on spring isolators. This "box-in box" construction allows the entire space to achieve the low background noise levels consistent with the world's finest recording studios (PNC 15). In addition, the building is connected via audio, video, and data tie lines. This point-to-point infrastructure allows an engineer to be situated in either the sound and light control room or the production room and record artists in all the interior spaces.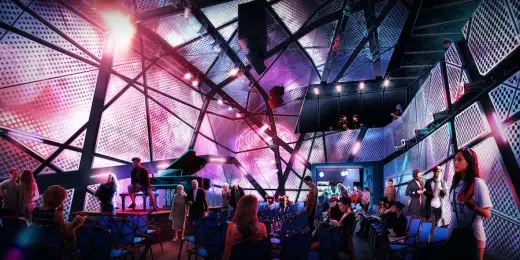 rendering Courtesy of Bureau V
Bureau V was also a vital part of the development of National Sawdust as an organization [formerly known as Original Music Workshop (OMW)]. Bureau V met Kevin Dolan, National Sawdust's founder, in 2008 and worked closely with him to establish the nonprofit and to find the site for its new home. With Dolan and Paola Prestini, Bureau V has helped to develop the non-profit's mission and program and has been instrumental in the fundraising campaign for the venue's opening.
Bureau V's Peter Zuspan, who is also the Secretary of the non-profit's Board of Directors and a curator at National Sawdust (as well as a trained opera singer), says, "to be a part of this project from its conception through its forthcoming completion, and now to be part of its future has truly been a dream. For National Sawdust's founder, Kevin Dolan, to have trusted a young and largely untested studio, who had never built a building, with the design of a project like this one is a testament to his vision. I know of no other institution that supports and takes risks on young artists with this level of commitment."
National Sawdust Programming
Curated by composer Paola Prestini, National Sawdust's Creative and Executive Director, National Sawdust's opening night performances will showcase the acoustics of the chamber hall, with performances by NS advisory board member Nico Muhly; NS curators Theo Bleckmann and Jeffrey Zeigler; NS group-in-residence ACME; and special guests including Bryce Dessner, Stephen Gosling, Cibo Matto, Nadia Sirota, Tanya Tagaq, and Chris Thile (Punch Brothers).
Prestini explains, "National Sawdust is a home for curious artists and listeners. Our hope is to create a place where artists and audiences can learn, explore and listen creatively. I want to give other composers and artists the kinds of opportunities that would have helped me when I was an emerging artist in my 20s. I believe that by giving artists the reins to program the space and by lending support to their projects in the early phases of development we will make a unique contribution to New York City's musical ecosystem."
Please see nationalsawdust.org for a schedule of upcoming events.
Prestini has assembled a wide range of composers, musicians, vocalists, multimedia artists and others to serve as curators of the venue. In keeping with National Sawdust's emphasis upon fostering new talent and sharing it with audiences, curators will bring promising emerging artists to the venue.
Among the NS curators sharing their favorite artists with audiences this season are Mexican jazz singer Magos Herrera, who brings to the venue the great Spanish guitarist and producer Javier Limón for an October 15 performance with her and a global array of other artists, including the seminal Argentinean rock singer-songwriter Fito Paez, in support of the United Nations "He for She" campaign for gender equality. Herrera has also invited acclaimed musician and composer Oran Etkin to present his pioneering children's music education program Timbaloolo, on October 18; and the Elio Villafranca Quintet, which will perform music by Chick Corea on November 5.
The composer David T. Little brings his ensemble, Newspeak, to join NS partner the Choir of Trinity Wall Street for the U.S. premiere of Tim Brady's Symphony No. 3 on October 29; and curates a night (December 16) of the Winterreise festival NS presents this season. Cellist Jeffrey Zeigler brings the HKZ Trio, his collaboration with pianist Hauschka and percussionist Samuli Kosminen, on October 28; and presents a concert by jazz trumpeter John Korsrud and the Eco–Music Big Band on November 6. Percussionist Ian Rosenbaum presents violinist Kristin Lee in concert with "hacked theremin" player Jakub Ciupinski on November 5. Composer Anna Clyne curates a Words and Music event in which violinist Keir GoGwilt and composer Matthew Aucoin will offer works that blur the boundary between music and poetry, on December 10.
Several NS curators will perform in the inaugural season, including Helga Davis, Simone Dinnerstein, Rinde Eckert, Reggie "Regg Roc" Gray, Magos Herrera, Julian Crouch & Saskia Lane, Mark Stewart, and Jeffrey Zeigler, in addition to Theo Bleckmann.
The fall season features two works commissioned by the venue: Alicia Hall Moran's The Five Fans, which combines various musical styles and will unfold over five evenings beginning October 19; and Persona, which Beth Morrison Projects, a NS group-in-residence, is producing and co-commissioned with the venue. Persona, adapted by acclaimed opera and theatre director Jay Scheib from the Ingmar Bergman screenplay, features composition by Keeril Makan and music direction by Evan Ziporyn. Performances will take place October 23 & 24.
The opening month also includes festivals of work NS advisory board member Terry Riley, celebrating his 80th birthday year (October 3-5); and John Zorn (October 9 & 10 and 30 & 31).
NS will award residencies to several artists and groups each season. One of these, the Trinidadian poet Roger Bonair Agard, will perform in the opening ceremony on October 1. Composer, drummer and Wilco member Glenn Kotche will create an installation as part of a Community Day taking place October 4. The Norwegian string orchestra 1b1, an inaugural season group-in-residence, will feature works from the Oscar-winning Italian film The Great Beauty, on November 13, joined by the Choir of Trinity Wall Street. Alicia Hall Moran is developing her National Sawdust-commissioned work The Five Fans in a residency at the venue. Johnny Gandelsman, of group-in-residence Brooklyn Rider, continues his exploration of Bach's solo works in a concert on October 25.
NS will also serve as a place for a broad spectrum of partner companies, organizations and festivals to foster the development of new works and innovative programs. VisionIntoArt will be National Sawdust's resident multimedia company, focusing on the development of interdisciplinary work and mentorship of collaborative process. The Choir of Trinity Wall Street makes several appearances this season. American Composers Orchestra (ACO) will co-present two events on October 17 as part of SONiC (Sounds of a New Century), its citywide festival of 21st century music by composers age 40 and under.
The New York Philharmonic extends the reach of its new music series CONTACT! to Brooklyn by presenting three events at National Sawdust in 2015-16, beginning with "Young Americans," a program including works by Adam Schoenberg, Nathan Heidelberger, Caroline Mallonée and Kate Soper. (Esa-Pekka Salonen hosts the second and third concerts, in February and March 2016.) NS partners with The New Museum's NEW INC on Afripedia (November 14 & 15), a new film/music series exploring creativity in an evolving Africa. Other partners include Kickstarter and BOMB.
Details for National Sawdust +, a series of conversations and concerts created by Elena Park, will be announced soon. The Directors' Series and The Writers' Series will give leading artists, from prominent British auteur Richard Eyre to innovative American director Michael Mayer, a platform to share their musical passions with the Williamsburg audience; they will curate and host concerts that showcase works they love and musicians they admire. National Sawdust Talks, on Sunday afternoons, will bring together artists and thinkers in surprising conversations.
About the Innovative Fundraising Model That Made National Sawdust Possible
National Sawdust founder Kevin Dolan, a tax attorney and amateur musician and composer, purchased the property in 2009. Of the $16 million needed to construct National Sawdust, Dolan contributed an initial sum towards building acquisition, design, and reconstruction of the core and shell of the building. To raise the balance for the interior build-out, he appealed to others to join him as Philanthropic Investors. In exchange for their investment, the Philanthropic Investors co-own the building, provide National Sawdust rent-free use of the space, actively nurture the non-profit and, after a period of years, will either choose to contribute their interest in the building to National Sawdust or sell their interest to National Sawdust or the other investors at a pre-determined yield.
Once Dolan appointed Paola Prestini as Creative Director in 2012, he, Prestini and Zuspan worked to raise the $8 million needed to supplement Dolan's contribution and open the venue. In a rare feat, National Sawdust has raised all of its construction capital from individuals.
As Original Music Workshop (OMW), the non-profit presented concerts and events representative of Prestini's unique curatorial perspective, which often combines music in various styles—classical, jazz, international, contemporary and experimental music—with work in other disciplines. Zuspan and Prestini conceived of a novel way to document the construction of the building by staging a series of filmed performances within the construction site, curated by Prestini. One such performance, Skyful (2012), which took place on the freshly poured concrete foundation in the roofless shell of the construction site, was included in New York Magazine's Top 10 Classical Music Performances of 2012. The New York Times wrote, "It was easy to feel hopeful and excited that the evening's richness and range would be a fixture of the city for many years to come."
About Bureau V
Bureau V is a Brooklyn-based design studio led by Stella Lee, Laura Trevino and Peter Zuspan. Its projects range from cultural and commercial buildings to performances, installations, and events.
National Sawdust is Bureau V's first completed building.
The studio's previous work often falls on the border of architecture. It includes collaborative performances, such as an ongoing series of spatial sound installations with the musician Arto Lindsay, which has included performances at the Venice Biennale of Art and Musée d'Art Moderne de la Ville de Paris; and Eye to Eye, a piece conceived and performed at the Guggenheim Museum over two days with the art collective Assume Vivid Astro Focus. Bureau V has designed and fabricated a series of fashion week installations with the conceptual fashion label SSWTR, as well as a capsule menswear collection.
Bureau V embraces architecture's role in the cultural landscape as fundamentally collaborative. The studio's disciplinary wanderlust has driven it to frequently take steps outside of architecture—to look back upon it with new clarities, perspectives, and complications.
Bureau V principals have taught at Barnard College, Columbia University, the University of Pennsylvania Graduate School of Design, Syracuse University School of Architecture, and at the University of Kentucky College of Design.
They have given lectures and participated in panel discussions at numerous institutions, including Columbia University, Performa, the Lower Manhattan Cultural Council, the Fashion Institute of Technology, and the Dessau Institute of Architecture.
Bureau V and its members have received residencies and support from the MacDowell Colony, EMPAC, and the Lower Manhattan Cultural Council.
Stella Lee and Peter Zuspan both hold Bachelors of Arts and Masters of Architecture from Columbia University.
Laura Trevino holds a Bachelor of Architecture from the Instituto Tecnologico de Estudios Superiores de Monterrey and a Master of Science in Advanced Architectural Design from Columbia University. She is a licensed architect in New York State and in Mexico.
About Arup
Arup is a global design firm renowned for innovation in the built environment, collaborations with cities, artists, and cultural institutions. Arup's Acoustics, Audio-Visual, and Theatre Team is one of the world's most respected arts venue design firms, with Americas teams located in New York, Bogota, Chicago, Los Angeles, San Francisco, and Seattle. Arup works in every aspect of venue design, from concept to completion, and supporting venues and artists through whole-life relationships with their clients. Their highly interactive style of collaborative design benefits clients across business areas, is well known for yielding cutting edge design tools, approaches and design innovation.
For this project, design leadership was provided by Raj Patel, Arup's Global Leader of Acoustics, Audio-Visual, and Theatre Consulting. Patel's background and experience, including his extensive collaborative works with artists, were invaluable in the visioning for the project. An extensive team was required to deliver the design challenges, led by Matthew Mahon and Dave Rife.
About Paola Prestini
Composer, multimedia artist and entrepreneur Paola Prestini is "the enterprising composer and impresario" (New York Times) and "visionary-in-chief" (Time Out New York) of VisionIntoArt, the non-profit multimedia production company dedicated to fostering collaborative, interdisciplinary new music. Prestini has been commissioned by the BAM Next Wave Festival, Carnegie Hall, the New York Philharmonic and the Sydney Opera. Her work has been presented by the BBC Symphony Orchestra, the Los Angeles Philharmonic, the Sydney Opera, the Chicago Symphony Orchestra and London's Barbican Centre.
She has collaborated with stage designers, puppeteers, astrophysicists, conservationists, musicians, dancers, singers and more. She has been awarded residencies at the Park Avenue Armory, The Watermill Center and Sundance. Prestini started VisionIntoArt in 2001 while a student at the Juilliard School, where she was a Paul and Daisy Soros Fellow. Since then, the company has provided comprehensive support—from fundraising and commissioning to incubation and performances—for more 100 original productions. She launched VIA Records in 2014.
National Sawdust's Board of Directors and Advisory Board
Rick D'Avino is President and Chairman of National Sawdust's Board of Directors, which includes Adam Abeshouse, Dan Breen, Courtenay Casey, Jean Pierre Chesse, Valerie Dillon, Randy Ezratty, Chris Grymes, Richard Kessler, Roger Krulak, Harvey Mogenson, Michelle Nakash, Paola Prestini, Natalia Schwien, R. Adam Smith, Jill Steinberg, Jeremy Turner and Peter Zuspan.
The National Sawdust Advisory Board, chaired by Richard Kessler, includes Laurie Anderson, Helena Christensen, Philip Glass, Jennifer Frommer, James Murphy, Nico Muhly, Elena Park, Terry Riley, Limor Tomer, Suzanne Vega and Karen Wong.
National Sawdust Brooklyn – Building Information
Project Team:
Client: Kevin Dolan / National Sawdust
Design Architect: Bureau V
Architect of Record: SLAB Architecture, PLLC
Acoustics, Audio/Visual, Theatre, Lighting & Fire Consultant: ARUP
Structural Engineer: Liam O'Hanlon Engineering
Mechanical, Electrical, and Plumbing Engineer: Plus Group Consulting Engineering, PLLC
Geotechnical Engineers: Carlin-Simpson & Associates
Code Consulting: CODE, LLC
Kitchen Consultant: KDS Consulting & Design, INC.
Contractor: Alcon Builder's Group, Inc
Notable Materials / Manufactures:
Kinetics Acoustical Springs
Clark Door Vertical Acoustical Door
Skyfold Acoustical Window
IAC Acoustic Doors
D&B Speaker System
Nivoflex Staging
Ebony & Co Wood Flooring
Design and Direct Source Tiles
Matot Dumbwaiters
Courion Elevator
Seetin Design – metalwork fabricaton
Altel – AV installers
Website:- http://www.bureauv.com
Website: nationalsawdust.org
Location: 80 North 6th Street, Williamsburg, Brooklyn, New York City, USA
New York City Architecture
Contemporary New York Buildings
Manhattan Architecture Designs – chronological list
New York City Architecture Tours by e-architect
New York State Architecture Designs
Brooklyn Buildings
Williamsburg Hotel
Architects: Oppenheim Architecture+Design
Williamsburg Hotel Brooklyn
Gowanus Lowline : Connections Competition
Design: AGER Group – Honorable Mention
Brooklyn Architecture Competition
Brooklyn Museum Great Hall
Design: Ennead Architects
Brooklyn Museum Building
Brooklyn Arts Tower
Design: Behnisch Architekten with StudioMDA
Brooklyn Tower
Brooklyn Children's Museum
Design: Rafael Vinoly Architects
Brooklyn Museum Building
Brooklyn College – West Quad
Design: Rafael Vinoly Architects
Brooklyn College
Pier 5 Recreational Building, Brooklyn Bridge Park
Design: James Carpenter Design Associates Inc.
Brooklyn Bridge Park Building
Brooklyn High Schools, 283 Adams Street, Downtown
Design: Gran Kriegel Associates
Brooklyn School : Former court house conversion
NY Tower : BLUE Residential Tower
Website: New York City
Comments / photos for the National Sawdust Williamsburg, Brooklyn Building New York Architecture page welcome