Skyfarm Building, 2015 Milan Expo Theme Research Project, Urban Crop Production, Architect, Images
Skyfarm Building Mexico Design
Multi-storey Farming System design by Rogers Stirk Harbour + Partners (RSHP) with Arup
18 Mar 2016
Skyfarm Tower Building
Design: Rogers Stirk Harbour Partners with Arup
Skyfarm Design by Rogers Stirk Harbour Partners with Arup
"Skyfarm represents a thorough, believable and beautiful project"
World Architecture Festival Awards Jury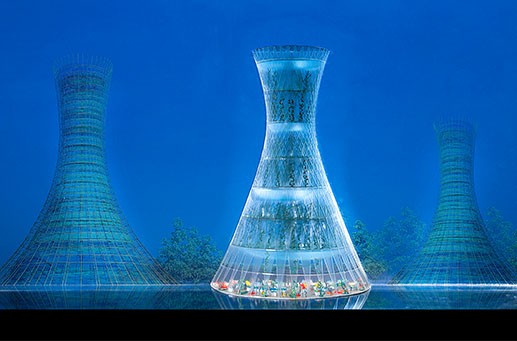 Skyfarm was initiated as a research project in response to the 2015 Milan Expo theme 'feed the world'. It is said that by the year 2050 nearly 80 per cent of the earth's population will reside in urban centres. Over the same period of time (36 years), the earth's population is expected to grow by an additional 3 billion people. If we continue to use traditional farming practises, it is believed that an area of land larger than Brazil will be needed to feed these additional people.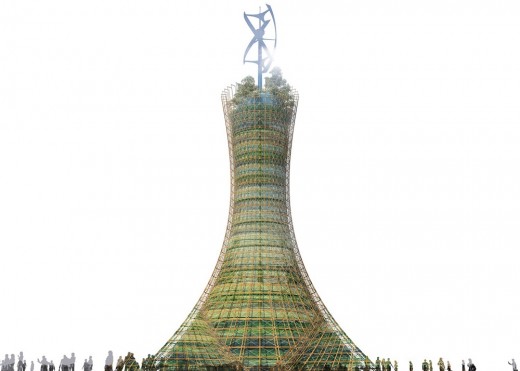 Skyfarm proposes an alternative to the typical land-intensive farming systems. A vertical farm, it is designed to produce crops in multi-storey structures within high density urban areas or where there is insufficient land or poor quality soil. The multi-storey tensegrity structure (isolated components in compression delineated by pre-stressed tension members) is made of light bamboo to create a rigid circular frame and maximise sun exposure onto the farm.
These towers support several layers of agricultural cultivation and an aquaponics system that enables the growth of crops and fish together in a re-circulating system; nutrients derived from fish waste are fed to the plants and the plants provide filters for the fish to thrive in.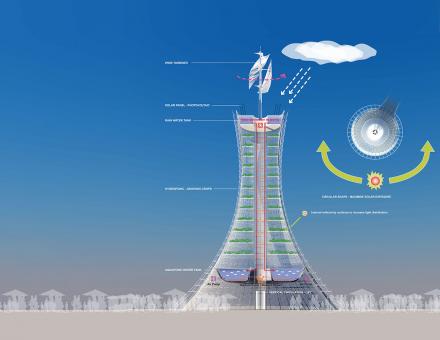 The structure is zoned to make the best use of water and nutrients, and to spread the weight of water efficiently across the tower. At ground level there is space for a market or restaurant to encourage the public into the farm and act as an education space or social hub, where all the growing parts of the tower are visible.
Above this is a large transparent tank where freshwater fish such as bass, tilapia and barramundi are farmed. In the middle of the structure, plants are grown hydroponically in water rather than soil. Above this, an aeroponic system, where plants are grown in a misty environment using minimal water and no soil, is used. The top of the tower houses water tanks and wind turbines.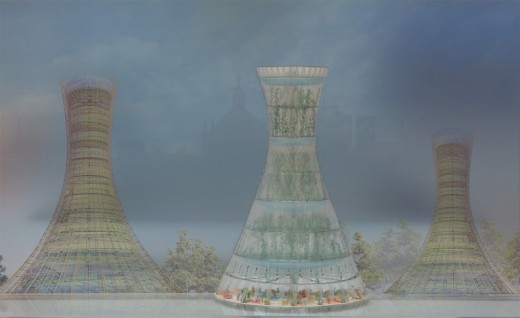 The hyperboloid form of the tower enables it to be easily scaled. A 10-metre version could be constructed in a school, or an 80-metre farm built in a larger urban area. Its geometry can also be adapted depending on the earth's latitude and the amount of sunlight available. In cooler climates, a double skinned enclosure and heating could be added to create optimum growing conditions.
While the upfront costs of Skyfarm are higher than standard industrial scale agriculture, the ability to grow produce with a short shelf life, such as strawberries, spinach and lettuce, around the year and close to market without costly air-freighting, makes it an attractive, sustainable proposition.
Skyfarm Multi-storey Farming System – Building Information
Award: 2014 World Architecture Festival: Future Projects – Experimental Show Team
Date: 2014
Structural Engineer: Arup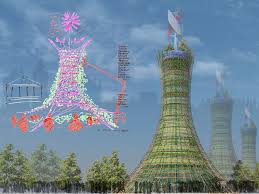 Website: Skyfarm by Rogers Stirk Harbour Partners
BBVA Bancomer Mexico City
Design: LegoRogers (Rogers, Stirk Harbour + Partners with Legorreta + Legorreta)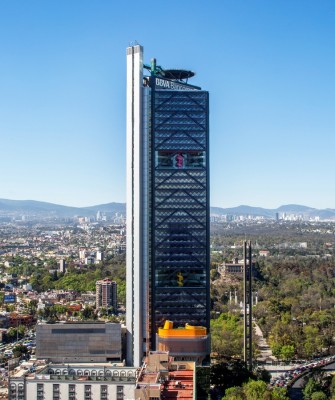 photos © Lourdes Legorreta / LegoRogers
BBVA Bancomer Building by Rogers Stirk Harbour Partners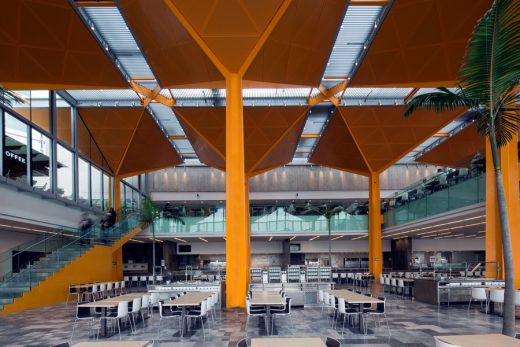 photo © Lourdes Legorreta / LegoRogers
LegoRogers' new headquarters building for BBVA Bancomer opens in Mexico City.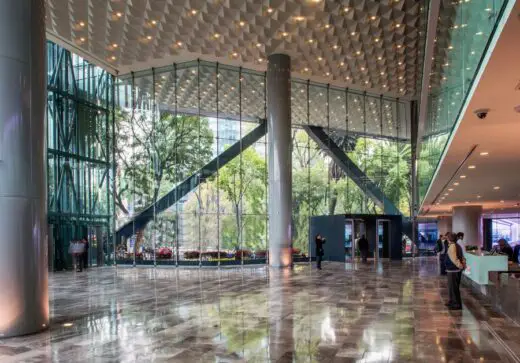 photo © Lourdes Legorreta / LegoRogers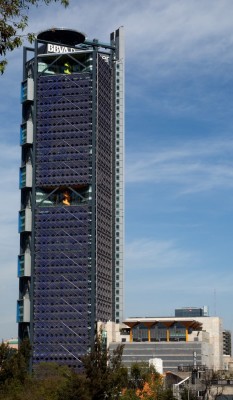 photo © Lourdes Legorreta / LegoRogers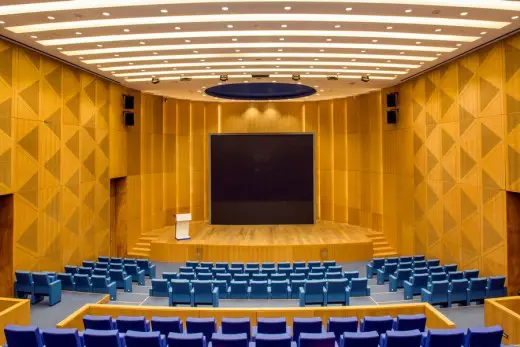 photo © Lourdes Legorreta / LegoRogers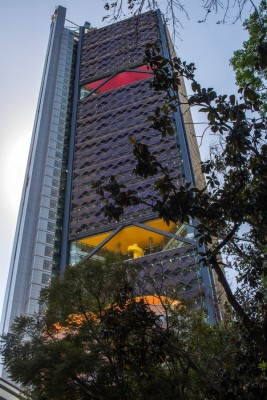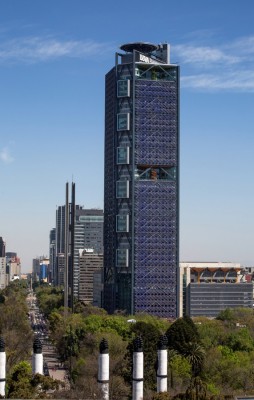 photos © Lourdes Legorreta / LegoRogers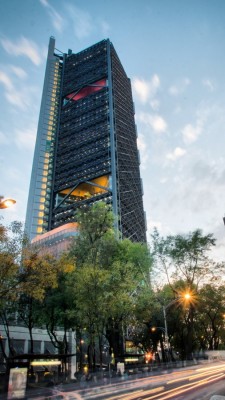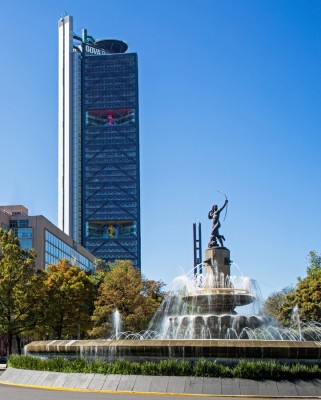 photos © Lourdes Legorreta / LegoRogers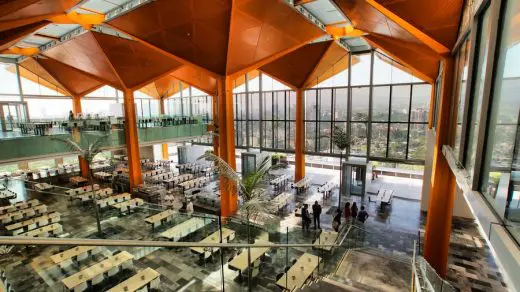 photos © Dolores Robles Martinez Gomez / LegoRogers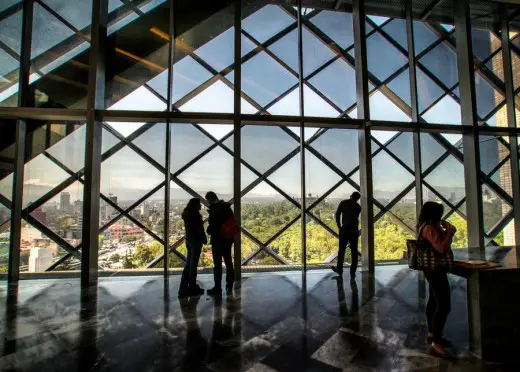 photo © Dolores Robles Martinez Gomez / LegoRogers
LegoRogers
The design team – formed by a partnership between Rogers Stirk Harbour + Partners, an international award-winning practice, and Legorreta + Legorreta, a premier Mexican firm with extensive experience working in both Mexico and worldwide.
Both Legorreta + Legorreta and Rogers Stirk Harbour + Partners are internationally known for designing and building several buildings that are considered today as architectural icons representing cities and countries. Among them are the Hotel Camino Real in Mexico D.F designed by Legorreta + Legorreta and The Leadenhall Building, an office tower in London designed by Rogers Stirk Harbour + Partners.
The collaboration between the two firms – with different architectural languages but common values – has generated a unique architectural style which, rather than manifesting the diverging expressions of each practice – offers a special, new design approach for this project and for the City of Mexico.
These two offices forming the partnership of LegoRogers have designed the new BBVA Bancomer's headquarters Tower that is a new building of reference in Mexico City's skyline.
Legorreta + Legorreta
Since its founding in 1965 by Ricardo Legorreta, Noe Castro and Carlos Vargas senior as Legorreta Architects (now Legorreta + Legorreta), have managed to stay true to their original goal of creating the best architecture inspired by human values. Legorreta + Legorreta seek to create an architecture that meets the needs of society, while contributing to building better cities. Achieving functionality, efficiency and cost control, they design friendly and human environments, with atmospheres that convey peace, privacy and optimism.
Legorreta + Legorreta has developed projects for various institutions around the world, including Stanford, UCLA, Chicago, ITESM, the American University in Cairo and four buildings for HBKU in Qatar, as well as the Papalote Children's Museum, the Museum of Science and History in Fort Worth, the Ministry of Foreign Affairs and the building of the High Court in Mexico City, among many others.
Currently, Victor Legorreta leads the firm as Managing Director and Design Director with the support of four partners: Miguel Almaraz and Carlos Vargas, Project Managers; Adriana Ciklik, Operations and Project Director and Miguel Alatriste directing the Administrative and Finance Department.
They have a long history and experience and will continue to focus their daily work in designing a human architecture highlighting Mexican roots while exploring new ways of design, using new technologies and responding to the needs of modern society.
Rogers Stirk Harbour + Partners
Rogers Stirk Harbour Partners (RSHP) is an award-winning, international architectural practice based in London with offices in Sydney and Shanghai employing over 200 people worldwide, including 13 partners and 14 associate partners. Over the past three decades, RSHP has attracted critical acclaim with innovative projects across Europe, Asia and North America. The practice is experienced in designing a wide range of building types, including office, residential, transport, education, culture, leisure, retail, civic and healthcare. The quality of its designs has been recognised with some of architecture's highest awards, including two RIBA Stirling Prizes for Terminal 4 at Barajas Airport in Madrid in 2006 and Maggie's Cancer Care Centre, London in 2009.
Richard Rogers is the 2007 Pritzker Architecture Prize Laureate, winner of the 2000 Praemium Imperiale Prize for Architecture and the recipient of the RIBA Gold Medal in 1985. Richard was awarded the Legion d'Honneur in 1986, knighted in 1991 and made a life peer in 1996. He was Chief Advisor on Architecture and Urbanism to the former Mayor of the City of London, Ken Livingstone and has played an advisory role to the current Mayor of London, Boris Johnson. He has acted as Chairman of the British Government's Urban Work Force and was a member of the Mayor of Barcelona's Urban Strategies Advisory Council.
Richard Rogers Partnership became Rogers Stirk Harbour in 2007 to reflect the growing importance of the younger partners, Graham Stirk and Ivan Harbour, and their role alongside Richard Rogers in the practice's future. Together with other long-standing partners, Stirk and Harbour represent the inherent continuity and consistency of the philosophy which the practice applies to all of its work. The name change also demonstrates the practice's confidence in its ability to continue to meet those challenges still to come.
Location: Paseo de la Reforma, Mexico City, México, North America
Mexican Architecture
Contemporary Mexican Buildings
Mexican Architectural Designs – chronological list
Mexico City Architecture Tours – city walks by e-architect
Torre Cube – Office Block tower, Guadalajara
Design: Carme Pinós
Torre Cube
Arango Residence, Acapulco
Design: John Lautner, architect
Acapulco House
Museo del Acero – Museum of Steel, Monterrey
Design: Grimshaw Architects
Museo del Acero Monterrey
BIKO restaurant
Design: Entasis Architects
BIKO Restaurant
Rogers Stirk Harbour + Partners
Famous Building by Richard Rogers, architect
Comments / photos for the Skyfarm Tower by Rogers Stirk Harbour Partners Architecture page welcome