Museum of London Architecture Competition, MOL West Smithfield, Barbican Centre Redevelopment, Date
West Smithfield Design Competition
Stanton Williams and Asif Khan Win Museum of London Architecture Contest at the Barbican Centre, England, UK: News
10 May 2023
Museum of London formally appoints Sir Robert McAlpine as Construction Management Company on Smithfield project:
A concept image of the London Museum from above: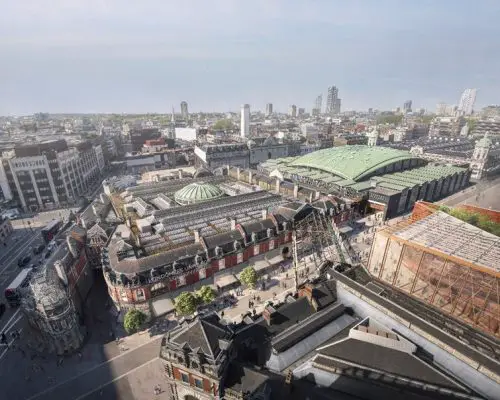 photo © Secchi Smith
West Smithfield market buildings redevelopment
Previously on e-architect:
26 Jan 2017
Museum of London Funding
Museum of London in West Smithfield Funding
The Museum of London's plan to move to Smithfield market has moved a step closer thanks to a funding boost.
The City of London Corporation and mayor of London have pledged a total of £180m towards the £250m project, report the BBC.
The museum first announced its plan to move from its current location last year, citing a lack of space at its Barbican site.
A planning application will be made in 2018 and the museum hopes to open its new home to the public in 2022.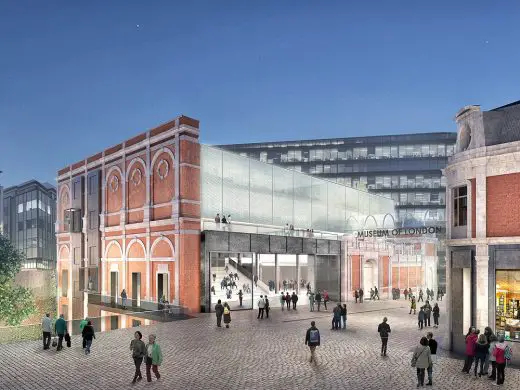 Converting the disused general market at Smithfield – next door to the meat market – would create 1,700 new jobs, the museum has said.
It expects to spend much of the £250m binging the derelict Victorian buildings back into use. It will also give the museum a street-level entrance for the first time.
The City of London Corporation will donate £110m to the museum, while City Hall has pledged £70m.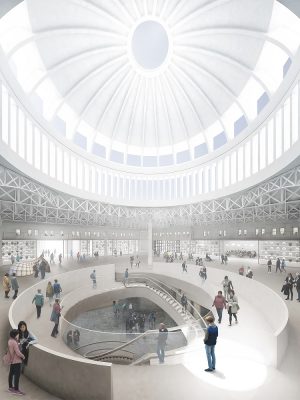 The donation will be funded by a Corporation of London loan to City Hall repayable over 25 years, a spokesman for the mayor said.
The remaining £70m needed will be raised by the museum from donations from the private sector, charitable foundations and individuals.
28 Jul 2016
Museum of London West Smithfield Design Competition Winners
Stanton Williams and Asif Khan win Museum of London West Smithfield International Design Competition
STANTON WILLIAMS AND ASIF KHAN TO DESIGN NEW MUSEUM OF LONDON AT WEST SMITHFIELD
28 July 2016
• Stanton Williams and Asif Khan announced as the winner of the international competition to find an architect to design the new Museum of London
• Winner chosen on basis of innovative thinking, sensitivity to the heritage of existing market buildings and understanding of practicalities of creating a great museum experience
• Stanton Williams and Asif Khan now to work with the museum and stakeholders to develop proposals for the site at West Smithfield
• A planning application will follow in 2018
Stanton Williams and Asif Khan working together with conservation architect Julian Harrap and landscape design consultants J&L Gibbons have today been announced as the winners of the Museum of London's international competition for the new museum at West Smithfield.
An outstanding example of London creativity, Stanton Williams and Asif Khan were selected from an inspiring shortlist of six architectural teams by a panel of well-known figures from the worlds of the arts, media, property, architecture and business, chaired by broadcaster and economist, Evan Davis. The decision brings to a close a six-month long competition funded by the Greater London Authority (GLA), which attracted over 70 entries, and was managed by Malcolm Reading Consultants.
The vision for the new Museum of London balances a crisp and contemporary design with a strong recognition of the physicality and power of the existing spaces of the West Smithfield site.
Their early stage concept includes:
– A new lifted landmark dome which would create a beautiful light-filled entrance to the museum;
– Innovative spiral escalators transporting visitors down to the exhibition galleries in a vast excavated underground chamber;
– Flexible spaces that can serve as a new meeting place for London and a centre for events and debate;
– A new sunken garden and green spaces to provide pockets of tranquillity.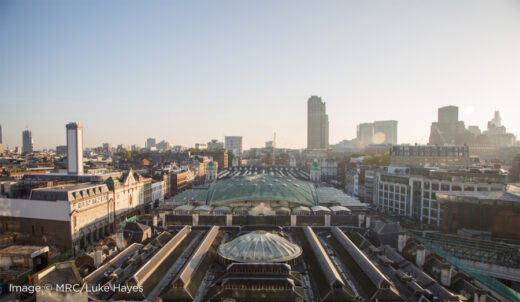 All West Smithfield photos © MRC/Luke Hayes
There was firm consensus amongst the jury that Stanton Williams and Asif Khan presented a concept that had a strong sense of cohesion which honoured the original market buildings as well as having a passion for the project.
The winning architects will now work closely with the team at the museum and the museum's stakeholders including the GLA, City of London Corporation and the local Smithfield community to develop their initial concepts into a fully-formed vision for the new museum at West Smithfield.
Evan Davis, Chair of the Jury, said of the decision:
"The jury knew it would be a difficult choice and that's what it turned out to be. We had six fantastic teams on the shortlist; each had ideas for the site that were both ambitious and interesting. I would never have guessed that you could take wonderful old buildings like that and turn them into a new museum in so many completely different ways.
But after a lot of discussion, a clear winner emerged. Stanton Williams and Asif Khan offered some really innovative thinking, and managed to combine a sensitivity to the heritage of the location, with a keen awareness of the practicalities of delivering a really functional museum."
Sharon Ament, Director of the Museum of London, said:
"Now we have Stanton Williams and Asif Khan on board the hard work begins, and I cannot wait to get started. Over the coming months we will work together to design a new museum for London and Londoners which will be one of the top visitor attractions in the capital. Our project sparked the imagination of truly remarkable architects whose hard work and talent produced astounding submissions. I am grateful to them all. The Stanton Williams and Asif Khan partnership is a scintillating combination."
Mark Boleat, Chairman of the Policy and Resources Committee at the City of London Corporation, said:
"The City of London Corporation is proud to be a major funder and supporter of the Museum of London. We are looking forward to working with the museum as it launches this project to move to a new site in West Smithfield. We hope these ambitious plans will secure the museum's long-term future, build on its reputation as an outstanding storyteller of the capital's rich history, and contribute to the evolving Cultural Hub in the City."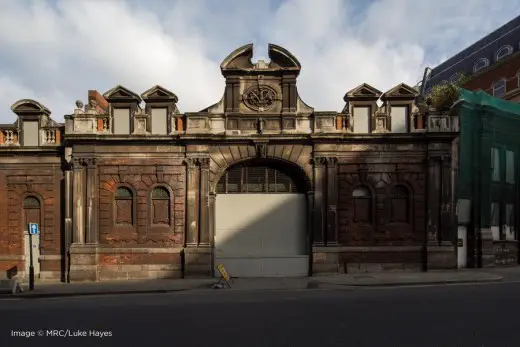 Paul Williams, Director of Stanton Williams, said:
"We are immensely excited about being given the opportunity to work with the Museum of London on this wonderfully challenging project – participating in an endeavour that will transform an area of London that has such a rich history, but sadly has been in decline for many years.
Encountering the historic market spaces for the first time in early April this year, we were 'blown away' by the power and physicality already existing, and knew then, that whatever scheme we developed, this physicality needed to be harnessed, and not lost, and that initial observation has inspired our initial design proposals. This project will engage a broad community well beyond London."
Asif Khan said:
"To have a chance to create a new museum for London, in London, about London, at this moment in time is incredibly exciting for us. We all know the power of public spaces in changing our city and our individual lives, and this is what drives us. We want the Museum of London to be a museum where everyone belongs, and where the future of London is created."
Lacaton & Vassal Architectes with Pernilla Ohrstedt Studio were awarded an honourable mention for their thoughtful, contemporary and refreshing design approach.
The museum intends to submit a planning application for the West Smithfield site to the City of London Corporation in 2018 and to deliver the new museum by 2022.
The public exhibition displaying the shortlisted design concepts for the new museum at West Smithfield will remain on display until 11 September 2016. Full details are available on the museum's website www.museumoflondon.org.uk.
Sharon Ament and Paul Williams will be giving a free, public talk about the project with New London Architecture at the Building Centre on 12 August 2016. Tickets are available from www.newlondonarchitecture.org.
Museum of London West Smithfield International Design Competition Images
Museum of London West Smithfield International Design Competition Winning Team
About the Winning Team
Stanton Williams is an award-winning practice, with a reputation for carefully crafted architecture. Founded by Alan Stanton and Paul Williams in 1985, Stanton Williams has successfully completed over 350 architectural, urban design, master-planning, exhibition and interior design projects, winning more than 100 international and regional awards including the 2012 RIBA Stirling Prize. The practice has developed a portfolio from an initial focus on museums and galleries towards a wide variety of projects, all of which demonstrate an overarching objective of putting user experience at the forefront of the agenda, as well as creating places that sensitively respond to their cultural, social and physical context.
Selected projects include: the UAL Campus for Central Saint Martins at King's Cross, King's Cross Square, the Wellcome Trust Millennium Seedbank, Compton Verney Art Gallery and the Sainsbury Laboratory in the University of Cambridge's Botanic Garden. Current projects include: the Musée d'Art in Nantes, France, a project to open up the Royal Opera House in London, new public realm and entrance pavilions to Tottenham Court Road underground station, and a new research centre for Great Ormond Street Hospital in London.
Asif Khan founded his architecture practice in 2007. The studio works internationally on projects ranging from cultural buildings to houses, temporary pavilions, exhibitions and installations. Notable projects include the forthcoming UK Pavilion for Astana Expo 2017, the'MegaFaces' pavilion at the Sochi 2014 Winter Olympics, the Coca-Cola Beatbox at London 2012 Olympics, a finalist entry in the international competition for the new Guggenheim museum Helsinki and most recently the Serpentine Gallery Summer House located in Kensington Gardens, London for summer 2016.
Asif is the recipient of numerous awards including a Red Dot award for Design, Cannes Lion Grand Prix for Innovation, a D&AD award, Special citation in 2011 MAXXI MoMA/PS1 Young Architect Programme, Design Miami Designer of the Future 2011, and Design Museum Designer in Residence 2010. Khan lectures globally on his work, sits on the board of Trustees of the Design Museum and teaches MA Architecture at the Royal College of Art.
Julian Harrap Architects is a medium sized practice specialising in the repair and restoration of historic buildings, historic estates and landscapes and also for the design and construction of extensions and new buildings in historic settings. All projects are approached on the basis of academic research and stylistic understanding, seeking to consolidate earlier work within a framework of aesthetic and architectural ideas unique to each project. Their work has been recognised with numerous national and international awards since the practice's inception in the mid-1970s.
Stanton Williams and Julian Harrap Architects have a long-standing professional relationship. Their first project together, delivered in 1994, was 60 Sloane Avenue, a BCO, RIBA and Civic Trust award-winning office for Leo Burnett with shops and a restaurant at street level.
J&L Gibbons practice and research focuses on collaboration within the urban realm. This provides multiple perspectives from which to appreciate natural process, to interact with community dynamics, and to develop design and conservation management responses. J&L Gibbons closely observe the micro, the self-seeded, the so-called 'unkept', where nature has been opportunistic, and make it their business to understand and articulate its particular beauty, in terms of ecological or community value, locally and strategically.
The practice co-authored the All London Green Grid for the Greater London Authority and Making Space in Dalston. Jo headed up two Queen Elizabeth Olympic Park projects and helped produce the Barbican Guidelines volume for the landscape and public realm of the estate, the largest listed building in England. J & L Gibbons' recently completed Walpole Park in Ealing and Alexandra Road Park in Camden, both registered historic landscapes funded by the Heritage Lottery.
Plan A is an independent consultancy established in 2015 whose core service is Design Management. Plan A has been established on the basis of fifty years of combined experience between its founding directors Nick Willars and Gerard Daws, both have built enduring relationships through supporting some of the world's greatest architects and designers in the definition and subsequent management of the design strategy.
They see their role as creating a collaborative project environment that facilitates great design but adding greater certainty in its delivery through a profound understanding of the design process; this is central to the aspirations of the architects they work with and the ultimate clients. Past projects include the Library of Birmingham, the Grand Egyptian Museum in Cairo and Gardens by the Bay in Singapore.
Museum of London West Smithfield Design Competition Jury
The jury comprises (in alphabetical order):
Sonita Alleyne, OBE, FRSA, Founder, The Yes Programme;
Sharon Ament, Director, Museum of London;
Clive Bannister, Chair, Museum of London Board of Governors and Group Chief Executive, Phoenix Group Holdings;
David Camp, Governor, Museum of London and Chief Executive, Stanhope;
Evan Davis, Governor, Museum of London and television and radio presenter (Jury Chair);
Dr Stephen Deuchar CBE, Director, Art Fund;
Sir Simon Jenkins, journalist, author and broadcaster;
Professor Robert Mull, Architect, Former Director of Architecture and Dean of the Cass Faculty of Art, Architecture and Design, and Trustee of the Architecture Foundation;
Lucy Musgrave, Director, Publica;
Jörn Rausing, Governor, Museum of London;
and
Malcolm Reading, Malcolm Reading Consultants (adviser to the jury).
4 Apr 2016
Museum of London West Smithfield International Design Competition Shortlist
The shortlisted teams are (in alphabetical order):
• BIG – Bjarke Ingels Group (DK) with Hawkins\Brown (UK)
• Caruso St John Architects (UK)
• Diener & Diener Architekten (CH) with Sergison Bates Architects (UK)
• Lacaton & Vassal Architectes (FR) with Pernilla Ohrstedt Studio (UK)
• Stanton Williams (UK) with Asif Khan (UK)
• studio Milou architecture (FR) with RL& Associés (FR) and Axis Architects (UK)
12 Mar ; 11 Feb 2016
Museum of London West Smithfield International Design Competition
Deadline for Expressions of Interest 14:00 GMT Tuesday, March 15 2016
Museum of London appoints Malcolm Reading Consultants to run West Smithfield International Design Competition
MUSEUM OF LONDON WEST SMITHFIELD INTERNATIONAL DESIGN COMPETITION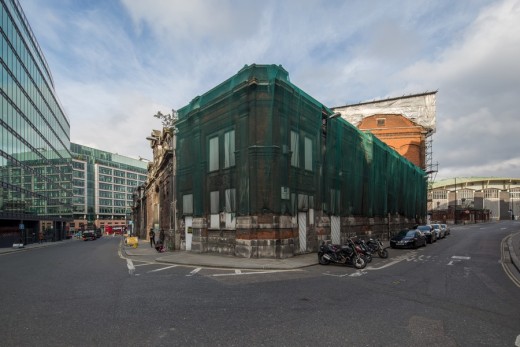 • Established and emerging designers encouraged; the latter through low turnover threshold of £2m and the opportunity to form collaborations
• Design challenge: to reuse fine Victorian buildings whilst making inspired contemporary interventions
• Broadcaster and journalist Evan Davis to chair jury
The Museum of London and Malcolm Reading Consultants are searching internationally for an outstanding architect or team of architects to create a new building for the museum at West Smithfield in the City of London.
The project at the heart of the two-stage design competition has a £130-150m construction budget, and is focused on regenerating a nationally-significant landmark and creating new contemporary galleries within a group of historic buildings on the West Smithfield site. The Museum of London is one of the top ten museums and galleries in the UK capital and responsible for the world's largest archaeological archive, which currently holds six million artefacts.
The Smithfield area, close to the much-anticipated Crossrail interchange at Farringdon, is expected to experience rapid economic growth as new transport links transform access.
The architecture competition has been designed to be sympathetic to emerging designers, as well as established museum specialists. The turnover threshold for entrants has been set relatively low (in relation to project value) at £2m and collaborations between architects are encouraged. Full details of the competition, including the entry portal, are available on the dedicated website:
http://competitions.malcolmreading.co.uk/museumoflondon
No design is sought at the first stage. At the second stage a panel will select at least five shortlisted designers, who will be briefed and asked to produce design concepts which reuse a number of fine Victorian buildings on the circa 25,000 sqm site. These include the now disused General Market, the Fish Market and the triangular Red House.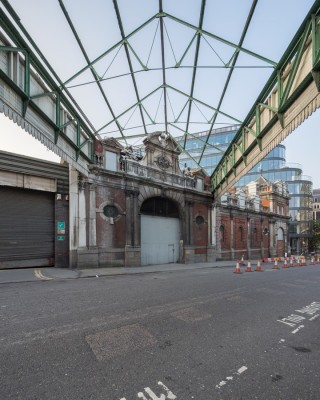 Director of the Museum of London, Sharon Ament, said:
London is brilliantly creative and brilliantly connected to the rest of the world. I cannot wait to see schemes for West Smithfield from designers working in all four corners of the globe. The challenge of sympathetically reinventing a series of fascinating and wonderful buildings and reimagining them as a museum is big, a bit scary and terribly exciting, much like London itself.
Malcolm Reading, architect and competition organiser, said:
We've been conscious of the need to level the field for competitors by keeping the turnover threshold low relative to the scale of the project. Designers who can't meet this level are encouraged to collaborate with others.
The museum's international brand and the draw of working in one of the world's most creative cities are just two of many fascinating aspects of the project. We're seeking to attract a diverse pool of international talent.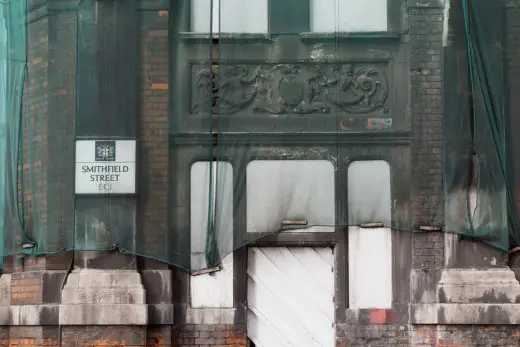 Funded by the Mayor of London through a £200,000 grant, the competition is being run in accordance with European Union procurement guidelines under the Restricted Procedure. Competitors will need to upload their responses through the Delta procurement portal via the web address above.
Full details of the competition jury will be announced later in the process, but confirmed members include, broadcaster and journalist Evan Davis (chair); Director of the Museum of London, Sharon Ament; Chairman of the Board of Governors, Clive Bannister; and Chief Executive of Stanhope and Museum of London Board member, David Camp. The Jury will be advised by Malcolm Reading. A panel will be announced for the shortlisting process.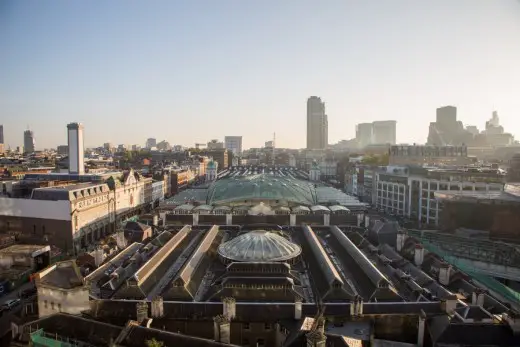 The deadline to enter the competition is 14:00 GMT Tuesday 15 March 2016. The shortlist for the second stage is expected to be announced in the spring and, following a public exhibition of the shortlisted entries, the winning team is expected to be announced in summer 2016. The museum's aim is to achieve planning permission, raise the necessary capital funds and deliver the new museum in 2021.
Museum of London West Smithfield Design Competition News – previous information
Museum of London
The Museum of London tells the ever-changing story of this great world city and its people, from 450,000 BC to the present day. Our galleries, exhibitions, displays and activities seek to inspire a passion for London and provide a sense of the vibrancy that makes the city such a unique place. The museum is open daily 10am – 6pm and is FREE to all, and you can explore the collections online – home to 80,000 objects with more being added.
Website: Museum of London
Malcolm Reading Consultants
Malcolm Reading Consultants (MRC) is a strategic architectural consultancy which specialises in the selection of contemporary designers. MRC believes in the power of design to create new perceptions and act as an inspiration – either at the local level, or internationally.
The consultancy offers a service to find the very best designers for clients with new building projects, whether through open-international, or private-invited competitions. Recent work in this area includes competitions for the Solomon R. Guggenheim Foundation, Queen Elizabeth Olympic Park's Culture & Education Quarter, the Mumbai City Museum, the Natural History Museum, the UK Pavilion at Milan Expo 2015, New College, Oxford, the Cadogan Estate, Marlborough College, Aberdeen City Garden project, the Victoria & Albert Museum's Exhibition Road project, the UK Pavilion for the Shanghai Expo and the Glasgow School of Art.
Website: Malcolm Reading Consultants
14 Jan 2016
Museum of London appoints Malcolm Reading Consultants to run West Smithfield International Design Competition
The Museum of London has announced that Malcolm Reading Consultants, the leading organiser of architectural competitions, has been appointed to manage its search for an architect to design its proposed new museum at West Smithfield.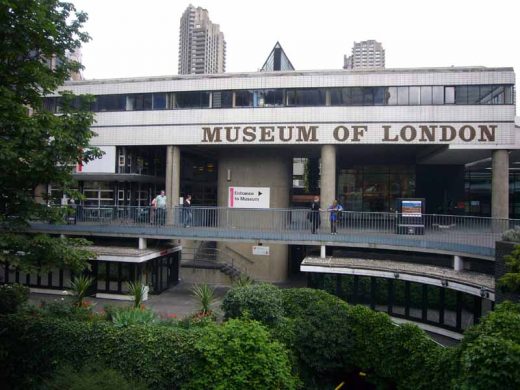 MOL image © Adrian Welch
The site at West Smithfield is located in the City of London and covers approximately 25,000 sq m. It comprises the vacant Smithfield General Market, the vacant Fish Market, the Red House, Iron Mountain, the Engine House and other elements. These buildings, most of which are Victorian, sit at the Farringdon Road end of West Smithfield, where records show there has been a market for nearly 1,000 years and archaeological remains go back to the Bronze Age.
Museum of London Building



MOL photo © Edmund Sumner
Museum of London Building
Website: Smithfield, London
Location: West Smithfield, London, England, UK
London Building Designs
Contemporary London Architecture Designs
London Architecture Designs – chronological list
London Architecture Walking Tours – tailored UK capital city walks by e-architect
Museum Of Architecture Competition London


photo © Adrian Welch
Museum of London, London Wall, Barbican, London
1974-76
Design: Powell & Moya Architects
Museum of London context : Barbican Centre
Location: southwest corner of the Barbican Centre complex, London, England, UK
British Museum Building Extension
Design: Rogers Stirk Harbour + Partners
British Museum Building Extension
Darwin Centre, Natural History Museum, west London
Design: C. F. Møller Architects
Darwin Centre
Buildings close to the Museum of London
Smithfield Building Development : Charterhouse Place, design by Lifschutz Davidson Sandilands
Comments / photos for Museum of London West Smithfield International Design Competition by Malcolm Reading Consultants – MOL Barbican Centre page welcome