Keeling House Penthouse, Bethnal Green Flat, Modern London Building, Home Interior Images
The Water Tank Penthouse, Keeling House
The Water Tank Flat in Bethnal Green, east London, England – design by Brian Heron Architects
27 + 26 Jan 2018
The Water Tank Penthouse at Keeling House, Bethnal Green
Best Historic Intervention – New London Architecture Prize
Design: Brian Heron Architects
Location: Bethnal Green / Haggerston, East London, England, UK
Glazed screens and louvres to East elevation: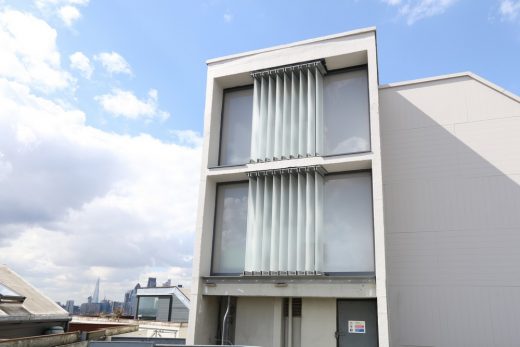 photograph © Terry Duffell
The Water Tank Penthouse, Keeling House – Prize in 'Don't Move, Improve!' 2018
The Best Historic Intervention was awarded to The Water Tank in Tower Hamlets by Brian Heron Architects – a converted former water tank space on top of Denys Lasdun's Grade II listed Keeling House from 1957, refitted to create a light-filled one-bedroom duplex penthouse.
Conversion of the former water tank space on top of the Grade II* listed Keeling House into a light-filled one-bedroom duplex penthouse.
Open plan kitchen area: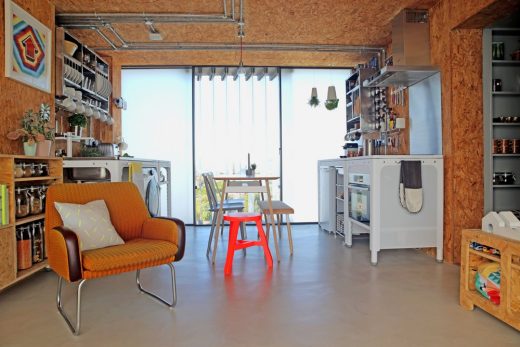 photo © Ayesha Tariq
An empty concrete shell when purchased, this former water tank space has been converted into a one-bedroom, duplex penthouse on top of the Grade II* listed Keeling House, Bethnal Green. The existing plywood cladding to the East and West elevations was replaced with full-height glazed screens, with sandblasted glass louvres being provided to prevent overlooking. Working at height, one of the key challenges was the 3-storey extension of the existing stair core to provide access to the new flat on the 16th, 17th and 18th floors.
The flat is oriented on an East-West axis so the full height glazed screens flood the space with natural light without overheating. The views of the sunrises and sunsets across the London skyline are exceptional.
The concrete structure has been insulated internally with walls, floors and ceiling all being upgraded thermally. An internal layer of oriented strand board (OSB) provides flexibility and future adaptability in terms of supporting shelving and storage units.
Maximising storage space was a key concern. The bedroom has a raised OSB bed with a child's bed at one end, a built-in wardrobe underneath and deep drawers within the steps up to the bed. There are cubbyholes along each side of the bed and a trap door at the top of the steps provides valuable storage for larger items. The built-in bed faces east so you can lie and watch the sunrise whilst an opening rooflight overhead
View from living room into stair: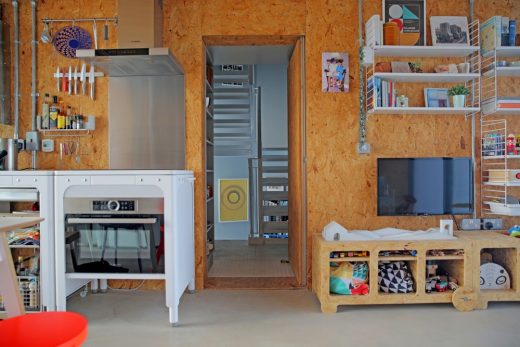 photo © Ayesha Tariq
Keeling House is a 16-storey residential 'cluster' block in Bethnal Green, designed by Sir Denys Lasdun. It was awarded Grade II* listed status in 1993, in recognition of its architectural significance.
Due to the Grade II* listing, insulation has been provided internally with the walls, floors and ceiling all being upgraded thermally. The walls and ceiling have been fully lined in OSB to provide maximum flexibility in terms of what can be mounted on the walls, both now and in the future. To ensure continuity of insulation and air-tightness, services have been surface mounted in exposed galvanised steel conduit.
The stair core has been extended with a structural steel frame and glass reinforced concrete (GRC) cladding panels, thus minimising loads on the existing reinforced concrete structure. The existing Portland stone cladding panels were surveyed to ensure the size and module of the new cladding panels provided an exact match with the existing cladding. Through negotiation with the building management, the existing stair core has been re-coated and this coating has been extended up to include the newly extended stair core, thus providing a seamless transition between the existing and new structures.
The low-iron glazed screens were selected to provide slender frames, maximising light in the space but also minimising the visual impact of the screens on the existing concrete structure.
Although now redundant, the original flue has been reinstated at the request of English Heritage, thus re-establishing the relationship between the flue and the parapet of the Water Tank.
Raised bed with built-in storage: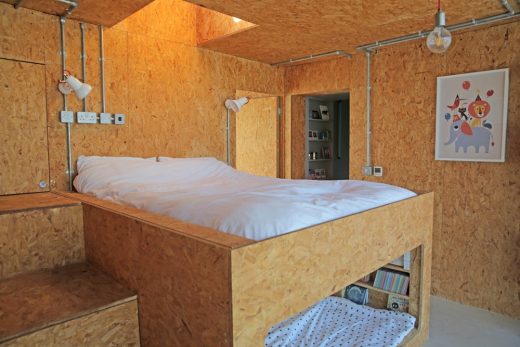 photo © Ayesha Tariq
The Water Tank in context, East elevation: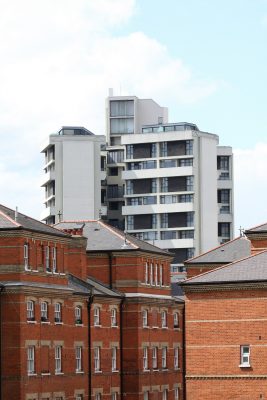 photo © Terry Duffell
The Water Tank at Keeling House – Building Information
Project Name: The Water Tank, Keeling House
Project Address: 68 Keeling House, Claredale Street, London E2 6PG
Total Project Cost: £420,000
Project size at start: 48 sqm
Project size at completion: 53 sqm
Team:
Architect: Brian Heron Architects
Structural Engineer: Michael Baigent Orla Kelly
Environmental Design Consultant: Brooks Devlin Ltd
Party Wall Surveyor: Smereka & Associates
Fire Consultant: Capita Symonds
CDM Co-ordinator: CvW Associates
Contractor: Brian Heron
Specialist glazing subcontractor: IQ Glass
Stair core windows: The Heritage Window Company
Roofing: Hambro Roofing Ltd
Mansafe system: Pinnacle Safety Group
Structural steelwork: MGP Steel
Architectural Metalwork: MGP Steel
Polished Concrete Floor: The Flooring Co Ltd
Internal Fit-Out / Decoration: Conceptual Designs Ltd
Fitted Joinery: Thomas Erben
Kitchen Units: N by Naber
Fire Suppression System: FireFend
Photographer credits: Ayesha Tariq / Brian Heron / Terry Duffell
Previously on e-architect:
17 Sep 2011
Keeling House
Date built: 1959
Design: Denys Lasdun
This high-rise residential building was originally part of a larger housing scheme that also contained a low-rise council block called Bradley House.
Keeling House + Bradley House are located on Claredale St, Bethnal Green
Grade II* listed building
Redevelopment 2001 as apartments by architects Munkenbeck and Marshall
Video, posted by Chris Dorley-Brown, shows the topping out of Keeling House in 1958:

Location: Keeling House, Claredale Street, Bethnal Green, London
Bethal Green Architecture
Buildings close by to Keeling House in Bethal Green include:
Geffrye Museum, Kingsland Road, Shoreditch



photo © Adrian Welch
Town Hall Hotel & Apartments, Tower Hamlets



photo © Adrian Welch
Museum of Childhood, Bethnal Green



photo © Adrian Welch
Another major East London housing development, to the southeast of Keeling House:
Robin Hood Gardens, Poplar
1972
Design: The Smithsons, architects



photo © Adrian Welch
Robin Hood Gardens
Denys Lasdun Buildings
Milton Gate, Chiswell St, City of London
1990
Denys Lasdun Peter Softley & Associates
Moorgate buildings
South Bank Centre



photo © Adrian Welch
South Bank Centre London
Christ's College, New Court, Cambridge, England
1970
Christs College Cambridge
Fitzwilliam College, Cambridge, England
1960
Fitzwilliam College building
Architecture in London
London Architecture Links – chronological list
Le Corbusier architect
London Architecture Walking Tours
Comments / photos for the The Water Tank Penthouse, Keeling House – Bethnal Green Flat page welcome