National Gallery London Sainsbury Wing, Architect, Images, NG200 Extension Design Photos
National Gallery London NG200 Design News
Key Public Building in Trafalgar Square, England, UK Built Environment News
18 May 2022
Wednesday 18 May 2022
The National Gallery Share Developed Ng200 Design Proposals Ahead Of Stage 2 Consultation
A CGI demonstrating proposed changes to the façade of The National Gallery and Jubilee Walk: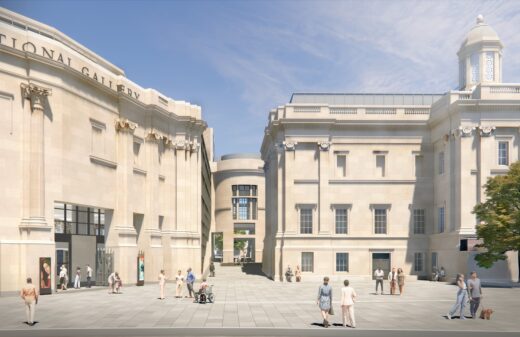 image : Selldorf Architects
National Gallery London NG200 Design Proposals
The National Gallery has today (Wednesday 18 May 2022) released its developed NG200 design proposals, now out for a second round of public consultation ahead of the submission of a planning application this summer.
National Gallery London NG200 exterior design: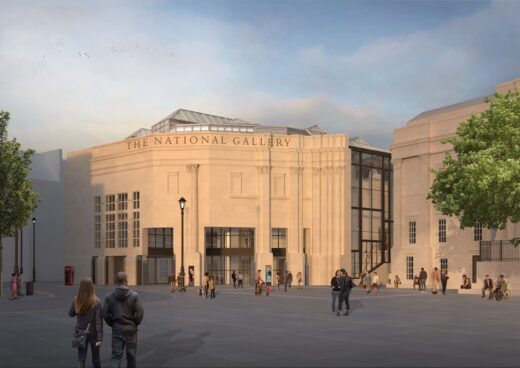 image : Selldorf Architects
To mark its Bicentenary in 2024, the National Gallery will deliver an exciting programme of exhibitions and events across the UK under the banner NG200, as well as launching a suite of capital projects that will create a world-class welcome to the many visitors it receives each year, benefitting all those who visit the Gallery and access its services.
Art Room: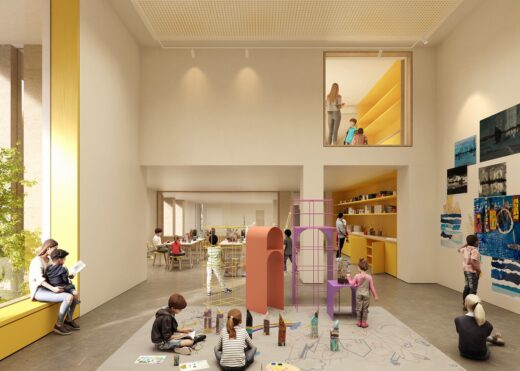 image : Hannah Lawson Studio
Initial design principles developed by the Gallery and a design team led by Selldorf Architects have been refined into more detailed proposals, following a first round of public engagement and feedback earlier this year. The proposals include the following reconfigurations and adaptations to the Gallery's Grade I listed buildings and public realm:
• Remodelling the façade of the Sainsbury Wing to provide lighter coloured gates and a newly configured lobby area, removing the build-up of queues of people outside waiting to enter.
• More natural light delivered into the main foyer of the Sainsbury Wing by replacing the existing darker glass with clear glazing and removing parts of the ceiling, creating a more open space and clearer views across Trafalgar Square. This will also enable improved wayfinding and access routes to the main stair, lifts, amenities, and Gallery spaces above.
• Reinvigoration of the public realm immediately outside the Gallery on Trafalgar Square, which will benefit from new seating, paving, and trees.
• Implementing a clearer and more accessible pedestrian route along Jubilee Walk will connect Trafalgar Square to Leicester Square, two iconic London spaces.
• Creating a new and refurbished Library and Reading Room, as well as a new archival store and accessible storage.
• Creating a new seminar room and engagement spaces for events, and a dedicated entrance for the Research Centre directly from Trafalgar Square with its own reception area.
• The provision of new offices for staff, research fellows and students, as well as a redesigned and refurbished Pigott Education Centre.
• Creating a new connection between the Sainsbury Wing and Wilkins Building at the lower level (level 0), meaning visitors will no longer need to backtrack through the Sainsbury Wing to exit, allowing them to determine their own path through the Gallery.
• Make better use of the back of house spaces within the Gallery, including an updated Research Centre and a dedicated Members Space, designed to increase the commercial sustainability of the Gallery long-term.
• Creating new amenities for visitors on the ground floor and mezzanine level of the Sainsbury Wing.
Lecture roomL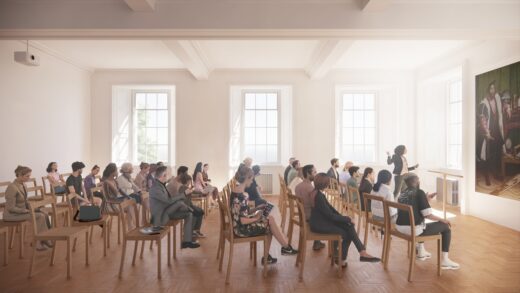 image : Selldorf Architects
These sensitive interventions will be pivotal in reshaping the National Gallery for its third century and the next generation of visitors. The evolved design proposal, now out for the second round of public consultation, has been driven by the desire to futureproof the Gallery. Looking to the next 200 years, it is vital to improve the energy efficiency of the Gallery's buildings and reduce its carbon footprint, to encourage more diverse audiences as well as prioritising visitors' comfort and wellbeing.
Public realm landscape: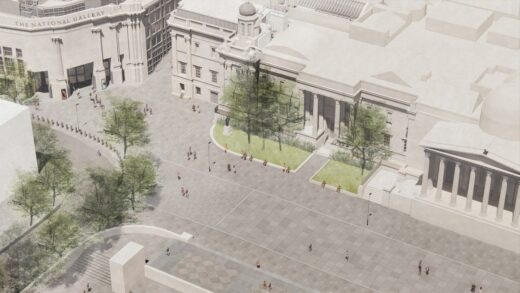 image : Vogt Landscape Limited
Further information on the developed proposals can be found here.
Selldorf Architects' team includes Purcell, Vogt Landscape, Arup, AEA Consulting, Pentagram, Kaizen, L'Observatoire and Kendrick Hobbs. The initial phase of works is set to be completed by 2024.
Sainsbury Wing lobby design proposal: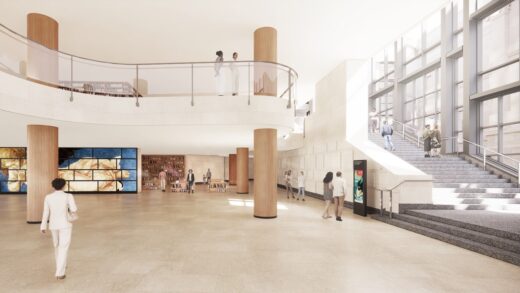 image : Selldorf Architects
In-person drop in events will be held at the Sainsbury Wing, at the National Gallery, WC2N 5DN on:
• Thursday 26 May, 1pm-5pm
• Saturday 28 May, 10am-2pm
A webinar is also taking place via Zoom on Tuesday 7 June, 6-7pm.
Sainsbury Wing lobby: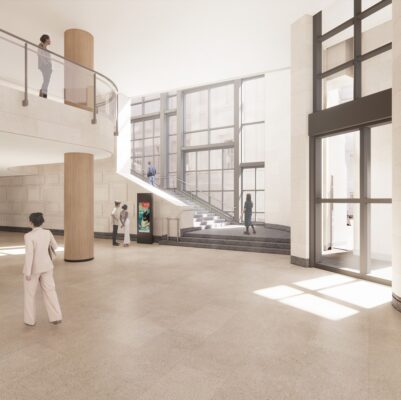 image : Selldorf Architects
Register your interest on the NG200 website here.
Cross section of revised National Gallery London building: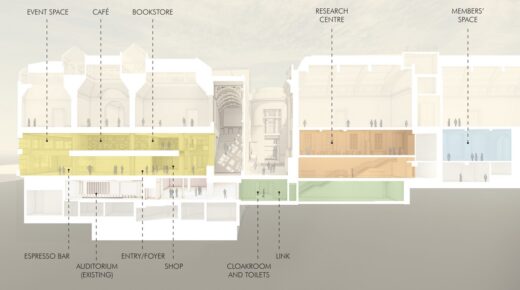 image : Selldorf Architects
Previously on e-architect:
18 Feb 2022
The National Gallery Reveals Initial Proposals For NG200 Project As Public Consultation Starts
Design: Selldorf Architects with Purcell, Vogt Landscape, Arup, AEA Consulting, Pentagram, Kaizen and Kendrick Hobbs.
Our proposals would bring more light to the Sainsbury Wing entrance and make it easier for visitors to navigate: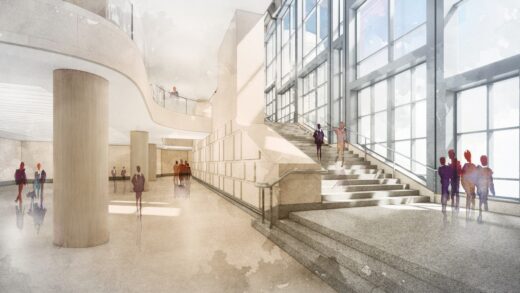 image © Selldorf Architects
National Gallery Building London Renewal Proposals
Illustration of how the outdoor space outside the Sainsbury Wing and on Trafalgar Square could look on completion. Image courtesy of Selldorf Architects.
National Gallery London NG200 Project
The Sainsbury Wing Staircase: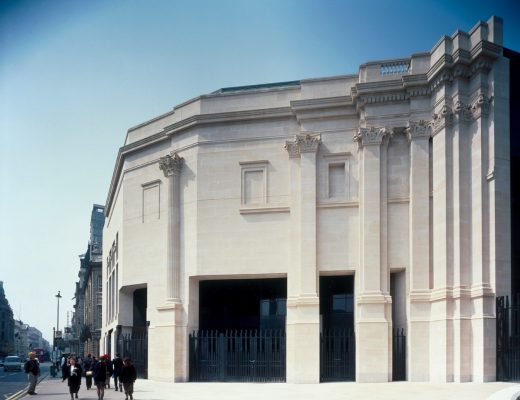 photo © The National Gallery, London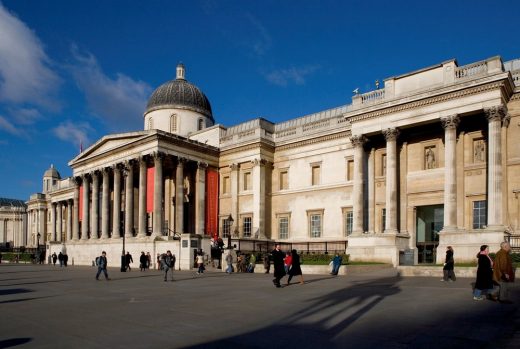 photo courtesy of the National Gallery
Annabelle Selldorf, founding Principal of Selldorf Architects, USA: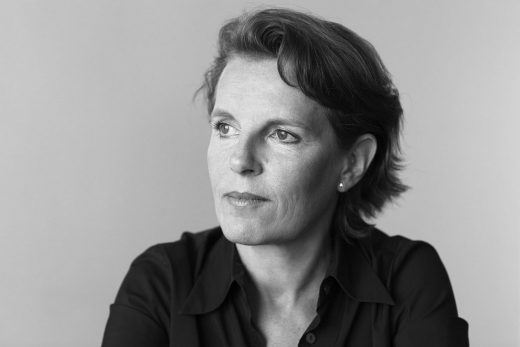 photo © Brigitte Lacombe
The Sainsbury Wing Staircase: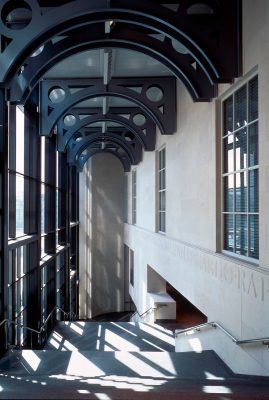 photo © The National Gallery, London
Sainsbury Wing stairs June 2019: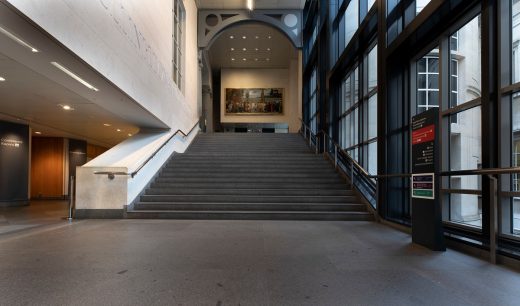 photograph © The National Gallery, London
National Gallery London at dusk: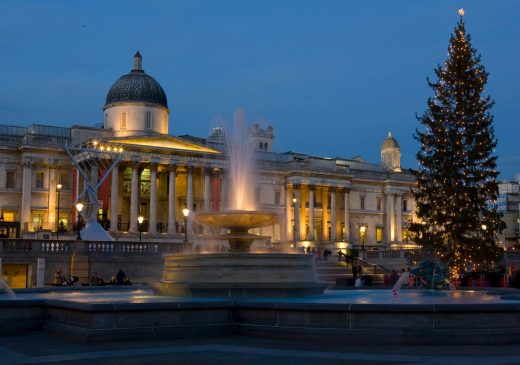 photograph © National Gallery, London
NG200 Project
Background
Sainsbury Wing exterior October 2020: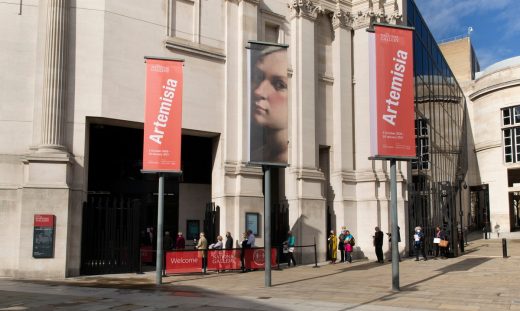 image © The National Gallery, London
Selldorf Architects, New York City, NY, USA
Previously on e-architect:
14 July 2021
National Gallery Building London Renewal Winner
Selldorf Architects win the NG200 Project at The National Gallery
8 Apr 2021
National Gallery Building London Renewal Shortlist
The National Gallery Announces Six Shortlisted Design Teams For Its NG 200 Plans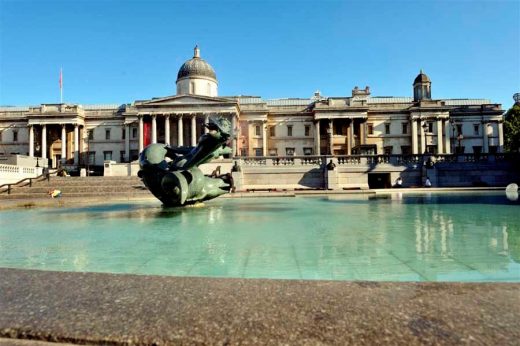 photograph © Nick Weall for e-architect
Nelson's Column, central to Trafalgar Square, looking south towards Whitehall: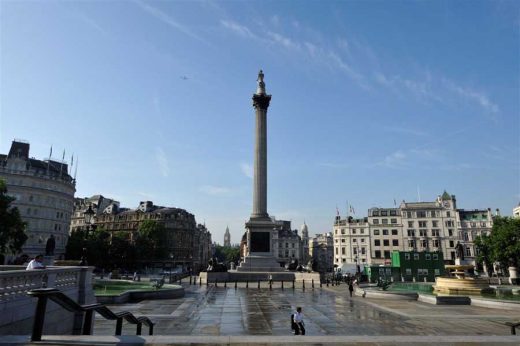 photograph © Nick Weall
National Gallery London
Dates built: 1832–38 (façade)
Architect: William Wilkins
Dates built: 1872-76 (Barry Rooms)
Architect: E. M. Barry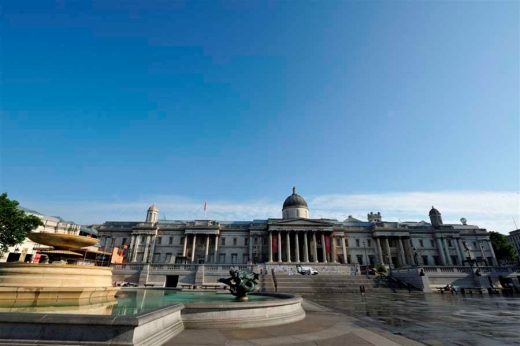 photograph © Nick Weall
Address: Trafalgar Square, London WC2N 5DN, UK
Phone: 020 7747 2885
National Gallery architect : William Wilkins
Sainsbury Wing – National Gallery Extension, Trafalgar Square
Dates built: 1988-91
Design: Venturi, Scott Brown & Associates – Robert Venturi and Denise Scott Brown, based in the USA
Venturi Rauch Brown, architects
Location: National Gallery, London, England, UK
London Art Galleries
National Portrait Gallery
National Portrait Gallery
Saatchi Gallery, Chelsea
Design: Allford Hall Monaghan Morris
Saatchi Gallery
Tate Modern Building
Design: Herzog & de Meuron Architects
Tate Modern
National Gallery Context
The public space in front of the building:
A building structure close by to the south west:
London Buildings
Contemporary London Architecture
London Architecture Designs – chronological list
Architecture Walking Tours in London by e-architect
Triptych Bankside London Development
Design Architect: Squire & Partners; interior design: Cocovara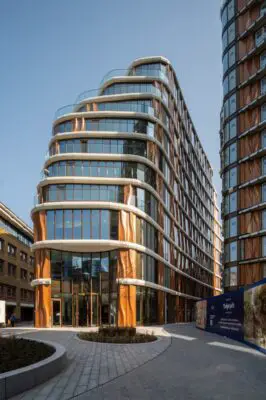 image courtesy of JTRE London
Triptych Bankside Development London Property
Comments / photos for the National Gallery London NG200 Design – Sainsbury Wing Renewal page welcome