HS2 Station Designs, British Railway Architecture Project, Architects News, Property
HS2 Station Designs: Buildings
New High Speed Two Railway Building in England, UK – Designers
30 June 2020
UK ThinkStation Design Council Report
5 Feb 2018
HS2 Go Ahead – Response
HS2 decision will destroy precious wild places
The Wildlife Trusts call for a redesign
Today the Government gave the green light to the High Speed 2 rail project, without acknowledging the devastating impact on the hundreds of precious wild places and the wildlife that depends on them – that lie in the path of the route. The Wildlife Trusts recently published a report evidencing the vast scale of the destruction and impact that HS2 will cause to nature.
. 'What's the damage?  Why HS2 will cost nature too much' assessed the broad range of impacts across all phases of HS2 on protected wildlife sites, species and landscape restoration projects.
Last week, The Wildlife Trusts delivered a letter to the Prime Minister calling for the project to be reappraised. The letter was signed by 66,000 people.
Nikki Williams, The Wildlife Trusts' director of campaigns and policy, says:
"Nature is paying too high a price for HS2. We urged the Government to re-consider in the light of The Wildlife Trusts' report which evidenced the serious risk that HS2 poses to nature – and to take notice of over 66,000 people who wrote to the Prime Minister asking him to review HS2. Today's announcement means that it is more critical than ever that the whole project is redesigned – before HS2 creates a scar that can never heal.
"It is vital that HS2 does not devastate or destroy irreplaceable meadows, ancient woodlands and internationally important wetlands that are home to a huge range of wildlife, from barn owls to butterflies. Green and sustainable transport is vital, but the climate emergency will not be solved by making the nature crisis worse.
"As HS2 contractors get on with bulldozing and building, the public can help wildlife by being alert to works near them. Contact your local Wildlife Crime officer if you believe HS2 Ltd or contractors are undertaking works without permission. Wildlife Trusts along the route will continue to advise and engage with HS2 Ltd locally."
9 Feb 2018
HS2 awarded first BREEAM Infrastructure Certificate
HS2 BREEAM Infrastructure Certificate
5 Feb 2018
New HS2 Station Building Architects
Four New Station Designs
London-based architects Grimshaw and WilkinsonEyre have each won two major station design deals for the High Speed 2 railway project.
Grimshaw will work with WSP on Birmingham Curzon Street and with Haptic and Arup on the huge overhaul of London Euston.
WilkinsonEyre will work with Arup and Arup Associates on the Birmingham Interchange and with WSP on Old Oak Common in North London.
HS2 stated that work on the four key stops on the rapid rail link as 'the largest new station-building programme in the UK since the Victorian age'.
Birmingham Curzon Street HS2 Station building design: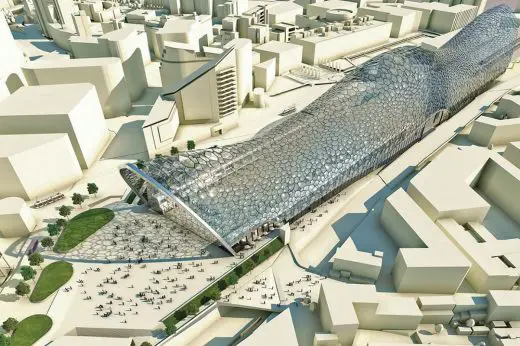 image courtesy of architects
All four stations are due to open in 2026.
The following designers will be awarded contracts to help develop and refine the detailed plans for the four stations, due to open in 2026:
– Birmingham Curzon Street – WSP UK Limited (working with Grimshaw Architects LLP)
– Birmingham Interchange – Ove Arup & Partners International Limited (working with Arup Associates and Wilkinson Eyre Architects Limited)
– Old Oak Common – WSP UK Limited (working with Wilkinson Eyre Architects Limited)
– London Euston – Ove Arup & Partners International Limited (working with Grimshaw Architects LLP)
The winning teams have a track record of delivering cutting edge design and have worked on some of the largest and most complex international infrastructure projects, including Gateshead Millennium Bridge, The Eden Project in Cornwall, Biljmer Arena station in the Netherlands, and the new concourse at London's King's Cross station.
London and Birmingham are already planning for the arrival of HS2 which is expected to unlock opportunities for 30,000 new homes and 130,000 jobs as part of wider developments around the four stations.
Welcoming the news, HS2 Minister Nusrat Ghani said:
HS2 is a modern railway fit for Britain's future, improving vital links between some of our country's biggest cities, driving forward growth and significantly improving services for passengers with thousands more seats on faster trains.
Appointing these leading creative firms ensures that passengers on our world-class railway will experience modern and accessible stations. I am confident that these firms will deliver these projects at value for money, with designs that are both innovative and in keeping with their surroundings.
HS2 Ltd Chief Executive, Mark Thurston said:
Our new stations in London and Birmingham will be at the heart of the first phase of the project, increasing capacity, improving journeys and helping to unlock opportunities for tens of thousands of new jobs and homes around what will be four new landmark buildings.
That's why I'm delighted to welcome these talented designers to the team, and we look forward to working with them to create station designs which showcase world-class architecture, ease of use and value for money that our passengers and communities expect and deserve.
The new HS2 stations will be designed with input from local communities, using best practice principles from stations around the world, and guidelines and specifications endorsed by an independent panel of leading architects and designers.
New HS2 Terminus Euston Station Building: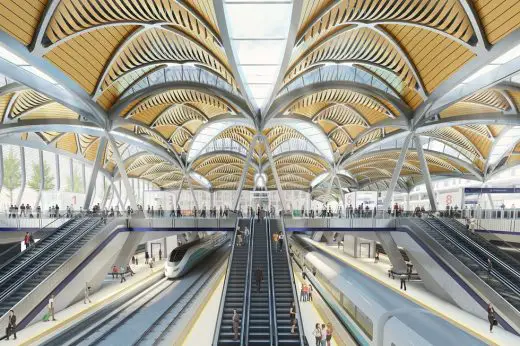 image courtesy of architecture office
Working with HS2 Ltd, the winners will be tasked with delivering:
– People-centred design, which offers high-quality customer experience including shopping, business facilities, and opportunities for art and leisure
– Architecture which enables accessibility for all, including step-free access from street-to-seat which is simple and easy to navigate
– 'Timeless design' for future-proofing and flexibility so stations accommodate changes in technology and in the population
– Respecting and contributing to the physical and cultural legacy of the location – responding to the local built and natural environment, using local materials and ensuring local people identify with their station and have pride in it
An independent HS2 Design Panel has scrutinised HS2's guidelines and specifications for the stations, and will continue to play a key role in reviewing the detailed designs as they develop through 2018.
Chair of the HS2 Design Panel, Sadie Morgan from dRMM architects, said:
We welcome the appointment of these world class designers and look forward to working with them and HS2 to help deliver iconic stations which set new standards in design and ease of use, and provide a legacy of great architecture of which Britain can be truly proud.
In addition, HS2 today also confirmed that the following bidders have been invited to tender for the London stations construction contracts:
London Euston: * Costain Limited/Skanska Construction UK Limited * Mace Limited/Dragados S.A. * Bechtel Limited * BAM Nuttall Limited/Ferrovial Agroman (UK) Limited * Canary Wharf Contractors Limited/MTR Corporation (UK) Limited/Laing O'Rourke Construction Limited
Old Oak Common: * Balfour Beatty Group Ltd/VINCI Construction UK Ltd/VINCI Construction Grands Projets SAS/SYSTRA Ltd * Mace Limited/Dragados S.A. * Bechtel Limited * BAM Nuttall Limited/Ferrovial Agroman (UK) Limited
Working with HS2 Ltd and the Euston and Old Oak Common designers, the Construction Partner will act as the management contractor, responsible for procuring, integrating and managing the supply chains.
Contracts will be awarded in Autumn 2018.
HS2 services from London and Birmingham will travel beyond the new high speed network via existing tracks to a wide range of destinations including Liverpool, The Northwest, Newcastle, Glasgow and Edinburgh.
24 Jul 2017
High Speed 2 Stations Architects
HS2 Station Building Architects
Rogers Stirk Harbour + Partners, Foster + Partners and Grimshaw have been named on the bidding teams battling it out for High Speed 2's (HS2) stations packages. All three practices are led by architects famous for being active in the Hi-Tech movement of the 1980s, which focused on elevating structural and technical aspects of architecture.
Major construction contracts have been awarded and the route north of Birmingham through Yorkshire confirmed.
Contracts worth about £6.6bn and supporting 16,000 jobs have been announced for civil engineering projects in the first phase of HS2, between London and Birmingham, including tunnels and bridges along the line.
New HS2 Terminus Euston Station entrance canopy design: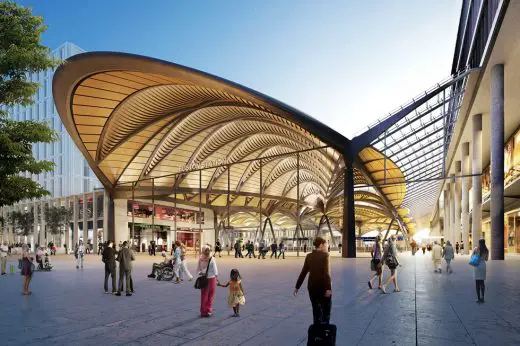 image courtesy of architects office
The final route for the second phase, the Y-shaped network towards Manchester and Leeds, was be confirmed, including changes to the original proposed route around Sheffield.
The first major preparatory works for HS2 are starting around Euston Station in London this summer. Work includes the closure of a public park and demolition of hundreds of homes on neighbouring estates.
High-speed trains from London to Birmingham are due to start running in 2026.
10 Apr 2017
HS2 Station Building Designers
Client Seeks Four Station Designers & Development Partner for Euston
Client looking for four station designers and a development partner for Euston, reports Building Design today.
Arup, Mouchel and WSP Parsons Brinckerhoff have won design consultant roles on High Speed 2's Birmingham-Crewe extension.
Arup has been appointed to deliver civils and environmental services; WSP Parsons Brinckerhoff will work on railway systems for the northern section of the route; and Mouchel will provide site access, land referencing and stakeholder engagement services.
Last month, HS2 announced that the opening of the Birmingham-Crewe route would be brought forward by six years to 2027 – just a year after the completion of the London-Birmingham section.
All three firms are set to assist HS2 in the preparation of a second hybrid bill to provide the powers to deliver the route to Crewe by 2027.
Commenting on the appointments, HS2 chief executive Simon Kirby said: "Bringing HS2 to Crewe six years early will dramatically boost connectivity and improve journeys for millions of people travelling between London, the Midlands and the major cities of the North.
source: HS2 Station Designs
19 Feb 2017
HS2 Terminus Architects
WilkinsonEyre Replaces Grimshaw for New HS2 Terminus Euston Station Building
WilkinsonEyre has replaced Grimshaw on the High Speed 2 (HS2) package of work for the concept design of Euston Station
Grimshaw and Arup had been leading the design work on the new London terminus for the multibillion pound rail link, having landed the job in 2012, reports the Architects' Journal.
However the work was retendered last year and the package has now been picked up by WilkinsonEyre as part of the WSP Parsons Brinckerhoff-led bid.
HS2 Euston Station London Terminus
According to New Civil Engineer, HS2 evaluated the tender based on 70% technical and 30% price and split it into three different contracts covering civil engineering, railway systems and environmental services.
New HS2 Terminus Construction Open Evenings
Future dates for your diary:
23 February – land and property surgery*
9 March – construction surgery*
16 March – construction open evening
23 March – land and property surgery*
20 May 2016
London Mayor Sadiq Khan Demands Freeze on Euston HS2 Redevelopment
The new Mayor of London has cast doubts over the Euston station redevelopment by Grimshaw after suggesting Old Oak Common could be a better terminus for High Speed 2 (HS2) until local concerns about disruption are resolved, reports the Architect's Journal.
10 Sep 2015
HS2 Terminus Euston Station London
New HS2 Terminus Euston Station Plans
Design: Arup / Grimshaw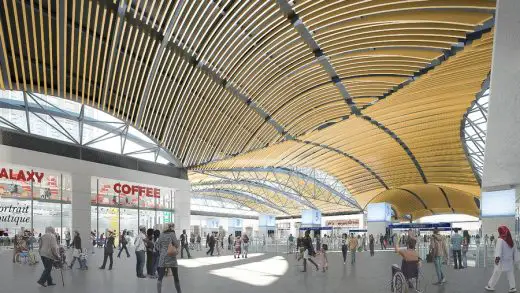 HS2 has unveiled revised plans for its London terminus at Euston, prolonging construction by seven years and incorporating a bright yellow roof over its high-speed rail platforms, reports The Guardian.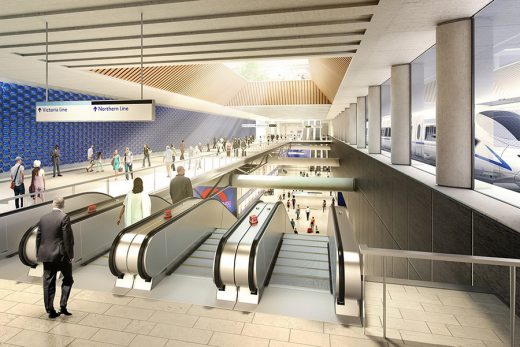 Revised HS2 plans for Euston extend build time by seven years: bosses say proposals leave room for redevelopment and minimise disruption at London station but Camden council says serious questions remain
10 Sep 2015
HS2 Terminus at Euston Station London News
HS2 Terminus Euston Station
Design: Arup / Grimshaw
A new vision for Euston Station revealed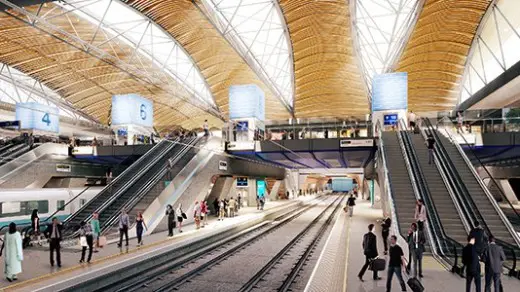 10th September, 2015 – HS2 Ltd has released designs from Arup and Grimshaw for the proposed new High Speed Two (HS2) terminal at Euston station. Euston will provide high speed rail services from London to the Midlands, and the North.
Arup is the lead consultant on the project and has been working closely with architects, Grimshaw, to produce an incremental staged design that will allow construction of the new high speed station while maintaining services at the existing station.
All images © Grimshaw
Arup Architecture + Engineering
Euston Station London: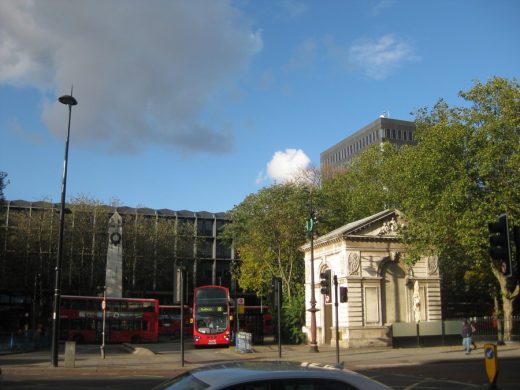 photo © Adrian Welch
Location: Euston Road, north side of city centre, London, England, UK
Euston Station Architecture
Euston Station building in 2007:



photo © Adrian Welch
HS2 – UK government website
Euston Station:
Euston Station Regeneration designer : Foreign Office Architects
Euston Station Masterplan designer : Allies and Morrison
London Architecture
London Architecture Links – chronological list
London Architecture Walking Tours
Famous London buildings by architect Richard Seifert
Centre Point
Centrepoint Tower
Nat West Tower
Natwest Tower
London Railway Stations
Architecture in the UK Capital City
Comments / photos for the HS2 Station Building – New Railway Architecture page welcome