Most Stunning University Campuses in the UK Guide, British Higher Education Advice
6 Most Stunning University Campuses in the UK
Oct 12, 2020
Great Britain is a country with a rich history. Therefore, it's home to many world-renowned universities that are famous for not only the top-quality education they provide, but also for the astonishing beauty and grandeur of their campuses.
We all know the iconic images and the big names of Oxford and Cambridge, but there are also a lot more gorgeous university buildings in Britain that certainly deserve to be acknowledged.
We've put together a list of six most stunning university campuses in the UK based on our taste and the lists made by our colleagues. We've tried to include the most impressive buildings, but this catalogue is of course by no means exhaustive.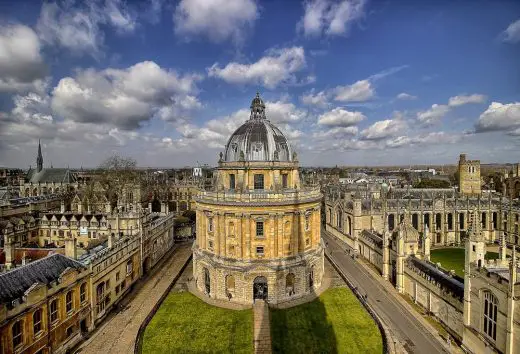 source: pixabay.com
1.  University of Oxford
Being the oldest English-speaking university in the world, Oxford can boast with one of the two most iconic campuses in the UK. Its captivating grandeur is so overwhelming that the very sight of this place attracts students from all over the world at least as much as the fact that it's also one of the world's highest-ranking academic institutions.
The University was established in 1096, and since then has become alma mater to 69 Nobel Prize winners. Probably, being surrounded by such an atmosphere helped them a lot in their studies!
Fans of Harry Potter movies may also be impressed with the fact that the Hogwarts Great Hall is no other than the hall of Christ Church College, which is a part of the Oxford campus.
2.  University of Cambridge
Another world-famous site, the University of Cambridge was established a bit later – in 1209, which makes it the second oldest university in the English-speaking world. It is also currently the fourth oldest in the whole world.
One of the most astonishing buildings of the campus is the iconic Gothic-style King's College Chapel, which is often used as the symbol of the city of Cambridge. Other popular sites include Queens College and St.John's College.
Cambridge is also one of the top higher education institutions in the world. But even the smartest students who manage to get there sometimes need thesis writing help or some other sort of academic help, because the curriculum there is extremely pressing.
3.  University of Edinburgh
The University of Edinburgh is best known for its majestic Georgian Old College building where the School of Law currently resides. It took almost a century to finish the construction – from the year of 1789 when it was originally designed to 1887 when it was finally crowned with its famous dome.
As for the institution itself, it's one of Scotland's four ancient universities, being founded in the middle of the XVIth century. It also proudly holds its place as the 20th highest-ranking university in the world according to QS rankings.
4.  University of Aberdeen
Here's one more of the four ancient Scottish universities. The institution was established in 1495 and has raised five Nobel laureates, along with some more prominent alumni.
The most notable buildings of its campus are King's College, which lies several miles away from Aberdeen's city centre. It is home to most student facilities, and Marischal College, which is widely considered to be one of the best examples of neo-Gothic architecture in Britain.
An interesting detail: the institution's chancellor since 2013 is none other than Camilla, the wife of Prince Charles and the Duchess of Rothesay.
Royal Holloway, University of London, England, UK: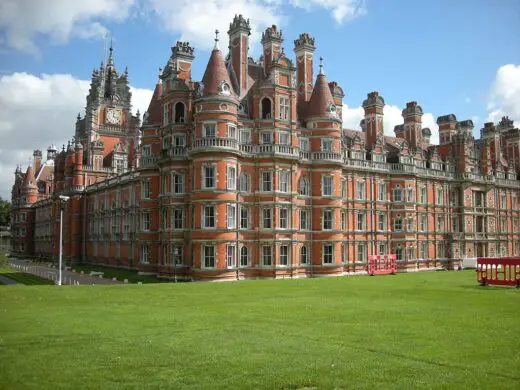 photo : Fay1982, CC BY-SA 3.0 https://creativecommons.org/licenses/by-sa/3.0, via Wikimedia Commons
5.  Royal Holloway
Royal Holloway's building stands out from our list with its vivid red colour. It is officially a part of the University of London, which it became in 1900. The institution itself was founded in 1879 and is located just outside of the British capital, in Surrey.
Its stunning Gothic Revival-style building inspired by French Château de Chambord is impressive to more than just students and sightseers. Royal Holloway also "starred" in a number of cinema and TV productions, among which are such staples as Downton Abbey and Avengers: Age of Ultron.
6.  Durham University
Do you want to study in a real ancient castle? Then you should definitely apply to Durham! Though this academic institution is rather young compared to the majority of our list, it's mostly famous due to the fact that one of its facilities, University College.
The college is located in Durham Castle that dates back to the 11th century and has served as the residence of the Bishops of Durham up until 1837. Very few students eventually get to live and study there, but, luckily, the majestic Castle can be visited by anyone as a museum.
Afterword
As we've already mentioned at the beginning, listed above are just a few of Britain's most stunning university campuses. There are more! But even those that we've given you a quick overview of in this article should be enough to make you want to travel to the UK and see all this beauty in person.
Comments on this 6 Most Stunning University Campuses in the UK advice article are welcome.
Higher Education
Higher Education Building Design posts – architectural selection below:
Buildings
Comments / photos for the 6 Most Stunning University Campuses in the UK Guide page welcome