London Empowering Platforms design competition, LFA 2020, Festival of Architecture News
Empowering Platforms design competition London
26 Nov 2020
Empowering Platforms design competition shortlist
Shortlist revealed for London Festival of Architecture 2020 design competition
26th November 2020 – London Festival of Architecture, Westminster City Council and the Northbank Business Improvement District reveal shortlist for 'Empowering Platforms' design competition.
The London Festival of Architecture, Westminster City Council and the Northbank Business Improvement District have announced the six design teams shortlisted to create an 'empowering platform' – a public realm intervention that combines wayfinding, greenery, seating and more to reimagine the experience people have with the River Thames alongside the Westminster riverfront.
Architects, landscape architects, designers and artists were invited to develop a bold and interactive design solution that can showcase the riverfront at its full potential, offering new perspectives on the river, key local landmarks and the area's rich history. The project encourages interactivity and sensory design experiences to help shape a more welcoming and inclusive Thames Path for all.
The 6 shortlisted teams and their designs are:
'Morphform' by Grimshaw & mmcité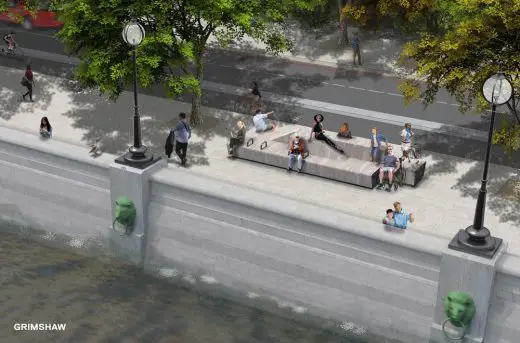 The concept aims to include all those who use the North Bank. The sloped modules of the bench allow children to climb up high and people to recline. A notch in the platform allows a wheelchair or pram to be situated safely next to others and is encompassed in the overall geometry of the platform. Arm rests are fixed to modules to provide ergonomic support for elderly or frail users.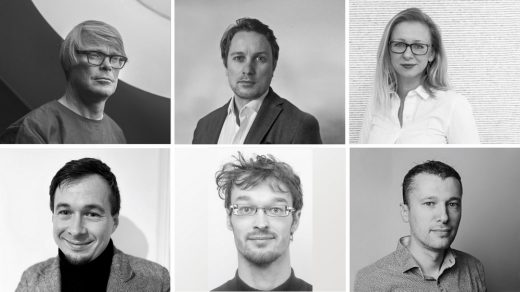 Combined, these modules encourage everyone to enjoy the Thames together. Situated in a place of celebrated heritage the concept looks to enhance the local character by respecting the forms and materials of architecture and streetscape of Westminster. A combination of robust materials and flexible modules allows the platform to be moved and reconfigured to suit changing needs and sites along the Thames. This reduces the need for short term recycling of temporary structures and minimizes its Life Cycle Carbon footprint.
grimshaw.global
Twitter: @grimshawarch
Instagram: @grimshawarch
Twitter: @mmcite11_UK
Instagram: @mmcite
'Resting Rocks' by CAN with Felicity Hammond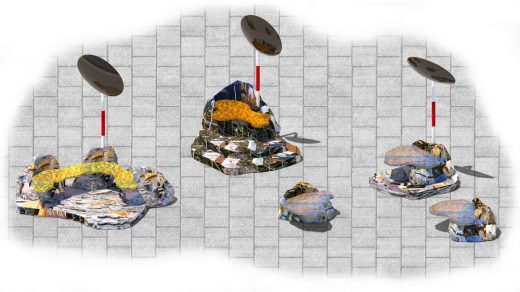 Resting Rocks are a direct response to the unique collision of surfaces, materials and washed up artifacts that exist where the Thames meets the riverbank. The seating is imagined as a series of washed up rocks adorned with photographic collages that reflect the past, present and future of the riverside.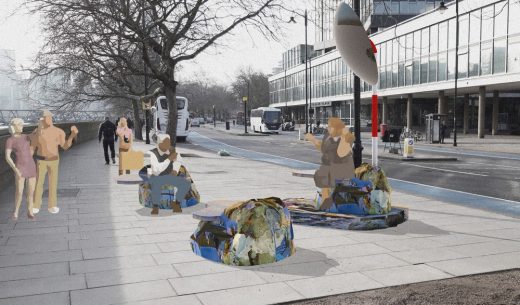 The benches allow for a variety of seating formations. Single seat benches are set at distances responding to current social distancing rules with longer benches allowing for small groups to sit together. There are multiple vantage points of the river view with benches set at varying heights and elevated Claude Glass reflectors providing abstracted and surreal views over the river wall.
Felicity Hammond and Mat Barnes of CAN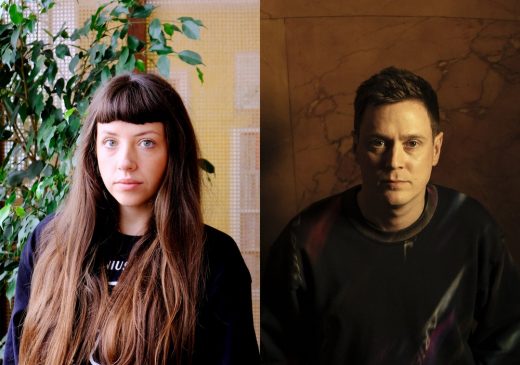 Mat Barnes photo credit © Jim Stephenson
Instagram: @can_agram
Twitter: @CAN_critical
www.felicityhammond.com
Instagram: @flisshammond
Twitter: @flisshammond
'Rialto' by Migrant's Bureau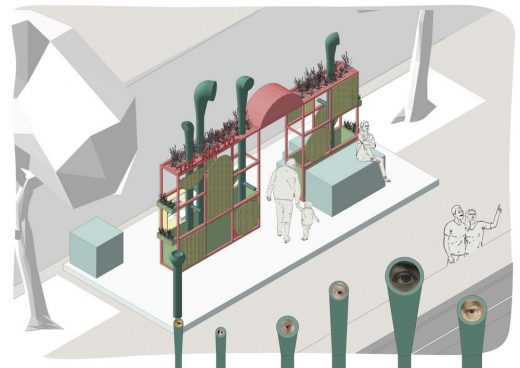 Named after the district in Venice, the Rialto refers not only to a place of trade and commerce but also a meeting place where many can come to find a central point. The design seeks to encourage conversation, helping to reframe how people their urban surroundings through the act of play and rediscovery.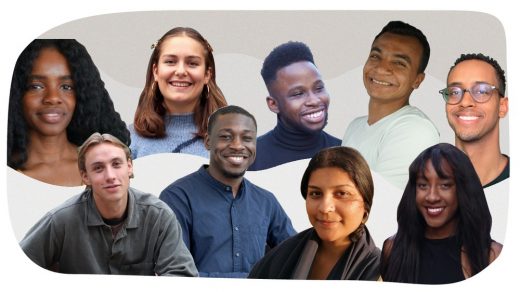 By looking through the periscopes dotted throughout the structure, visitors will get different perspectives on a familiar cityscape; these lenses distort and reframe views out to the Thames Riverfront in a playful manner. The design provides a focal point for activity, allowing both locals and visitors to cross paths, whether it is a group of runners pausing briefly to drink water, or a local contributing to the take-one-leave-one library.
Twitter: @migrantsbureau
Instagram: @migrantsbureau
'Soft Monument' by Medium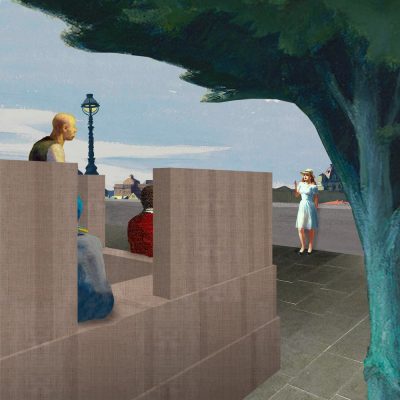 Soft Monument is an open and public platform, but one that conveys the qualities of a domestic space – intimacy, comfort, and seclusion. On approach the installation appears to be another solid monument in the series that line the River Thames, but on closer inspection it reveals a concealed interior, with a fabric lining that is soft to the touch and an inhabitable platform carved out from its external mass.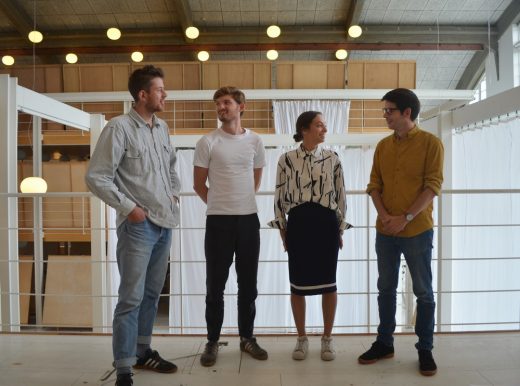 These nooks recreate domestic moments – a threshold through which to pass, a seat on which to recline, and a cropped window that frames views across the Thames. As our collective positioning within public space continues to be challenged by the pandemic, Soft Monument stakes its claim by enriching one of London's central civic spaces with a domestic softness.
medium.works
Instagram: @medium.works
'Thames Tablet' by WoCo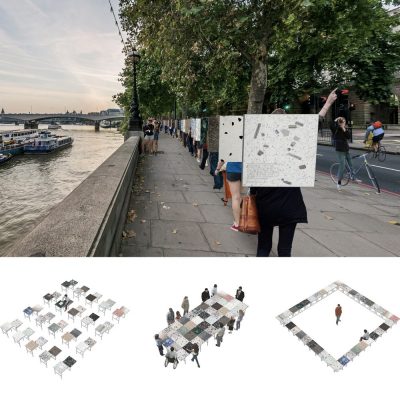 This proposal is a descendant as well as the antithesis of the iconic Vulliamy benches, which line the Thames riverfront. Instead of static pieces of public furniture reminiscent of Britain's colonial past, these individually cast Jesmonite tiles can be carried like a backpack, which display the marks, artefacts and stories of local stakeholders i.e. watermen, mudlarks and nearby institutions.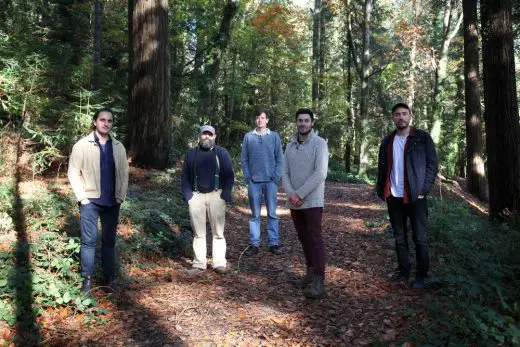 The telescopic legs and swivelling feet of the interlocking aluminium frames negotiate the topography of the terrain. Moving the foldable tablets from one site to another takes the form of a public procession, creating structures to suit a variety of sites and uses, ranging from a large dining table to a temporary outdoor classroom. The aim is to promote active participation, a sense of shared ownership and reimagining how we can collectively transform public spaces.
www.wocoltd.com
Instagram: woco_ltd
'YouScape' by DesignBox Architecture & Graveney School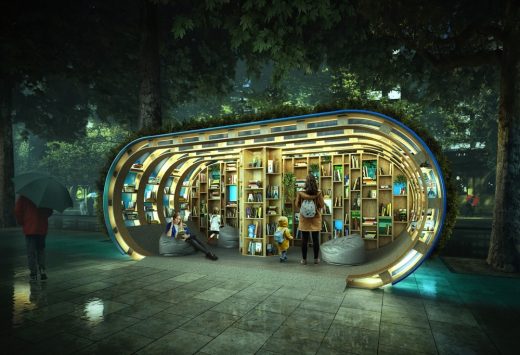 The proposals captured the imagination and creativity of secondary school student volunteers. The response demonstrates culturally inclusive ideals from our next generation of London citizens. The student team developed 'YouScape': an urban outdoor garden library.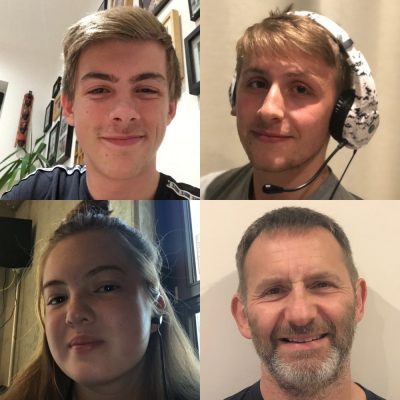 It's a place to sit, relax and escape from the pressures of London. It is designed as a simple platform to connect with nature and engage with literature – an oasis in the heart of the City. 'Put your feet up and read a book' was a key reaction to the site from the student team. Building upon the idea that everyone is a stakeholder in the design of their surroundings, the team hope these proposals demonstrate how we all can take a role in working to create a more inclusive, accessible and cohesive environment.
Twitter: @dgnbx
Instagram: @dgnbx
www.glenthorne.sutton.sch.uk
The project will see adaptable design solutions strive to improve the experience people have on the Thames Path and its surroundings, and will consider interventions on various different locations within the City of Westminster, which includes a 5km stretch of the Thames Riverfront. Here, the plan seeks to enhance the river's natural environment and public realm to deliver a legible and welcoming destination for visitors, local community and Londoners.
With the council working alongside the Northbank BID, this project offers the opportunity to work together with stakeholders to inform a long-term waterfront vision and strategy for the area. It also provides a  physical platform to bring the local community together in a meaningful conversation around Westminster's public realm and what future improvements might look like. Now, there is the opportunity to also discuss the role of public spaces in face of the COVID-19 pandemic.
The competition entries were received in March, and has been judged by an expert panel, including representatives from Westminster City Council, Northbank BID, the London Festival of Architecture and Thames Festival Trust.
Following the next round of judging, up to two winning designers will be awarded £20,000 each to design and manufacture their proposed interventions, once it is safe and possible to do so. They will then form part of the London Festival of Architecture's ongoing, year-round programme of events and competitions, to be revealed in line with government guidance.
Tamsie Thomson, managing director of New London Architecture, said:
"The Thames at Westminster has inspired countless architects and artists over centuries. The 'Empowering Platforms' competition continues that creative tradition, and I'm delighted that so many responded to our call for entries. Now we have a shortlist, it's thrilling to see the range of ideas before us – each responding to the iconic Thames waterfront in different ways, yet all bringing imaginative responses to the brief and offering new ways for people to experience the river and the city around them."
Cllr Matthew Green, Westminster City Council Cabinet Member for Business and Planning, said:
"The Thames riverfront is one of the most iconic and beautiful parts of this city, and as part of the London Festival of Architecture's competition we have seen some truly inspiring and creative ideas to enhance and develop the area. We would like to congratulate those shortlisted and look forward to working with Northbank business improvement district to see some of these inclusive visions a reality for people to enjoy for many years to come."
Ruth Duston OBE, OC Chief Executive of the Northbank BID said:
"We're thrilled to see such innovative and forward-thinking designs shortlisted as part of the Empowering Platforms competition. We've been impressed by every entry but these six options show real promise and represent the exact thinking we need to revitalise our public realm. We're especially pleased to be working closely with Westminster City Council on this initiative and look forward to collectively deciding on which proposal will be awarded funding. We can't wait to see one of these ideas come to life and hope as many local people as possible will join us in congratulating the winner when they are announced".
The London Festival of Architecture (LFA) is the world's largest annual architecture festival and showcases London as a global architectural hub. The LFA's mission is to support London's architectural and design talent, enthuse and engage with the public, and find new ways to look at familiar places. In 2020 the LFA has explored the theme of power, and celebrated innovation and design through a digital events programme in June. The 2019 edition of the LFA inspired over 600 events across the capital, attracting over 800,000 visitors and a global audience of 138 million. A year-round programme of design competitions, design charrettes, campaigns and other activities also champions London as the best place in the world to practice and enjoy architecture.
www.londonfestivalofarchitecture.org
Twitter: @LFArchitecture
Instagram: @LondonFestivalofArchitecture
Westminster City Council
www.westminster.gov.uk
Twitter: @CityWestminster
Instagram: @citywestminster
Northbank BID
www.thenorthbank.london
Twitter: @TheNorthbankBID
Instagram: @thenorthbankbid
Empowering Platforms design competition images / information received 261120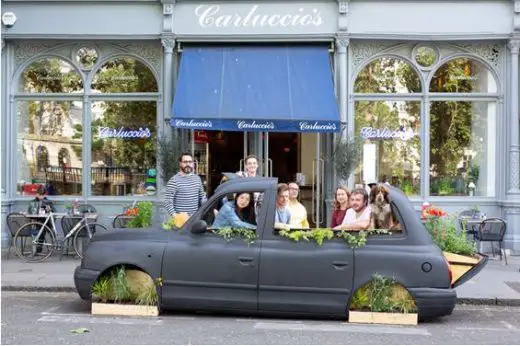 photo : Luke O'Donovan
London Festival of Architecture City Parklets
Location: London, UK
London Festival of Architecture
London Festival of Architecture 2020
Fresh Air Square, Tooley Street, Southeast London: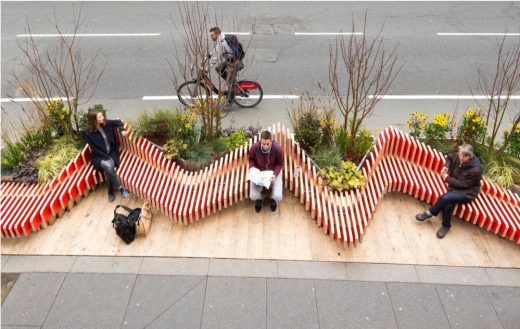 photo © Fresh Air Square, Tooley Street. Photography by Mediamixer, on behalf of Team London Bridge
London Festival of Architecture 2019
London Festival of Architecture Exhibition 2019
London Festival of Architecture graphic design competition
Twitter: @LFArchitecture
Instagram: @LondonFestivalofArchitecture
London Festival of Architecture
LFA Thessaly Road Railway Bridge Contest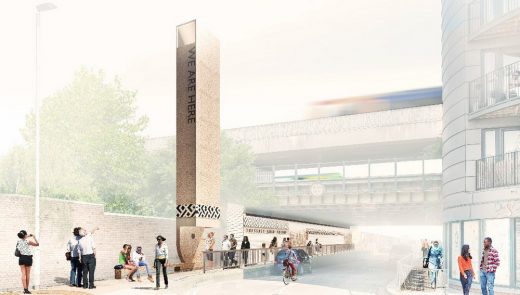 LFA London Bridge Public Realm Competition Shortlist
London Bridge Public Realm Competition Shortlist News
London Festival of Architecture Dulwich Pavilion Shortlist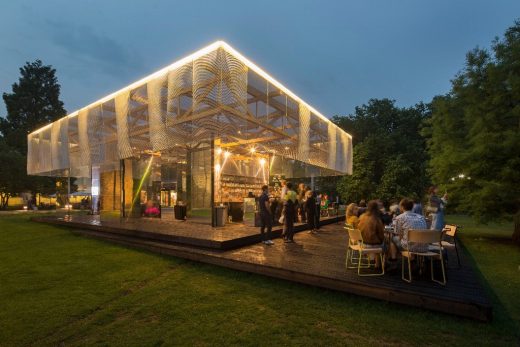 photo courtesy of LFA
Dulwich Pavilion 2019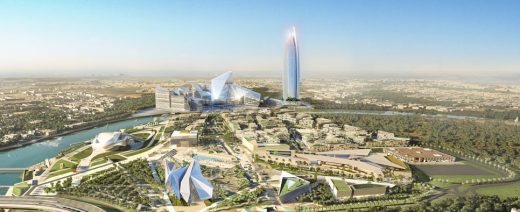 image courtesy of LFA
London Festival of Architecture 2017
London Festival of Architecture Installations 2016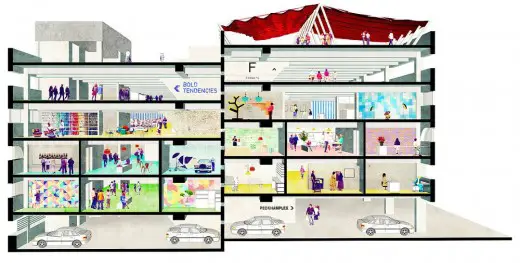 image from RIBA
London Festival of Architecture Installation in Clerkenwell
London Festival of Architecture Installation by Wilkinson Eyre
Festival of Architecture London
London Festival of Architecture
London Architecture
London Architecture Links – chronological list
Architecture Walking Tours London by e-architect
Coal Drops Yard
Architects: Heatherwick Studio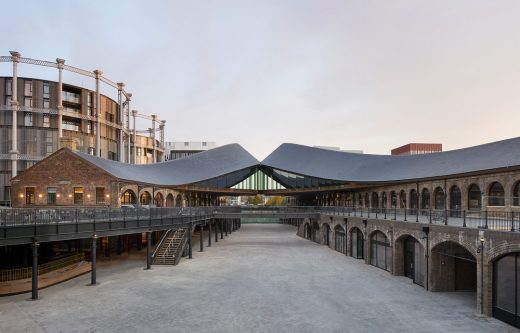 photo © Hufton+Crow
Coal Drops Yard
Bloomberg HQ London – 2018 Stirling Prize Winner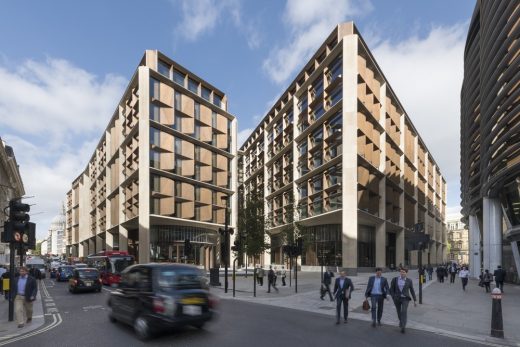 photo © Nigel Young / Foster + Partners
Bloomberg European Headquarters in London Building
Universal Works Store , Coal Drops Yard, London N1
Architects: Studio MUTT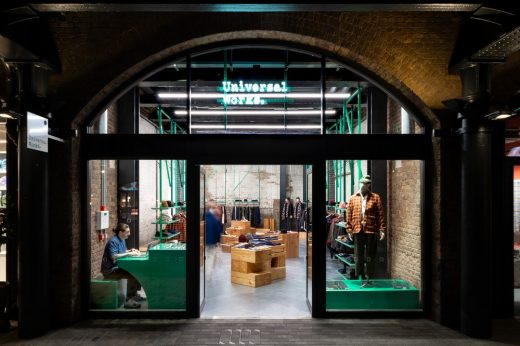 photography : MUTT © FRENCH + TYE
Universal Works x Coal Drops Yard in King's Cross
Comments / photos for the London Festival of Architecture Empowering Platforms design competition page welcome