Roca London Gallery Exhibition, Timber High-rise Building Show, Chelsea Harbour London
Timber Rising, Roca London Gallery Exhibition News
Retail Interior at Imperial Wharf, West Brompton / Chelsea Harbour design by Zaha Hadid Architects
20 Nov 2017
Timber Rising – Roca London Exhibition
Timber Rising: Vertical visions for the cities of tomorrow –
Timber Rising: Vertical visions for the cities of tomorrow The first comprehensive exhibition to look at the new revolution in timber high-rise building
9 February – 19 May 2018
"I always say that the hardest job is not the engineering or science behind how these mass timber buildings are constructed, but it's changing the public's perception of what is possible and why. This exhibition will help to change that, to enlighten, and help people to understand the issues." – Architect Michael Green, MGA (Vancouver)
Baobab timber building: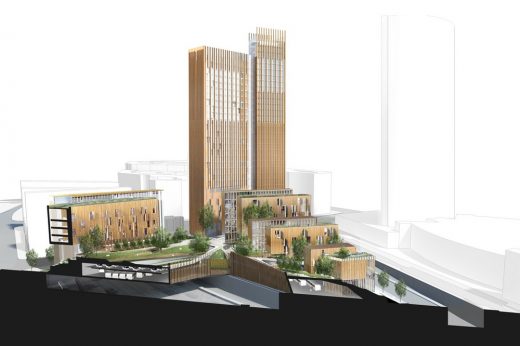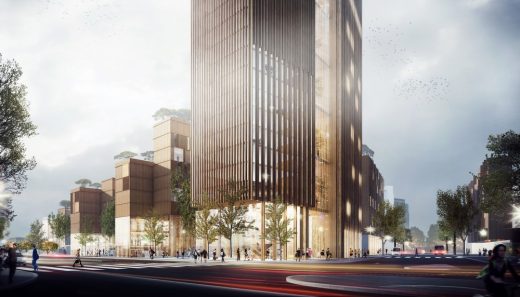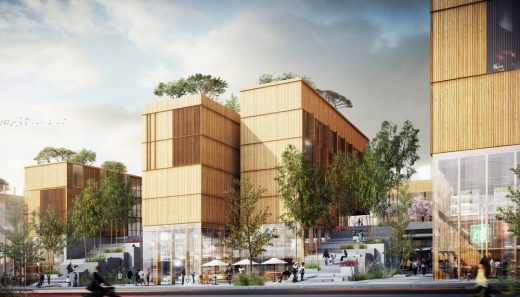 images : Michael Green Architecture
"A CLT structure is a beautiful environment to live in. There's something intangibly different about it. It's calmer, more serene, and you sleep better. … It feels like it shapes itself around you." – Architect Andrew Waugh, Waugh Thistleton (London)
Lagos's Wooden Tower – Abebe Court Tower: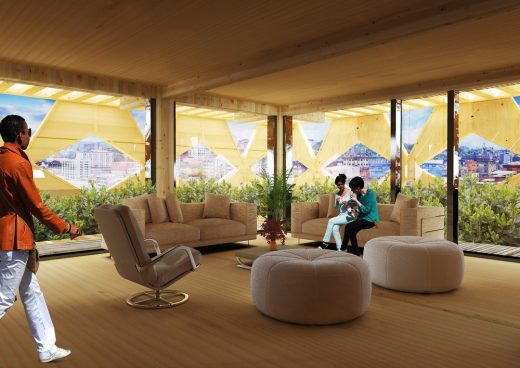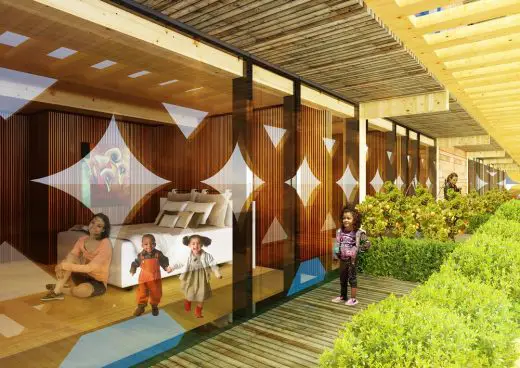 images : Hermann Kamte & Associates
A timber revolution is in the air. In the last decade, a new phenomenon has occurred in architectural practice: the beginning of high-rise building in wood. A number of architects, working closely with world-class scientists and engineers, are experimenting with new engineered timber products including CLT (cross-laminated timber), predicting a future in which wood will supersede concrete and steel in an effort to confront some of the most pressing issues of our time: highdensity cities, climate change, the housing crisis, and mental health.
At a time when C02 levels are at their highest for 800,000 years, and a US government report confirms that human activity is the 'dominant cause' of global warming, this show explores how one of our most ancient and best-loved materials might offer at least one answer to this global problem.
Dalston Lane, London, by Waugh Thistleton, Architects: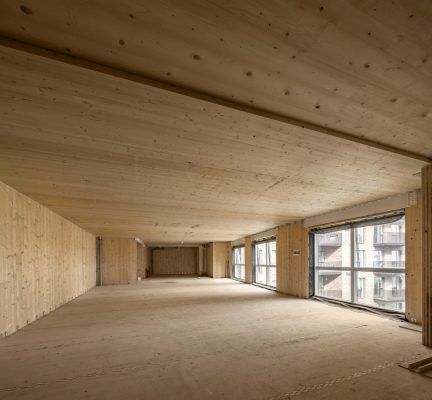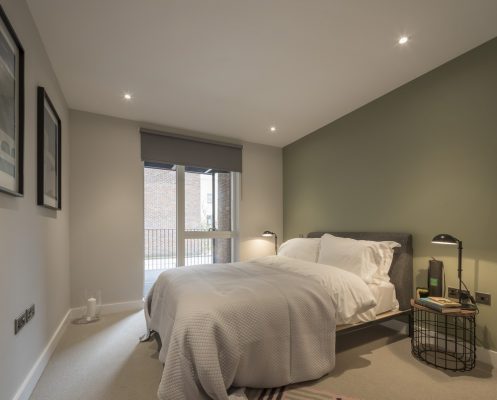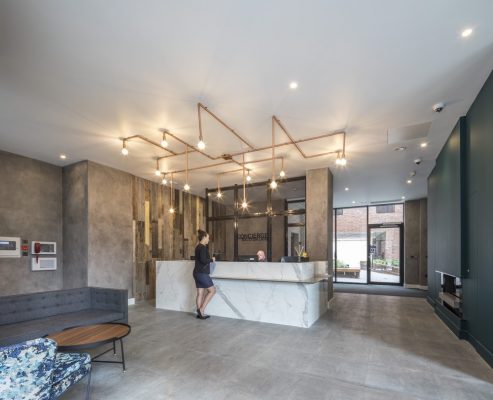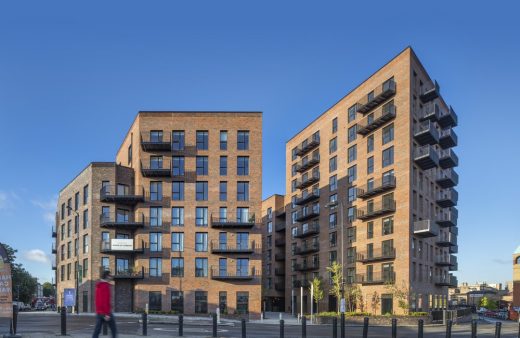 images : Daniel Shearing
High-rise (and mid-rise) mass timber structures combine lightness, speed and strength, with sustainability, humanity and wellbeing. Research is showing that the use of these engineered products, which still preserve the tactile beauty, scent and warmth of wood, can benefit our own health as well as the environment, though the timber must be sourced from responsibly managed forests. Significantly lighter than concrete and steel, and using far less energy in the construction
process, mass timber absorbs and sequesters C02 in a remarkable way. In addition, the massive timber panels and modules can be prefabricated offsite, suggesting new and exciting possibilities for the future of construction, and for the quick, sustainable housing that is so desperately needed.
Skellefteå Kulturhus in Sweden: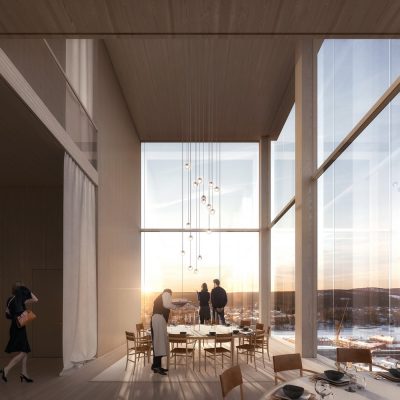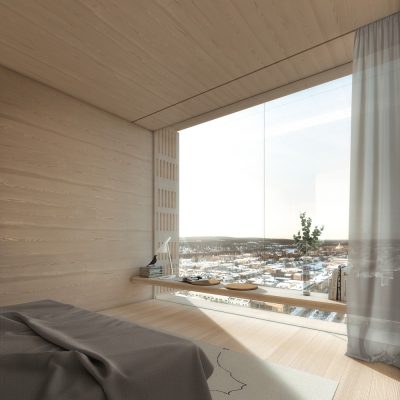 images : White Arkitekter
For the first time, this exhibition puts these timber developments (which are still evolving) into historical context, as well as addressing issues of safety and urban health, which are both of huge importance in the public mind. New research will be analysed, including the latest thinking on Biophilia, which suggests that human beings need to have a closer connection to natural materials.
Timber Rising focuses on the most significant mass timber solutions to date, interviewing key participants, and looking to a future where wood will ultimately determine new types of structures. Examples of completed projects will sit alongside more ambitious concept and research proposals, showing what is possible today, and what will be possible – with changing building codes and new thinking by developers, governments and the construction industry – for the cities of tomorrow.
Abebe Court Tower wooden building in Lagos: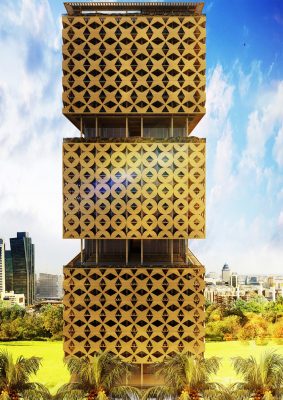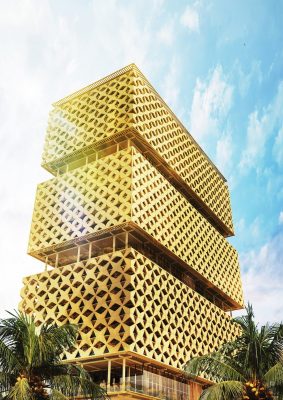 images : Hermann Kamte & Associates
Among the built projects featured are Treet (The Tree), Artec AS' 14-storey modular timber-framed apartment block in central Bergen, Norway, made from glulam and CLT; and Waugh Thistleton's 2017 Dalston Lane in Hackney, currently the world's largest CLT building: a ten-storey, 121-unit development made entirely of engineered timber. Thanks to its lightness, weighing a fifth of a concrete building on this scale, it is taller than was ever thought feasible on the neglected brownfield site, which has important implications for other challenging sites around the world.
Dalston Lane timber building in London by Waugh Thistleton Architects: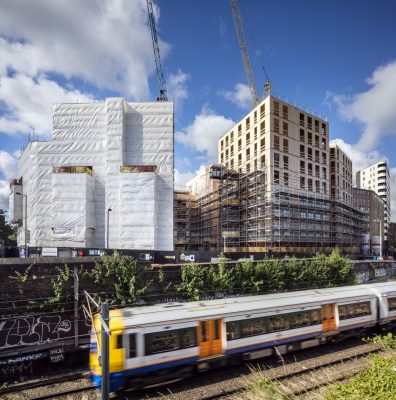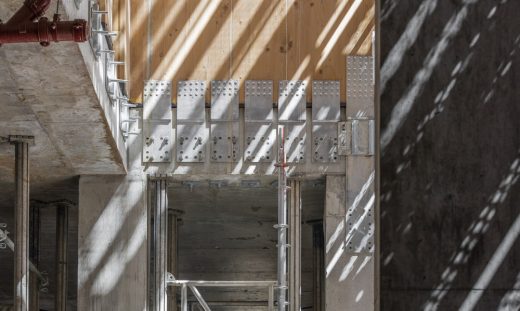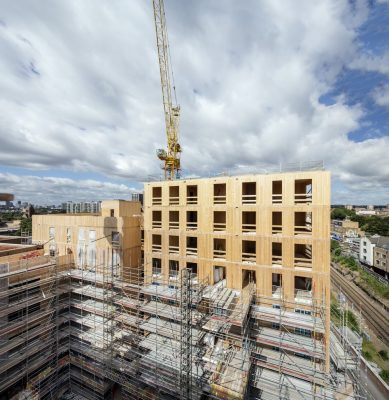 images : Daniel Shearing
The exhibition will also feature the projects and proposals of other international practices: Lagos' Wooden Tower concept for Nigeria by Hermann Kamte & Associates (Cameroon), in which a housing estate is transformed by a rising timber structure with sky gardens; the Kulturhus Skellefteå in Skellefteå, Sweden by White Arkitekter (Gothenburg), who are working with the local Swedish timber industry to create a 19-storey pre-fabricated timber-framed building of art, theatre and literature; and the 80-storey Oakwood Timber Tower concept for the Barbican by PLP (London), who have worked in close collaboration with Cambridge University's Department of Architecture and engineers Smith and Wallwork, proposing a method of utilising the lightness of engineered timber, which they liken to the carbon fibre of aircraft, to build on top of existing urban structures, and to aim for the sky.
Treet wooden building: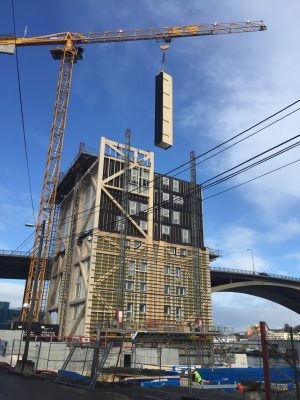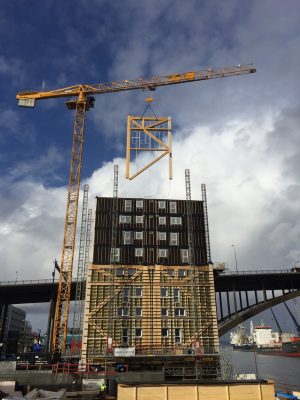 photos : Daniel Shearing
Timber champion and TED speaker Michael Green (Michael Green Architects, Vancouver) will also be participating, with a focus on his Baobab competition proposal for Paris, a 35-storey mixed-use, carbon-neutral timber tower project, including social housing and focused on community.
One of a number of architects to be chosen, in October 2017, to build tall timber towers in Paris, Green is now predicting 'an Eiffel tower moment' for wood construction. Making the case for many types of recyclable, engineered timber (not just CLT), Green promotes the use of locally sourced wood and responsible forestry practices, which could have interesting economic implications here in the UK.
Skellefteå Kulturhus wooden building in Sweden: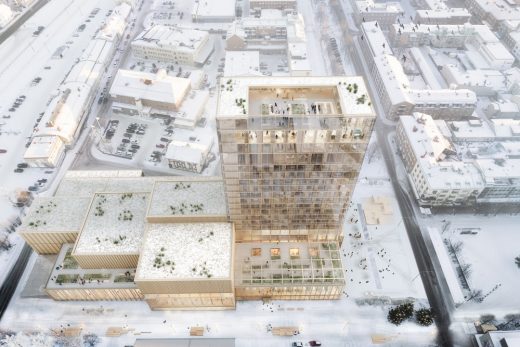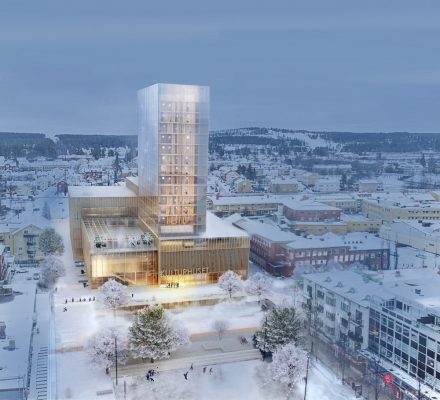 images : Daniel Shearing
A sculpture and statement on wood by artist David Nash (whose work has inspired some of the participants) will also be featured, drawing an interesting parallel between architecture and art.
Curators Clare Farrow and Eva Woode (Director of Studio Woode) say: "We are delighted to be presenting the first comprehensive exhibition of tall timber building, here in the UK, which will
examine the historical context for this new phenomenon in architecture, and will also look at our intimate connection to wood, an ancient material that has now become the most modern, and which in its engineered form seems to offer as much to humanity as it does to the environment. As Alvar Aalto said, wood is the most 'deeply human' of all materials."
The Timber Rising exhibition is part of Roca's ongoing commitment to showcasing and collaborating with the leading architects of our time, working with them to help develop ways of improving urban life, with an emphasis on sustainability and wellbeing.
Treet – Elevator shaft in CLT: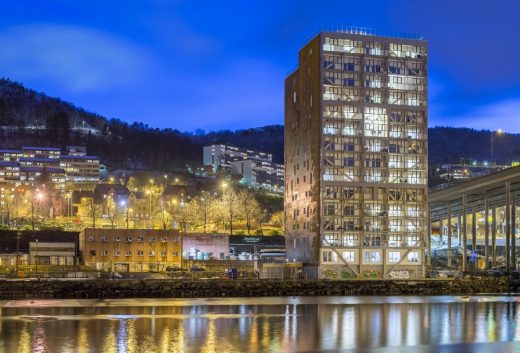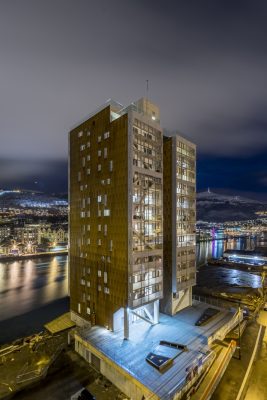 photos : Daniel Shearing
Curators: Studio Woode is a new communications agency, working with construction, architecture, interiors and design brands. With a particular interest in sustainability and innovation, the studio develops exhibitions, conferences, training materials and content for digital channels.
Clare Farrow is a writer and curator specialising in architecture, art, design and music, with a special interest in the links between art forms. She has interviewed and worked with many leading architects on projects including the recent exhibition Childhood ReCollections: Memory in Design at the Roca London Gallery and Roca Barcelona Gallery, also curating events. She is currently working on two architecture and music projects, both relating to the dialogue between nature and humanity.
Events: A number of evening events, open to the public, will be organised to coincide with the exhibition, featuring some of the participating architects, who will also be available for interview. Location and opening times Roca London Gallery, Station Court, Townmead Road, London, SW6 2PY W: www.rocalondongallery.com T: 020 7610 9503 @rocalongallery
Mondays to Fridays from 9am to 5.30pm; Saturdays from 11am to 5pm; Open until 8pm on the last Tuesday of every month. Admission Free
Timber Rising, Roca London Gallery Exhibition images / information received 201117
Address: Station Court, Townmead Rd, Fulham, London SW6 2PY, UK
Phone: +44 20 7610 9503
Location: Roca London Gallery, Station Court, Townmead Rd, Fulham, London, SW6 2PY, England, UK
London Building Designs
Contemporary London Architectural Designs
London Architecture Links – chronological list
London Architecture Walking Tours – bespoke UK capital city walks by e-architect
Drawing Attention, Exhibition at Roca London Gallery
Roca London Gallery Exhibition in 2014 – Tate Modern and Shard: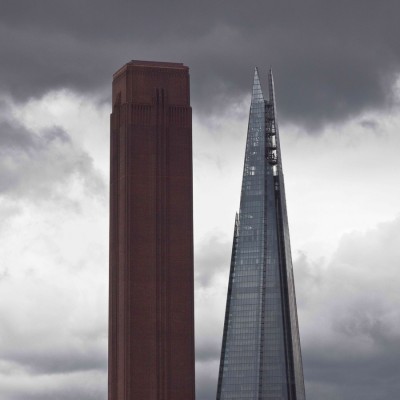 photo : Richard Brine
Roca London Gallery Exhibition
Beijing Roca Gallery
Design: MAD Architects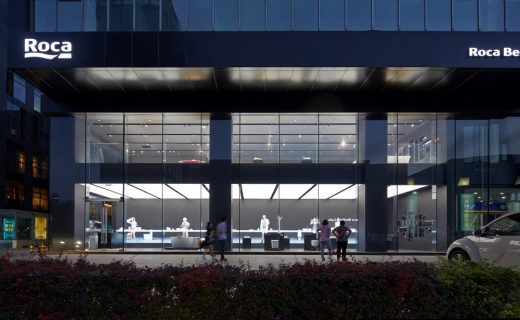 photograph : Shu He, Action Media
Beijing Roca Gallery
Roca London Gallery designer : Zaha Hadid
Roca Gallery China : Shanghai
Website: www.rocalondongallery.com
Zaha Hadid Designs – London Selection
Evelyn Grace Academy Brixton : winner of Stirling Prize
Related post on e-architect:
For a better climate: Norway to build world's tallest timber building
Timber high-rise building in Norway
Roca London Gallery designers : Zaha Hadid Architects
Comments / photos for the Timber Rising, Roca London Gallery Exhibition in 2018 page welcome