Neil Spiller Architect London, Building, Drawing, Design, Projects, Bartlett, Education, Teaching
Neil Spiller Architecture
Dean, School of Architecture, University of Greenwich, London, UK
post updated 16 May 2021 ; 19 Mar 2020
Neil Spiller – News + Projects
Professor Neil Spiller
Neil Spiller is Dean, School of Architecture, Design & Construction at the University of Greenwich, Professor of Architecture and Digital Theory.
He is also founding Director of the Advanced Virtual and Technological Architecture Research Group (AVATAR) and a practising architect.
He was previously Vice Dean, the Graduate Director of Design, at The Bartlett School of Architecture, UCL, London, UK
Positions held by Neil Spiller at The Bartlett:
Professor of Architecture and Digital Theory
Graduate Architectural Design Director
Director of MArch (Architectural Design) AVATAR
Vice-Dean
Admissions Tutor
Bartlett School of Architecture
University College London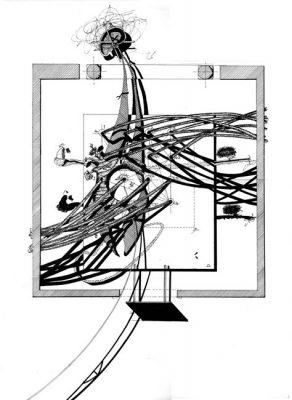 Island Table : drawing by Neil Spiller
The work of Neil Spiller focuses on the fusion of architecture and digital technology
Neil Spiller is an architect, artist, writer and teacher
Neil Spiller Architecture + Cyberspace
Neil Spiller – Background
Neil Spiller is currently the MArch Architectural Design (2004–) Director and has been the Bartlett's Diploma Director (1993-2005). Since Neil Spiller's tenure the reputation of these courses has risen to the point that they are now some of the pre-eminent courses in the world at this level.
The courses' graduates have won many honours, and architectural competitions and have been placed in the Royal Institute of British Architects' Presidents Silver Medal International competition on numerous occasions. Indeed the students from the Bartlett's Diploma Course have won the annual Silver Medal four times and been runners up four times and also have won numerous drawing prizes. The courses' graduates have an exceptionally high employment rate and are offered work around the world.
Neil Spiller Research
Research by Neil Spiller is centred upon how architecture is invigorated by cyberspace, the blurred boundary between the virtual and the actual, and how the different parameters of these spaces can be used to inform one another. Neil Spiller's early experience in practice was that buildings are limited by the inert materials used to construct them and by the unimaginative ideas of what a building should look like and be.
Research by Neil Spiller draws upon a variety of different disciplines to inform one – architecture. The areas of research are multidisciplinary and include: the changing status of the architectural drawing, smart materials, computer aided architectural drawing, computer aided manufacture, emergent systems, responsive environments, the architectural design of cyberspace, interactivity, cybernetics and evolving systems and algorithmic design.
To create responsive, non-prescriptive designs for architectural intervention was the starting point that led to an interest in the logic of algorithms and open-ended systems. These problem-solving diagrams used by computer programmers are very useful as a way of describing fluctuating conditions in responsive environments. This led to an interest in other computing paradigms such as cellular automata, complexity and emergence. Neil Spiller attempted to bring these and other ideas into the arena of architectural design to help architects cope with the rapid growth of computational technology that was starting to revolutionise the way buildings were designed, drawn and built.
Neil Spiller AVATAR
Neil Spiller is an active member of The Advanced Virtual and Technological Architecture Research Laboratory was founded in September 2004 at the Bartlett School of Architecture, University College London. By 2004 many teachers and students at the Bartlett were working with some aspects of virtuality but the full scope of the research was often contained within the hermetic unit system.
AVATAR is conceived as a cross unit research group and agenda that explores all manner of digital and visceral terrain, its augmentation and symbiosis. AVATAR also has a dedicated Masters Programme for students. Over recent years AVATAR has grown into an international research collaborative centre. It attracts students from around the world and a critical mix of cultural, aesthetic and social agendas are encouraged.
AVATAR is fundamentally interested in research concerning the impact of advanced technology on architectural design, however it also contributes to discussion on issues such as aesthetics, philosophy and cybernetics.
Technologically, AVATAR concerns itself with virtuality (exploring fully immersed, mixed and augmented environments); Time based new media (film, video and film theory), Nano and bio technology (micro landscapes and architecture, ethics, sustainability and ecology) including reflexive environments and cybernetic systems.
Philosophically and artistically, AVATAR is convinced that the new technologies prompt a re-evaluation of Surrealist spatial protocols and tactics. Also it believes that Alfred Jarry's proto- surrealist poetic pseudo science of 'Pataphysics and its idea of the 'Clinamen"- the swerve (chance) has great import on what we do. The choreography of digitally enabled chance allows us to create architecture of blossoming possibility where events are fleeting, exceptional and particular.
Narratively and aesthetically, AVATAR considers itself uniquely skilled and positioned to posit new aesthetic systems and codes of representation for architecture, interior design, multi media design and graphic design.
Generally, it is at the forefront of international architectural discourse and is constantly working to uncover the new architecture of the Twenty – First Century. AVATAR's practice is neither anti-intellectual nor Luddite, it looks everywhere and excludes nothing in its search for new paradigms of practice.
The most important paradigm shift sustained by the new media and technology with its consequent ubiquity is that of the liberation of the user from the stylistic and spatial dictates of aesthetic fascists like architects, politicians and planners. As this Century progresses this tyranny will become less and less legislated. The ability of users to configure spaces that are mnemonic, high and low coded, personal and transmittable is swiftly accelerating.
Music appreciation, for example, has become a evolving virtual terrain, music collections can be invisible, remixed, shared, distributed around rooms as invisible but aural graffiti, play listed to infinite satisfaction. Geo tags can be left all around the world to offer insight, polemic, warning and delight. We can make the traces of our lives readable as a new social archaeology. Obviously the great paradox of our Age, the prospect of surveillance, always makes us consider the ethics of careful, wise and informationally safe digital space.
Neil Spiller
Professor Neil Spiller BA(hons) DipArch (hons)
Editor's Note: I was taught by Neil Spiller at Unit 19 in The Bartlett, for my Diploma in Architecture, whilst Peter Cook was in charge of the school. I had attended a lecture by Neil Spiller at the Edinburgh Winterschool and was intrigued by his drawings and design direction.
Adrian Welch
Location: London, England, UK
Neil Spiller London – Further Information
Neil Spiller is an architect based in London, UK
Neil Spiller Books
Lost Architectures – Design & Written text Research Project
2001
Publisher: Wiley Academy
Visionary Architecture
2006
Publisher: Thames and Hudson
Communicating Vessels – Design & Written text Research Project
2007
Publisher: to be confirmed
Architectural Design and the Impact of Advanced Technology
–
Architectural Design Awards
Presidents' Silver Medal Nominee – Royal Institute of British Architects, London
1987
Green Book Award, University of Central England, for Architectural Works
1992
London Architecture
Senate House UCL



photograph © Nick Weall
UCL Buildings



photo © Adrian Welch
Eastern Yards, Bankside, London SE1
Design: Make and PLP Architecture



image courtesy of architects office
Eastern Yards on Bankside
Comments / photos for the Neil Spiller Architecture page welcome