Eethuis, Dutch Edible House, Atelier GRAS!, Holand Architecture Project Photos
Eethuis Appeltern: Eathouse, Netherlands
Eethuis Appeltern – Edible Building in Holland
18 Jan 2011
Eethuis – Eathouse
Architects: Atelier GRAS!
Project location: Tuinenfestival 2010, Appeltern – the Netherlands
Eethuis Appeltern – Edible Building Holland




photographs from Atelier GRAS!
EATHOUSE
A house and garden to eat, that you are able to touch, smell, taste, seed, weed, and harvest! EATHOUSE is a house in a garden that attracts visitors with delicious vegetables, fruit, herbs and flowers. We want to seduce people and make them taste the edible garden and the edible house. EATHOUSE has a temporary character; it lasts a summer season. This is why all the materials used in EATHOUSE can be re-used for a new season of EATHOUSE at a different spot.
EATHOUSE consists of a modular system of plain plastic crates, in combination with a scaffold structure. These crates are used in the agricultural industry to harvest, transport and exhibit fruit and vegetables in combination with a scaffold system. With this system vertical green becomes accessible for everyone; you can make your own vegetable garden on the wall of your balcony or on the roof of your garden shed!
Marijke Bruinsma (de Stuurlui stedenbouw – www.destuurlui.nl) Marjan van Capelle en Arjen de Groot (Atelier GRAS! – www.ateliergras.nl)
Eethuis – Building Information
Building costs: all sponsored (by Binder Groenprojecten, BIS Industrial Services, KG Plant, DVC Beregening, Van Hemert & Co. Seeds, Jiffy Products International)
Area 100 sqm (10×10)
Built: 2010



photographs from Atelier GRAS!
Eethuis – Interview
Since you mention that EATHOUSE has a temporary character; it lasts a summer season, does it mean it could only be built in summer? What causes the constraint?
Our EATHOUSE concept was a winning entry in a Dutch annual design competition for concept gardens. Every year new gardens will be built on the same spot. So there is no other constraint than this limited time frame of the garden festival. To stress the temporary character we used a steel scaffolding structure as a base for EATHOUSE. It can be dismantled and re-used without leaving any waste.
Is there any other constraint for ordinary people to build an EATHOUSE in all parts of the world under all kinds of climates? We made an effort to keep our vertical garden as simple as possible. We used ordinary produce crates containing good soil wrapped in plastic growing bags. In this way you can grow your own food on any location. This system can be used anywhere and has the advantage water does not evaporate so easily.




photographs from Atelier GRAS!
How could ordinary people build an EATHOUSE? What do they need to prepare? Could you provide any instructions? What's the cost?
Anyone can build his own EATHOUSE. You need good soil, sunshine, water and of course -as any vegetable garden- a lot of tender loving care. EATHOUSE is rather easy to maintain. We only visit once every two weeks to harvest, sow and plant again. For the festival we use a professional system in order to water the plants on a daily basis. This watering system is the most expensive component of EATHOUSE. However if you are able to water the plants yourself EATHOUSE is not much more expensive than an ordinary vegetable garden. Plastic crates and growing bags can be purchased for little money.
What vegetables/fruits do you recommend to build on the EATHOUSE?
We grew about 65 different species of vegetables, fruit and herbs on EATHOUSE last season. From our experience we can say you can grow any crop you like. We used crates of about 15cm deep, so for instance for our carrots we used a species that does not grow too deep and has more of a round shape.
How could an EATHOUSE to be reused?
EATHOUSE is a modular build up that can be altered during the season. When crates are ready for harvesting they can be exchanged for new crops. Also when the festival season is over EATHOUSE can easily be dismantled and put back on a trailer for another venue. But of course it can be a permanent structure as well.




photographs from Atelier GRAS!
About the current EATHOUSE project
Who is the initiator of the program? How did he/she come up with the idea? What was the trigger?
We have been thinking about urban agriculture for quite some time. EATHOUSE is an example how to grow your own food in an urban environment. Our intention was to show you don't need land or even a yard to have a vegetable garden. A flat or tilted roof, a balcony or even a wall might be enough to grow your own vegetables.
How many people took part in the program? How long did it take to finish the program? What was the cost?
We are grateful to our sponsors who helped us with the materials, seeds and plants and their expertise. Thanks to their help we were able to realize this project within the 9.000 euro budget we received as winner of the garden festival competition. Five companies sponsored EATHOUSE and about 20 people participated in building and maintenance.
Was there any difficulty during the process, especially on the technique perspective? And how did you overcome it?
Not really. As mentioned before the watering system is essential to the success. Spring in Holland was rather cold so at that point everything was easy going. Then summer came and it was hot and windy. EATHOUSE turned green overnight and subsequently some crops suffered a little from drought. We had to adjust the watering system rapidly. It turned out water demand varied for different crops as well as for different sides of EATHOUSE. When we found out the problem was solved.
What is the idea/insight behind the project? What is the future plan?
By arranging crops in the shape of a typical house we aimed to create a powerful image for urban farming. At the same time EATHOUSE is a test case. We did not know if it was really possible to grow vegetables in this way. However the harvest was beyond our expectations, in many ways. We are planning to bring EATHOUSE to different towns in the Netherlands.



photographs from Atelier GRAS!
Eethuis Tuinenfestival 2010 images / information from Atelier GRAS!
Location: Appeltern, The Netherlands
Architecture in The Netherlands
Contemporary Dutch Architecture
Netherlands Architecture Designs – chronological list
Amsterdam Architecture Walking Tours by e-architect
Dutch Architect – design firm listings
Dutch Houses – Selection
Villa CG, Enschede
Design: Powerhouse Company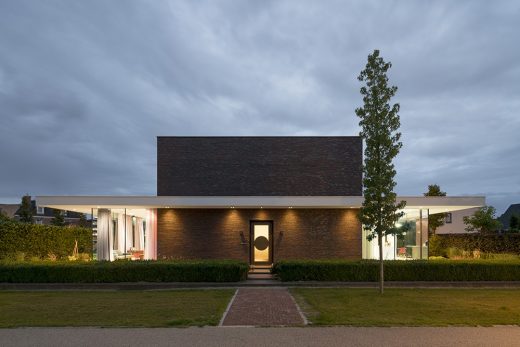 photo : Ossip van Duivenbode
Enschede Villa
Villa L, Lepelaarsplassen, Almere
T.T.B. DuurzameArchitectuur.nl
Lepelaarsplassen House
Villa 1
Powerhouse Company
Villa 1
Borneo Sporenburg : Houses
Design: various architects including MVRDV
Borneo Houses
H House, Maastricht
Wiel Arets Architects
H House Maastricht
Project X
René van Zuuk Architekten
Project X
Tea House on bunker, Vreeland
UNStudio
Dutch Tea House
Villa Berkel, Veenendaal
Architectenbureau Paul de Ruiter
Villa Berkel
Comments / photos for the Eethuis, Dutch Edible House page welcome