Haiti Earthquake Architecture, Article 25 Caribbean School Projects, Disaster Zone Structures, Image
Haiti School Buildings
Article 25 in Haiti – School Design in Caribbean Earthquake Zone: Safer Buildings for Communities Across the Globe
'Article 25: the built environment's charity'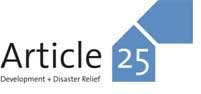 Monthly Report by Article 25 written for www.e-architect.com
22 Mar 2011
Haiti School Building Designs
Post-Earthquake Schools Reconstruction in Haiti
Sam Woodbridge, Article 25 Design Team Member
The Project
Haiti School Buildings
On January 12th 2010, an earthquake in Haiti measuring 7.0 on the Richter scale caused extensive death and destruction in the cities of Port-au-Prince, Léogâne, Jacmel, and the surrounding area. In the aftermath of this disaster Article 25 were appointed as consultants for a programme of school reconstruction by Outreach International, an organisation active in promoting education in Haiti since 1979.
It is Outreach International's specific concern that schools with limited resources in marginal settlements are not neglected in the rush to reconstruct. Article 25 were asked to conduct a risk assessment of these schools and follow up with proposals for rehabilitation and structural reinforcement of any buildings that were salvageable.
Haiti is a poor country that suffered from weak governance and dilapidated infrastructure even before the earthquake. The majority of schools assessed were constructed with limited funding and without the skills and expertise required to do the job properly. As a result, many were severely damaged by the earthquake.
In the years ahead it will be necessary to redevelop each of these sites with a new school designed and constructed to a higher standard of quality. Longer-term development of this kind must wait until the Haitian government has drafted new national building regulations – a process that is ongoing. In the interim we needed a strategy that would allow us to engage in reconstruction even though the conditions for permanent rebuilding do not yet exist.
Our first step was to conduct detailed condition-surveys of each selected site and talk to the communities affected. Not as simple as you might expect! Cité Soleil – a notorious area in Port-au-Prince known for crime and gang activity – was not always a welcome environment for outsiders clutching tape measures. Discomfort of a different kind came in the form of a ten hour trek across difficult terrain to reach a remote hilltop school inaccessible by road (although in this instance spectacular views of the Haitian countryside provided some compensation).
Despite these difficulties, an Article 25 team consisting of architects and engineers was able to conduct interviews with each school's director, draw up measured surveys, and assess how badly the buildings had been damaged. Some were condemned as unsafe and marked for demolition as a result. Others were judged to be sufficiently intact that temporary repair and improvement works could go ahead.
The Approach to Reconstruction
In early February 2011, Alex Coulton – an Article 25 staff member fluent in French and experienced in construction site management – travelled to Haiti to begin working with Outreach International's team. Alex's role is varied and challenging. He is called upon to coordinate logistics and materials procurement; compile Bills of Quantities; monitor construction quality; identify potential contractors; and manage and evaluate the tender process for each works package. It is a job that requires initiative, patience (for the hours spent in Port-au-Prince traffic jams), resourcefulness and resilience. The professional skills that are brought to the work are of immense value and key to the success of the programme.
Construction drawing packages for each school are prepared by the design team in London in consultation with engineers from Buro Happold. Haitian national standards for hurricane and earthquake resistance – such as they exist – are used as guidance alongside suitable international codes. Our proposed interventions are modest in scale and cost and can be described as a 'stitching' of structural reinforcement into the existing fabric of the building.
A 'stitch' may take the form of additional timber roof bracing, replacement blockwork, or repair to a damaged concrete column. The aim of this approach is to provide a structure that is both unified and flexible: unified so that it does not come apart under earthquake forces; flexible so that the joints within the structure can move to dissipate these forces and so lessen their destructive capacity.
Croix des Missions – New roof bracing ; New timber columns ; Post Completion:




photos © Article 25
The first school repair at Croix des Missions in Port-au-Prince was recently completed. Here the desired combination of unity and flexibility was achieved by installing four new timber columns tied into new concrete footings at the base, and bolted to the existing roof structure at the top [image 2]. Diagonal timber bracing has been incorporated into the original roof to strengthen the structure further [image 1]. With the work completed in a week, and under budget, we were able to minimise both disruption to classes and expenditure for our client and provide a safer school quickly and economically [image 3].
Demichel – Existing front elevation ; Existing roof condition:



photos © Article 25
Our second project at Demichel in Carrefour is due to start on site shortly [image 4]. Here we will be replacing a ramshackle existing roof with a new trussed structure tied together with bracing and fixed down to a continuous timber wall plate that itself is strapped to the existing concrete frame [image 5]. With new and old structure firmly tied together the robustness of the former will compensate for the structural shortcomings of the latter resulting in a more durable and safer school.
By working with local contractors and labour we aim to promote skills development and investment in the local economy. By demanding high quality in the work we aim to raise the understanding of the standards required in order to construct safer buildings. It is hoped that this combination of training and rigorous monitoring on site will contribute toward building an improved local capacity to construct earthquake and hurricane resistant structures in the years ahead.
The Next Step
With the tender evaluation completed for Demichel a contractor will soon be selected and we expect to mobilise on site before the end of March. A water supply and drainage system incorporating rainwater harvesting is planned at Croix des Missions with funding and expertise provided by Just a Drop, a charity that carries out health and sanitation programmes worldwide.
Each of these projects, though modest in scale and budget, creates safer, more comfortable schools and provides us with a wealth of knowledge that will prove invaluable when the time comes to rebuild for the region's longer term requirements.
Previous texts for e-architect by Article 25:
It's Not Earthquakes that Kill People, It's Buildings That Kill People
Haiti Earthquake Buildings
Design in Caribbean Earthquake Zone



photo © Article 25
Haiti Earthquake Building Design : Article 25 Report
Location: Haiti, the Caribbean
Architecture in America
Caribbean Architecture
Music Studio Design Competition
Debris Design Competition Haiti
Yingxiu Memorial Museum, China



image from architects
Chinese Earthquake Memorial designed by Sutherland Hussey Architects
Chile Earthquake Rebuilding Design
Article 25 for e-architect.com



photo from Article 25
Monthly Reports by Article 25
Democratic Republic of Congo Schools
Haiti Design Competition, Caribbean
Haiti Design Contest
Comments / photos for the Haiti Earthquake Architecture Design page welcome
Website: Visit Haiti