Bauhaus Architecture Celle, Lower Saxony Buildings, 20th Century German Architecture
Bauhaus Architecture in Celle, Lower Saxony Designs
Modern German Buildings – birthplace of 'Neues Bauen' – 'New Objectivity' – 20C Functional Design
19 June 2019
Bauhaus Buildings in Celle, Lower Saxony
Location: Celle, Lower Saxony, Southeast Germany
Baroque meets Bauhaus – The Lower Saxony City of Celle starts the Bauhaus anniversary year with new tourist experiences in both languages German and English
With the QR code, you have access to additional information about each of the seven buildings along the otto haesler circular route in Celle.
CELLE | 18 June 2019 – In Celle, visitors and residents can experience the rich Bauhaus heritage of the exceptional architect otto haesler live and up close. The new, digitally-supported circular route leads along the architect's seven major buildings, including the internationally renowned school 'Altstädter Schule', or the iconic Italian Garden settlement (Siedlung Italienischer Garten).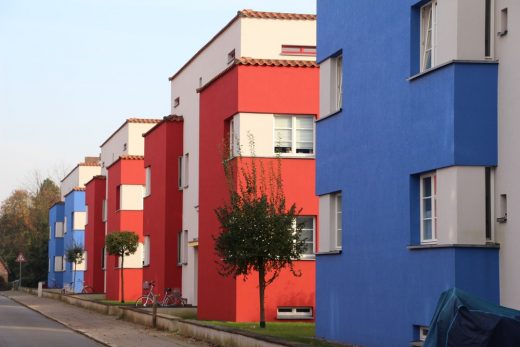 Photos © CTM GmbH
Interested persons can use the free QR code to access additional information such as videos, animations, texts, and images of each individual building on the new information panels. And if you still want more, you are welcome to visit the reopened otto-haesler-museum. All information is available in German and in English.
Now the Bauhaus anniversary year in Celle gets started. There is a new building block in the city's DNA for tourists and visitors. In addition to the worldwide popular and unique ensemble of more than 490 half-timbered houses in the Old Town, the Ducal Town as the southern gate of the Lüneburg Heath is now looking forward to a new tangible subject area in its touristic marketing. And much has happened in Celle in the past two years in terms of 'Neues Bauen'.
Thus, the buildings of the architect otto haesler, who can be mentioned in the same breath as Walter Gropius, can now be experienced on a new digitally supported circular route leading along his seven famous buildings in the style of 'Neues Bauen'. The otto-haesler-museum has been redesigned and modernised and can now be visited with extended opening hours.
A Bauhaus-train travels every day at 1:00 pm on a new route to the most important buildings and provides information about the background of the unique buildings in German and English. From now on "Baroque meets Bauhaus" is a topic in Celle not only in the anniversary year 2019, but also far beyond.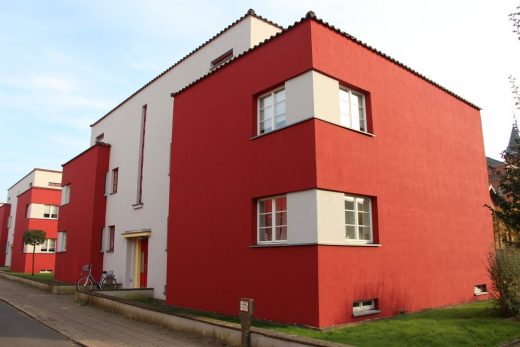 'Neues Bauen' is not a flash in the pan in Celle
From now on Bauhaus and 'Neues Bauen' can be permanently experienced in Celle, because for the Managing Director of Celle Tourismus und Marketing GmbH, Klaus Lohmann, this topic is anything but a flash in the pan: "Our bread-and-butter business remains the lively Old Town with its unique half-timbered buildings. But on the occasion of the Bauhaus anniversary, we discovered a tourist treasure.", says Lohmann.
"From now on this should be marketed also in the future and made accessible to our visitors. For this reason, I am particularly pleased that so many different participants and supporters in the city have been infected with the Bauhaus fever and have both energetically and financially helped to work up this topic and bring it to life.", Lohmann continues.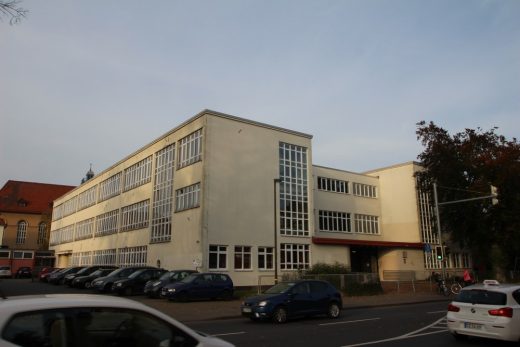 Museum with extended opening hours and new theme worlds
The otto-haesler-museum is now open from Wednesday to Sunday from 1 pm to 6 pm. It has also been renovated and enhanced with numerous new panels providing information about otto haesler's time in Celle. The new panels and exhibits provide a deeper inside into the person haesler and living in his buildings.
An interactive monitor shows original images of the 20s and 30s and brings these times back to life. Admission is still free despite the upgrading and extended opening hours. The operators of the foundation otto-haesler-stiftung however, are pleased to receive donations.
Digitally supported circular route and new website
The digitally supported otto-haesler circular route has also been newly created. It was built for the sustainable marketing and experience of the style 'Neues Bauen'. Along the approx. 4.5 km long route, the visitors can experience the significant buildings of haesler up close either on foot or by bike.
Signs and signposts lead along the circular route to the seven buildings and settlements. In front of each building is an info panel that provides detailed information in both languages German and English. If you want more information, you can also scan the QR code of the panel and you will automatically be directed to the website www.neuesbauen-celle.de (only in German).
You should experience 'Neues Bauen' in Celle by yourself and see the surprising architecture of otto haesler with your own eyes. We look forward to receiving your inquiries.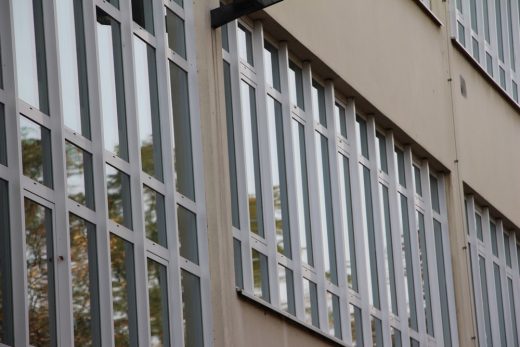 Additional information: otto haesler in Celle
otto haesler's settlements and buildings still characterise today's cityscape. His seven buildings and settlements, built in Celle between 1924 and 1930, are mostly preserved in their original condition and are almost all used according to their original functions. These include above all the settlement Italian Garden (1924/25) and the school 'Altstädter Schule' (1927). www.neuesbauen-celle.de
21 Jul 2018
Celle Bauhaus Architecture, Lower Saxony
Location: Celle, Lower Saxony, Southeast Germany
Baroque meets Bauhaus in Celle
Thematic Bauhaus tours and several events await you in connection with the Bauhaus anniversary year 2019
Discover "Neues Bauen" in the Bauhaus style in Celle ©CTM GmbH
Bauhaus architecture designed by Otto Haesler – German Modernism
CELLE, July 2018 – With over 490 colourful half-timbered houses, Celle presents the largest compact ensemble of its kind in Europe and is one of the most splendid towns in Germany.
The picturesque Guelph Palace and the modern 24-hour art museum located next to the impressive Bomann Museum in the Old Town are well-known. Less well-known, however, is that Celle is effectively the birthplace of 'Neues Bauen' ('New Objectivity' – modern functional building design) and with regard to Bauhaus architecture it ranks in the same league as the towns of Weimar and Dessau.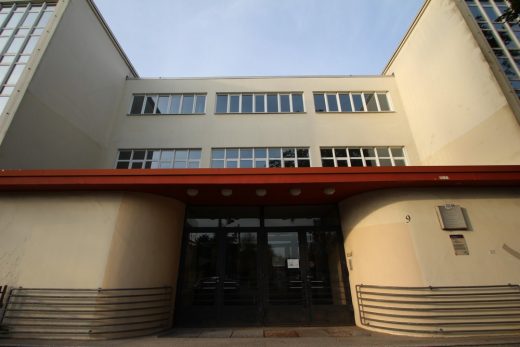 This is the case, not only in terms of the quantity of the beautifully preserved buildings which are still partially used for their original purpose, but also in terms of quality, such as the 'Altstädter Schule' which in the 1920s came to international fame as the 'Glass School', attracting visitors from all over the world.
The number of visitors was so great that the school management was forced to restrict visiting hours to Thursday afternoons and Saturday mid-mornings and to charge 50 pfennigs entry fee which was used to buy milk for the pupils.
The 'Glass School' which is used to this day as an elementary school is recognized as one of the most important Bauhaus buildings worldwide and is a UNESCO-worthy object. Celle has the largest density of Bauhaus architecture nationwide and owes its global architectural significance regarding Bauhaus to the architect Otto Haesler.
During the Weimar Republic (1919 – 1933), through the use of innovative and technically constructive elements, combined with a consequent commitment to socially compatible functionality, and at a time of enormous financial pressure, he seized on the post-war spirit which was characterized by a housing shortage and perfected social housing.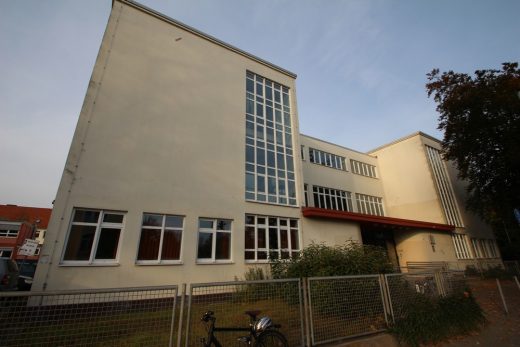 Through his clear design language, the use of primary colours as well as the incorporation of steel-tube furniture which was produced in Celle, Haesler belongs, alongside Walter Gropius and Hannes Meyer, to the pioneers and forerunners of 'Neues Bauen' or Bauhaus architecture.
Many of these building projects such as the colourful, impressive red and blue houses in the 'Italienischer Garten' estate as well as other Haesler buildings like the 'Director's House' and the Haesler Museum where attention to detail has been placed, are open to the public.
For the Bauhaus anniversary year in 2019 under the motto 'Baroque meets Bauhaus' many events, exhibitions and activities are planned. Thematic tour: Bauhaus architecture – from Italienischer Garten to the 'Glass School'.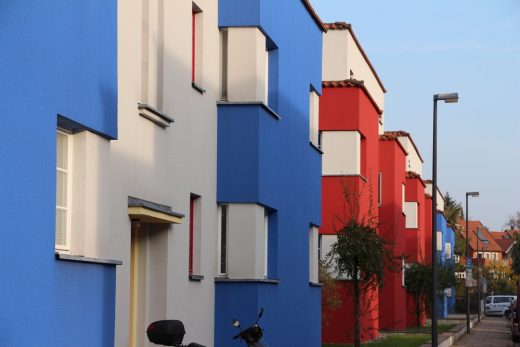 The tour at the edge of Celle's Old Town leads to the buildings designed by Otto Haesler. He was one of the first German architects to replace the traditional brick construction method by a steel frame construction method. His housing estates designed for families with a modest income as well as the 'Glass School' and the 'Director's House' served as models for modern architecture. They are significant examples of the 'Neues Bauen' phase during the Weimar Republic.
Various Bauhaus guided tours, on foot, on bicycle and on Segway, are available.
Due to its Bauhaus architecture, built by Otto Haesler, the city of Celle is part of the Grand Tour of Modernism – an itinerary specifically designed to celebrate the Bauhaus centenary. This makes Celle one of around 100 sites which are selected on the basis of their cultural heritage and linked up in an appealing travel route.
This major centenary campaign launched by the Bauhaus Association 2019, an alliance of the three state-owned Bauhaus sites in Germany, takes the interested visitors to the history of modernism between 1900 and 2000 and can well be experienced by train, by car or by bike.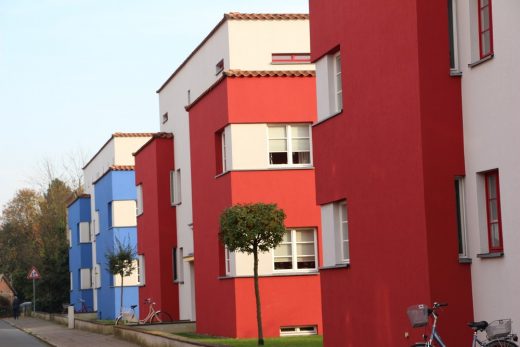 Further information about the Bauhaus and about guided tours in Celle is available from:
Guided tour service
Markt 14 – 16
D-29221 Celle
Tel.: +49 5141 9090816
[email protected]
All images copyright Celle Tourismus und Marketing GmbH (CTM GmbH).
Celle, Lower Saxony, Southeast Germany images / information received 200718
Website : Celle, Germany
Location: Celle, Lower Saxony, Germany
Architecture in Germany
German Architectural Projects
German Architecture Designs – chronological list
German Architecture



photo : Werner Huthmacher
Bauhaus Buildings
Bauhaus Architecture – selection on e-architect
Bauhaus Centenary in 2019, Eisenhüttenstadt, Brandenburg, Eastern Germany
"shaping everyday life! bauhaus modernism in the GDR"
Exhibition dates: 9 April 2019 – 5 January 2020
Bauhaus Centenary in 2019
The Bauhaus Promenade Museum, Dessau, Germany
Design: Matteo Cainer Architects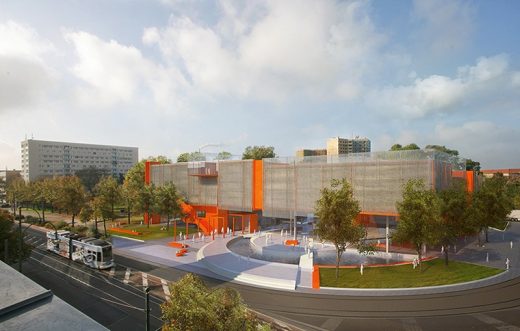 image from architect
The Bauhaus Promenade Museum
bauhouse 24H Competition, Dessau, Germany
1st prize: Sonya Falkovskaia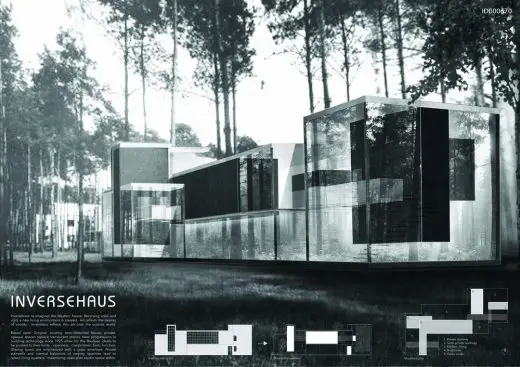 image courtesy of designer / 24h
bauhouse Competition
Villa Harnischmacher II, Germany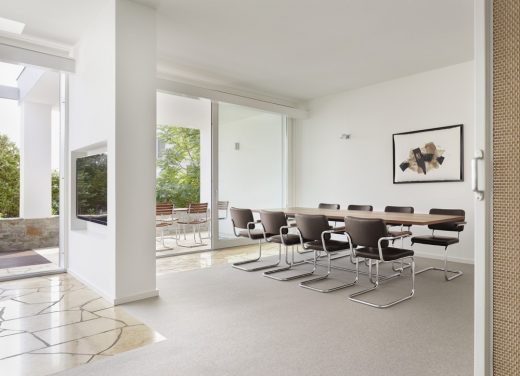 image courtesy of architects
Villa Harnischmacher II
An iconic Bauhaus villa in Wiesbaden's city centre by architect Marcel Breuer in 1954.
Haus am Horn – The World's First Bauhaus Building
Design: Georg Muche & Bauhaus students
Haus am Horn in Weimar Germany
Bauhaus Archiv Berlin Museum of Design, Germany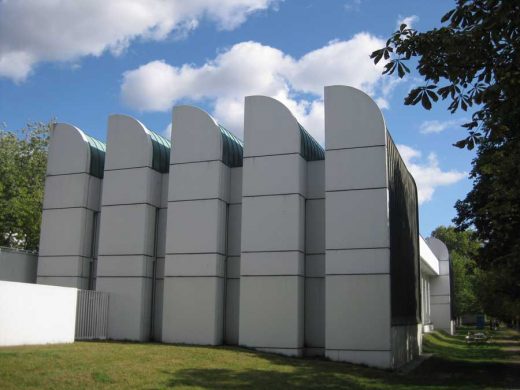 photo © Adrian Welch
Bauhaus School Building in Dessau
Bauhaus Building, Walter Gropius, 1925-26, Dessau, Germany:



image © Gordon Watkinson
Walter Gropius Architect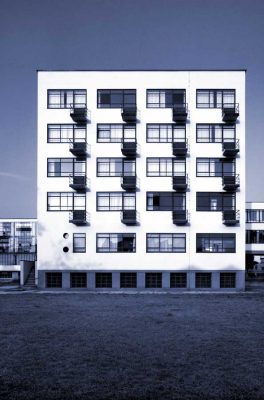 picture © Gordon Watkinson
Gropius in Chicago Coalition Protest, USA – Michael Reese Hospital Laundry building: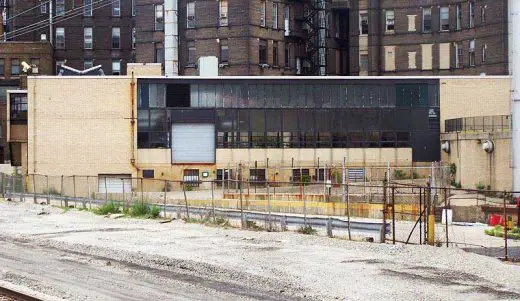 photograph © Grahm M. Balkany / Gropius in Chicago Coalition
Bauhaus Museum Dessau Competition, Germany
Bauhaus Masterhouses Dessau, Germany
Bauhaus in America Exhibition and Conference
Website : Celle, Lower Saxony, Germany
World's First Bauhaus Building
Bauhaus Building architect : Walter Gropius
Comments / photos for the Bauhaus Architecture in Celle, Lower Saxony, Germany page welcome