Finnish architecture news 2023, Finland building arojects architects, Construction design, Property images
Finnish Architecture News
Contemporary Finland Building Developments – New Built Environment Updates
post updated 25 August 2023
Finnish Architecture Design – chronological list
Finnish Building News
Finnish Architectural News, chronological:
29 May 2023
Huvila K
Design: Saukkonen + Partners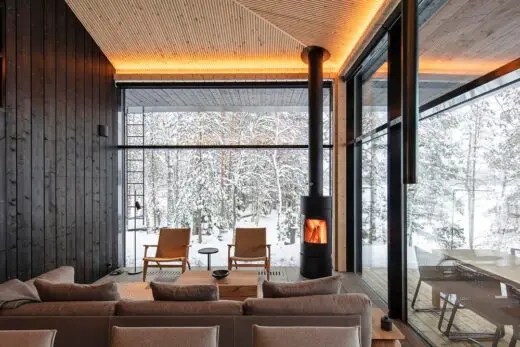 photo © Timo Pyykönen
Huvila K Finland island retreat
The ideal leisure destination is located on a remote island, surrounded by water. The Huvila K retreat, which serves as an escape for the residents, is a linear entity that adapts to the changing landscape in the bosom of nature.
15 Nov 2022
Art Sauna, Gösta Serlachius Museum Of Contemporary Art
Design: Mendoza Partida + BAX Studio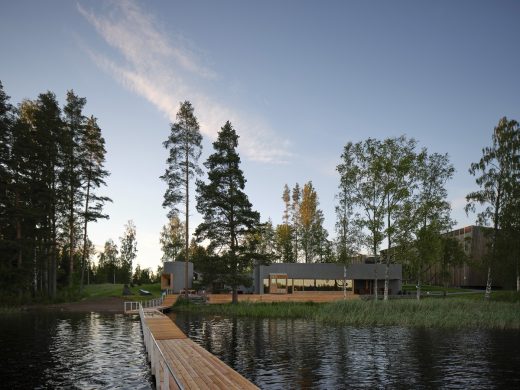 photo © Marc Goodwin
Art Sauna, Gösta Serlachius Museum
Art Sauna is a continuation of the emotional journey that the Gösta Serlachius Museum offers visitors. The new construction, subtle, intimate and domestic in scale, joins the site and blends in with the scenario of dialogue between art, nature and architecture that it proposes.
28 Oct 2022
Finnish Design Shop – Nordic design store, Turku
Design: avanto architects ltd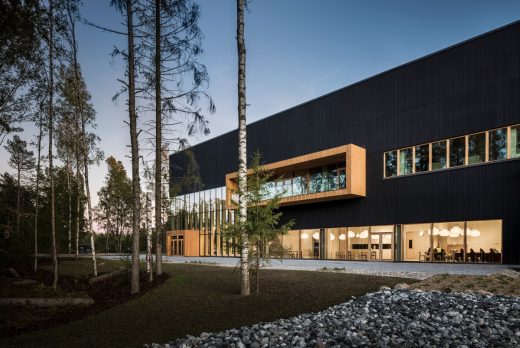 photo : kuvio.com / Anders Portman
Finnish Design Shop, Turku
Finnish Design Shop is the world's largest online store of Nordic design. The company's fast growth accelerated during the pandemic, as physical stores needed to close their doors. The new building, headquarters of the company, comprises a logistics center delivering products to over one hundred countries, a showroom, and a restaurant.
30 Aug 2022
New Nordic Schools, Jätkäsaari, Helsinki
Design: Avanto Architects Ltd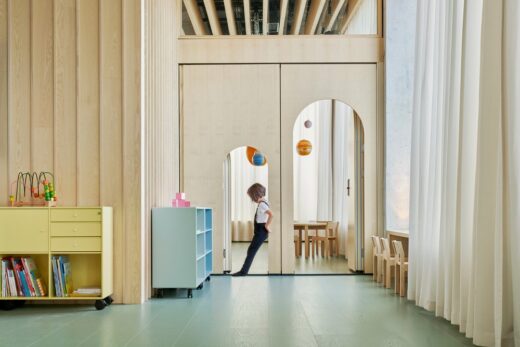 photograph : Riikka Kantinkoski
New Nordic School by the Sea, Helsinki
15 Apr 2022
Arctic TreeHouse Hotel Restaurant, Rovaniemi
Design: Studio Puisto Architects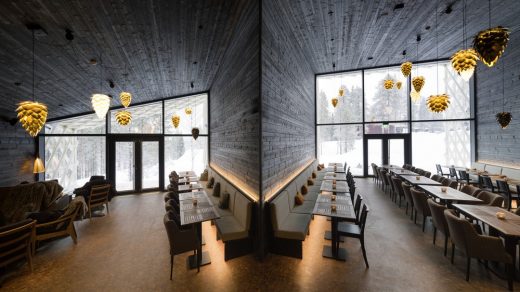 photo : Marc Goodwin
Arctic TreeHouse Hotel Restaurant Rovaniemi
The building stands on a steep hillside and appears to merge with the surrounding nature. It turns its back on the slope and stretches out into the landscape with its fingers. The vegetation between the fingers grows close to the building, forcing it to engage in a dialogue with the surrounding Arctic environment.
17 Dec 2021
Nokia Arena, Tampere
Architects: Studio Libeskind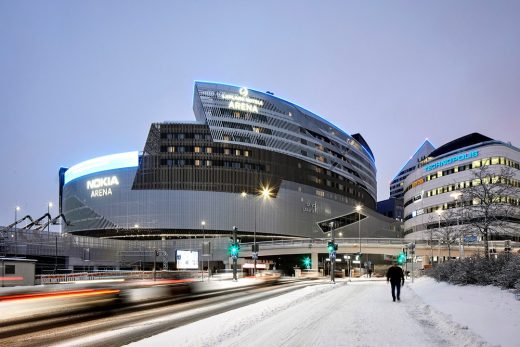 photo : Hufton + Crow
Nokia Arena Tampere Building
Studio Libeskind, along with SRV Rakennus Oy, and local partner ARCO Architecture Company / Aihio Arkkitehdit, open the LEED Gold Nokia Arena in Tampere. The Nokia Arena sits atop of Tampere's railway tracks in the heart of the city. Daniel Libeskind
29 Sep 2021
Brädgården Art Works, Noormarkku, Western Finland
Design: Reiulf Ramstad Arkitekter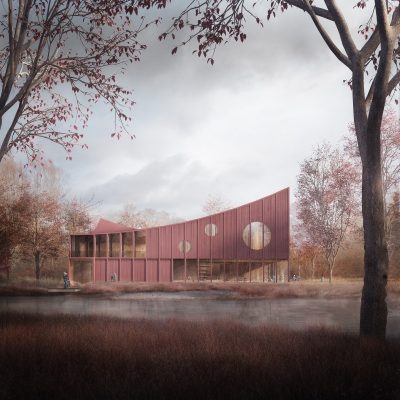 image courtesy of architecture practice
Brädgården Art Works
Brädgården Art ~ Works project is based on a simple and clear idea: embracing the meeting between people and art with an appealing spatial composition. The result is a future-oriented and site-adapted proposal, transparently expressing its content and ambitions.
9 Jun 2021
Sara Hildén Art Museum, Tampere
Design: hey5 Architects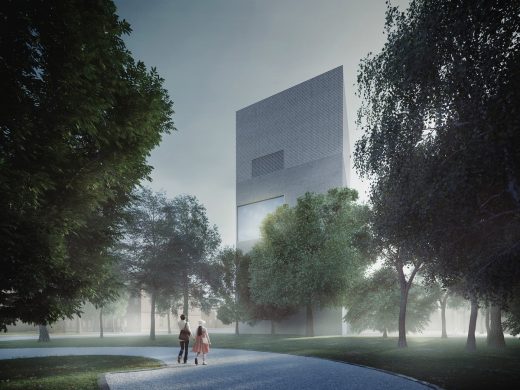 image courtesy of architects practice
Sara Hildén Art Museum Tampere Building
Piippu ("chimney" in Finnish), an art beacon in the center of Tampere simultaneously creates a functional, flexible museum, with an innovative architectural identity that reinforces the memory of the Finlayson area. Hey5's proposal for the new Sara Hildén Art Museum turns verticality into an asset, creating a strong urban presence, respecting the site's urban structure and architecture, and pushing the visitor experience to new limits.
Sweco acquires Finnish architecture company Linja Arkkitehdit
Sweco has signed an agreement to acquire Linja Arkkitehdit Oy, specialised in design of educational and business premises as well as residential buildings. With the acquisition Sweco becomes one of the largest architecture companies in Finland.
Linja Arkkitehdit Oy has approximately 60 architects located in Oulu, Helsinki and Jyväskylä. The company offers architectural services in the design of educational establishments, residential premises and business premises. The revenue of Linja Arkkitehdit during 2020 was EUR 5.3 million.
"This acquisition is fully in line with our history and strategy to be able to provide integrated architecture and technical consultancy services to our clients. I am pleased that we are strengthening our architectural offering in Finland," says Åsa Bergman, President and CEO of Sweco.
"Sweco and Linja Arkkitehdit have already successfully cooperated in several projects over the years, and now we are able to deepen the cooperation even further. The acquisition strengthens our client relationships through our ability to offer them a broader set of services and expertise together," says Markku Varis, President of Sweco Finland.
"I am very pleased that Linja Arkkitehdit has found a home to grow together with Sweco. Sweco's expertise and position is highly recognised in the industry, and Sweco is already a familiar and reliable partner for us. We have had a successful cooperation in many projects and our services complement each other," says Ville Niskasaari, CEO of Linja Arkkitehdit Oy.
Through the acquisition, Sweco will have 120 architects in the Finnish market, including those joining Sweco through the acquisition of Optiplan in January 2021. In total, Sweco Group has around 1,400 architects and landscape architects and is one of the world's five largest architecture firms.
17 Jul 2020
National Museum of Finland Extension, Helsinki
3 Jun 2020
New Architecture and Design Museum Helsinki
Updated 27 May 2020 + 10 Jul 2015
Shiver House, Korppoo
Design: NEON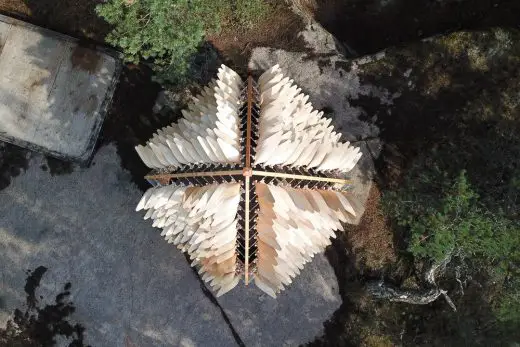 image courtesy of architects practice
Shiver House in Korppoo
Shiver House was previously installed in 2015 as part of the Barfotastigen exhibition in Korppoo, Finland. The project was intended to be in-situ for 4 months but due to its popularity it was kept on-site on a longer-term basis.
28 Feb 2020
Syvälahti Education Centre, Turku, south west Finland
Design: Verstas Architects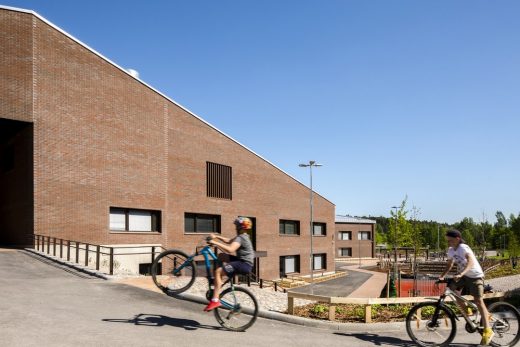 photograph : kuvio.com
Syvälahti Education Centre Turku
A new multipurpose building combining a comprehensive school, a day-care centre, a public library, a youth centre and a childcare guidance centre.
18 Jan 2020
The Aalto University Väre Building in Espoo
Finnish Architect Offices
Finnish Architect Offices – design practice listings
More contemporary Finnish Architecture News on e-architect soon
Finnish Architecture News 2019
5 Jul 2019
Tampere Psychiatric Clinic Building
13 Jun 2019
National Museum of Finland New Annex Building
28 Mar 2019
Kyrö Distillery Barrel Storage, Kalpatie, Isokyrö
Architects: Avanto Architects Ltd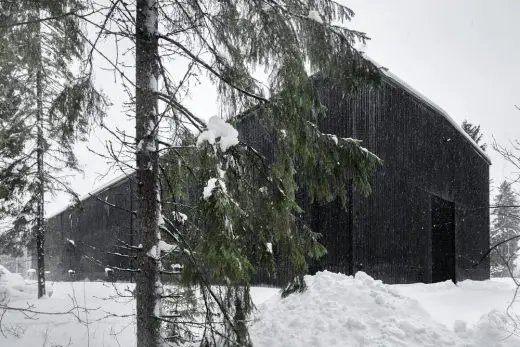 photograph : kuvio.com
Kyrö Distillery Barrel Storage
The client is a Finnish craft producer of spirits that started from scratch but is rapidly expanding after winning several international prizes including the best gin & tonic in 2015.
12 Jan 2019
Arctic TreeHouse Hotel, Rovaniemi, northern Finland
Design: Studio Puisto Architects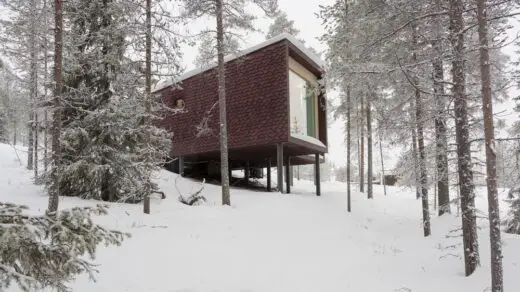 photograph : Marc Goodwin (Archmospheres)
Arctic TreeHouse Hotel in Rovaniemi
The inspiration for the accommodation concept — set on a steep natural slope — came from Nordic nature and culture as well as the magical world of SantaPark. The restaurant and reception building of Arctic TreeHouse Hotel shares the architectural themes and moods of our accommodation units.
More contemporary Finnish Architecture News online soon on e-architect
Finnish Architecture News 2008 – 2018
24 Aug 2018
New Architecture and Design Museum Complex in Helsinki Proposal
A report recommends that a new world-class museum of architecture and design be established in Helsinki.
According to the report, Finland needs a new, top-class museum of architecture and design. Finnish architecture and design attract interest at both the national and the international level.
New Architecture and Design Museum Complex in Helsinki
29 Jun 2018
Off-site wood construction is the future of building
Off-site wood construction
Urbanisation is accelerating and creating pressure to increase housing construction. To answer this global challenge, construction needs to be quicker and more ecological – article by Metsä Wood, Espoo, Finland.
29 Apr 2018
Villa Kaislaranta, Sysmä, Päijänne Tavastia region, Southern Finland
Architect: RESORTUM and OSUMA Architects Ltd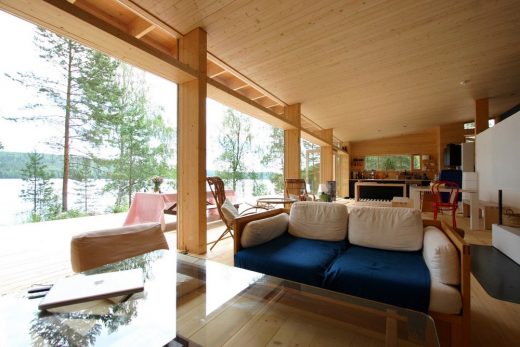 photograph : RESORTUM
Villa Kaislaranta in Sysmä
15 Nov 2017
Pyramid House, Sysmä
Architect: VOID Architecture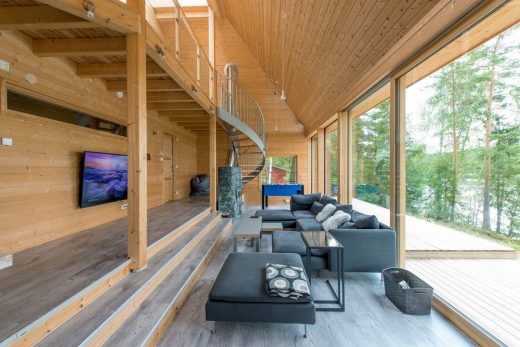 photograph : Timo Laaksonen
House in Sysmä
7 Nov 2017
Alvar Aalto Time Lapse, Jyvaskyla, central Finland
Design: Matteo Cainer Architects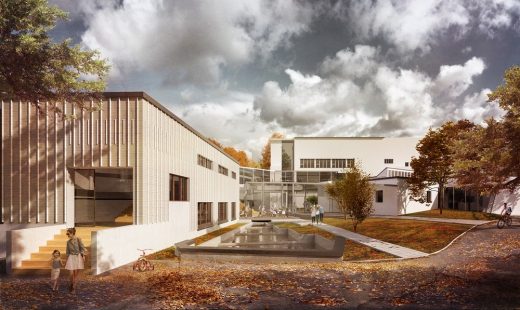 image Courtesy architecture office
Alvar Aalto Time Lapse in Jyvaskyla
Design entry for an international architecture competition to link the Alvar Aalto Museum with the Museum of Central Finland; the design contest presented a unique opportunity to rethink both museums and explore Alvar Aalto's architectural legacy.
29 Oct 2017
Saamelaiskulttuurikeskus Sajos, Inari, northern part of Finnish Lapland
Design: Halo Arkkitehdit with M3 Architects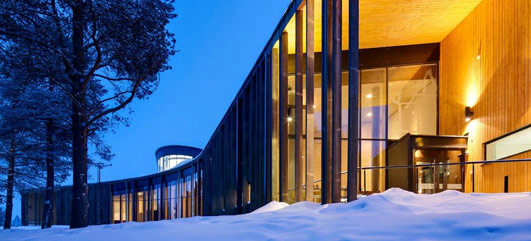 photograph : Mika Huisman
Sámi Cultural Centre Building
This building is located in the northern part of Finnish Lapland. Sajos is the centre of culture and administration for the Sami people. The building includes not just the usual spaces you would find in a cultural centre – offices, restaurant, library – but a parliament hall and auditorium.
5 Sep 2017
Samppalinna Outdoor Pool, Turku, south west Finland
Design: Mikko Lemmetti, Head Designer at LEMMETTI architects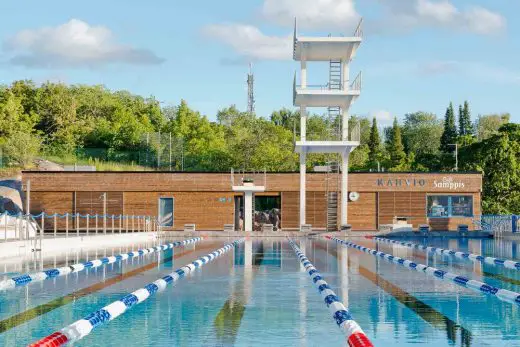 photograph © Aki Aro
Samppalinna Outdoor Pool
Centrally located in Finland's 'oldest city', this swimming pool and its associated facilities recently underwent a complete facelift. Architect Mikko Lemmetti, Head Designer at LEMMETTI, chose Kebony for the pool house cladding and outdoor tiered seating as well as the siding in the bathroom.
11 Aug 2017
The Museum of Finnish Architecture Eero Saarinen Honorary Lecture 2017 by Architect Sebastián Irarrázaval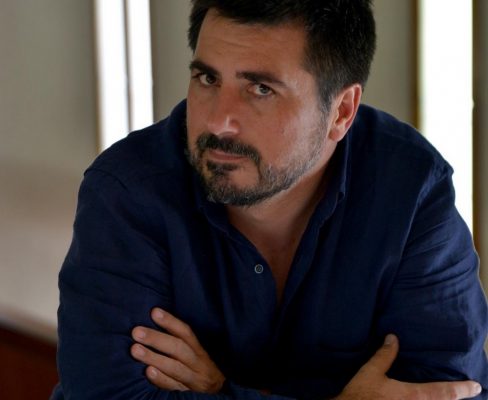 photo © Sebastian Irarrazaval Arquitectos
Museum Finnish Architecture Exhibition
This annual lecture organized by the Museum of Finnish Architecture pays tribute to the legacy of the Finnish American architect Eero Saarinen.
11 Jan 2017
Periscope Tower in Seinäjoki, Southern Ostrobothnia
Design: OOPEAA Office for Peripheral Architecture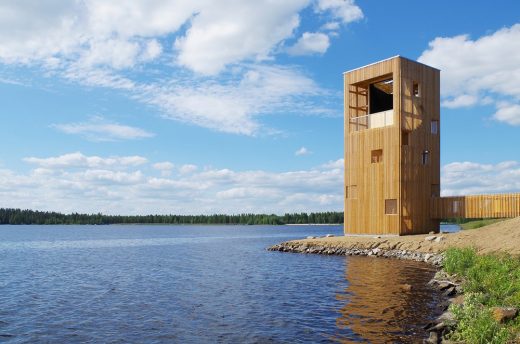 photo © Anssi Lassila
Periscope Tower in Seinäjoki
The Periscope Tower is a giant wooden periscope structure that serves as an observation tower engaging the viewer in a dialogue with the landscape. With the help of a large mirror, the Tower makes it possible for everyone to enjoy the views of the surrounding landscape.
23 Nov 2016
Alvar Aalto Museum, Jyvaskyla
Design: Melbourne Design Studios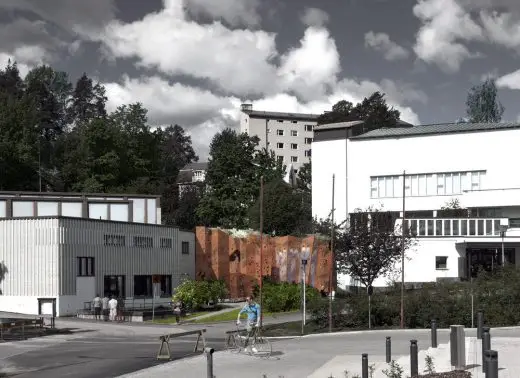 image Courtesy architecture office
Alvar Aalto Museum Building
This unbuilt project creates a 'connector' between the existing Alvar Aalto Museo and the Central Museum of Finland in Ruusupuisto, inspired by Alvar Aalto's architecture, paintings and design philosophy.
10 Jul 2015
Shiver House, Korppoo, Karjaa
Design: NEON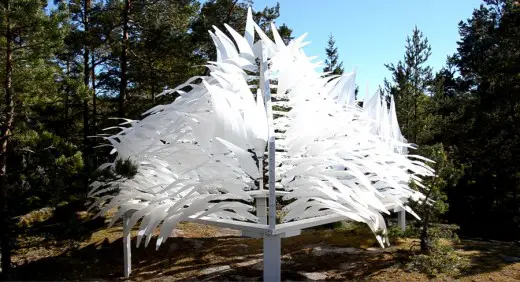 image Courtesy architecture office
Shiver House in Korppoo
Shiver House is a radical reinvention of the common Finnish Hut (mökki). The project is a kinetic "animal like" structure which moves and adapts in response to surrounding natural forces.
7 Nov 2013
Seinäjoki Library
Design: JKMM Architects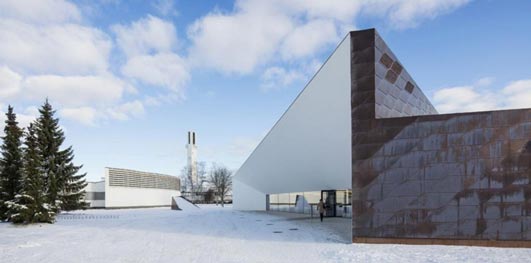 photograph © Mika Huisman
Seinäjoki Library Building
The key point of reference for the new library design was its location in the valuable environment of the civic centre created by Aalto – a masterpiece of modern architecture. The aim was to initiate a dialogue between the new and the old part.
Finnish Building Developments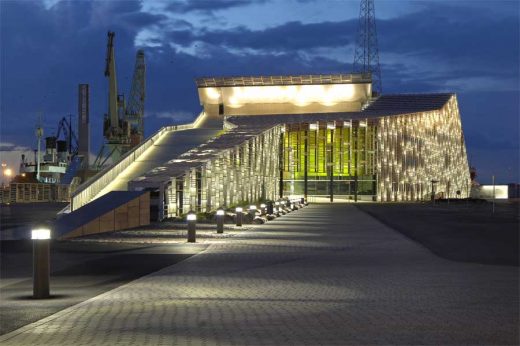 photograph : Timo Vesterinen
Finnish Building Developments
A selection of key examples of Finnish buildings, focused on contemporary architecture.
16 Jan 2012
Taittogami_ Gösta Serlachius Museum, Finland
Design: Matteo Cainer Architects Ltd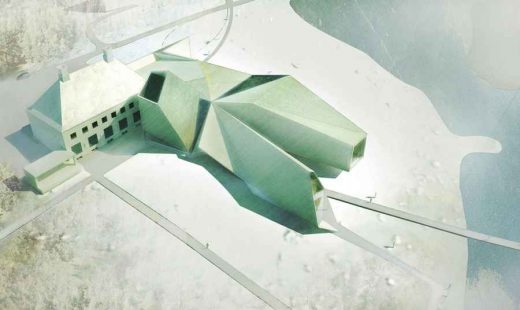 image from architecture office
Gösta Contemporary Art Museum
The expansion of the Gösta Serlachius Museum presents an opportunity to explore a creative relationship between the existing museum and the surrounding landscape. Through a new and distinctive poetic architectural language, the project develops a harmonious ensemble.
13 Dec 2011
Ski Resort Levi
Design: BIG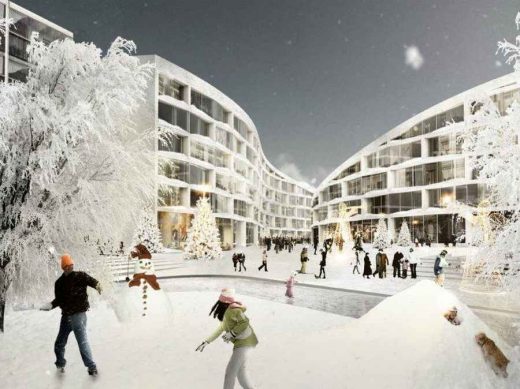 image from architects
Lapland Ski Resort Building
The future Ski Village will transform the existing Levi ski resort into a world class destination, offering top quality accommodation and leisure services for skiers of all levels and demands.
25 Aug 2010
Kuokkala Church, Jyväskylä
Design: Lassila Hirvilammi Architects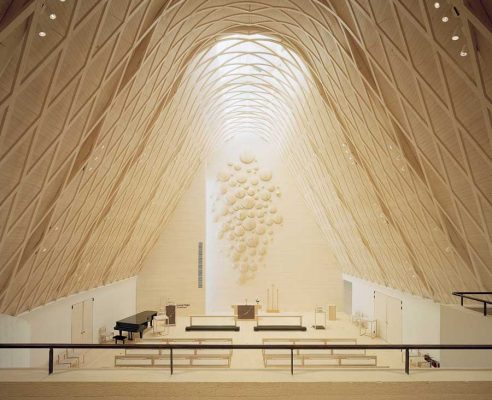 photograph : Jussi Tianen / Mikko Auerniitty
Kuokkala Church Building
The east-west oriented building stands centrally on Kuokkala Square, the focal point of Jyväskylä's Kuokkala district. The church is roofed and clad in overlapping slate tiles, with wooden and copper details around the entrances.
14 Aug 2008
Viikki Church Building, Helsinki
Design: JKMM Architects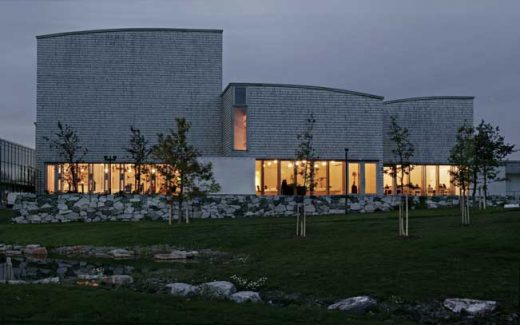 photo : Arno de la Chapelle
Viikki Church
The church forms the core of an area plan that will be implemented gradually. It extends into the narrowing scene amidst building fronts, between a park and a market place.
We aim to post more Finnish Architectural News online soon
Location: Finland, Northeast Europe
Finland Architecture
Contemporary Architecture in Finland
Comments / photos for the Finland Architecture Information – Major Finnish Property Updates page welcome