Kuokkala Church Jyväskylä, Finnish Architecture Photos, Architect, Religious Project Design
Kuokkala Church, Jyväskylä Building
Kuokkalan Kirkko: Jyväskylä Church design by Lassila Hirvilammi Architects, Finland
26 Aug 2010
Kuokkala Church, Jyväskylä
Design : Lassila Hirvilammi Arkkitehdit
Anssi Lassila, Teemu Hirvilammi ja Jani Jansson
Photographs : Jussi Tianen / Mikko Auerniitty
The wish of the Parish of Jyväskylä was to build "a church that looks like a church". Our proposal was a simple, sculptural form within which all of the church's different functions could be contained. The design is "of our time", yet permeated with nods to and re-interpretations of church-building tradition.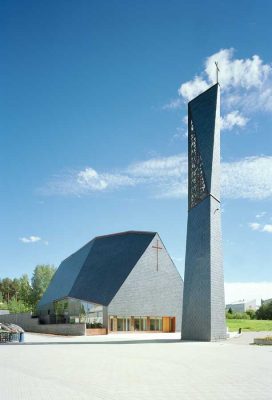 The east-west oriented building stands centrally on Kuokkala Square, the focal point of Jyväskylä's Kuokkala district. The church is roofed and clad in overlapping slate tiles, and wooden and copper details around the entrances supplement the overall visual aspect. The church is flanked by a granite stairway and walls which, together with the bell tower on the square, usher visitors towards the main entrance.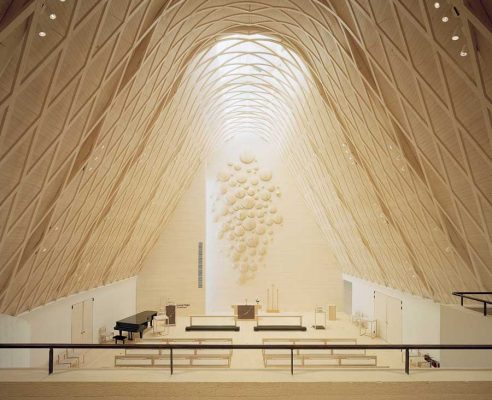 The church's functions are located across three storeys, with the church offices opening directly onto the market square. On the main floor, the church hall and parish meeting hall can be combined to create a shared space onto which the floor's children's and youth facilities also adjoin. A gallery houses the organ and cantors' office.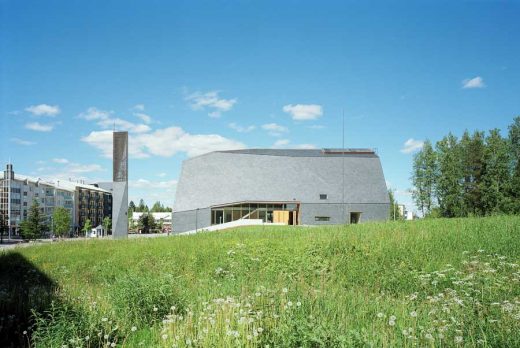 The church is predominantly wooden. The church ceiling is a combined glulam frame and wooden gridshell construction, which visually integrates the separate hall spaces. The gridshell was assembled and laminated together in-situ in three sections.
Locally-sourced spruce has been used throughout the church, from its bearing structures to its interior surfaces and fixtures. The church hall furnishings are in ashwood and the altar furniture is limewood, a species used historically for the carving of wooden icons.
The church design is based on the winning entry of a 2006 invitational architectural competition.
Finnish text:
Rakennusliike Porrassalmi Oy
Kuokkalan kirkko
Valmistunut Kuokkalan kirkon suunnitelmat perustuvat kutsukilpailuvoittoon nimimerkillä KIDE vuodelta 2006.
Jyväskylän seurakunnassa herännyt ajatus siitä, että rakennus ilmentäisi toimintoa ja liittyisi osaksi kirkkorakentamisen jatkumoa oli kilpailuohjelamaan muotoiltu toiveeksi saada "kirkon näköinen kirkko". Ehdotuksemme "KIDE" perustu kompaktiin veistokselliseen rakennukseen, jossa kaikki halutut toiminnon ovat yhden tunnistettava hahmon sisällä. Rakennuksen ulkohahmo on aikamme arkkitehtuuria, mutta siinä on nähtävissä historiallisia viittauksia suodatettuna ja tulkittuina. Ulko- ja sisäarkkitehtuurin vuoropuhelussa on kontrastilla voimakas rooli, joka on viritetty soimaan harkituilla materiaalivalinnoilla.
Rakennus liittyy osaksi Kuokkalan kaupunginosan elämää sijoittumalla selkeästi keskelle alueen toria, täydentäen sen ympäristöineen lähes valmiiksi. Kirkon veistoksellinen hahmo sijoittuu tontille itä-länsi suuntaisesti ja muuratut tiilimuurit rajaavat tontin toimintoja ja ääripisteitä. Kellotorni työntyy toritilaan lähes keskelle. Alkuperäinen, asemakaavanmukainen, ajatus torista jossa kaikki toiminnot kohtaavat sulassa sovussa palvellen ihmisten eri tarpeita täydentyi kirkon valmistumisen myötä. Kuokkalassa kirkko on saavutettavissa ja läsnä kaupunkitilassa.
Kirkon katto sekä seinät on verhoiltu limittäin ladotulla tummalla espanjalaisella liuskekivellä.
Kokonaisuutta täydentävät puiset ja kupariverhoillut yksityiskohdat sisääntuloalueilla, luoden ympärilleen lämpöä ja mittakaavaa. Ulkopinnat, portaat sekä sisääntuloalueen muurit on toteutettu suomalaisesta graniitista. Kellotorni yhdessä muurien kanssa viitoittaa tien kohti pääsisäänkäyntiä.
Toiminnot sijoittuvat kolmeen tasoon siten, että toimistot avautuvat suoraan torille, ollen näin päivittäisen asioinnin saavutettavissa. Kirkonrakennuksen pääkerroksen kirkko- ja seurakuntasali voidaan yhdistää yhdeksi suureksi sakraalitilaksi, samaan kokonaisuuteen liittyy tilat lapsi- ja nuorisotyölle. Parvelle, kirkko- ja seurakuntasalin väliin, on sijoitettu tila tuleville uruille sekä kanttoreiden työtilat.
Kirkko on pääosin puurakenteinen, kirkkosalin katto on yhdistelmä kantavista laminoiduista liimapuukehistä ja kuoriverkosta joka yhdistää pääkerroksen tilat kokonaisuudeksi. Kirkon sisätilassa voidaan nähdä viitteitä kansanrakentajien puukirkkoihin sekä goottilaisen katedraalin rikkaaseen rakenteelliseen maailmaan. Verkkokuori ja sen rakentaminen käytännössä tutkittiin yhdessä puuseppä Rudi Merzin kanssa ennen lopullisen suunnitelman tuottamista. Valittu ratkaisu mahdollisti verkon tekemisen paikalla laminoimalla kolmesta osasta.
Kirkon päämateriaali on tarkoin valikoitu keskisuomalainen kuusi, säteittäissahattuna, joka on kevyesti vaalennettu vahaamalla. Kuusi kulkee läpi koko rakennuksen kantavista rakenteista, alakattoista aina kiintokalusteisiin asti. Kirkkosalin kalusteet on suunniteltu osaksi kokonaisuutta puuseppä Kari Virtasen avustamana ja niiden materiaalina on eurooppalainen saarni. Alttarin kalusteet on tehty metsälehmuksesta josta perinteisesti on veistetty kansanrakentajienpuukirkkojen madonnat.
Kuokkala Church Finalnd – Building Information
Design period: 2006-10
Construction: 2008-10
Floor area: 1,311 m2, 7,460 m3
Finnish (English)
Kuokkalan Kirkko, Jyväskylä, Kuokkala Church, Jyväskylä
Osoite / Address
Syöttäjänkatu 4, Jyväskylä
Suunnittelu/ Years of planning: 2006-2009
Rakentaminen/ construction: 2008-2010
laajuustiedot/ floor area:
1311 m2, 7460 m3
Tilaaja sekä käyttäjä /Client/ building owner /user
Jyväskylän Seurakunta/ Parish of Jyväskylä
Arkkitehtisuunnittelu / architectural design 2006-2010
Anssi Lassila, M.Sc. (Arkkitehti / Architect) (Lassila Hirvilammi arkkitehdit oy)
Chief Architect and Designer
Teemu Hirvilammi, (Arkkitehti yo / Architect stud.) (Lassila Hirvilammi arkkitehdit oy)
Architect, interior design
Jani Jansson, M.Sc (Arkkitehti / Architect) (Luonti arkkitehdit Oy)
Architect, on the site architect
Avustajat / assistants
Virve Väisänen (Architect) ( Luonti arkkitehdit Oy)
Juha Pakkala, (Architect stud.) ( Lassila Hirvilammi arkkitehdit Oy)
Janne Kähkönen, (Architect stud.) ( Lassila Hirvilammi arkkitehdit Oy)
Matias Topi, (Architect stud.) ( Lassila Hirvilammi arkkitehdit Oy)
Yoshimasa Yamada (Architect stud.) ( Lassila Hirvilammi arkkitehdit Oy)
Alttariteos
Pasi Karjula
Kirkkotekstiili/ Ecclesiastic textiles:
Silja van der Meer
Insinöörisuunnittelijat /Engineering,
Rakenneinsinööri/ construction:
Ramboll Ltd./ Juha Elomaa and Antti Oikari
Kivirakenteet/ construction, natural stone
Stonecon Ltd./ Pekka Mesimäki and Uolevi Pesonen
LVI-suunnittelu/ HPAC design:
LVI-Lindroos / Jari Manninen
Sähkösuunnittelu/ Electrical design:
Leinonen-Mantsinen / Juhani Närhi
Akustinen suunnittelu/ Acoustic design:
Helimäki acoustics/ Heikki Helimäki
Urakoitsija/ Builders
Kuokkala Church Helsinki images / information from JKMM Architects
Location: Jyväskylä, Finland
New Finnish Architecture
Contemporary Architecture in Finland
Finnish Architecture Design – chronological list
Chapel of St.Lawrence, Finland
Design: Avanto Arkkitehdit Ltd


photo by Tuomas Uusheimo / Kuvio.com
Buildings / photos for the Jyväskylä Architecture page welcome