WAM open Event, Skiing Ischgl, Snowboarding Tyrol, World Architects Masters Austria
WAM open, Tyrol, Austria : Break the Ice
World Architects Masters Ischgl, Tyrol : Austrian Architecture Event
12 Feb 2012
World Architects Masters Event
WAM Open Austria
2 – 5 Feb 2012
15 "Minds of Tomorrow" and 9 innovative companies encounter snowloving architects: the World Architects' Masters 2012
Ulm, February 2012 – From February 2nd-5th, the World Architects' Masters 2012 (WAM Open) have taken place in Ischgl (Austria). This event harks back to an initiative of ap35 (Ulm, Germany) that has organized the WAM Open for the second time now.
The World Architects' Masters consider themselves to be an international networking platform and have declared it their goal to make architects and cutting-edge companies meet and talk in a laid-back atmosphere. Apart from the Ski World Championships, the first Architecture Corporate Foresight (ACFx) conference was held on February 2nd in the Pardorama, a building by architect Manfred Jäger (2005) located high above the clouds in Ischgl.
World Architects Masters Austria – 2011: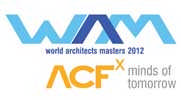 image from WAM – World Architects Masters
During two whole days of skiing fun on February 3rd and 4th, Architects from 11 countries were given the opportunity of competing against each other in parallel slalom and giant slalom. At the same time, they had lots of opportunities to get together with representatives of several innovative companies that have been sponsoring the WAM Open 2012 this year: Admonter. Eine Marke der STIA Holzindustrie GmbH | Freyer & Ploch GmbH | Gira Giersiepen GmbH & Co. KG | Heinrich Schmid GmbH & Co. KG | Häfele GmbH & Co. KG | Höller KG | Jeld-Wen Deutschland GmbH & Co. KG | Lindner AG | and the Object Carpet GmbH.
Looking into the Future
The WAM Open took their course in the evening of February 1st , when the first group of participants as well as all the speakers of the conference were greeted in the Wildererhütte in Ischgl with "Glühwein" and a nice dinner after an inspring night walk through snow-clad mountains. On Febrary 2nd, Andreas Pfetsch, executive director of ap35, opened the first architecture conference "Architecture Corporate Foresight" (ACFx) conference. Under the motto"Minds of Tomorrow", 15 internationally renowned speakers ventured to take a look into the future of Architecture.
In the first panel called "Trend Research", Sebastian Raßmann (TrendOne), Tobias Mayer (Airbus) and trend forecaster Gert van de Keuken (Trend Union) dealt, not surprisingly, with the phenomenon of trends and asked, what can we say about the future when considering results from trend research and/or trend forecasting. In the second panel, "Interaction, Design & Media", Harald Katzenschläger (Dream Academia), Steve Rogers (Google UX EMEA), Sam Kronick (University of California) and Robert Miles Kemp (Variate Labs, Los Angeles) took as a starting point the fact that our globalized world has become one big interactive meeting place in which people, objects as well as buildings have begun to 'talk' to one another.
Under the heading "Architecture Thinking", which announced the third panel, Wolfgang Kessling (Transsolar), Astrid Piber (UNStudio), Andreas Huber (Lindner KG) and Chris Bosse (Lava Architects) dealt with the questions of how Architecture conceives of Tomorrow's building strategies: what direction is our world moving towards, and what possibilities does Architecture have to refer to these developments in an anticipating way? In the last panel, "Urban Design & Megacities", the world's growing urbanization was the central point of attention. Here, Assaf Biderman (SENSEable City Lab), Sebastian Finckh (Jürgen Mayer H. Architekten), Alexander Rieck (Fraunhofer Institute für Industrial Engineering) and Jakob Lange (BIG Architects) commented on this global development with recent examples from the studios and/or institutes they work for.
After this long day of inspiring presentations and discussions, the first day of the WAM Open 2012 was brought to an end with a 3 course menu in the "Alpenhaus" on a mountain top called Idalp, 2.300 meters high above Ischgl. For a digestive, most dinner guests chose to participate in a night tobogganing tour: at -20 °C, a large group of exhilarated participants found their way down the mountain, a jolly ride that took them more than 20 minutes!
Skiing fun at -24 °C
Whereas the WAM Open participants could register for the parallel slalom and giant slalom competitions already on February 2nd, on February 3rd and 4th the World Championships finally took their course. Dressed in layers and layers of thick clothing to withstand the cold, architects both male and female partook in the parallel slalom and giant slalom races, had lots of fun and could also boast of some really good results. On both days, the skiers were supplied with "Glühwein" and hot soup on the racing track; in the evenings, dinner parties were given in the Silvretta Center, located in the middle of Ischgl. Both days culminated in award ceremonies, during which the winners of various disciplines were honoured.
The results of the first day, during which the architects competed in parallel slalom, were as follows: in Women's Snowboard, Sandra Brandenburg won, Heidi Wolf made it to first place in the category Women's Ski, Agilolf Bachner won the Men's Snowboard competition, whereas Moritz Wolf turned out to be the winner of the Men's Skiing Competition. In the team competition, Alpstein could take the winner trophy home. After the competition on Saturday, during which the racers could test their abilities in giant slalom, the results were as follows: Ulrike Schneider won the Snowboard Competition, Katharina Schmidt made it to first place in the category Women's Ski. Agilolf Bachner proved himself to be an insurpassable snowboarder by again becoming the winner of the Men's Snowboard competition while Felix Wolf won the Men's Skiing contest. As far as the team competition was concerned, in this case Wolf Planung turned out to be the winning team. In the overall ranking, Sandra Brandenburg took possession of the first place in Women's Snowboard, whereas Heidi Wolf won the overall Women's Skiing competition. Not surprisingly, Agilolf Bachner was the winner of the Men's Snowboard contest while Sebastian Blank could boast of being first in the overall ranking of the Men's Ski category.
In the team competitions, Alpstein could once more take a winner trophy home by being first in the overall ranking. After the award ceremonies, whoever felt like it could visit one of Ischgl's most iconic clubs, the "Pacha", and have a good time during the "Racer's Night" and/or "Winner's Night". Taken as a whole, the World Architects' Masters 2012 have been visited by more than 200 people.
Because of the appealing mix of intellectual challenge, unbridled skiing fun and a very varied evening program with lots of inspiring highlights, the WAM Open have offered all participating architects, speakers and sponsors the opportunity to get together in a very laid-back atmosphere – an opportunity all participants were ready to avail themselves of. 7 Nov 2011
World Architects Masters
WAM Open, Austria
2 – 5 Feb 2012
The second international World Championship for Architects in Skiing and Snowboarding (WAM open) will be held from 2nd – 5th February 2012. The event will take place in the exciting destination of Ischgl in the Tyrol, Austria. Sport-loving architects and interior designers from around the world will be able to test themselves in the disciplines of giant slalom and parallel slalom at the WAM open 2012. As a preview to the championship, the conference ACF – Architecture Corporate Foresight will be held in 2,624 m above the clouds in Ischgl, and will focus on the architecture industry's perspectives for technological development
ORGANISER
The initiator and organizer of the WAM open – Break the ice is ap35 GmbH, with its managing director Andreas Pfetsch, headquartered in Ulm (Germany). Co-Organizer is the Austrian Media Professional Martin W. Drexler. ap35 functions as a communication link between the architecture scene and its Industry. Information flow and exchange is created using varied means of communication.
LOCATION
The venue of the WAM open 2012 is Ischgl, located in western Austria in the federal state of the Tyrol. Ischgl, 1,377 meters above the sea level in the lovely Paznaun valley, between the Silveretta and Verwall Alpen ranges. The ski region "Silvretta Arena" in Ischgl makes any skier's heart beat faster, and this is how the small town first became known. With over 200 km of ski slopes and 40 ski lifts, it is one of the largest, and is also considered one of the snowiest ski resorts in the Alps. The season opening and season finale are regularly celebrated with big pop concerts. Stars like Elton John, Rihanna and Alicia Keys have already graced Ischgl's stages.
The WAM conference ACF takes place in the conference hall of the restaurant Pardorama in Ischgl. This new building is located on the Ischgler Pardatschgrat.
WAM OPEN 2012
WAM open – Break the ice – A very special event for the international architecture scene. Worldwide. WAM open combines networking, information, and fun. It offers those, who want to take their measure athletically, are looking for international contacts, and appreciate inspiring conferences, the perfect opportunity. Architects and interior designers from around the world are invited to the WAM open – Break the ice.
Giant slalom and parallel slalom disciplines in skiing and snowboarding. The aim is to prove yourself on a designated course with integrated elements such as gates, bumps, and kickers. Both individual championships and office championships will be judged.
What counts overall is the fun of movement, health, enthusiasm, experience, spontaneity, and participation. The goal is also to give new impulse to staff work at the office. It improves integration and communication through sports, to strengthen and establish contacts with partners.
CONFERENCE
ACF – Architecture Corporate Foresight
"Formal beauty will vanish behind features which make an area conducive for networked use". Daring prophecies, like this by American network designer Adam Greenfield, can have both frightening and stimulating effects on architects. This is because the artistic aspect of their work would, given such an assertion, be pushed far into the background. But at the same time, detachment from formal design-oriented usage-creations, could also have the effect of bringing the functional aspects of space usage radically into the foreground, and provide the architecture industry with completely new perspectives. It's the case that our generation-oriented technology has plenty of innovation potential in this area.
At the ACF, you will get answers in the context of this paradigm shift, on topics like megacities, trend research in relation to communications, design, working environments, and buildings, intelligently creative innovation-concious startups, and the future of travel and residential behavior. The requested speakers, such as, among others, Norman Foster (known due to Masdar in Abu Dhabi), Bjarke Ingels (BIG founder), Lidewij Edelkoort (trends researcher) and Chris Bangle (design consultant), will take on these conference themes with their expertise, experience, and vision.
PANEL DISCUSSIONS
Architecture
Topic: Megacities
Big, bigger, megacity! Since 2007, more people have been living in cities than in rural areas, and one in ten people lives in a megacity. Overall, the urban population is now growing by about 60 million people a year. Like all cities in the past, today's megacities are magnets for commerce, culture, science, and industry. It requires innovative infrastructure solutions to achieve the optimal benefit from the potential of megacities, both for the development of mankind and for economic development, and at the same time address the multiple problems these cities face. This latter issue is especially pertinent for architecture. This is because their sustainable core competence and social functioning, the innovative and adaptive design and ordering of the constructed environment, are the framework for social communication and development. Urbanism cries out for infrastructure solutions which are produced by the interconnections between human and computers, in order to ensure orientation in a metropolis. It is the task of urban planning architects to provide the necessary direction, in order to guarantee navigation despite population growth.
Trends research
Topic: Minds of tomorrow
Our culture is shaped and modernized through continuous evolution. Whether in the working world and lifestyle, in new design or communications – creative and innovative thinkers move society and open up new possibilities, to shape our "future" to be more efficient, more beautiful, and more interconnected. "Ubiquitous computing" is one of the visions which is already in use, but can still be expanded further. Mark Weiser's definition of "ubiquitous computing" means detaching from the computer as a device and replacing it by "intelligent objects", which unobtrusively support people in their daily activities. Along with "ambient intelligence" (intelligence of the environment), this technology offers new dimensions for connectivity among people, places, and urban infrastructure.
Startups
Topic: Creative, sexy, intelligent
Considering increasing globalisation as a macrosystem, networking at the micro level has inexorably broken through, and this not only in the context of modern communication technologies. "Social networks" develop due to the need for social interconnection, whether it is within a city, an industry, or a building. Globalisation thus creates an even stronger need for connection, in interpersonal or professional collaboration. This is proven by so many successful idea-developers, who demonstrate, by using special types of business models, how society grabs up such offerings in the market.
Experts
Topic: Temporary Corporate Space
Monday in London, Friday return to Zurich, and the following week in Istanbul. From one hotel to another -so many businesspeople consider this the norm for their business. No wonder, since mobility and flexibility have long since become important fixtures in our working world. The trend is shifting, given the globalisation of the international concept of work -work from anywhere in the world, also from a hotel. This poses new requirements, which, next to well-being and relaxation with attractive design and wellness offerings, add to the profile of a temporary residence. The traveling businessman expects an offering which goes beyond the one he´s previously experienced. Although a hotel may be one of the most luxurious, or is among those selected for a European Design Awards, the key criteria for choosing a temporary living quarters, are shifting increasingly in favor of innovative living, working, information, and communication technologies, which give the hotel the decisive selling points.
ORGANISATION
The initiator and organizer of the "WAM open – Break the ice" (as well as the GAM, AAM & AIWM open) is the agency ap35 GmbH, with its managing director Andreas Pfetsch. Co-Organizer of the "WAM open – Break the ice" is the Austrian Media Professional Martin W. Drexler
WAM open – Break the ice information from WAM
Location: Ischgl, Tyrol, Austria
Relevant Links
European Architecture – Links
European Architecture



photo : Nicolas Borel
European Architecture Competition
Comments / photos for the World Architects Masters Austria – WAM open page welcome