Vision 2017, Architecture Exhibition, Talks, Events, Global Architects, Project Images
Vision 2017 in London
CPD-certified learning and networking on 6-7 June 2017 at Olympia, London
5 Jun 2017
Vision 2017 Opens in London
Vision 2017 Opening
Vision 2017 opens at 10am on the 6th of June and stays open right through until 9pm, for a complimentary evening drinks reception, so we hope you can visit for a day of unique insight into the built environment.
This year's event has an "exceptional calibre" of speakers and exhibitors, gathering from across the UK and Europe.
This is your last chance to register for free in advance – online registration closes at midnight tonight, so make sure you register for your free ticket today.
Vision 2017 registration for free in advance
Malaysia Square, BIG, Vision 2017 speaker: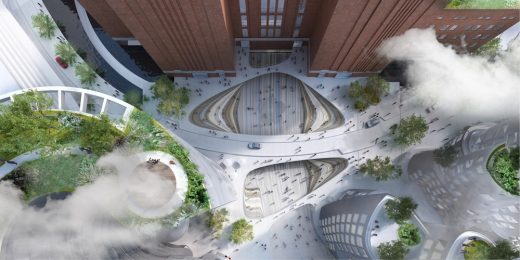 BIG Malaysia Square image © BIG
Plan your visit – Where and when
Vision 2017 Opening Hours:
Tuesday 6 June: 10:00-21:00 (Evening Networking and Drinks Reception from 17:30)
Wednesday 7 June: 10:00-17:00
Venue: Olympia Central, Hammersmith Road, London, W14 8UX
Transport Information
Official Event Guide
To help you plan your visit, here's an exclusive first glance at the Official Event Guide. You can also pick up your free printed copy at the show.
And here are some quick event links:
Over 90 UK and International Exhibitors
Seminar Programme Day 1
Seminar Programme Day 2
Late Night Opening 6 June
And finally, if you cannot join us tomorrow during the day, we hope we see you for our Late Night Opening from 5.30 onwards where you can enjoy complimentary drinks, browse the exhibition and attend exclusive events delivered by the most respected architects of the moment.
We look forward to welcoming you to this year's event.
The Vision Team
25 May 2017
Vision 2017 in London
Vision 2017 preview: new forms of architecture from BIG and UNStudio, alongside fashion hybrids and 3D-printed eco building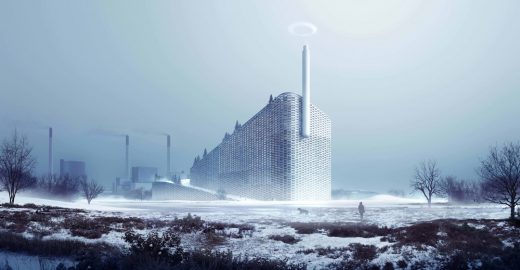 Amager Bakke Waste to Energy Plant in Copenhagen image © BIG & MIR
On 6 June Vision 2017 will open its doors for the third iteration of the annual built environment exposition. The event promises to gather some of the best architects, designers, researchers, manufacturers and suppliers from across the UK and Europe, for two days of CPD-certified learning and networking. Key highlights include: the first ever lecture from the BIG's London studio; new research on the circular economy unveiled by UNStudio; an eco-friendly 3D-printed wall from Italy; the UK premiere of Axalta's ICONICA installation; the Code-Structed Skin architecture and fashion fusion project; and an innovation area curated by augmented reality experts Design Exchange.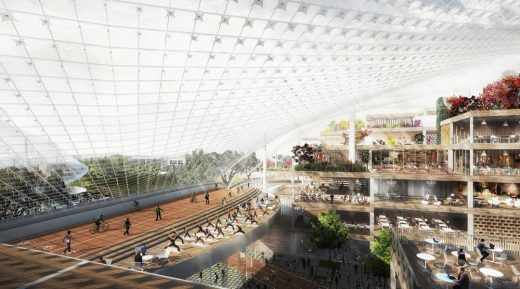 BIG and Heatherwick for Google
Vision is the official trade partner of the London Festival of Architecture, and has formed additional connections to other important cultural, professional and commercial organisations, such as the RIBA, New London Architecture (NLA), the Museum of Architecture, BRE and designjunction.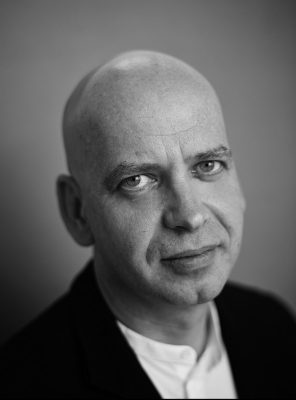 Speaker BIG – Andy Young
As part of the Vision Late Night on 6 June, NLA will return to the show with their annual PechaKucha. The fast-paced talks will align with their major new Insight Study, London: Design Capital, showcasing the innovations, technologies and projects that are currently being developed for international projects. Other events for the Late Night include an evening drinks reception for networking until 9pm and a series of keynote talks delivered by representatives from UNStudio and Zaha Hadid Architects.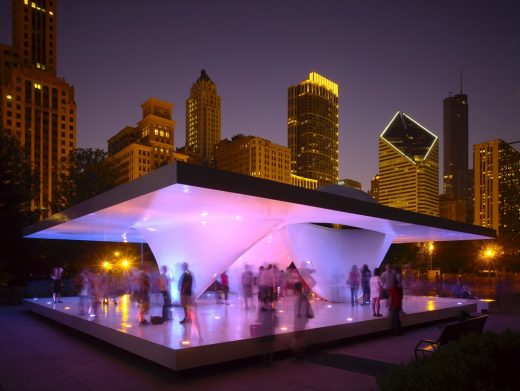 Speaker UNStudio Burnham Pavilion – Christian Richters
As part of the main speaker programme, Andy Young of BIG will outline his practice's approach to architecture in general, that "yes is more". Focusing on the social infrastructure of contemporary office design, he will demonstrate that our future workplaces will be a complex mix of essential hardware and high-quality places for people.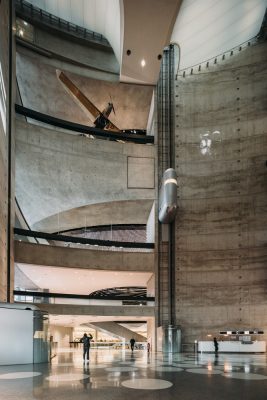 Speaker UNStudio Mercedes-Benz-Museum – Eva Bloem
Caroline Bos of UNStudio will explore the rise of the digital marketplace and the sharing economy, along with the shift from spending on goods to 'experiences', explaining how designers must seek out ways to change retail spaces into places of reuse which can contribute to a socially responsible and environmentally sustainable circular economy. The future of retail spaces will be their ability to adapt and change in the future into multifunctional leisure zones.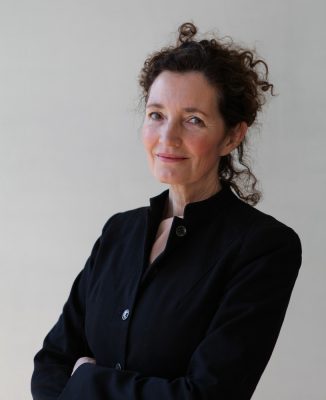 Speaker UNStudio – Caroline Bos
WASP have created a process that allows them to 3D print buildings out of recycled plastics or clay and ceramics. This highly sustainable approach to construction could revolutionise the industry as we know it, creating buildings that match their surroundings and leave no trace on the landscape. During Vision, visitors will be able to experience this process through live demonstrations, accompanied by expert team members that can explain this complex modern method of construction.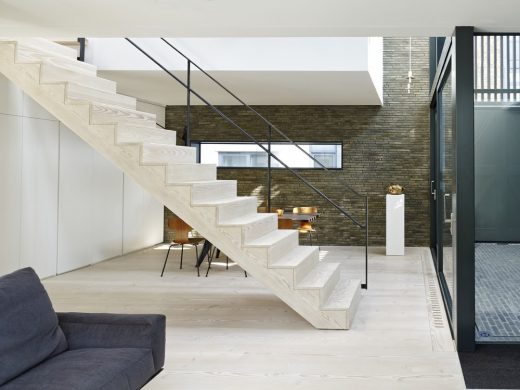 Product Vande Moortel
The ICONICA installation by Axalta is a dynamic spinning frame that shows off the full range of powder coating colours available from the manufacturer. It debuted in Milan this year for the furniture fair and is travelling to London for the first time for Vision.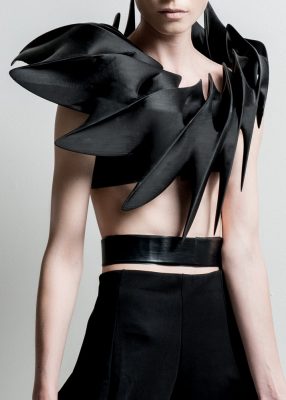 Speaker Code-Structed Skin
The Code-Structed Skin project explores new computational fashion design methods and techniques as tools for creative expression and design intelligence. By collaborating across different sectors of the design community, architecture can learn from fashion and vice versa. Stefano Paiocchi will demonstrate that 3D-printed dresses can inform the way we crate complex buildings for the development of smarter cities, such as the Hyperloop project.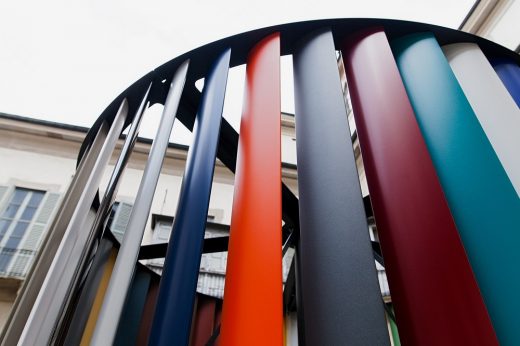 Product Axalta ICONICA Installation Palazzo Litta Milan
Design Exchange, the first interactive design magazine to use augmented reality with print, will curate an innovation area during Vision. The magazine will be working in collaboration with some of the most pioneering digital thinkers, many of whom are involved in creating DE's current and future augmented reality editions. The area will include boundary pushers who mix the physical and virtual worlds using print, augmented reality, virtual reality, digital tech, 3D printing and film.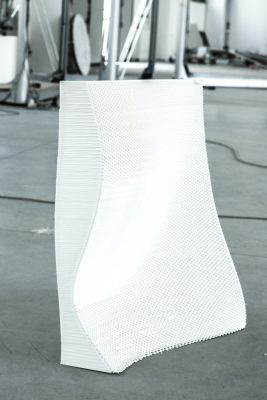 Product WASP Generative 3D wall
New types of glazing are creating a quiet revolution in the design of contemporary architecture and design, and at Vision 2017 attendees will be able to assess the impact of products such as Cantifix and Idealcombi on both the private residential and larger housing industries. The former has been used on an elegantly poised house by Hamish & Lyons that appears to float above the water, while the latter is employed to great effect on rapid mass housing by shedKM and Urban Splash.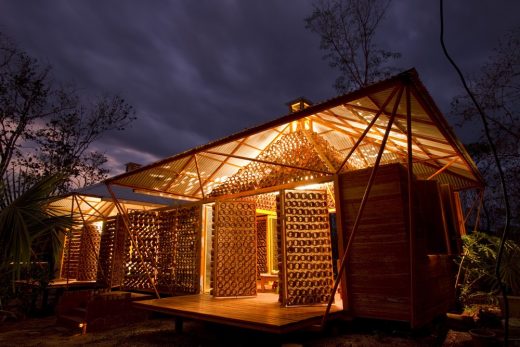 Speaker Studio Saxe A Forest for a Moon Dazzler
This year Vision has also partnered with various international trade authorities from countries across Europe, bucking the Brexit trend, including Belgium, France, Italy, Luxembourg, Latvia and the Czech Republic. These nations will be represented at the event through a number of pavilions, each housing multiple participants. Live demonstrations and networking will provide opportunities to meet and exchange ideas with our continental counterparts.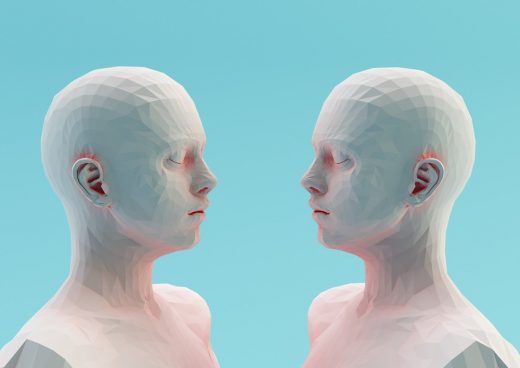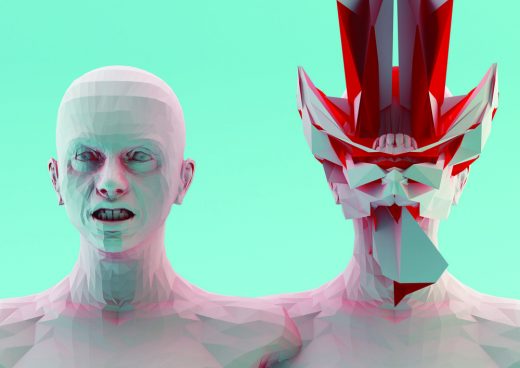 Partner Design Exchange parametric Expression – Mike Pelletier
Elliot Gard, Event Director, said: "We are incredibly proud of the wide range of exhibitors, speakers and partners at this year's Vision. With leading figures from around the world descending onto one venue for two days, this year's Vision will offer unparalleled insight into the built environment. Visitors will leave Vision 2017 inspired about what the future holds for the profession, and they will be equipped with the tools and knowledge to affect real change."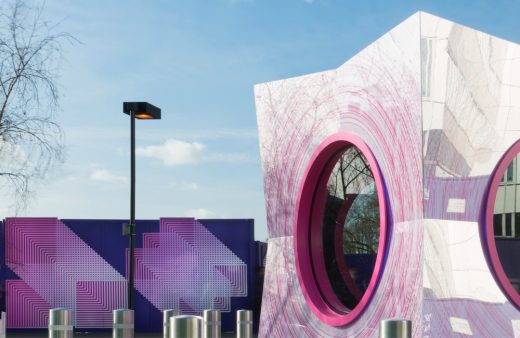 Speaker Fathom The Pod
Now in its third year, Vision 2017 is the only event in the UK which is aimed exclusively at architects, designers, specifiers and their clients working on live projects in the commercial, health, education and retail sector. Held over two days at Olympia London from 6-7 June, it comprises a carefully curated two-day exhibition of cutting-edge products and solutions, a world-class seminar programme delivered by 150 leading international speakers and significant opportunities for to engage, educate and network with industry professionals. The event focuses on new and innovative building products and materials and provides ideas for inventive ways to achieve better building design solutions that comply with changing legislation.
Vision 2017 in London images / information received 250517
Address: Hammersmith Road, Kensington W14 8UX
Phone: 020 7385 1200
Location:London
RIBA Events – Archive
RIBA London Exhibition
Contemporary Norwegian Architecture: Landscape and Intervention by Reiulf Ramstad and Jensen & Skodvin
12 Apr – 15 Jun 2012
Venue: RIBA, 66 Portland Place, London W1B 1AD; Gallery Two and Florence Hall

image : Jensen & Skodvin Architects
Reiulf Ramstad Architects and Jensen & Skodvin Architects are two of the most high-profile and innovative architects practices based in Norway.
This exhibition explores their work, highlighting rural contemporary Norwegian architecture through the National Tourist Routes in Norway scheme.
A selection of Tourist Routes projects – completed across the country – are displayed by each practice, in addition to a range of other buildings that have been undertaken, including housing and public works.
Norwegian Architecture



photo : Kim Müller
Reiulf Ramstad Architects



photo from Reiulf Ramstad Arkitekter
Jensen & Skodvin



image : Jensen & Skodvin Architects
Free admission
Contact: Admission to all RIBA exhibitions is free. Galleries at 66 Portland Place are open Mon – Sat, 10am – 5pm.
Please note, galleries may be closed early for special events. Call +44 (0)20 7307 3888 to check opening times.
Renzo Piano – the Shard Story
Tuesday 12 Jun, 18.30 tickets £12/£10 concession
LKE Ozolins Lecture 2012
The Shard, London – new photos
Design: Renzo Piano Building Workshop (RPBW)



photo © Nick Weall
Internationally acclaimed architect of The Shard, Renzo Piano marks its topping out with a lecture revealing the story behind it.
Angela Brady : former RIBA President
RIBA Trust Autumn Lecture Series 2009
London Architecture Events:
Bartlett School of Architecture Event
Comments / photos for the Vision 2017 in London page welcome
Vision 2017