University of Portsmouth School of Architecture News, Award, Building, Event, Design, Image
University of Portsmouth School of Architecture
12 June 2020
University of Portsmouth academic named Ambassador of Design
A University of Portsmouth academic has been nominated as an ambassador of Italian Design 2020.
Professor Alessandro Melis from the Portsmouth School of Architecture was chosen by the Italian Minister of Foreign Affairs. He is well-known in Italy for his research in the field of architecture and has already been chosen as the Curator of the Italian Pavilion at the prestigious Venice Biennale this year.
Professor Alessandro Melis of University of Portsmouth School of Architecture: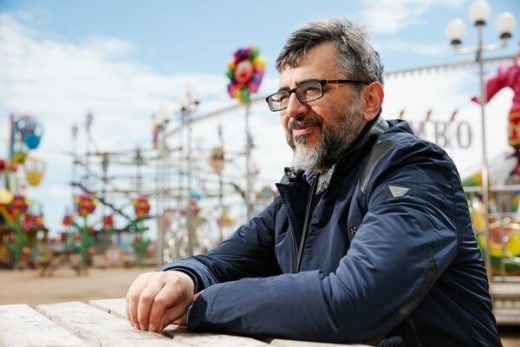 photo courtesy of University of Portsmouth
Professor Melis will be expected to join high-profile embassy meetings to share his experience and knowledge of Italian design.
He said: "I am very proud to represent Italy, a country where product design and industrial design are major areas in which we are world-leading.
"It is flattering to be chosen to represent the Ministry of Foreign Affairs and the Ministry for Cultural Heritage. I feel honoured to be able to share and highlight our expertise in open planning, product design and architecture."
Professor Melis had been invited to attend 'Days of Design' at the Italian Embassy in Paris and at the European Headquarters of UNESCO in Paris, but they have been postponed due to the coronavirus outbreak.
Director of the Cluster for Sustainable Cities at the University of Portsmouth, his research topics concern innovation in the field of environmental sustainability, resilience and regeneration. He has been the curator and keynote speaker at numerous conferences, such as the MoMA in New York and the China Academy of Art. He currently coordinates international research projects on resilience in architecture.
In 1996, Professor Melis founded Heliopolis 21, an architecture and urban design company based in Italy and Germany. Heliopolis 21 has recently designed building SR1938 at the University of Pisa, which is considered a model for sustainable architecture.
University of Portsmouth, University House Portsmouth, Hampshire, Portsmouth, PO1 2UP, United Kingdom
Previously on e-architect:
23 Mar 2010
University of Portsmouth Memorial Garden Design Contest
Architecture students have had their designs short-listed for the Place of Memory, a memorial garden to commemorate all the deceased staff and students of the University of Portsmouth.
The brief was to explore ideas for what a memorial place for the 21st century might be like. The budget for the project is £10,000 and the winning entry may be built as per the submitted design or used as the basis for a future development project.
Niall Bird, student at the University of Portsmouth: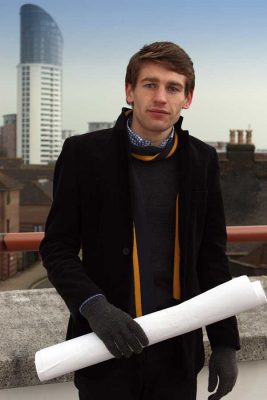 The designs by Tim Millard, Niall Bird (above) and a joint entry from Khalid Saleh and Sam Johnston can be seen on the First Floor of the University Library. Costings will now be applied to the short-listed designs before a final decision is made.
Earlier this year Niall won a national award and £1,000 prize money for his plans to regenerate Portsmouth's Hilsea Lido.
Niall said he has been interested in historic buildings for as long as he can remember and when his friends were drawing Superman or cars he preferred to draw churches and other historic buildings.
He submitted his drawings of a proposed regeneration of the 1930s site to the Society for the Protection of Ancient Buildings and was announced as the winner of the Philip Webb Award last night.
He is the fourth Portsmouth student to win the award.
Niall said: "My eventual aim is to specialise in historic building conservation so winning this award means an awful lot personally and professionally and also provides recognition in what is sometimes a difficult area of architecture to get involved in. Hopefully, in the long-term, it will provide a stepping-stone in my career."
Niall's plans for the Hilsea Lido site conserved the original buildings and included new buildings for a range of community-based activities including outdoor activities, the arts, yoga and dance, meeting spaces for local groups and a café.
But his winning designs might not actually be built at the open air swimming pool site.
He said: "The project is technically a 'live' one with real clients. All the diploma one students came up with designs for the site and the volunteer group who run the site will review them on February 15. If they see something they like then they could approach that student to take it further – you never know, but it's not a given that it will get built."
Niall is in the first year of a two-year post-graduate architecture diploma course. He graduated from Portsmouth with first class honours degree in 2008 and won the School of Architecture's Dibden Prize for his final year assignment before taking a year out working in an architectural practice in Bristol.
He said: "I have always been interested in architecture. When I was very young I would draw pictures of old houses and cathedrals rather than cars and superheroes. I was probably inspired by growing up in the Cotswold's surrounded by villages and towns full of beautiful, historic buildings and also from singing in church choirs from an early age.
"I am really passionate about all historic buildings and how they can be regenerated through the addition of sensitive, contemporary architecture and new uses."
Niall's studio tutors are Greg Bailey, Mary Weguelin and Dr Fabiano Lemes de Oliveira. Other Portsmouth School of Architecture students to have won the award are Chris Draper, joint first prize winner in 2000, and Christopher Jones and Martin Coles who jointly won in 1995.
Philip Webb and William Morris were the main founders of the Society for the Protection of Ancient Buildings in 1877. From the start Webb devoted time to teaching young architects the principles and methods of practical conservation.
The award aims to encourage new design in the context of historic buildings from any era and to develop an appreciation of old buildings among architectural students. Entrants were asked to re-vitalise a building or group of buildings of historic interest which are decaying or neglected
15 Apr 2010
University of Portsmouth Architecture Talk
Talk by Andrew Phillips, David Chipperfield Architects Thu 15 April, 6-8pm.
Includes drinks reception after the lecture.
Venue: University of Portsmouth, Portland Building, PO1 3AH
Andrew Phillips has 15 years experience working in the UK, Spain and US. He joined the practice in 1998, becoming an Associate Director in 2000 and Director in 2006. Andrew has been Director-in-charge of the America's Cup Building in Valencia and the City of Justice in Barcelona. Since 2004, he has headed the Concept Design Team within the London office. He is also Director-in-charge of the CAT master plan in Segovia, Spain.
www.port.ac.uk/staffessentials/whatson/events/eventdetails,108200,enhtml
Location: University of Portsmouth, south England, UK
Portsmouth Buildings
Portsmouth Architecture Designs
Portsmouth Buildings – Selection
Tipner West Development
Masterplan Design: Gensler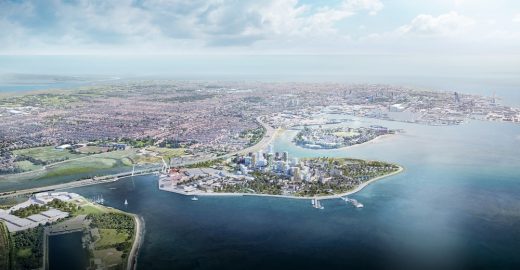 image courtesy of architects office
Tipner West Development Portsmouth
D-Day Museum
Design: Hampshire County Council's architects and interior designers with exhibition designers Studio MB and landscape architects UBU Design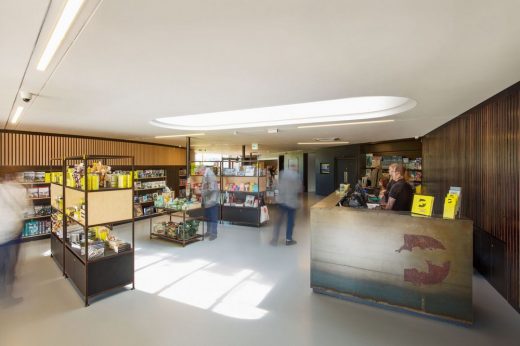 photo : Martin Gardner
D-Day Story, Portsmouth Building
No.1 Gunwharf Quays – The 'Funnel'
Scott Brownrigg
The Funnel Portsmouth
Mary Rose Museum
Wilkinson Eyre; Pringle Brandon (interior architect)
Mary Rose Museum Portsmouth
Portsmouth Stadium development
Herzog & de Meuron
Portsmouth Stadium Design
The Spinnaker, Gunwharf Quays
Greentree All Church Evans Ltd
Spinnaker Tower Portsmouth
Comments / photos for the University of Portsmouth Architecture Event page welcome