LEAF Forum, Buildings, Architects, Practices, Berlin Event
2013 LEAF International Forum
2013 Event in Berlin, Germany – Architects / Buildings / Interiors
21 Oct 2013
LEAF Interior Design Awards Winners
LEAF Interior Design Awards 2013 – Winners
The 1st Annual LEAF Interior Design Awards with headline sponsors Interface and Quarella proved to be a huge success attracting a whole host of recognisable faces from the architectural and design community. This spectacular evening took place in the wonderful surroundings of the Palace Hotel, Berlin, Germany presented by Vanessa Brady, chair of the Society of British Interior Designers.
The 2013 shortlist honoured a real variety of international buildings and their use of interior space. The winners of the evening were:
Sustainable Interior Design of the Year Award – sponsored by Interface
PAD Studio Ltd – The Exbury Egg, Beaulieu River, UK



photo : Nigel Rigden
Best Use of Space Award – Sponsored by Quarella
Oscar Tusquets Blanca and M.N.Metropolitana di Napoli Spa – Toledo Metro
Hospitality Building of the Year Award – sponsored by ABB/Busch-Jaeger
Takashi Fujii, Nikken Space Design – Koyoto Century Hotel, Kyoto, Japan
Energy Efficient Design of the Year Award
Goring & Straja Studio, Autodesk Headquarter – Via Tortona 37, Milan, Italy
Residential Building of the Year Award – sponsored by Quarella
IDO, KENJI ARCHITECTURAL STUDIO – House in Tamatsu, Osaka, Japan
Public Building of the Year Award – sponsored by Thrislington Cubicles
INNOCAD Architektur ZT GmbH – Rolling Stones, Graz, Austria
Commercial Building of the Year Award – sponsored by Thrislington Cubicles
One Plus Partnership Limited – Wuhan Pixel Box Cinema, Wuhan, China
2013 Overall Winner LEAF Interior Design Awards – sponsored by Interface
INNOCAD Architektur ZT GmbH – Rolling Stones, Graz, Austria
10 Oct 2013
LEAF Forum
LEAF International Forum 2013
With the 2013 LEAF International forum drawing closer, we would like to remind you of all the interesting topics and discussions that will be taking place on October 16th – 18th in Berlin, Germany 2013.
16-18 Oct

Highlights in this year's programme include:
• Keynote Speech – Strategies for Successful International Project Management
• Keynote Speech – Planning Aspects of Major Projects
• Keynote Speech – Sustainable and Dynamic Solar Control
• Panel Discussion – Transforming Interiors
• Panel Discussion – Incorporating Sustainability from Design to Delivery and Occupation
• Case Studies from Gensler, AHMM, MaccreanorLavington
To view the full programme for LEAF International, please visit:
http://www.arena-international.com/leaf/programme/
The conference programme for LEAF International will also feature over 25 senior thought leaders from architectural firms, contractors, developers and suppliers who'll be gathering in Berlin to showcase the latest innovations and future trends impacting the sector.
We are very pleased to announce that Elvin Box, Associate Director, Mace Ltd will be joining LEAF international as a new featured speaker. To view the full speaker line up, please visit: http://www.arena-international.com/leaf/speakers/
The following delegates are attending:
2A+P/A, 3 Deluxe, Aasoja Projekt AS, Agency of Art and Design, Akant Tasmarin, Alberto Apostoli Associates, ALLFORD HALL MONAGHAN MORRIS, Antonini+Darmon Architects, ARUP, Atkins Global, Auzie Atelier, Ballast Nelda Bouw, BDP, BUNKER Arquitectura, Buro Happold, Campos Costa Architect, Capita Symonds, Carlo Bernaducci, Claudio Silvestrin Architects, CoCo Architecture, Consonni Contract, Crawford Partnership Architects, Creative Group, Dan Pearlman, Dans Architekti, David Chipperfield Architect, De Zwarte Hond, Deca Architects, Ector Hoogstad Architecten, Eclogue Design, ENOTA, Farrow Partnership, Foster & Partners, Gensler, Gerber Architekten, Glenn Howells, Goring & Straja, HawkinsBrown, HDR, HG Herz, HOF, Holzer-Kobler Architekten, HPP, HPP Hentrich, Ido Kenji Architectural Studio, INNOCAD, Intercon, Interior Design Services Ltd, Kraaijvanger, LAB, LAVA, LIAG Architects, Lichtvision Design & Engineering, Logon Architecture, Love Architecture, LowArchitecten, Ma0, MacCreanor Lavington Architects, Mace, Magma Architecture, Metrobox Architekten, Meyer en Van Schooten, MF Architecture, MLA Plus, Moneo Brock Studio, Moriyuki Ochiai Architects, MsX2, Mu Architecture, NBBJ, NDYLIGHT, Nickl & Partner Architekten AG, OK Plan Architects, olafureliasson, ONL Speaker, Oppenhiem, Ortner & Ortner, Parsitalia, Pascall & Watson, PAUAT Architekten, Pierre Yves Rocohon, Pujol Architectura, Rockwell Group (Spain), Salto Architects, Sanal Architecture, Sanjay Puri Architect, Sanz Pont, Sauerbruch Hutton, -scape, Slangen+Koenis Architecten, Solids Srl, SSW Arquitectos, ST ARS, Studio Joost Van Dijk, Studio Symbiosis, T Studio, Technip, Virai Arquitector, WAA, Werner Sobek, Word of Mouth, WSP, XCO2 Energy
LEAF International Forum 2013
2013 LEAF International Forum
LEAF Interior Design Awards 2013

LEAF International 2013 is delighted to launch LEAF Interior Design Awards with lead sponsor Interface. LEAF International will be honoring the interior architects and interior designers who are leading the industry in innovative and creative interior design for a variety of international projects.
The LEAF Interiors Design Awards will be an integral part of the LEAF International Forum. The winners will be announced in a grand event on the final evening of Friday 18th October, 2013, Berlin, Germany.
"Setting standards in interior design, it raises the bar for practitioners and manufacturers, and it rightly celebrates and commends those who perform above the norm. The Leaf Interior Design Award measures the best of sustainable design from around the world. This award creates an industry legacy and I am honoured to once again be supporting Leaf International as Chairman of the inaugural Interior Design Awards" VANESSA BRADY, Chair Leaf Interior Design Awards 2013.
At this prestigious black tie event we will recognise and acknowledge interior designers and interior architects for their creative work in the most outstanding building projects from around the world.
Interior architects and interior designers will submit their best projects for the following categories:
• Sustainable Interior design of the year
• Best use of space award
• Hospitality building of the year
• Energy efficient design of the year
• Residential building of the year
• Public (Sport, Culture, Health)
• Commercial building of the year
The entries will be judged and the winners chosen by our expert judging panel consisting of:
• CHAIR – Vanessa Brady (President and Founder of Society of British Interior Design and Interior Designer)
• Firas Hnoosh (Skidmore, Owings & Merrill)
• Alan Crawford (Crawford Partnership)
• Robin Partington (Robin Partington Architects)
• Marco Guarnieri (GUARNIERI ARCHITECTS)
The deadline for all entries was 15 June 2013. All supporting material should be submitted by 17 June 2013. The entries will be judged and the winners chosen by our expert judging panel on 24 June 2013.

A brief introduction to lead sponsor Interface:
Interface is a global leader in the design and production of carpet tiles. Its products combine beauty and innovation with functionality and environmental credentials to help customers bring their design vision to life.
Interface was one of the first companies to publicly commit to sustainability, when it made a pledge in the mid-nineties to eliminate its impact on the environment by 2020. Known as Mission Zero, it influences every aspect of the business and inspires the company to continually push the boundaries in order to achieve its goal.
Interface is now more than half way to reaching Mission Zero and has been widely recognised for its achievements to date. Its products have also achieved several awards, specifically for design and innovation, the most recent being The Athenaeum Good Design Award for World Textiles. Check the website regularly as we announce key speakers for the event! We will also have some exciting surprises in store for you in the build up to this highly informative and innovative forum!

For more information about the LEAF Interior Design Awards 2013, please contact:
Luisa de Vita, Delegate Relations Manager
T: +44 (0)20 79366847 M: +44 (0)79 4867 0942 F: +44 (0)20 74119800
E: [email protected]
Location:Berlin, Germany
LEAF Awards
LEAF Awards : 2013 Overall Winner: archi5, Marsan Mediatheque, France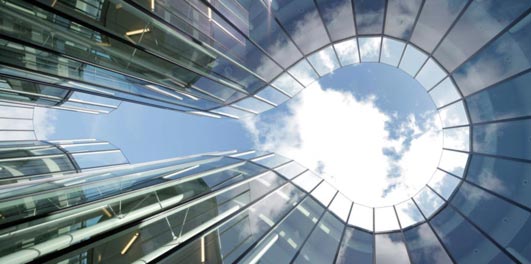 photo from architects
LEAF Awards 2013 – photos from the evening



photo from LEAF Awards
LEAF Awards 2012 Life time Achievement Award winner : Daniel Libeskind
LEAF Awards Event : article by Karolina Szynalska about the event for e-architect
Comments / photos for the LEAF International Forum 2013 – Berlin Architecture Event page welcome
LEAF International Forum 2013 – page