Exbury Egg, Floating Residence England, Stephen Turner Artist, Contemporary Rural English Home
Stephen Turner's Exbury Egg
Floating Residence on the Beaulieu River, New Forest, south England – design by PAD Studio Architects
22 Aug 2013
Stephen Turner's Exbury Egg in New Forest
Design: Artist Stephen Turner ; PAD Studio, Architects
A SPUD project in collaboration with PAD Studio Ltd and the Exbury Estate
Artist Stephen Turner has commenced his artistic residency in the Exbury Egg an artist and architect designed bespoke wooden studio and artists home moored on the Beaulieu River in the New Forest.

photo : Nigel Rigden
During Stephen's yearlong visual and philosophical journey he will develop and make new art works, in, on and around the Exbury Egg. He'll spend twelve months making a range of artistic interventions creatively responding to the special sensitive nature of this unique location, it's history and fragile ecology.

photo : Nigel Rigden
This residency element of the project offers Stephen a further opportunity to develop his highly regarded artistic practice, building upon the Seafort Project (2004 – 06) and more recently his residency as Bridge Guard on the Danube for Residential Art/Science Centre, Štúrovo, Slovakia (2011-12). ). Stephen Turner's practice challenges disciplinary boundaries and involves sampling, collecting, annotating, editing and merging of environmental data with other more subjective information about the distinctiveness and particularity of different places.
Stephen says "This is a necessary intervention in the landscape at a key moment when climate change is already creating new shorelines and habitats. Established salt marsh is being eroded by a combination of rising sea levels and falling landmass and the entire littoral environment is in a state of flux. The implications for wildlife and flora as well as people are challenging and raise awareness of a particularly 21st century sort of tension and anxiety in our society where place is much talked about – yet where people are increasingly out of place and out of step with nature."
The Exbury Egg is located in a mediaeval harbour on the Beaulieu Estuary, owned by Nicholas De Rothschild and is a floating studio and laboratory for the artist as well as itself forming part of the developing art works. Stephen is integrating the Egg as a sculptural element in his yearlong sojourn, which explores his deepening understanding of natural processes and the essence of place. The project also tests the concept of creating a high quality, low environmental impact studio/laboratory to enable the artist to engage with a highly sensitive environmental area in the Beaulieu Estuary, but which would leave no trace after it has gone.
Access for visitors to the Egg is limited due to the sensitive nature of the site, and to preserve the artists privacy, so these themes will be made explicit through web cams, online blog and a cabled link from two HD cameras on site to the 'Mission Control', which will be open to the public at the Exbury Estate.
The Exbury Egg design was created by PAD Studio Ltd working with Stephen Turner; it was inspired by the nesting seabirds on the shore and has been built to exacting environmental standards by local boat builder, Paul Baker. Six metres long and nearly three metres wide, the structure's shell is made as much as possible from locally sourced timber.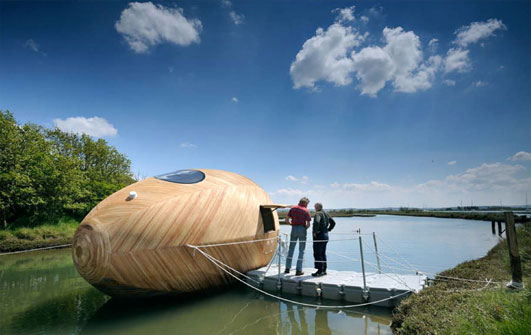 photo : Nigel Rigden
"This is a major project" says Stephen "and I'm convinced the Estuary is going to provide massive inspiration for ideas exploring our evolving relationship with nature."
The Exbury Egg project is led by art, architecture and education consultants, Space Placemaking and Urban Design (SPUD). Project Manager Phil Smith, adds: "The whole exercise from originating the ideas, developing the design, seeing the Egg built and then the year-long creative investigation is going to be an intriguing and engaging project with significant art and educational impact as well as providing the potential for legacy way beyond the 12 months of the Egg's tenure at Exbury." SPUD will also be delivering a range of education and audience development programmes around the project.
Visit Stephen Turners blog here: www.exburyegg.me
Visit www.exburyegg.org for information, updates and to view the LIVE cameras.
Stephen Turner's Exbury Egg – Building Information
Architects: PAD Studio
Location: Beaulieu River, New Forest, southern England
Title: Stephen Turner's Exbury Egg
Photographs: Nigel Rigden
Exbury Egg New Forest House images / information from PAD Studio, Architects
www.padstudio.co.uk/Egg – external link
www.exburyegg.org – external link
Location: Beaulieu River, New Forest, southern England, UK
English Architecture
Contemporary Architecture in England
English Architecture Design – chronological list
Hampshire Houses
Watson House, New Forest National Park, Hampshire
John Pardey Architects



photo © James Morris
New Forest House
Abbots Way, Abbots Way Fountains Park, Netley Abbey, Southampton, Hampshire
Architect: Andy Ramus – AR Design Studio



photo : Martin Gardner, spacialimages.com
Abbots Way House
Hampshire Mill Conversion
Dan Brill Architects
Hampshire Mill Building
Country House in Hampshire
ADAM Architecture
Country House in Hampshire
Comments / photos for the Stephen Turner's Exbury Egg – House on the Beaulieu River page welcome