UK Tower Combustible Cladding Replacement, English High Rise Building Safety, Housing Estate ACM Panels
UK Government Funding for Combustible Cladding Removal News
Block of Flats Safety in England, British Building Materials Combustibility Legislation News
6 Jun 2019
UK Government Building Safety Reforms Comment
LGA Responds To Consultation On Building Safety Reforms
Responding to the publication of the government consultation on building safety reforms following the Hackitt Review, Lord Porter, Chairman of the Local Government Association, said:
"Since the Grenfell Tower tragedy, the LGA has made the case for fundamental reform of our broken building regulations system. This cannot come soon enough so the LGA is pleased to see today's consultation published.
Grenfell Tower building in West London: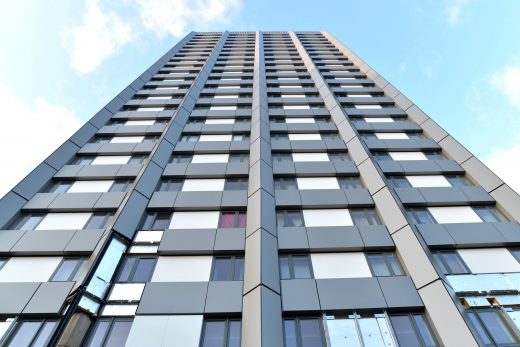 "We are pleased that the Government has listened to councils and fire authorities and agreed to extend the new regulatory framework to residential buildings over 18 metres in height, but it is vital that a risk based approach to regulation is introduced. There are many buildings out of the reform's current scope, such as hospitals, care homes and residential schools, which should also be protected in the same way.
"It is also vital that there is a consistent approach to buildings across the proposals, and in this context it makes little sense for the planning gateway set out in the consultation document to only apply to residential buildings above 30 metres in height.
"The proposals announced today do reflect many of the calls we have made, but there is still work to do to drive these reforms forward and this must happen as soon as possible.
"Designers, developers, product manufacturers and building owners need to be given clear duties in relation to building safety and clear guidance on those duties. Rather than the current fragmented system, there should be one fire safety regime that applies to all buildings where people live or sleep. It is important that regulators are given effective powers, including meaningful sanctions. The new system needs to be properly funded and residents must be able to raise concerns and know they will be listened to.
"People need to be able to sleep safely at night in their homes. The tragedy at Grenfell Tower must never be allowed to happen again and we look forward to continuing to work with the Government to deliver the much-needed reforms to ensure residents are safe and feel safe."
15 + 9 May 2019
UK Government Funding for Combustible Cladding Removal
RIBA responds: UK government allocates £200m to replace Grenfell-style cladding
The Royal Institute of British Architects (RIBA) responds to the Prime Minister's announcement that around £200 million will be made available to remove and replace unsafe cladding from around 170 privately owned high-rise buildings.
UK Government Funding for Combustible Cladding Removal.
Jane Duncan, chair of the Expert Advisory Group on Fire Safety at the Royal Institute of British Architects, said: "It is of great concern that nearly two years on from the Grenfell Tower tragedy there are still many hundreds of buildings with cladding systems that have been identified as a risk to public safety.
Whilst we support the cladding fund announcement, many people have faced real stress and financial hardship because of a past failure in regulation.
Government action is happening, but regrettably it has been extremely slow. We are yet to see regulatory change on other issues that might help prevent fire tragedies in the future. We want to see the government introduce improved regulation on the provision of sprinklers and alternative means of escape in residential buildings. We must ensure that the public is protected."
Previously on e-architect:
UK Labour conference motion to fight cladding scandal
BSI External Cladding Systems Test Method
UK Government Ban on Combustible Cladding
UK Tower Cladding Tests: High Rise Building Safety
Link to
UK Government Ban on Combustible Cladding
If you would like more information on Dame Judith Hackitt's Independent Review of Buildings Regulations and her Interim Report it can be found here:
Dame Judith Hackitt's Independent Review of Building Regulations and Fire Safety Interim Report
Location: UK
Grenfell Tower Cladding
Grenfell Tower Cladding Exposed
Chalcots Estate Building Cladding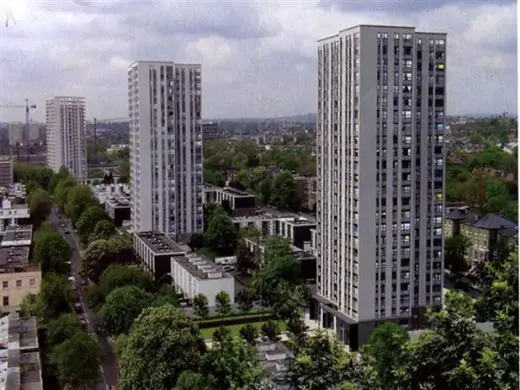 Chalcots Estate Tower Cladding
Byron House student accommodation Reynobond ACM PE panels
NBS Approved Documents Survey
NHF Call to Strip Aluminium Cladding off Buildings across UK – article in Global Construction Review
RIBA Statement on Design for Fire Safety
We welcome architectural information regarding the aluminium composite material (ACM) cladding panels – [email protected]
London Architecture Links – chronological list
London Skyscraper Buildings – alphabetical list
UK Government Architect's Act Response
Comments / photos for the UK Government Ban on Combustible Cladding – page welcome