Templeman Library Extension and Refurbishment, Canterbury Public Building, Kent Architecture Images
Templeman Library Extension and Refurbishment in Canterbury
Public Building Development in Kent, Southeast England design by Penoyre & Prasad Architects, UK
11 Apr 2019
Templeman Library in Canterbury
Architects: Penoyre & Prasad
Location: Kent, Southeast England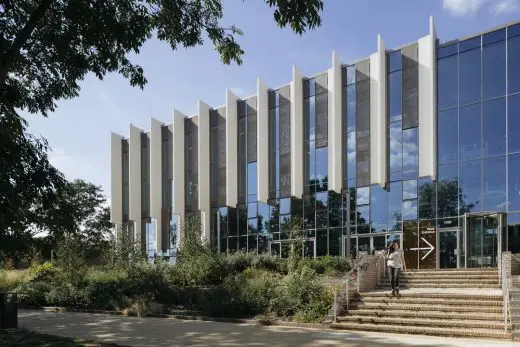 Main entrance to new extension – photograph © Tim Crocker
At the heart of the Canterbury campus the Templeman Library has been transformed to become a flagship 21st century learning environment comprising a new extension and extensive refurbishment of the existing building, together demonstrating new standards for renewal of 1960s university buildings.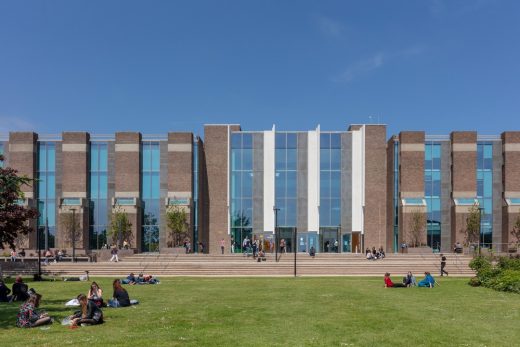 View across lawn towards renewed north entrance and raised landscaping – photo ©Quintin Lake
Through a major extension and refurbishment of the Templeman Library, Penoyre & Prasad have created a vibrant, contemporary building at the heart of the University of Kent's campus.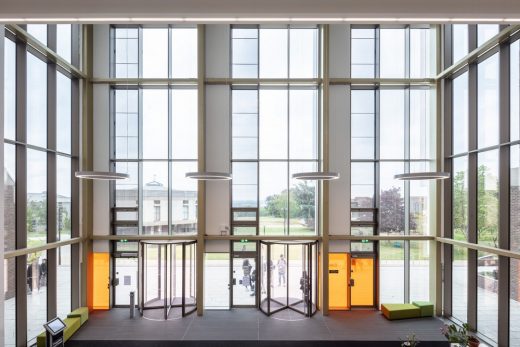 Extended south entrance with wide views across campus towards Canterbury – photo ©Quintin Lake
The existing library building was designed by Lord Holford and constructed in 1965. Its large concrete and brick structure is overtly expressed on the outside of the building and revealed as exposed concrete coffers at soffits within. Penoyre & Prasad's design solution has found a contemporary way to connect the old and new without pastiche. Ideas inherent to Brutalist architecture – an honesty of materials and the display of structure as an architectural element – were applied to the interior and exterior of the new building.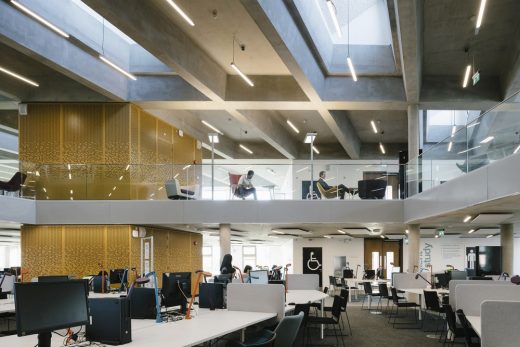 Second floor silent study area with view up to third floor – photo © Tim Crocker
Keeping the library open throughout the works significantly influenced the design approach and construction was phased to allow students and staff continuous access to study areas and collections.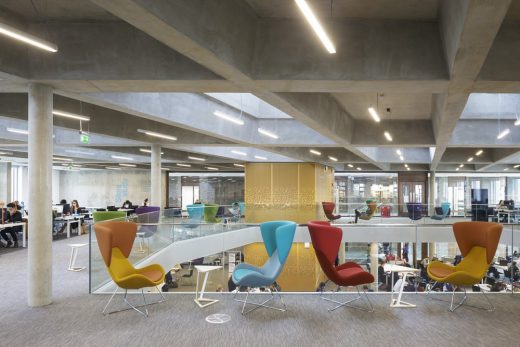 Third floor silent study area with view down to second floor – photo ©Tim Crocker
Holford's original building lacked adequate space and an appropriate main entrance for the 12,000 students using it. In design terms the regeneration of the 60s/70s era Brutalist building required a value for money upgrade that aesthetically lifted the building whilst also dealing with functional issues of poor accessibility and typical building defects of leaking roofs, ineffective heating and substantial asbestos.
Existing glazing was replaced as part of the fabric upgrade, and functional issues of poor accessibility, internal wayfinding and maintenance issues were resolved. The external design solution uses precast concrete fins, bronze anodised curtain walling and mesh paneling to form the extension facade and fill the brick piers of the existing building. This attractive and sustainable envelope that weaves old and new together has created a single, distinctive flagship building.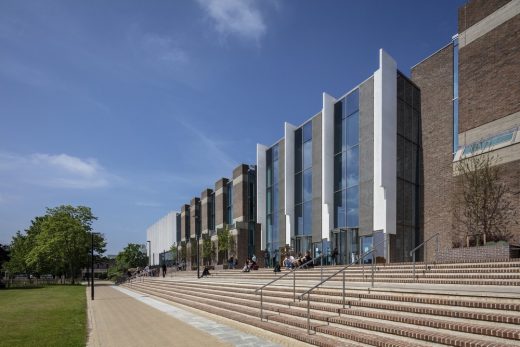 Refurbished library with new entrance, new glazing, west extension and raised landscaping – photo ©Quintin Lake
The interior refurbishment brings natural light into the deep building plan. Circulation has been unlocked and enhanced, flexibility and energy efficiency have been improved, and a comprehensive renewal of the internal finishes have revitalised the interior to produce a vibrant contemporary library; re-emphasising its enduring and pivotal role in the university.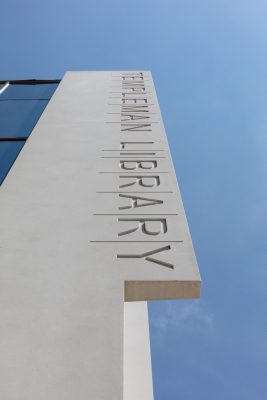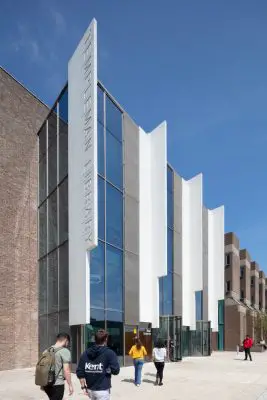 Right: Templeman Library signage in pre-cast concrete fin – Left: Concrete fin detail at refurbished main entrance – photos ©Quintin Lake
The 5,400 sqm new building extends the existing 12,500 sqm library to provide a 250-seat lecture theatre, seminar spaces and teaching suite, and exhibition, archive, conference, study and café spaces.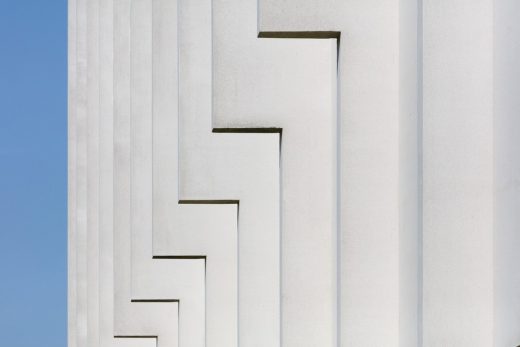 Templeman Library Extension and Extensive Refurbishment in Canterbury – photos ©Quintin Lake
The extension is flooded with natural daylight providing students with stunning views over Canterbury. The structural grid of large concrete coffers at roof level provide a strong internal spatial dynamic relating to the spaces below. This in-situ frame with raised access floors provides maximum future flexibility in lighting, natural ventilation, power distribution and compartmentation.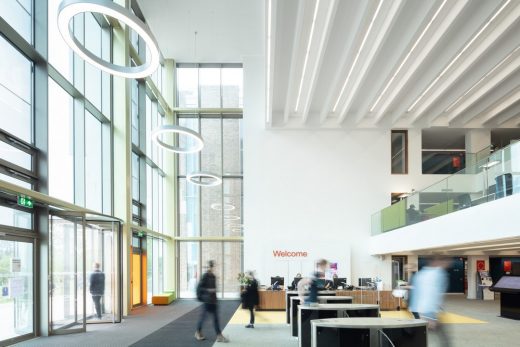 Extended south entrance with new structural cuts to existing slabs to provide tiered floors and enhanced daylighting – photo ©Quintin Lake
Externally, pre-cast concrete fins of the new extension and new entrance pick up on the language of the existing building in an elegant and refined way. The vertical rhythm of the original building piers is repeated through the frequency of the fins, however the weight of the original building and its horizontal lines are inverted through raising the fins off the ground. The shift to the vertical instead of horizontal rhythm allows the building to feel as one whole and enables the new extension to stand its ground, avoiding it feeling like a poor appendage to the original building.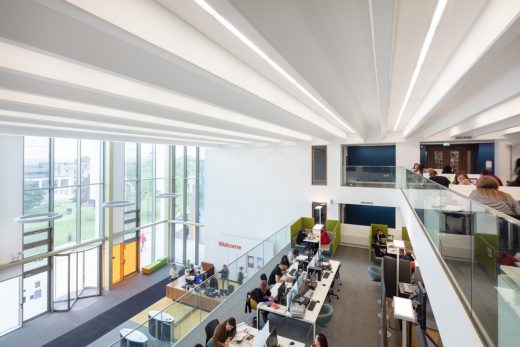 Study area above new reception area and extended south – photo ©Quintin Lake
The use of concrete is an important component of the building's sustainability measures. The insitu concrete frame is exposed at soffit level throughout the extension creating thermal mass which teamed with opening windows enables night-time cooling. Below ground concrete pipes provide passive cooling to the centrally located lecture theatre allowing it to operate as a mixed mode ventilated space – this is quite an achievement for such a large internal space. At the façade, the pre-cast concrete fins provide shading to produce a comfortable interior environment and avoiding the need for active cooling systems.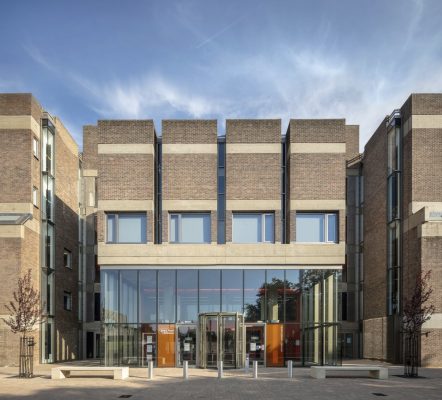 Renewed north entrance, re-glazed and refurbished enabling cross-campus connection – photo ©Quintin Lake
A new landscaped, raised entrance podium improves accessibility and provides a civic place for students. Improvements to the north of the building create a cultural 'avenue', linking with nearby theatre and school of architecture.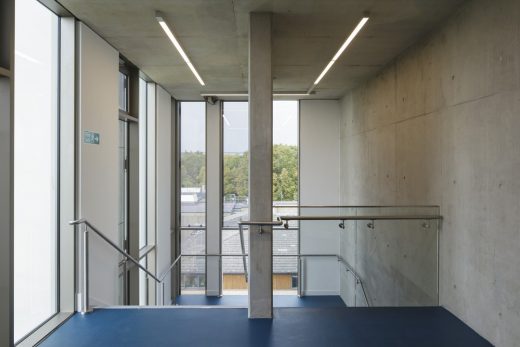 Stairwell – photo ©Tim Crocker
"The Templeman library was the most impressive building on campus when the University was established in the 1960s, and it is fitting that as the University celebrates its 50th anniversary we should have transformed the Templeman library. The 21st century updated and refreshed Templeman Library has moved very significantly with the times to become an impressive modern building containing services and facilities that are equally modern, impressive and important to its current and prospective users."
John Sotillo, Director of Information Services at the University of Kent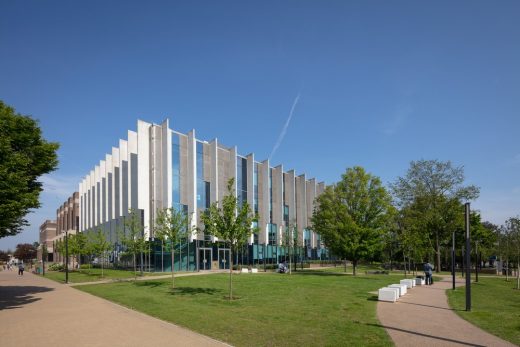 North west approach to new library extension providing study space, teaching suite, archive, exhibition space, workspace and café – photo ©Quintin Lake
Templeman Library Extension and Extensive Refurbishment, Canterbury – Building Information
Client: University of Kent
Architect: Penoyre & Prasad
Gross internal floor area: 17,900 sqm
Location: Canterbury, Kent, UK
Status: Complete
Project start date: 04/2012 (competition win)
Start on site: 06/2013
Project completion date: 09/2017
Cost: £27m
Collaborators: Contractor Kier
M&E / Sustainability Max Fordham LLP
Structural Engineer Price & Myers LLP
Interior Design Penoyre & Prasad
Landscape architect Fabrik
Fire Strategy Circulation Design Consultancy Ltd
Project Manager Rider Levett Bucknall
QS Betteridge & Milsom
Address: Templeman Library
University of Kent
Library Road
Canterbury, Kent, CT2 7NU
UK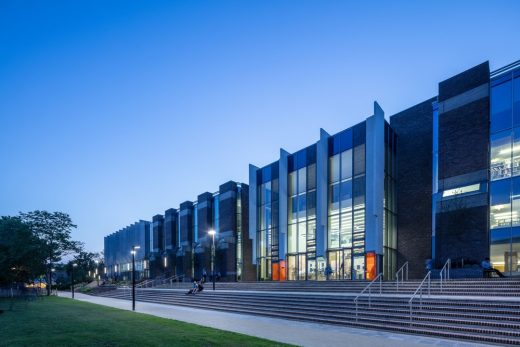 Refurbished library with new entrance, new glazing, west extension and raised landscaping at dusk – photo ©Quintin Lake
Photography: Tim Crocker and Quintin Lake
Templeman Library Extension and Extensive Refurbishment in Canterbury images / information received 110419
Penoyre Prasad Architects
Location: Canterbury, Kent, England, UK
Canterbury Buildings
Contemporary Canterbury Architectural Projects
Canterbury Cathedral Landscape Design Competition
Marlowe Theatre in Canterbury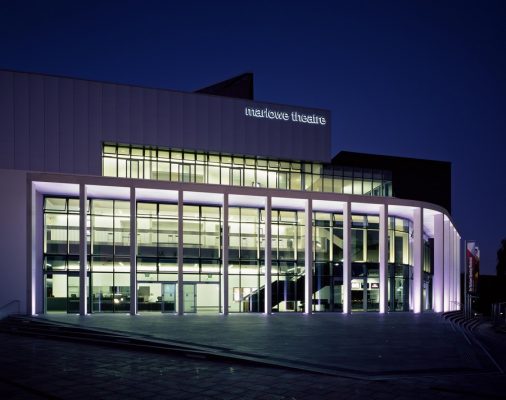 photo : Hélène Binet
Marlowe Theatre, Canterbury Building
Buildings in Kent
Fort Burgoyne in Dover
Design: Lee Evans Partnership, Architects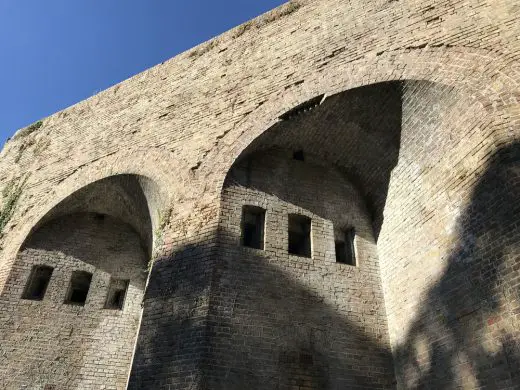 image from architects office
Fort Burgoyne
Black House
Architect: AR Design Studio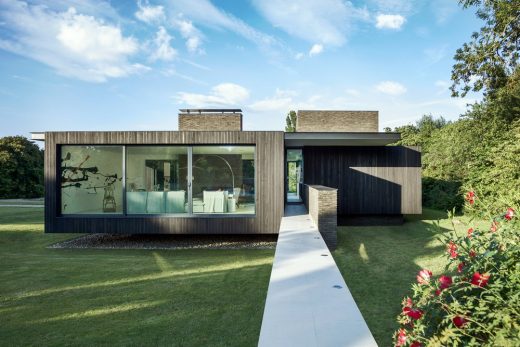 image courtesy of architects
Black House in Kent
Caring Wood – RIBA House of the Year 2017, Leeds, Maidstone
Design: Macdonald Wright Architects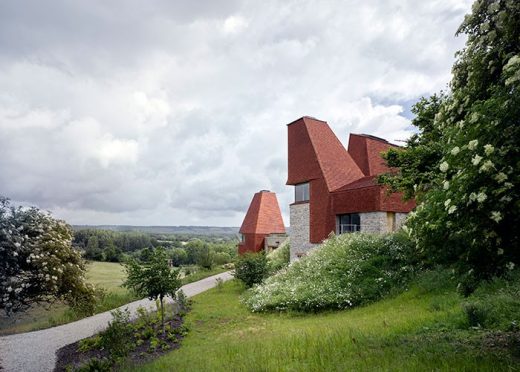 photo © James Morris
Caring Wood, Kent
Canterbury Buildings from around the world
Canterbury Road Residence in Toorak
Canterbury School Milford – Connecticut Building
Canterbury Architecture Awards
Comments / photos for Templeman Library Extension and Extensive Refurbishment – Contemporary English Property page welcome
Website: Canterbury