Architectural Exhibitions, Zurich Architecture Show, ETH Building, Architects, Images
Architecture Exhibitions : Architectural Shows
The Future of Architecture Exhibitions – article for e-architect by Professor Brian Carter
16 Jan 2012
Architecture Exhibitions
Architectural Shows article By Professor Brian Carter
2012 – another year of architectural exhibitions?
In a year characterized by extraordinary chaos and sweeping devastation across landscapes, economies and families alike perhaps it seems surprising to suggest that 2011 was the year of architectural exhibitions.
Zurich Architecture Exhibition, open until January 26th – work by Gigon & Guyer: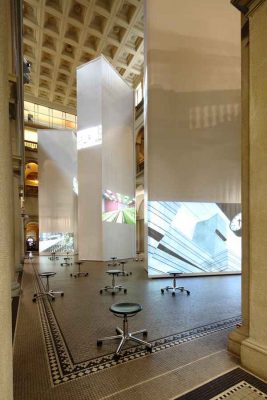 photo : Thies Wachter
Unlike painting, sculpture, music or theatre where the sound, colour, shape and feel of the creative act are placed directly in front of an audience – exhibitions of architecture, even at the best of times, seem to rarely present architecture. Instead they more often than not offer just a whiff of the action through different assemblies of models, sketches, drawings and photographs that frequently remove all evidence of use, time, struggle, gravity, money, wind or weather.
Zurich Architecture Exhibition showing work by Swiss architects Gigon & Guyer:





photos : Thies Wachter
However in this context 2011 was a memorable year with architectural exhibitions that ranged from Stirling brought back from Canada and reinstalled inside a building designed by the man himself to DETOURS. Expanded with the addition of a moving presentation of the memorial to the 91 victims of the 17th century witch trials in Norway designed by Peter Zumthor and Louise Bourgeois, it was exhibited at the Danish Architecture Centre in Copenhagen following an earlier showing in the US National Building Museum. The year also mapped OMA progress at the Barbican complete with life-size cardboard cutout figures glimpsed through flapping shower curtains, a pre-exhibition 'public zone' and the opening up of a long sealed gallery entrance in one of London's prime locations.
Across London another opening up of space – this time a hallway between toilets and tearoom at the Royal Academy – provided the setting for a modest yet tantalizing presentation of fragments from Thom Mayne while new temporary buildings fleetingly captured parkland in courtyards at the Serpentine and the 2011 Freize Art Fair. And meanwhile in Zurich an exhibition, open until January 26th, literally projects work by Gigon & Guyer in ways that provocatively engage visitors and the beaux arts halls of the ETH.
Architectural exhibitions in 2011 brought old ideas and new work to public attention yet at the same time prompted radical reconsiderations of existing spaces, craft and economy. They bode well for the future and hopefully 2012 will bring other exhibitions that offer work and inspiration for designers, provoke curators, prompt research and encourage new patronage to open up unexpected views of architecture around the world.
Architectural Shows article by Brian Carter, Ottawa, Canada, North America
Brian Carter, Professor of Architecture at the University of Buffalo, The State University of New York, NY, USA



image of Brian Carter
Brian Carter
Zurich Architecture
Weltpostpark site buildings, Bern
Design: SSA Architekten, Basel, Switzerland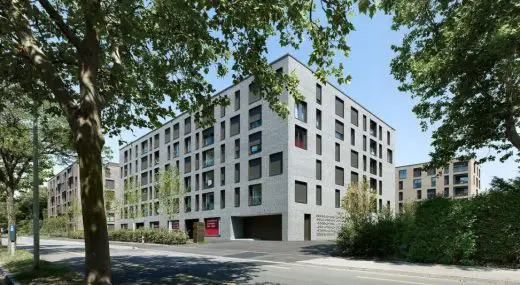 photograph © Ruedi Walti
Weltpostpark residential buildings Bern
Cocoon EMEA Engineering Hub
Camenzind Evolution
Cocoon Offices
Swiss Museum of Transport, Lucerne
Gigon/Guyer Architekten
Swiss Museum of Transport Building
Daniel Swarovski Corporation, Lake Zurich, central Switzerland
Ingenhoven Architects
Daniel Swarovski Corporation
Property Designs
Designs shown on e-architect – Selection:
Campbell Sports Center, Columbia, USA
Design: Steven Holl Architects
The Shard photos – exclusive to e-architect
Design: Renzo Piano Building Workshop (RPBW)
Comments re Architectural Exhibitions article by Professor Brian Carter welcome