Dundee building news 2023, Scottish architecture photos, Scotland Architects projects, Tayside property development
Dundee Building News: Architecture
Contemporary Architectural Developments in Tayside, eastern Scotland, UK
post updated 15 November 2023
Dundee Architectural News
Tayside Architectural News arranged chronologically:
21 June 2023
East End Community Campus
Design: Holmes Miller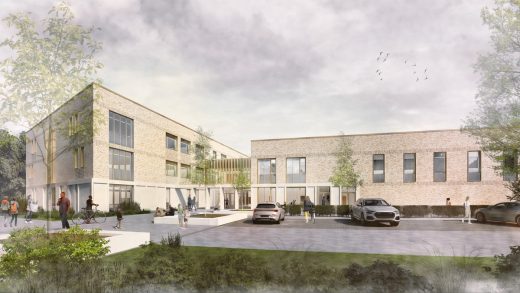 East End Community Campus Dundee
The new facility has been hailed by Dundee City Council as 'the most important investment in the city's future'. Designed by Holmes Miller for Dundee City Council, with Robertson Construction as the main contractor, the new facility will cater for around 1800 pupils from Braeview Academy and Craigie High School and their teachers, staff, and the wider community.
18 Feb 2022
Dundee Repertory Theatre is Listed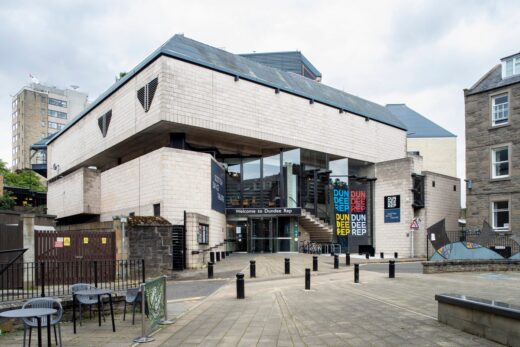 photo from Historic Environment Scotland (HES)
Dundee Rep Theatre
Historic Environment Scotland (HES) has announced that Dundee Repertory Theatre has been granted A-listed status for its special architectural significance. The design is by local architects Nicoll Russell Studio.
10 Jan 2022
Innovation Hub at Michelin Scotland Innovation Parc
Design: Holmes Miller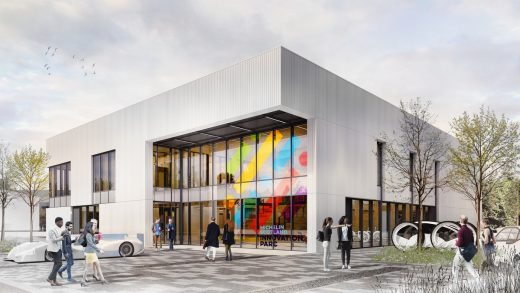 image courtesy of architects practice
Michelin Scotland Innovation Parc Innovation Hub
MSIP, a joint venture between Michelin, Dundee City Council and Scottish Enterprise, is a world-class Innovation Parc in Dundee for sustainable mobility and decarbonisation, which aims to drive growth and diversity in the Scottish economy whilst addressing the global climate emergency. The Innovation Hub will be a purpose-built facility at the heart of MSIP, supporting collaboration and innovation between organisations of different shapes and sizes.
More Dundee Building News on e-architect soon
Dundee Building News 2021
21 Nov 2021
The Angus golf resort, hotel and spa design
Design: 3DReid Architects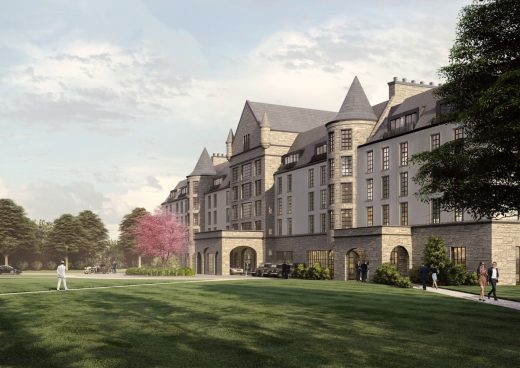 image courtesy of architects practice
The Angus golf resort, hotel and spa design
An updated masterplan for a £100m world-class golf resort, hotel and spa in the Angus countryside has been submitted to Angus Council for planning consent by 3DReid architects. The Angus represents one of the biggest hospitality investments in Scotland in recent years and could contribute more than £40m to the local economy per year once it's operational.
10 Sep 2021
Water's Edge, Camperdown Street
Design: Nicoll Russell Studios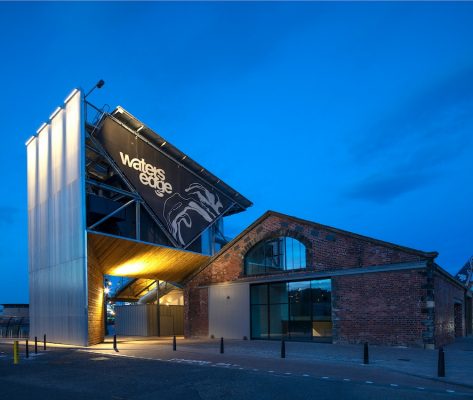 photo : Fraser Band, courtesy of Nicoll Russell Studio architects practice
Water's Edge Dundee Building
Water's Edge is the transformation of another industrial building, this time a mid C19th transit shed later extended to double its size, immediately adjacent to Dundee's Camperdown Dock.
5 Aug 2021
Discovery Point heritage centre news
Climate change will be at the heart of a £12m transformation of Dundee's Discovery Point heritage centre, report BBC Scotland today. Five new or improved attractions are planned for the home of the famous scientific research ship RRS Discovery.
These include a new visitor centre on the roof to provide panoramic views of the city and the River Tay. Dundee Heritage Trust advise that more than half the funding had been raised, following pledges from the Scottish government and National Lottery Heritage Fund.
A new attraction on the Discovery's connection to climate change and the ocean environment will also be added. A new gallery on polar exploration and a space for hosting large exhibitions are also to be built. Finally, a completely revamped entrance and reception will be implemented.
More contemporary Dundee Building News online at e-architect soon
Dundee Building News 2018 – 2019
19 Nov 2019
Dundee conference welcomes world-class architects to discover the city
The best way to understand society is to look at the cities it has created, say organisers of a major architecture conference taking place in Dundee this week.
The University of Dundee will host the 16th annual conference of the Architectural Humanities Research Association (AHRA).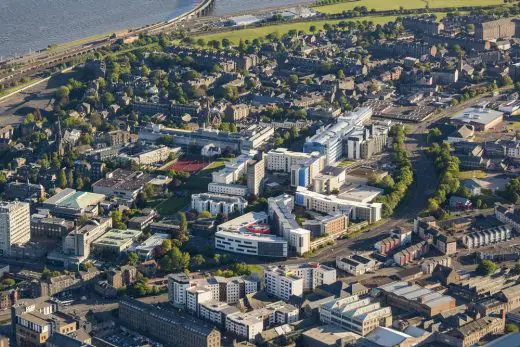 aerial photo : University of Dundee
The three-day event, Architecture and Collective Life, will see more than 200 delegates from around the globe descend upon the city to discuss the social ties that bind people and environments into settlements, and settlements into civilisations.
World-class keynote speakers including University of Pennsylvania Distinguished Senior Research Fellow, Joan Ockman and Dutch architect Professor Reinier de Graaf, a partner in the Office for Metropolitan Architecture (OMA), who will explore notions of a global village and modern feudalism.
Spanning more than seven academic disciplines and dozens of architectural practices, this year's international conference will take place in the University's iconic 1970s brutalist Matthew Building, itself a monument to architecture.
Dr Lorens Holm, one of the organisers of the conference, said, "At a time when politics is becoming increasingly divisive and collective action on world problems of climate, population, health, and equality is becoming more urgently necessary, this conference will endeavour to unpack the relation between the environments we build in order to live well in them and the forms of society that inhabit them.
"We regard it as an honour to both the University and City to have been selected to host the annual conference of such a distinguished organisation as the AHRA. We are equally proud to announce that one of the outcomes of this conference will be the publication of an edited book of the most significant research papers from the conference (Routledge) and a special edition of the academic journal Architecture & Culture."
Architecture and Collective Life takes place between Thursday 21 and Saturday 23 November and will include highly anticipated tours of Dundee's industrial docklands as well as its architectural heritage, including the recent V&A Dundee on the city's waterfront, designed by the award-winning architect Kengo Kuma.
20 May 2019
A CO2 neutralising roof at Dundee University Building
One of the busiest buildings at the University of Dundee was able to benefit from a complete replacement of its waterproof roofing.
University of Dundee Building Roof
10 Feb 2019
Charrettes: Combining Professional Skills with Real Lives and Emotions
Talk in Dundee by Charles Campion from JTP Architects, Masterplanners & Placemakers
Date: 20 February 2019
Venue: Matthew Building, 13 Perth Road, University of Dundee.
Time: 17:00 – 19:00
Cost: Free
Charles Campion from JTP Architects, Masterplanners & Placemakers joins ADAS to give an exclusive talk on the importance of charrette processes and the involvement of the community in placemaking and urban design.Followed by a Q&A facilitated by Craig McLaren, Director of RTPI Scotland.
9 Feb 2019
Dundee Institute of Architects AGM
Date: 26 March 2019 ; Time: 18:00
Venue: Shed 25, Water's Edge, Camperdown St, Dundee DD1 3HY
After the Meeting the architects will give a presentation and tour of the building. All members of DIA are welcome.
8 Feb 2019
Dundee Civic Trust Awards 2019
Dundee Civic Trust plan to make awards for projects in the City of Dundee completed between June 2017 and May 2019. They are seeking nominations for buildings and other projects which contribute to the city's built environment and urban scene, and or its social life, economy, recreational, educational or cultural life.
Please email nominations to Trust member Nick Day at vonandnick(at)gmail.com by 28 February 2019.
More contemporary Dundee Building News online soon at e-architect
Dundee Building News 2018
Contemporary Approaches to Sustainability in European Cities
Date: 20 September 2018
Time: 13:00 – 18:30
Venue: Western Park Conference Centre, 319 Perth Road, Dundee
The Academy of Urbanism and University of Dundee are delighted to convene a special event to consider the application of contemporary strategies to make medium-sized cities more sustainable in environmental, socio-economic and cultural terms.
https://www.buyat.dundee.ac.uk/conferences-and-events/school-of-social-sciences/architecture-urban-planning/contemporary-approaches-to-sustainability-in-european-cities
23 Apr 2018
Council and home builders to work together to meet housing needs of Dundonians
Dundee City Council has signed an agreement with industry body Homes for Scotland (HFS) aimed at ensuring the on-going delivery of the range of homes required to meet the needs of its population.
Building on the positive relationship between the Council and the home building industry, the agreement signifies a commitment to further improve the way they work together to deliver more homes and increase the social and economic benefits for the city.
In addition to improving lines of communication between member companies and the Council, HFS will encourage home builders to promote the wider community benefits that result from the developments they investment in, as well as the varied apprenticeships, skills and training opportunities that they create. Reciprocally, the Council will pursue positive interventions to identify, release and unlock land for housing. It will also look to attract funding to ensure that the delivery of the necessary infrastructure (such as roads, education and healthcare) is aligned.
Applauding the Council's forward-thinking approach to housing delivery, HFS Chief Executive Nicola Barclay said:
"Dundee is one of the country's most progressive local authorities when it comes to planning ahead for housing and infrastructure, and it has long recognised the wider benefits development offers in terms of regenerating and sustaining communities, supporting business and creating jobs. Through the enabling culture it demonstrates in this agreement, it is leading the way in how it chooses to positively collaborate with the companies who will deliver the homes needed by those who want to live in this unique and dynamic city."
Councillor Lynne Short, Convener of Dundee City Council's city development committee, said:
"It is vital that we ensure that the right mix of houses are built in the right place at the right time to meet the wide and varied demands of people who want to live in Dundee.
"Achieving that relies on co-operation and collaboration between all of the participants in the process and this agreement seeks to ensure that we are delivering high quality homes in sustainable locations."
The agreement was signed at Springfield Properties' Dykes of Gray village. As well as providing 600 new homes, the new community will include shops, play areas, health facilities and business opportunities. With around 60 people working on site, the development also supports many local trades and suppliers, and will bring substantial investment in the area for many years to come.
Entries for the Homes for Scotland Awards 2018 are now closed! Winners will be announced at the Annual Lunch and Awards on Friday 25 May 2018 in Edinburgh – limited places available.
21 Apr 2018
The Dundee Institute of Architects CPD events
3 May – Building Standards Workshop – Dundee City Council at 17:00 Dundee House.
10 May – Augmented Reality Presentation for Architects – by Fergus Bruce of Soluis, plus architect's talk – NRS on Dundee Railway Station at 18:30 Dalhousie Building , University of Dundee.
17 May – Insurance Risk Management for Small Practices and Sole Practitioners – by Susan Moore and Vivien Allison from Marsh Insurance at 18:30 Dalhousie Building , University of Dundee.
24 May – Public Procurement Discussion – Questiontime with Jonathon Moore from the Scottish Governement, Martin Blencowe from the Scottish Futures Trust, Willie Watt PPRIAS and others at 18:30 Dalhousie Building, University of Dundee.
25 May – DIA Tour of Richard Murphy's Perth Theatre and Dunfermline Carnegie Library and Galleries – a free bus will leave Dundee at 13:00.
Further information will be issued nearer the time of each event but members should be able to reserve places now through Eventbright.
Dundee Institute of Architects CPD events
10 Mar 2018
Urban Beach at V&A design museum
Proposals have beenunveiled by Optimised Environments for parkland, café, water features and an 'urban beach' for Dundee City Council. The latest component of its riverfront masterplan is titled Waterfront Place.
A new area of landscaped public realm is proposed alongside the V&A design museum and Slessor Gardens, through creation of a new promenade along the River Tay.
Annual General Meeting of the DIA
Date: 29 March 2018
Venue: Guardswell Farm, Kinnaird, Perthshire, PH14 9QZ
Time: 18:30
All members are welcome so please put it in your diary.
More current Dundee Building News online here soon
Tayside Property Developments 2016 – 2017
20 Feb 2017
Studioshaw win competition for new Interactive Hub for RIAS Dundee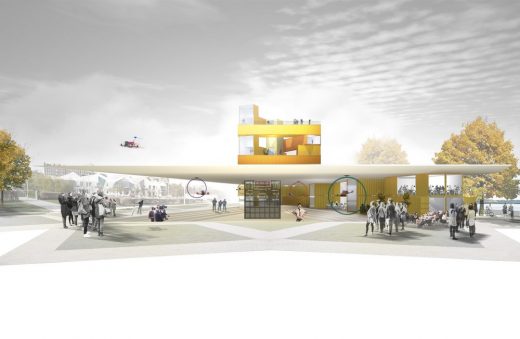 image courtesy of architects
Interactive Hub for RIAS Dundee
London-based architects Studioshaw's Interactive Hub proposal has won the Dundee Institute of Architects and Scottish Enterprise competition for a new facility for children and young people at the Digital Media Park in Seabraes Yards.
25 Mar 2016
Dundee Audi Garage News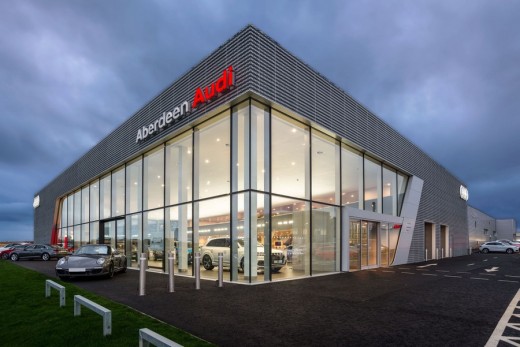 image from developers
Audi Garage in Dundee
Robertson has secured a third contract to develop an Audi Garage in Dundee, on the back of successfully delivering two car showrooms for John Clark Motor Group (JCMG) in Aberdeen, which is due for completion this month, March 2016.
V&A Dundee News
Latest Building Site images: V&A Dundee
29 Feb 2016
Dundee Waterfront Investment News
The Scottish Government is to invest up to £63.8 million in Dundee's Waterfront after deputy first minister John Swinney agreed a Growth Accelerator model (GA) with the local authority.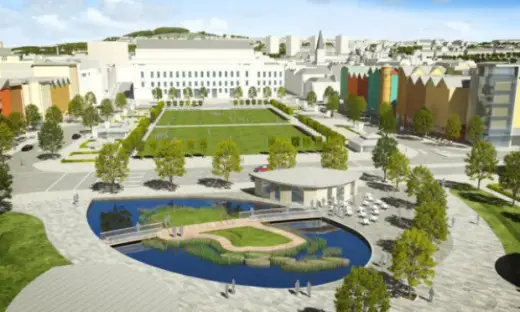 Developed by the Scottish Futures Trust, the GA model is designed to stimulate growth, create jobs and support businesses through a combination of public and private sector investment in local infrastructure and public spaces.
Funding is linked to the delivery of agreed outcomes and will be targeted towards improvements to Dundee railway station concourse, development of the V&A and ensuring the Waterfront boasts world class digital infrastructure. 4,500 square metres of Grade A office space will also be developed alongside improvements to civic spaces.
17 + 15 Feb 2016
£1 Billion Transformation Of Dundee Waterfront
Our Enterprise is delighted to become Dundee City Council's preferred development partner for a £20 million investment in the city's remarkable waterfront regeneration project.
The scheme is part of the £1 billion development of the Scottish city's waterfront which will see it transformed into a world leading waterfront destination for visitors and businesses.
The development of Plot 2 of the central waterfront will create a new city square with the Malmaison, and focus on a new 'Design and Innovation Quarter' for the city, inspired by the arrival of the V&A museum.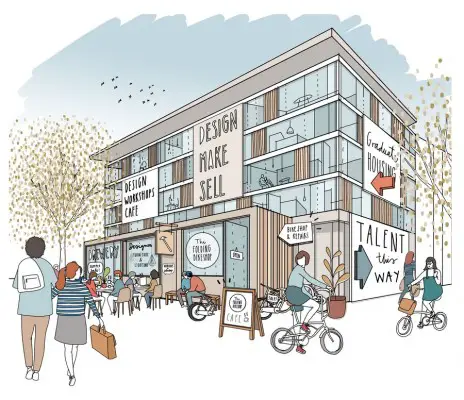 This will retain Dundee's graduate and entrepreneurial talent, attract creative industries and create employment and living opportunities.
Founder and CEO of Our Enterprise, Matthew Bell said: "We are a young, innovative development and regeneration company with a difference.
"We care about delivering projects with a social return and the highest levels of economic and environmental sustainability.
"Dundee's vision for the waterfront is a perfect match for us and we are thrilled to bring our investment, energy and drive to this groundbreaking project."
Two new city blocks designed by the award-winning architects, HTA Design LLP, will include three main elements.
Firstly, on the ground floor of both blocks we will provide 'Design, Make and Sell' units, attracting creative businesses to showcase the best of Scottish design.
One block will offer small, flexible spaces for creative entrepreneurs growing businesses from start-ups. The managed space will bring like-minds together to share in the energy of this exciting development.
The units fronting the new city square will bring cutting-edge companies attracted by the links to the new V&A museum.
Secondly, above the new 'Hub' for start-up businesses will be an apartment development geared to providing high quality city-centre living.
The rented apartments will create a new urban community, offering light, modern apartments with the bonus of shared facilities such as larger dining areas for social evenings with larger groups.
Bike storage, a cinema room and gym space will add to the attraction of this city living space, and will enable graduates and budding entrepreneurs to achieve a great lifestyle and live and work among like-minded people. The development will be constructed to the highest levels of sustainable architecture.
Finally, to match Dundee's rise as a location for commercial business, the development will also offer office space to businesses attracted by the exceptional new rail facilities adjacent to the development.
Our Enterprise will be bringing its ground breaking social legacy company model to Dundee – a Community Interest Company will manage the development, ensuring a quality environment now and into the future.
This retains the financial benefits locally and enables the new Community Interest Company to offer local employment opportunities.
Over the next few months, Our Enterprise and the City Council will develop the Joint Venture proposals and planning application, bringing our plans to life and creating a vibrant, dynamic development to match the City's vision for the waterfront.
The Joint Venture Company will also be working up plans for part of site 5 to extend the private rented apartment offer and active ground floor uses to this adjoining site.
Recently the London-based 'School of Life' launched a manifesto for the creation of 'attractive cities for the 21st century'.
Dundee City Council is delivering all six of the fundamental things the School of life say are needed to 'get it right'! Our Enterprise is delighted to be a partner helping to do exactly that.
More new Dundee Building News online soon
Tayside Property Developments 2006 – 2015
Scottish Design Galleries, V&A Museum of Design Dundee
10 Dec 2015 – The Victoria and Albert Museum (V&A) is seeking an architect to design the flagship Scottish design galleries at its outpost in Dundee.
According to the V&A, "Scottish design – past and present – is a major research theme for the V&A in the lead-up to the opening of V&A Museum of Design Dundee in Summer 2018.
13 Aug 2013
Harris Academy
Design: Holmes Miller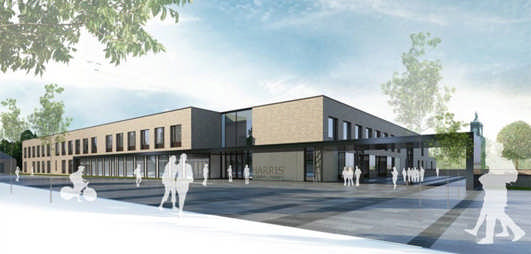 image from architects
Harris Academy Dundee
The £31 m project to replace Harris Academy is getting ready to hit the ground.
Dundee City Council's education committee on Monday (August 19) will be asked to agree to proceed to financial close of the contract. Demolition work is expected to begin soon at the site on Perth Road. Education convener Councillor Stewart Hunter said: "I am pleased that funding through the Scottish Futures Trust will help provide a building that will meet the educational challenges of the future.
13 Aug 2013
Dundee Jute Mill Building News
A draft planning brief for a former jute mill in the West End of Dundee has received backing from the public and Historic Scotland. The draft brief for the Queen Victoria and Regent Works site was universally welcomed by individuals, businesses and interested parties who responded to the consultation. Now councillors will be asked to approve the document to help kick start future development at the site.
Will Dawson, convener of Dundee City Council's city development committee said: "We had been well aware for some time of the public concerns about the state of the Queen Victoria and Regent Works site in Brook Street. "In the past when buildings from our industrial history were empty for some time we found that creating a site planning brief laying out what we think the potential uses for such a building could be and how it could be done to incorporate the most interesting architectural features, generated interest among developers.
Covering around 1.5 hectares the former mill is at the west end of the Blackness Conservation Area and the buildings are category B listed. Built between 1828 and 1834 the two and half storey sandstone building was the world's longest operating jute mill when it closed its doors in 1990.
14 Mar 2013
District 10
A new £1.7 m development to support Scotland's growing creative industries sector is underway on Dundee's waterfront.
Located at Seabraes Yard, the innovative development called District 10 will offer flexible office accommodation as well as meeting and networking space, constructed from recycled shipping containers.
Designed to meet the needs of Scotland's early stage creative industries companies, the development is expected to support up to 38 new high value jobs and contribute up to £10 m to the Tayside economy over the next decade.
The project is being delivered by economic development agency Scottish Enterprise as part of the ambitious Dundee Waterfront regeneration project which is expected to see in excess of £100 m of capital projects started or completed during 2013.
The works include modular construction and prefabricated elements including a central core of offices created using recycled shipping containers. The project will be delivered to 'BREEAM Excellent' standard and within the ethos of the Dundee Waterfront 'BREEAM Sustainable Communities' bid. The project team includes Architect aim, Quantity Surveyor Christie & Partners, Structural Engineer Fairhurst and Service Engineers BBHP.
18 Jan 2013
V&A at Dundee



image from architects
V&A Dundee
The V&A at Dundee funding news + new flythrough
12 Oct 2012
BCI Award Dundee House
Design: Reiach and Hall Architects



image © Dave Morris
Dundee Council Offices Building
Reiach and Hall Architects are delighted to have won a British Construction Industry Award for their design of Dundee House, the new civic centre and administrative headquarters for Dundee City Council. The BCI Awards, now in its 25th anniversary year, recognise excellence in its broadest sense – the overall design, construction and delivery of buildings and are highly regarded in the construction sector and the most rigorously judged awards in the industry.
Recent Dundee Architectural News
Tayside Architectural News up to 2011 arranged chronologically:
23 Nov 2011
Dundee Institute of Architects Awards



photo © Keith Hunter
Dundee Institute of Architects Awards : Archial win 'Best Interior Design Project'.
V&A Museum Dundee



image from architect
V&A Museum Dundee : Frank Gehry rules himself out of competition
Taycare Secure Care Clinic, Perth



image from architects
Tayside Secure Care Clinic : macmon
The Clocktower's time has come again
26 May 2009
Unicorn picks Dundee's top property sales team for landmark, waterfront building
Thorntons continues its successful relationship with Unicorn Property Group and City Quay, Dundee : The Clocktower
Riverside Drive residential development
2009-11
202 apartments, five blocks of 7-9 storeys, £25m, for Duncarse Riverside Limited
Tay Hotel Redevelopment
Former B-listed Tay Hotel to be converted into 22 flats and a 44-bed hotel with a bar and restaurant. The hotel – empty for a decade – was built in 1889
Dundee Council Housing
Dundee could be set to launch a new council house building programme, after a report to Dundee City Council's housing, Dundee Contracts and environment services committee detailed a number of initiatives, including increasing the stock of much-needed homes for the disabled. If councillors agree the proposals it would mean the first new council housing built on a reasonably large scale for over two decades in Dundee. The report states that 40 fully wheelchair accessible homes and 95 mainstream properties could be provided within three years.
The Wave Dundee



image from architects
FM Homes development at City Quay, Dundee: 15-storey elliptical tower housing 25 luxury 2-bed apartments & 3-bed penthouse. Final stage of FM Homes' City Quay developments: FM Homes have completed two developments at City Quay – Merchant's Quay and Southern Wharf: The Wave Dundee
University of Dundee



photo : Paul Zanre
New Teaching Block by Campbell & Arnott : Dundee University Building
deHavilland Hotel
Dundee airport hotel – planning approved May 2007: 60 bedrooms; rooftop restaurant
aim design, Dundee architects
Developers: Lomond Group
V&A Museum
Victoria & Albert Museum planning first outpost in Scotland, by Kathryn Findlay, with the University of Dundee
Key Dundee Architecture
Dundee Contemporary Arts : DCA galleries, cinema, cafe-bar & print studio
Location: Dundee, Tayside, eastern Scotland
Tayside Architecture
Dundee Architecture Designs – chronological list
Space Dundee – Scottish School of Contemporary Dance
Baxter Park Pavilion, Dundee : Scottish Design Awards 2007 – Listed Building Re-use Shortlist: Dundee City Council
Comments / photos for the Dundee Building News page welcome