Transit-oriented development design, TOD Chinese building design images, Ronald Lu & Partners Architects news
Transit-Oriented Development Design news
9 May 2022
Let's Talk About TOD!
Pioneers in Transit-Oriented Development, Ronald Lu & Partners (RLP) break down this fast growing trend
A birds-eye view of TODTOWN by Ronald Lu & Partners: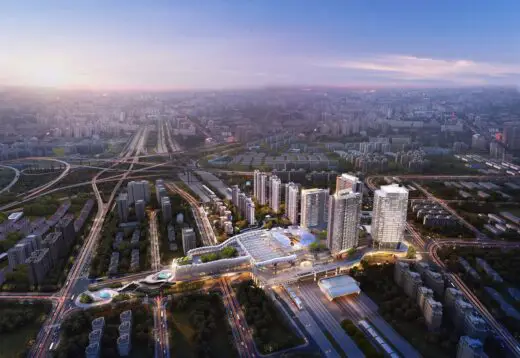 images courtesy of Ronald Lu & Partners
Transit-Oriented Development Design – TOD Projects
Transit-Oriented Developments – also known as TODs – are multi-layer urban developments that harmoniously mix residential, commercial, transport, and environmental opportunities. Their primary objective is to optimise land use and maximise access to public transport to promote sustainable urban growth.
TOD design concepts typically include a central transportation hub like a train station, light rail terminus, or bus terminal that is surrounded by a high-density mixed-use development, with lower-density developed areas spreading out from this central point.
TODTOWN by RLP in the Minhang district of Shanghai meets a complex range of needs and challenges by creating a well-connected, mixed-use 'mini-city':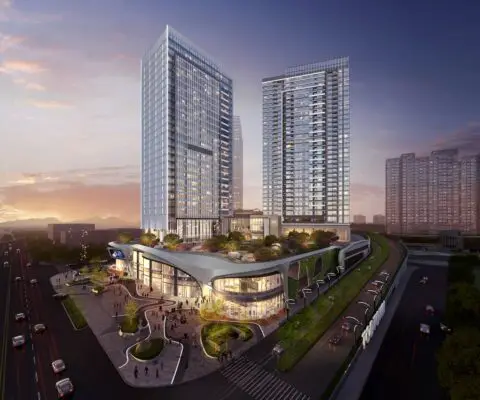 Lately, more and more innovative TOD projects have been gathering speed, particularly in eastern China. This is due to the combination of high-density cities and the inherent appeal of mass transportation hubs for large populations. These hubs reduce carbon consumption and eliminate vehicle use and parking spaces while also creating convenience for residents through greater accessibility and more walkability – which encourages a greener lifestyle and enhances the overall health and wellbeing of a community.
TOD Project Design
TOD project designs tend to centre around three pillars: hospitality and service, a stylistic approach, and intelligence and comfort. They aim to be the perfect lifestyle model for the climate generation.
TODs contain a mixture of residential, business, commercial, and educational facilities with well-planned city functions operating around the clock. These create numerous economic and sustainability advantages, setting TODs up to become the key business zones of the future.
TODTOWN by RLP is located above a mass transit railway station, connecting existing communities and transportation links to expanded rail infrastructure and new retail, office, hotel, and residential developments: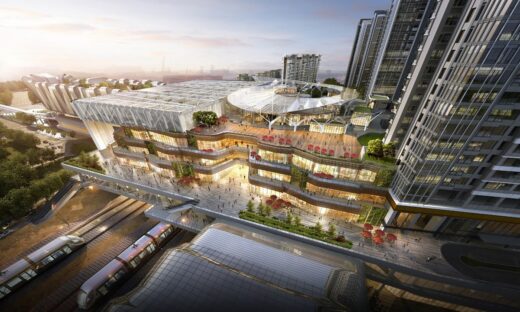 Hong Kong-based architecture practice Ronald Lu & Partners has a comprehensive understanding of TOD. The firm is leading a series of these developments across seven cities in southern China's Greater Bay Area. These are some of RLP's most notable projects – together, they demonstrate the different layers of infrastructure that can make up a TOD.
• The Pinghu Comprehensive Development in Shenzhen; an urban renewal project that aims to create an improved lifestyle and commercial area while connecting and integrating transport systems using eco-friendly designs.
• TODTOWN in Shanghai; a 'mega railway transit hub' with residential apartments, offices, hotel, a shopping mall, multi-use sports facilities, and an arts centre.
• The Chiwan Comprehensive Development in Shenzhen; a project aiming to provide seamless urban transport networks and restore nearby slopes, creating an ecologically-friendly and dynamic development that respects the relationship with its surroundings and allows residents to live within the natural environment.
• Unipark in Zhuhai; a waterfront development overlooking the Qianshan River and adjacent to Qianshan Station on the Guangzhou-Zhuhai Intercity MRT. The project is comprised of a shopping mall, 5-star hotel, Grade-A office tower, river view residences, serviced apartments and an underground car park. Catering to various living, dining, shopping, entertainment, and business needs, Unipark aims to become an integral part of life for the people of Zhuhai.
• ICC Country Garden Sanlonghui in Foshan; a development that integrates two railway lines connecting people in a one-hour living circle between Hong Kong and Guangzhou. The project comprises a digital centre for the railway, along with associated high-tech businesses, hotels, co-working spaces and apartments, a residential development, and ancillary facilities. The aim is for it to become a generator for urban growth in the vicinity.
• LOHAS Park in Hong Kong; a development which has over 25,000 residential apartments above a mass transit railway station, surrounded by shopping malls, schools, elderly nursing homes, and government facilities. A central park mimics the natural landscape providing multiple green spaces for the community.
• Century Gateway in Hong Kong; the project consists of seven residential towers situated over a retail podium which adjoins the MTR West Rail's Tuen Mun station. The public transport interchange acts as a hub, connecting neighbouring communities, Hong Kong's city centre and mainland China and boosting the economic development of Tuen Mun.
The Pinghu Comprehensive Development by RLP is an expansive 'eco-development' that reorganises the spatial relationship between nature, culture and the city: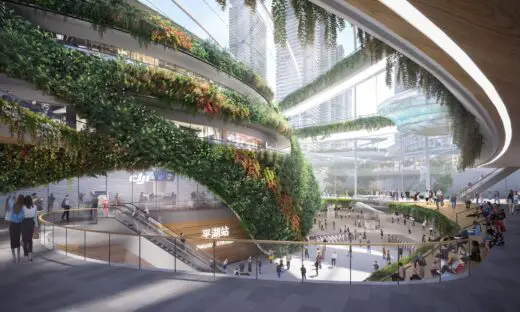 TOD Concept
The TOD concept is not well-known in the west, however, we have recently seen smaller-scale developments in several major cities, such as King's Cross, and more recently, Battersea Power Station in London – a project with homes, shops, cafes, offices, leisure, cultural venues, and over 19 acres of public space. Other global cities are adopting various TOD elements, creating strategic plans to increase walkability and the use of public transportation. These cities include Toronto, Portland, Montreal, San Francisco, and Vancouver.
"TOD projects are more prevalent in the east, as Asian city populations are more concentrated and people are used to ultra-high-density urban environments. In the west, so far we have seen less TODs due to greater car usage and much larger living spaces, with the ratio of people per square metre being much lower. TODs can only really be successful at scale: the higher the population using the TOD, the more successful it will be."
Bryant Lu, RLP Vice Chairman
The Chiwan Comprehensive Development by RLP lies on the southern Shekou Peninsula. This landmark biophilic TOD design promotes a zero-carbon lifestyle and beautifully integrates natural greenery with the nearby hillside: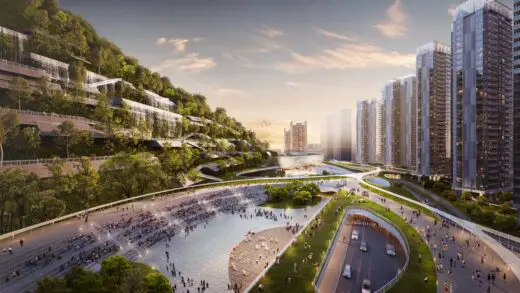 As the population density of a place increases and technology advances, there will undoubtedly be more demand for mixed-use developments.
We close with RLP's top 10 principles for creating a successful TOD:
• Create a vibrant hub
• Establish a new neighbourhood meeting point
• Serve mixed-use functions
• Aim for appropriate densification
• Develop a three-dimensional network
• Achieve seamless integration
• Act as an intermodal transportation interchange
• Nurture a healthy living environment
• Encourage walkability by optimising pedestrian pathways
• Prepare for future changes through advance planning
Transit-Oriented Development Design images / information received 090522 from Ronald Lu and Partners
Location: People's Republic of China, eastern Asia
LWK + PARTNERS on Transit-oriented developments in China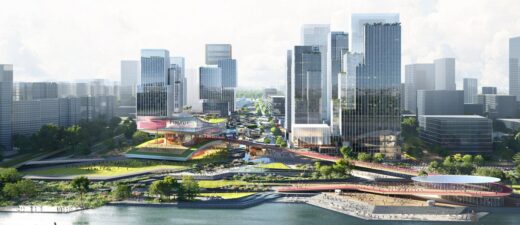 images courtesy of LWK + PARTNERS
Chinese transit-oriented developments: buildings
China Architectural Designs
Chinese Architecture Designs – architectural selection below:
China Architecture Designs – chronological list
Yantai Experience Centre
Architects: More Design Office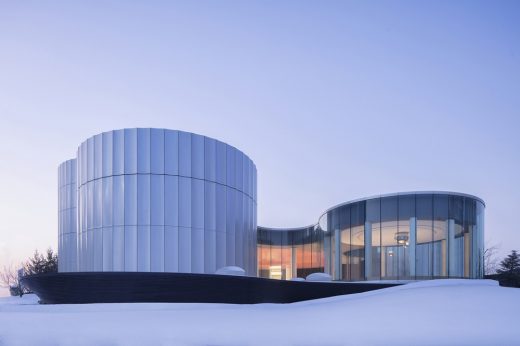 photography by Hai Zhu, Zhi Xia
Yantai Experience Centre Shandong
Zaozhuang Citizen Service Center, Minsheng Road, Xuecheng District, Zaozhuang
Design: Shanghai United Design Group Co., Ltd. (UDG)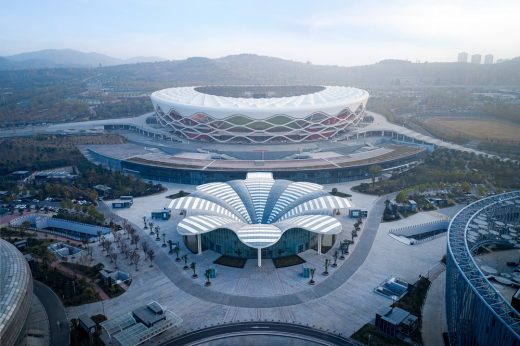 photo © MLEE STUDIO
Zaozhuang Citizen Service Center, Shandong
Hong Kong Architecture
Hong Kong Architecture Designs – chronological list
Hong Kong Building News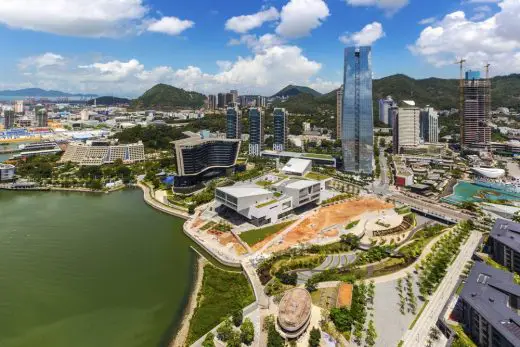 image © Design Society
Hong Kong Architects Offices – Architecture Firm Listings
Comments / photos for the Transit-Oriented Development Design page welcome