Residential Development, Croatian Architecture, Design, Building, Images
Amarin Apartment Village in Croatia
Private Properties in Croatia – design by: 3LHD Architects
25 Mar 2014
Amarin Apartment Village
Design: 3LHD Architects
Amarin Apartment Village
Amarin Apartment Village is located north of the city of Rovinj, surrounded by lush vegetation. Next to the existing 272 apartments, the old substandard ones were removed from the site and 190 new were built in their place. The new buildings location is partly determined by the existing pedestrian paths that continue into the new project; and by the plots gentle slope from north to south. The Village was conceived to have a high quality intimate outdoor space that accompanies each apartment as well as a comfortable interior.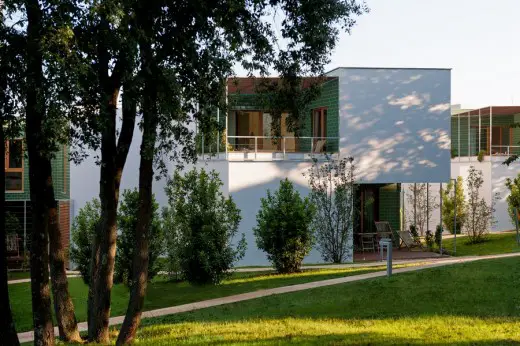 The establishment of new communication corridors formed irregular particles on the plot, apartment units were grouped on these green islands. The basic modular element – the accommodation unit – is multiplied and grouped into blocks by spatial variations and rotations. The blocks differ from one another in the color scheme of the materials the building facades are treated with. The apartment units are brought into a spatial correlation by formation of voids and atria between them. In this way, micro sceneries and intimate living spaces were created. Outdoor spaces at the Village are graded from intimate – atria, semi-public – the neighborhood, to the public – paths through the village.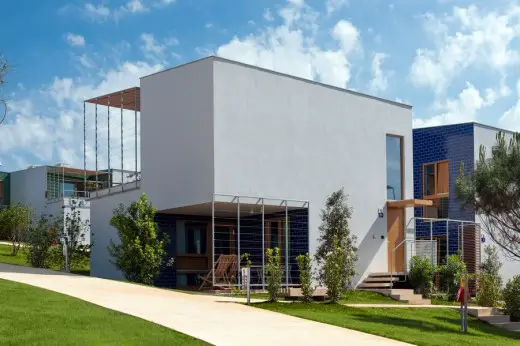 Design theme was to develop a distinctive architectural language through which objects are related and their affiliation to a block is determined. Consequently, a concept of "unit privacy" was developed by creating smaller or larger strokes of micro sceneries. The tools for the development of this concept were: the volume design (loggia, atrium, garden, terrace) and the choice of the materials (rough plaster, ceramics, wood, pergolas, vegetation). They were used to form a distinctive color scheme used in the building architecture.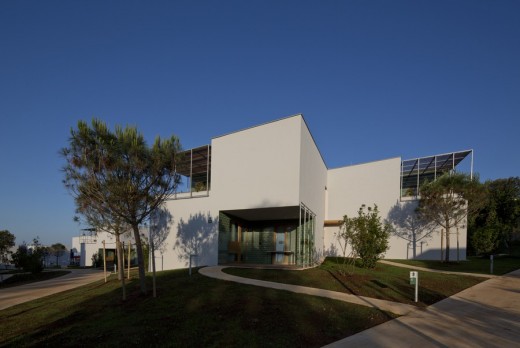 The apartment units can have a combination of apartments that come in two different types – two floor ones with a living area, dining area, kitchen, toilet, terrace and garden on the ground floor and two bedrooms and a bathroom on the first floor; and single floor ones with a living area, dining area, kitchen, bedroom, bathroom and a terrace. In addition to the apartments, service rooms and maids rooms (disposal of clean and dirty laundry), toilets and installation facilities are located on each plot.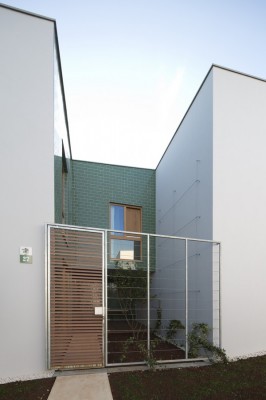 Amarin is entirely pedestrian, no cars are allowed on the site, and car parking is provided on the edge of the site. The main walking paths through the Apartment Village are between blocks, from where trails lead to the entrance of each apartment. All trails and paths are formed freely in relation to the natural slope of the terrain at the site. The rooftops follow the slope and have a final layer of coarse crushed stone; facades are finished in white plaster and ceramics in the colors of individual blocks. Outdoor terraces are made from wood, with wooden pergolas and privacy is insured by a green wall of plants that grows supported by the terrace construction.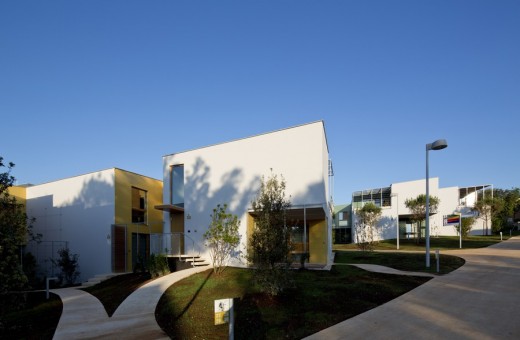 The Apartments visual identity and signage and environmental graphics were developed by Lana Cavar and Luka Predragović. As part of the visual identity, Croatian illustrator OKO made the illustrations applied in the interior of the apartments and on the signage. The inspiration for the identity and the illustrations were traditional Istrian costumes and animals specific for Istria: Istrian ox "boškarin" (Ciprijan), Istrian sheep (Barbara), Istrian donkey (Pepi), redheaded grebe (Vanda), and bee (Keko). The apartments are furnished with "Revolve" sofa beds by a Croatian manufacturer Kvadra, designed by Numen/ForUse + Bratović&Borovnjak, and ILI_ILI lamps designed by Grupa. The concept of the lighting for Amarin immediately follows the color scheme of the whole Apartments – combinations of lamp shades were put together with the idea of recognition of individual blocks.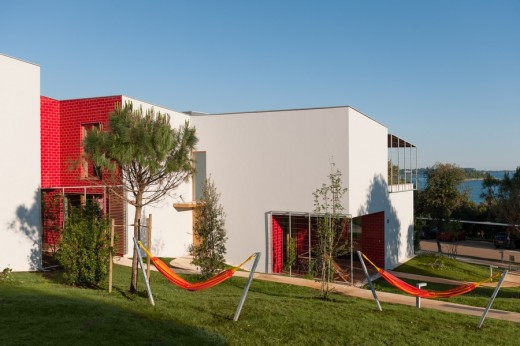 Amarin Apartment Village – Building Information
Project name: Amarin Apartment Village
Program: leisure, tourism
Status: completed
Project start date: 21.03.2012.
Project end date: 01.11.2012.
Construction start date: 01.11.2012.
Construction end date: 15.05.2013.
Address: "Monsena-Valdaliso" tourist zone
Location: Rovinj, Croatia
Geolocation: 45°4'52" N, 13°38'19" E
Project type: commission
Site (m2): 31387
Size (m2): 14971
Volume (m3): 46945
Footprint (m2): 8603
Client: Maistra d.d.
Author: Studio 3LHD
Project team: Saša Begović, Marko Dabrović, Tatjana Grozdanić Begović, Silvije Novak, Hrvoje Bilandžić, Koraljka Brebrić Kleončić, Ivan Ćurković, Tina Galešić, Tin Kavurić, Nives Krsnik Rister, Leon Lazaneo, Kristina Marković, Eugen Popović, Krunoslav Szorsen, Dijana Vandekar
Collaborators:
Signage and environmental graphics design, visual identity: Lana Cavar, Luka Predragović
Typeface design: Narcisa Vukojević
Illustrations for interiors and environmental graphics: Oko
Branko Galić (Radionica statike d.o.o.) structural engineering
Vladimir Paun (Termotehnika d.o.o.) plumbing and drainage, HVAC
Dušan Repac (NOVATEC d.o.o.) electrical engineering, fire safety
Feručo Jugovac (A.G.I. d.o.o.) drainage project
Katja Sošić (Studio KAPPO d.o.o.) landscape design
Maksim Carević (Inspekting d.o.o.) fire protection / strategy / safety project
Mateo Biluš (AKFZ studio d.o.o.) building physics, details
Site supervision: Institut IGH d.d.
General contractor: Zagrebgradnja d.o.o.
Amarin Apartment Village design: 3LHD Architects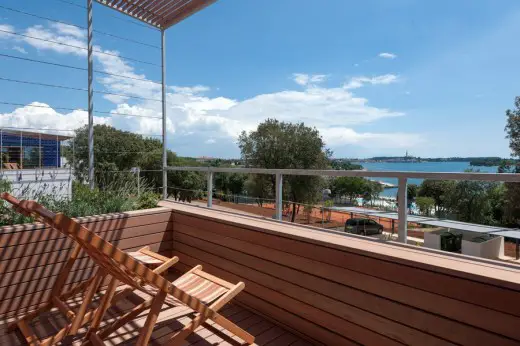 Amarin Apartment Village images / information from 3LHD architects
3LHD : Architect Profile
Location:Rovinj, Croatia
Croatia Architecture
Contemporary Croatian Architectural Projects
Buildings by 3LHD Architects – Selection
Sport Hall, Bale, Istria, Croatia



image : Damir Fabijanic, Zagreb
Croatian sports hall building
Hotel Lone – proposal, Rovinj, Croatia



image from architect
Hotel Lone Croatia
Spaladium Centar, Poljud, Croatia



picture : Domagoj Blazevic
Spaladium Centar
Zagreb Dance Center, Croatia



photo : Sandro Lendler
Zagreb Dance Center
Comments / photos for the Amarin Apartment Village page welcome
Amarin Apartment Village – page
Website: Croatia