Prefabricated Pavilions, Living Space, RPP Domestic Design, Robbie Antonio
Prefab Pavilions by Revolution Precrafted Properties
Modular Units: Prefabricated Buildings – design info + images
13 Jan 2016
Prefab Pavilions by Celebrated Contemporary Architects & Designers
Prefab Pavilions by Revolution Precrafted Properties
Prefab Pavilions by Zaha Hadid, Sou Fujimoto, Lenny Kravitz, Kengo Kuma, Daniel Libeskind, Ben Van Berkel (UNStudio), Michael Maltzan, J.Mayer H., Kulapat Yantrasast, Gluckman Tang and more.
Developer Robbie Antonio taps stars and starchitects for high-end prefab pavilions.
Images courtesy Revolution Precrafted Properties
VOLU
DINING PAVILION
BY ZAHA HADID WITH PATRIK SCHUMACHER
DESIGNER Zaha Hadid with Patrik Schumacher
FUNCTION Dining Pavilion
DIMENSIONS 6m L x 4.6m W x 3.2m H
FLOOR AREA 20 square meters
Prefab Pavilion: VOLU by Zaha Hadid with Patrik Schumacher
Design Miami 2015 – AssIStant Fania Castro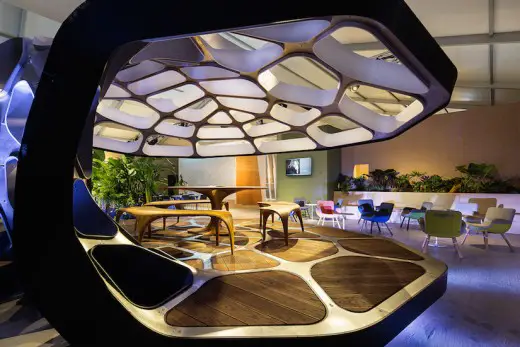 photograph : Mike Butler

Zaha Hadid for REVOLUTION from Revolution Precrafted Properties
Website: Volu Dining Pavilion
Prefab Pavilion by Ron Arad:
THE
ARMADILLO TEA
PAVILION
BY RON ARAD
DESIGNER Ron Arad
TYPE Tea Pavilion
SIZE 6.4m L x 3.1m W x 3.7m H
FLOOR AREA 18 sqm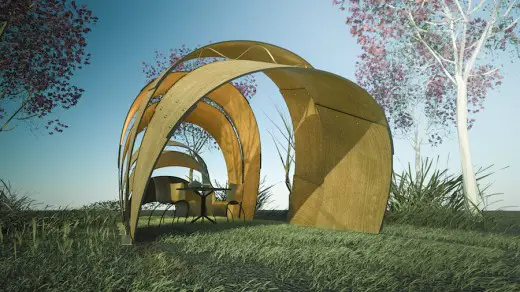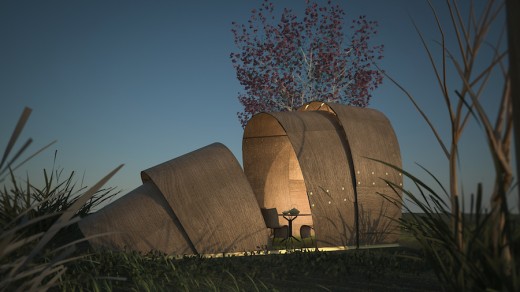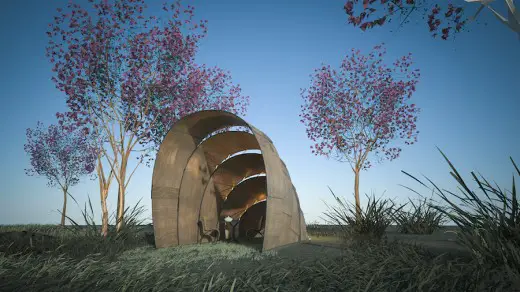 The Armadillo Tea Pavilion is designed as an independent shell structure, for use indoors and outdoors, which provides an intimate enclosure, shelter or place of reflection within a garden, landscape, or large internal space.
Ron Arad for REVOLUTION from Revolution Precrafted Properties on Vimeo
Website: Prefab Pavilion by Designer Ron Arad
Prefab Pavilion by Marcel Wanders: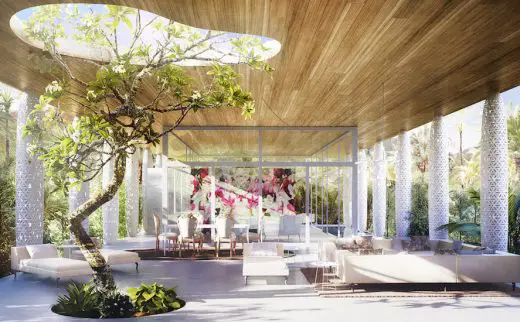 Prefab Pavilion by Estudio Campana:
THE
BAMBOO
PAVILION
BY CAMPANA BROTHERS
DESIGNER Campana Brothers
FUNCTION Multipurpose Pavilion
DIMENSIONS 6m L x 4m W x 2.8m H
FLOOR AREA 18 square meters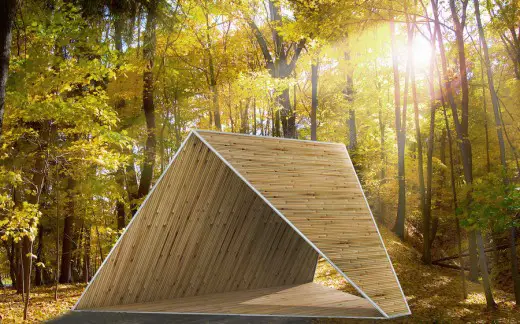 'For the Bamboo installation, we wanted to focus on a simple structure with a basic shape. We chose to use bamboo in its pure and natural form because it's a lightweight material and very present in Brazilian culture.
Campana Brothers for REVOLUTION from Revolution Precrafted Properties on Vimeo
Website: Prefab Pavilion by Estudio Campana
Prefab Pavilion by Daniel Libeskind:
THE
ReCreation
PAVILION
BY DANIEL LIBESKIND
DESIGNER Daniel Libeskind for Studio Libeskind
FUNCTION Multifunctional Pavilion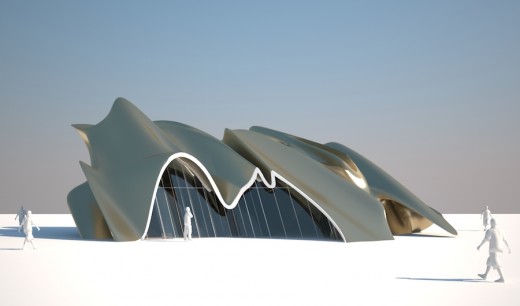 In many ways human connection has become a luxury in our modern, digital world. The ReCreation Pavilion is designed with the understanding of the profound importance of real and personal interactions to a healthy and creative lifestyle.
Desert Art House: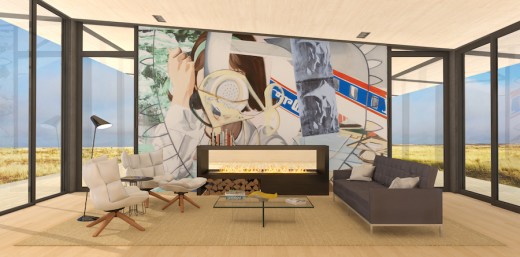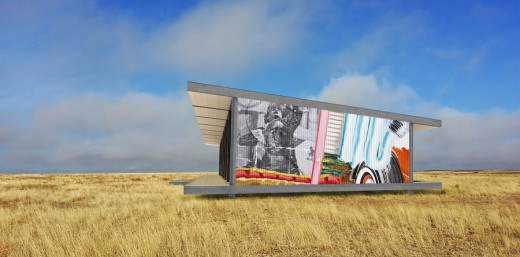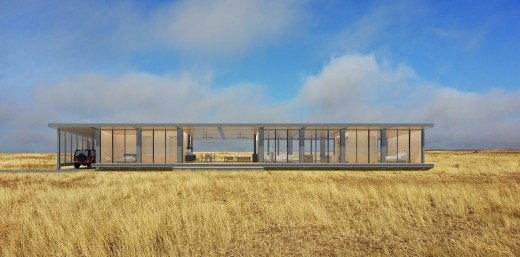 Prefab Pavilion by Sou Fujimoto:
THE
INFINITY RING
PAVILION
BY SOU FUJIMOTO
DESIGNER Sou Fujimoto
FUNCTION Multifunctional Pavilion
DIMENSIONS 6m Radius x 1.6m W
FOOT PRINT 9.6 square meters
Color Customization Available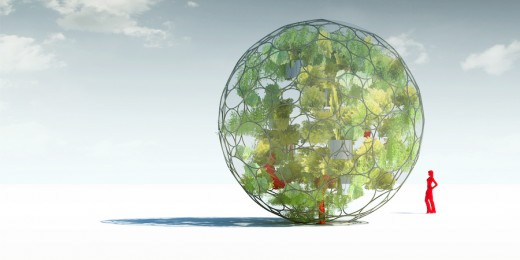 An investigation into the ergonomics of seating in both private and public environments, the Infinity Ring takes the preconception of predefined spaces and their rituals and wraps it around a ring, creating a continuous strip of inhabitable spaces.
Sou Fujimoto for REVOLUTION from Revolution Precrafted Properties on Vimeo
Website: Prefab Pavilion by Architect Sou Fujimoto
Revolution Precrafted Properties is rolling out limited edition collections of factory-built houses and pavilions. The structures were conceived by eminent architects, product designers and artists.
Robbie Antonio likens the Revolution purchase process to ordering high-end Italian furniture, in that residences and pavilions are manufactured on demand and delivered several months later.
The base price for the pavilions starts at $35,000 and approaches $500,000.
Robbie Antonio wants to offer people the privilege of collecting a particular designer or architect.
Designs are to be able to be constructed by semi-skilled labor and shipped in standard 40-foot shipping containers.
Prefab Pavilions by Revolution Precrafted Properties was officially launched in early December 2015. Prototypes of Gluckman Tang's MAP and Zaha Hadid's VOLU Dining Pavilion were unveiled at Design Miami.
Further prototypes are due to be released in 2016 at the Salone del Mobile, Frieze London, and other events.
Prefab Pavilion Design images / information from Revolution Precrafted Properties
24 May 2018
Ellipsicoon Pavilion by Ben van Berkel / UNStudio by Revolution Precrafted Properties
Location: Kranj, Slovenija, central eastern Europe
Prefabricated Residence Design
More prefabricated building designs on e-architect:
Contemporary Prototype Houses
ecokit prototype houses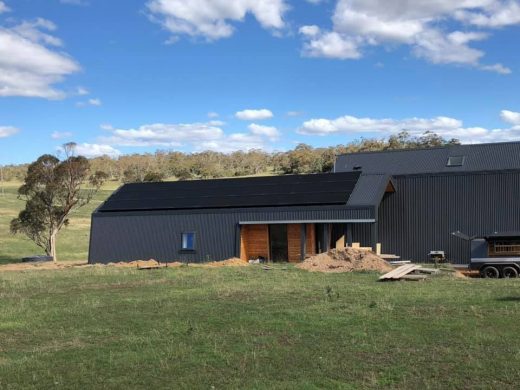 image courtesy of architects
ecokit prototype houses
COODO Modular Units – Living Space
Design: COODO
Modular Units Prefabricated Residence Design
iHabit Modular System – Concept
Design: Jun Sakaguchi architect
iHabit Modular System
A prefabricated house on e-architect:
Arado WeeHouse, Wisconsin, USA
Design: Alchemy Architects
Prefabricated House
Modular Building System in Vale de Cambra, Portugal
Design: SUMMARY studio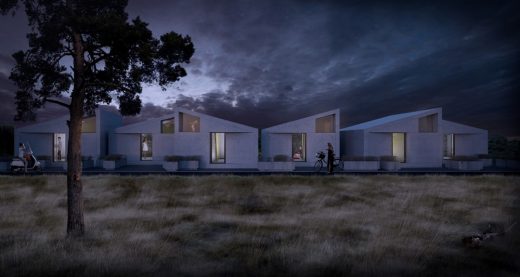 image from architects
Prefabricated Modular Building System
America Residential Property
American Houses – Selection
Martin House, Buffalo, NY
Design: Architect Frank Lloyd Wright
Bradley Residence, Arizona
Architectural Concept Designs – Selection
Metropolitan Vertical Theme Park
Prefab House Book
Prefabricated Architecture Book
Izola Housing
Design: Ofis Arhitekti
Izola Housing
Comments / photos for the Prefab Pavilions by Revolution Precrafted Properties page welcome