AIA North Carolina Housing Design Competition, Charlotte Architecture Contest, South Mint Street, Building
AIA North Carolina Housing Design Competition, USA
ACTIVATE NC Charlotte Architectural Contest, North Carolina, USA – open to architects + designers
Feb 11 + 8, 2016
AIA North Carolina Urban Housing Design Competition
AIA North Carolina Housing Architecture Competition
AIA North Carolina Housing Design Competition News
URBAN HOUSING DESIGN COMPETITION
Location: South Mint Street, Charlotte, North Carolina, USA
Members of ACTIVATE NC invite you to share your ideas on contemporary housing in the inner city. The site is located along South Mint Street in Charlotte, North Carolina. Charlotte has an intense and vibrant Uptown Center City surrounded by leafy suburbs. The competition site is within walking distance of the Uptown district and is representative of an in between zone that is neither Center City nor suburban. Thus it may be considered a resource for connecting different parts of the city that are currently separate.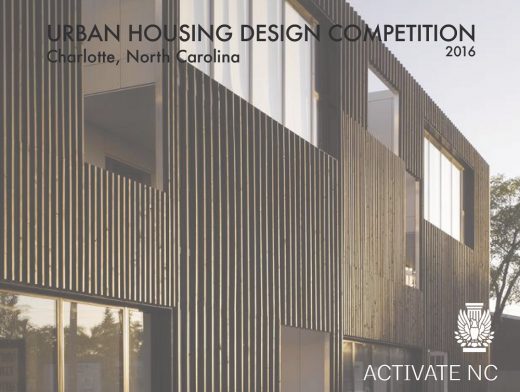 Designers are invited to explore and develop the following:
• Live/work dwellings for young professionals or entrepreneurs
• Traditional dwellings for families
• Offices and shops
• Urban outdoor space
• Indoor and outdoor environments that nourish ecologIcal and sustainable lifestyles
This is an ideas competition generated by the need for new ways of dwelling in our growing cities.
The competition encourages a housing type that blends different income levels and demographics and helps knit together the fabric of the city. A building boom of multifamily housing is underway in many of our growing cities , but very little of it is designed for its place or program. From Charlotte to Seattle, multifamily housing tends to look the same. This competition asks entrants to create a design that embraces diversity, that is designed specifically for a site in Charlotte, and that is a good neighbor to small scale houses, streets, and light commercial and industrial buildings that comprise the neighborhood.
The competition winners will be publicly announced in May 2016 (exact date to be determined). Entries will be displayed at the AIA NC Center for Architecture and Design as well as other venues throughout the state in the seven AIA NC Sections.
ACTIVATE NC is an outreach initiative of AIA North Carolina to strengthen the civic role of architecture and design in our community.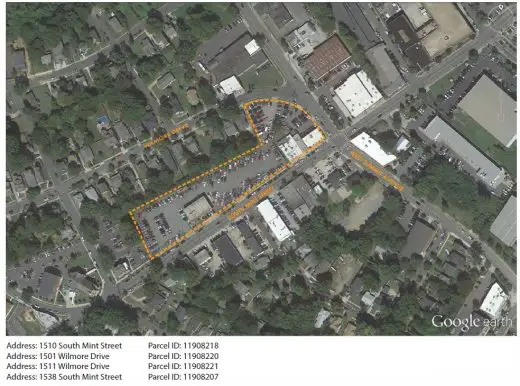 Website: www.activatenc.org/2016housingcompetition
SECTION 1: COMPETITION BRIEF
THE SITE AND PROGRAM
• The site is located along the South Mint Street Corridor, on the corner of South Mint and Summit Avenue. It is a combination of 4 lots along South Mint Street. Addresses are noted below in the aerial photograph. Link to Mecklenburg County GIS: http://polaris3g.mecklenburgcountync.gov
• Design should include minimum of 8 live/work dwellings at 1,200 sf each, a minimum of 8 family dwellings at 1,800 sf each , and a minimum of 4,000 SF of office or retail shop space that is easily subdivided. All office or retail space should be located on the ground level. Density is encouraged.
• 25% of each type of residential unit will be fully accessible to people with disabilities .
• 25% of the site should remain open and may be used for community gardens, Farmer's Market, or other activity.
• Provide parking for residents' cars. Parking may be adjacent to the dwelling or remotely located on the site.
• Provide bicycle parking.
• Existing buildings on site and existing street parking will remain.
• Zero setbacks along West Summit and South Mint Streets; 20'-0" setbacks next to residential areas and 10'-0" setbacks next to business areas.
EXAMPLE PROFILES FOR PEOPLE WHO MIGHT LIVE HERE
• Sara is a single woman in her 30s and lives by herself with her dog. She is an architecture professor at the University of North Carolina Charlotte. She also practices architecture out of her home, and usually works on 1-2 small scale commercial and residential projects at a time. Sara also leads bookmaking classes and sells beautifully crafted books she and her students make.
• Jose and Anya are a couple in their early 40s. They have two young children, 12 and 10. Jose works from home as a software designer and Anya is an attorney at a law firm uptown, walking distance from the site. The children go to a nearby school, and in their free time, love to skateboard, play soccer, paint, and walk their dog.
• Patrick and Marcus are recent graduates from the University of North Carolina Charlotte. They both graduated with marketing and business degrees, and have launched a new business as web designers. They typically meet with clients at their office to discuss website design goals. Because they work from home, they like to walk uptown after work for dinner or a show.
• Patti and Fred recently retired and moved to Charlotte from Detroit, Michigan. They are in their mid 60s. Fred is a musician, and Patti is a writer. Fred often writes songs for his band at home during the day, and has multiple gigs a week in and around uptown. His band also plays at the Farmer's Market on weekends. Patti spends much of her time writing in coffee shops uptown, or at home from her desk, which she likes to position under a window with a beautiful view.
JUDGING CRITERIA
Neighborhood
Designs should enforce a sense of connection to the urban fabric and surrounding neighborhoods. This site is a hinge between commercial and residential areas. The project should create links between these two parts of the city.
Climate
Charlotte is located in a temperate environment with hot, humid summers and relatively mild winters. You are encouraged to take advantage of the exceptionally fine weather in spring and fall.
Space, Form, and Materials
We encourage you to explore the site and program to arrive at a solution that emphasizes space, form, composition, and the inherent qualities of materials to reinforce the physical and sensual qualities of the materials you use.
SECTION 2: JURY
JURORS
jury chair Frank Harmon, FAIA . Frank Harmon Architect . www.frankharmon.com
Frank Harmon has designed sustainable modern buildings across the Southeast for 30 years. He is recognized as a purveyor of good design by his students, piers, and clients. In 2013, he received the F. Carter Williams Gold Metal from the AIA North Carolina chapter – the highest honor bestowed upon a North Carolina architect. He holds numerous awards recognizing his contributions to design and sustainability.
Jonathan Segal, FAIA . Jonathan Segal FAIA & Development Company . www.jonathansegalarchitect.com
Jonathan Segal FAIA & Development Company is a pioneering residential architectural/development company that has been awarded over 24 AIA design awards including six national AIA Honor Awards for their housing work. They have been responsible for the design and development of over 300 medium to high density urban residential, mixed use, and live/work units totaling over 300,000 square feet.
Roberto de Leon, FAIA . De Leon & Primmer Architecture Workshop . www.deleon-primmer.com
Roberto de Leon is a co-founder of De Leon & Primmer Architecture Workshop. DPAW was chosen for the 2010 Design Vanguard by Architectural Record as well as the 2011 Emerging Voices by the Architectural League of New York. They have received two national AIA Honor Awards, and their work was been featured in the 2012 and 2014 Istanbul Biennial, and most recently in the 2015 Chicago Architecture Biennial.
Julie Snow, FAIA . Snow Kreilich Architects . www.snowkreilich.com
Julie Snow has garnered national recognition as both a practitioner and academic. She has been recognized with numerous awards including AIA Honor Awards, the Holcim North American Bronze Award, Progressive Architecture Design Award, the Chicago Athenaeum's American, Architect Magazine Annual Design Review, and several US General Services Administration Design Excellence Awards.
Michael Williams, AIA . Liquid Design . www.liquiddesign.net
Michael Williams was named one of the year's "40 under 40" by Building Design and Construction Magazine. He is co-founder and President of Liquid Design, a green, award-winning "total package" design firm in Charlotte, NC. The firm specializes in building design, space planning, interior design, and project management. Michael has been a keynote speaker at many workshops and symposiums throughout the nation about the work of his firm.
SECTION 3: ABOUT THE COMPETITION
WHO CAN ENTER
The competition is open internationally to all students in a certified architectural program, un-licensed design professionals, and licensed Architects. Individuals or teams may submit more than one entry, but each entry will receive separate ID numbers and require an additional entry fee.
AWARDS
Top prize *$3,000
Merit award(s) *$1,000
* exact amounts based on sponsorship and number of submissions
SCHEDULE
Announced February 10, 2016
Registration Opens February 24, 2016
Registration Closes April 27, 2016
Submission Deadline May 2, 2016
Jury Deliberates May 2016
Announcement of Winner May 2016
Exhibition statewide mobile exhibit through the remainder of the year
SECTION 4: SUBMISSION REQUIREMENTS
1. Registration
To register online, go to http://www.activatenc.org/2016housingcompetition and complete the process. The registration fee is $50 (USD). Multiple entries will require a registration fee with each. You will need to give your project a title in this step. This title must be unique and anonymous. It must not contain any description of yourself or any firm or company information.
2. Application
Once you have registered and submitted your registration fee, you will be sent a link to complete the rest of the submission process online.
3. Project Description
No more than 250 words. Contestants should read judging criteria, and use this written portion to portray how their design is sensitive to the surrounding areas and facilitates community interaction.
4. Graphics
Two 24"x36" boards (portrait orientation) as hi-res PDF. Title as (your project title)_Boards
Boards may include additional drawings and images as deemed necessary by entrant, but boards are required to include:
• Site plan oriented north up
• Site and/or building section
• One rendered exterior
• One rendered interior
• Your project title
5. Physical Model (Optional)
There are no material restrictions. Participants may submit model photographs instead of a physical model, or physical models may be delivered or mailed to:
ACTIVATE NC: Competition
14 E Peace Street, 2nd floor
Raleigh, NC North Carolina 27604
USA
SECTION 5: SUBMITTAL
Submit materials electronically to aiancawards.secure-platform.com by 5:00 PM EST on May 2, 2016.
SECTION 6: FINE PRINT
NOTES
• Use of firm, individual, or company names or logos on competition material or incomplete submissions may result in disqualification.
• Once the final submissions are uploaded, no additional edits, uploads, or changes can be made.
OWNERSHIP
ACTIVATE NC reserves the right to retain ownership of all competition materials to use in exhibitions or publications without compensation to the entrants. Each competitor will retain full copyright unless state otherwise. No submissions will be returned.
QUESTIONS
Competition entrants may submit questions until date March 9, 2016 to [email protected]. All questions will be answered at one time and sent to registered entrants no later than March 23, 2016, and posted to www.activatenc.org/2016housingcompetition.
American Institute of Architects NC chapter:
Address: AIA North Carolina, 14 E Peace St, Raleigh, NC 27604, United States
Phone:+1 919-833-6656
AIA North Carolina Housing Design Competition image / information from AIA North Carolina
Location: South Mint Street, Charlotte, North Carolina, USA
US Architecture Competitions
NYC Aquarium & Public Waterfront Design Competition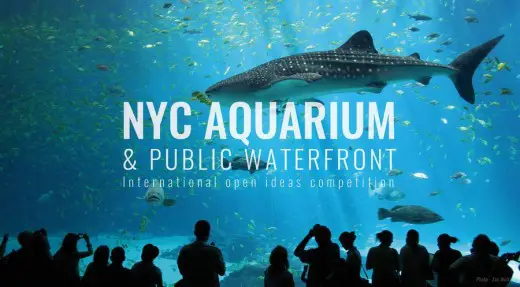 NYC Aquarium & Public Waterfront Architecture Competition
Arquideas Central Park Summer Pavilion (CPSP) New York competition, NY, USA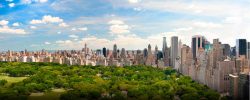 Central Park Summer Pavilion Architecture Competition
SixtyNine-Seventy, The Spaces Between: An Urban Ideas Competition, Utah, USA
SixtyNine-Seventy Architecture Competition
Architecture Competitions
Design Competitions – Selection
Venice Re-Creation Centre Competition



Venice Re-Creation Centre Design Competition
International Popular Culture Laboratory in Tokyo Competition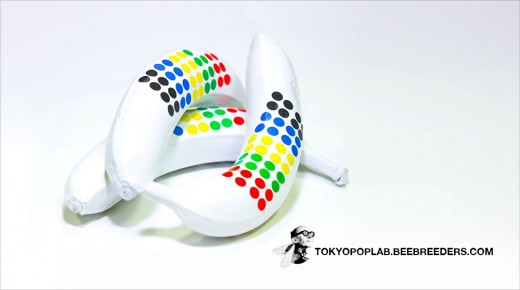 International Popular Culture Laboratory in Tokyo Design Competition
IsArch Awards 2016 for Architecture Students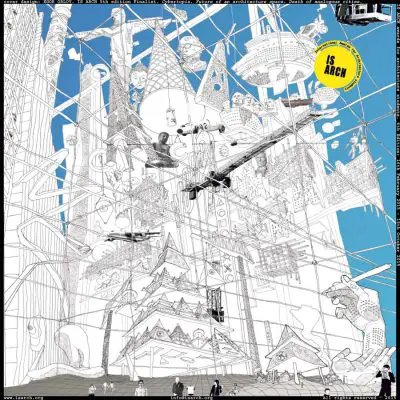 IsArch awards for architecture students
Syria: Post-War Housing Competition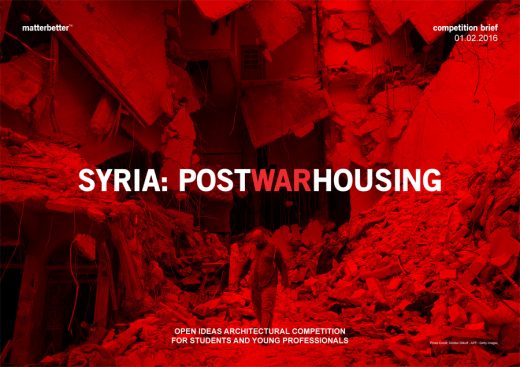 Syria: Post-War Housing Design Competition
Mud House Design Competition 2016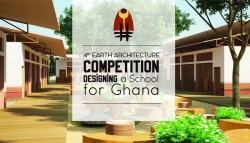 Mud House Architecture Competition
Shivaji Competition: Islands, Deltas and Rising Seas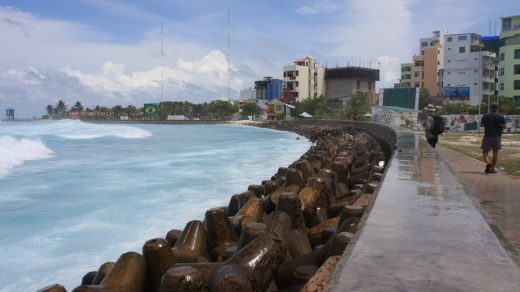 Shivaji Architectural Competition
INNATUR 5 Architectural Ideas Competition
INNATUR 5 Architectural Ideas Competition
North Carolina Building Designs
North Carolina Architecture
James B. Hunt Jr. Library, Raleigh
Design: Snøhetta
Hunt Library Building
Tryon Bridge Beacons, Charlotte
Friedrich St.Florian Architects
Tryon Bridge Beacons
Contemporary Art Museum, Raleigh
Brooks + Scarpa
Contemporary Art Museum Raleigh
NCBC – an office and conference addition, Research Triangle Park
Perkins+Will
North Carolina Biotechnology Center
Perkins+Will Office – Interior fit-Out
Perkins+Will
Perkins+Will Office North Carolina
Recent US Architecture Competitions
US Design Competitions – Selection
AIA Utah Design Competition, Utah
Boulder Civic Area Ideas Competition
Symbolic World Cup Structure Competition
Comments / photos for the AIA North Carolina Housing Design Competition – Charlotte Architecture Contest 2016 page welcome
Website: AIA North Carolina – www.aianc.org