Bee Breeders Architecture Competitions, Tokyo Pop Lab, Japanese Design Contest, Architects
International Popular Culture Laboratory in Tokyo Competition
Bee Breeders Architectural Contest in Japan – International Search for Designers
7 Mar 2016
Tokyo Pop Lab Design Competition
Tokyo Pop Lab Results
The winners have been announced for the Bee Breeders Tokyo Pop Lab architecture competition. The competition brief called for the design of a new program for the study and production of pop culture media. The unique and original nature of the brief resulted in submissions varying considerably, from fairly pragmatic to completely ideological.
The winning submissions were chosen for their well considered definition of popular culture, the clarity of their representation, and their clear concept of the structure of the laboratory's program.
First place: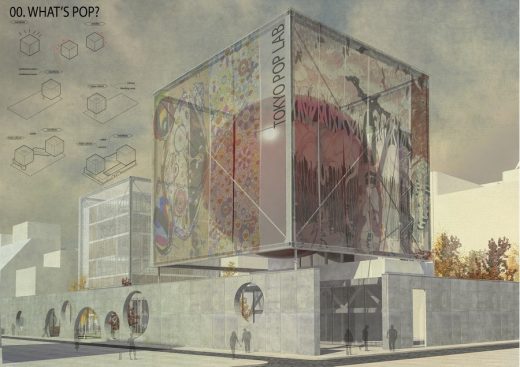 – First place winners were a team from Italy whose project consisted of two large cubes placed in opposing corners of the site, lifted above the ground plane, and rejoined with an elevated walkway. The project was selected as the winner because it didn't restrict pop culture to any particular form or moment in time.
Second place: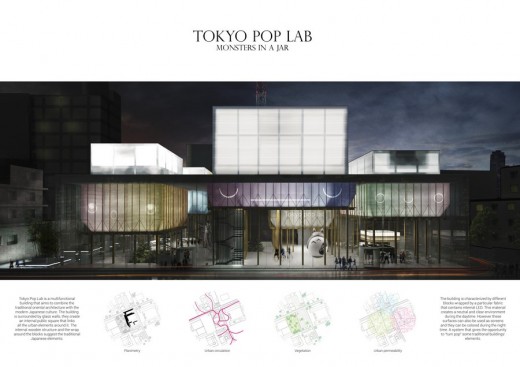 – Second place winners, also from Italy, were distinguished their definition and organisation of public program and social activities.
Third place: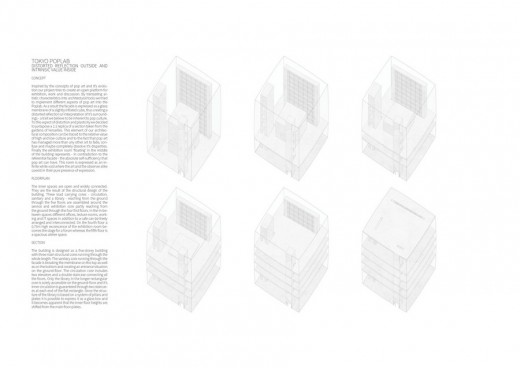 – Third place winners from Switzerland were chosen for their clarity in thought and purpose.
To see images, jury comments and full details of our winners, visit the Tokyo Pop Lab results website.
Tokyo Pop Lab Design Competition
3 Feb 2016
International Popular Culture Laboratory in Tokyo Competition 2016
Tokyo Pop Lab Final registration deadline is here.
The Final deadline for the Tokyo Pop Lab architecture competition is FEBRUARY 3, 2016
COMPETITION
Bee Breeders architecture competition organisers are calling for all architecture enthusiasts to create unique and exciting designs for the International Popular Culture Laboratory in Tokyo. The lab will be an institution that will teach students the history and relevance of popular culture; where they can reflect on current trends and make predictions of future trends in order to prepare students for them.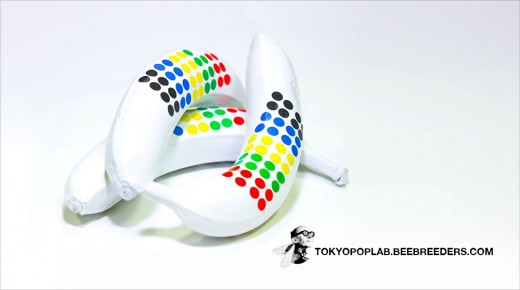 Tokyo was chosen as the location for this architecture competition because has long been at the center of Asian popular culture – with a strong enough connection to its own cultural roots in order to absorb and adapt international trends.
We ask architects and designers from all over the world to think of a space that could host multi disciplinary creative individuals and provide them with a high quality education space. As creative individuals become more and more versatile in their skills, a more innovative approach to teaching will be needed.
In order to deal with the future pop culture trends, the teaching environment should not be focused on isolated classrooms. Instead, the Pop Culture Lab should encourage interaction between different creative industries and fields of study with a crossover of multipurpose experimental spaces.
Download Full Competition Brief for more information.
Following documentation is available for download:
– Full competition brief
– CAD and PDF site plan
– 3D site model
All information can be downloaded as often as required; no additional information or material will be provided after registering. The provided materials can be used or alternatives can be created or sourced at the participants discretion.
Eligibility:
Competition is open for all. No professional qualification is required. Design proposals can be developed individually or by teams (4 team members maximum).
Language:
– Correspondence with organizers must be conducted in English.
– All information submitted by participants must be in English.
PRIZES
3 winning proposals and 6 honourable mentions will be selected. Bee Breeders architecture competition organisers will award a total of US $10,000 in prize money to competition winners as follows:
1st prize winner – US $6,000
2nd prize winner – US $3,000
3rd prize winner – US $1,000
The winners will get international art and design media coverage and will be featured on the Bee Breeders website.
The following media partners have committed to present the current competition and its winners in their publications: Arch20; Archello; Archi.ru; Archilovers; Archinect; Architectur Journal; Architime.ru; Australian Design Review; BauNetz; e-architect; NIP; ViaVili; WA; Wettbewerbe; World Architecture; World Architecture News and more.
For potential media partners who are also interested in covering the present competition and its winners, please contact us on: [email protected]
Bee Breeders architecture competition organisers will also acknowledge the outstanding performance of all winners and honourable mentions with Certificates of Achievement.
JURY PANEL
Jury members listed below, shall under no circumstances be contacted by competition participants or their representatives. Participants who attempt to contact jury members, shall be disqualified.
All communication regarding the competition should only be carried out with Bee Breeders staff. For any questions please contact [email protected]
Full jury panel: International Popular Culture Laboratory in Tokyo Competition Jury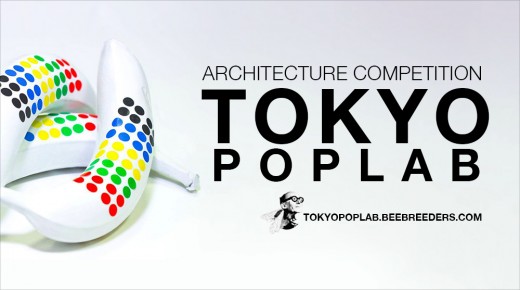 KEY DATES
Closing date for registration: FEBRUARY 3, 2016
Closing date for submission: FEBRUARY 17, 2016 (11.59pm GMT)
Announcement of the winners: MARCH 2, 2016
FEES
Enthusiasts and companies / Students (see requirements here)
Last Minute Registration: US $140 / US $120
Bee Breeders offers group registration discounts for student teams (3+ registrations).
FAQ (FREQUENTLY ASKED QUESTIONS)
What is the proposed project budget?
This project has no set budget.
What is the minimum allowed distance from the road according to the Japan's building regulations?
There is no minimum distance from the road that must be respected. Participants are allowed to place their building/s at the edge of the site boundary if they find it beneficial to their design proposal.
Do the suspended parts of the building above ground floor must be added to the total building footprint area?
Yes suspended building parts as well as external staircases, balconies etc must be added to total building footprint area.
From some points the views on Google maps the site is already built up with the parkhouse in the northern part of the site, and with some residential housing in the southern part. In terms of competition should those buildings be completely ignored?
The site is currently vacant, the Google Street View shots showing the parkhouse and residential buildings are outdated.
On the west side of the given site, there is a park with a lots of trees. What is the function of this park? Is it a public space available for everyone?
This is a private area, not open for public use
What would be the academic curriculum?
There is no set curriculum for the academy. A good example we could point to would be the Popculture Academy in Netherlands.
GENERAL FAQ
How to participate in the competition?
Click on "REGISTER NOW" button, fill in all the required fields, choose your payment method and submit your information. You will be forwarded to Paypal or CPS secure payment gateway, to cover the competition fee. Once we receive your payment, we'll send you an email with your username and password to upload your submission directly to the website.
How to add/remove/edit team member information?
You can add/remove/edit team member information as often as you want in the upload panel, up until the submission deadline.
Can one team submit multiple proposals?
One proposal per registration. Participants are entitled to register multiple times if they wish to participate in the competition with several proposals.
Do you plan the publication of the best projects in international architectural resources/web-sites/blogs, if so which are they?
Yes, the list of media partners is constantly updated on our website, please check it regularly to find latest updates.
The registration button does not work.
Try a different browser (some issues with older web browsers have been reported previously, please update your browser to the latest version). For the best web experience we recommend Google Chrome.
I am experiencing problems with registration payment processing.
Please contact us – [email protected] and we will address the problem directly.
What is the link to project upload panel?
http://beebreeders.com/login
I cannot upload my project.
Here are a few steps we suggest you try to make the upload work:
– Try to use secure internet connection.
– Try a different browser (some issues with older web browsers have been reported previously, please update your browser to the latest version). For the best web experience we recommend Google Chrome.
– Make sure each file size does not exceed 5mb and is saved as jpg/jpeg.
Please contact us if the problem still persists.
Tokyo Pop Lab Architecture Competition images / information from Bee Breeders Competitions
11 Nov 2015
Bee Breeders Competitions
HMMD has been relocated to a new website: http://beebreeders.com/
Formerly known as Homemade Dessert Competition – HMMD
Bee Breeders (former HMMD Group) is an international team of construction industry related professionals who organises architecture competitions focusing on initiating progressive ideas. We look to create an avenue through which fresh design concepts and visions can be generated, expressed and showcased. Bee Breeders has teamed up with various gallery representatives and well-known international artists to organise architecture competitions. These projects are intended to provoke, excite, inspire, and stimulate creative ideas and innovation.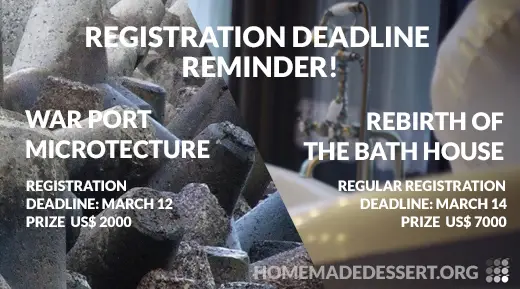 Location: Tokyo, Japan
Architecture in Tokyo
Tokyo Architecture
Tokyo Architecture – chronological list
Tokyo Buildings – archive
Latest Tokyo Buildings
New National Stadium Tokyo Designs
Design: Kengo Kuma
Architect Kengo Kuma denies plagiarising Zaha Hadid and defends his design. 2020 Tokyo Olympic Games organisers are "refusing" to pay the British architect for her designs unless she gives up the copyright and signs a 'gagging order'.
New National Stadium Tokyo Designs – 17 + 16 Jan 2016
Futako Tamagawa Masterplan
Design: Conran and Partners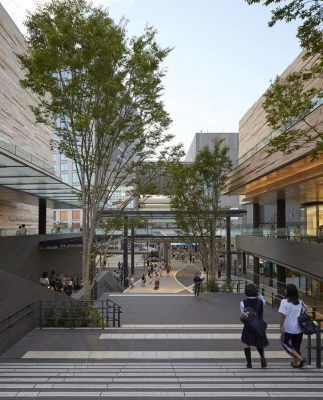 photograph : Edmund Sumner
Futako Tamagawa Masterplan Tokyo
Tokyo Pop Lab / architecture competition from Bee Breeders Competitions – Vimeo link
Bee Breeders Competitions on Vimeo – videos
Comments / photos for the International Popular Culture Laboratory in Tokyo Architecture Competition – Pop Lab Design Contest page welcome