Queens Public Library Hunters Point, New York City Architecture Scandal, NYC Design Fault
Column Volume VI Number 1: Shameful New York architecture scandal
post updated March 6th, 2020 with photos and review of visit to the library ; March 5th, 2020
Joel Solkoff's Column Volume VI Number 1
reporting on New York City, the City of my birth, from a difficult 189 mile drive away
Shameful architecture scandal originating in New York City
Queens Public Library at Hunters Point, NY, by Steven Holl Architects, USA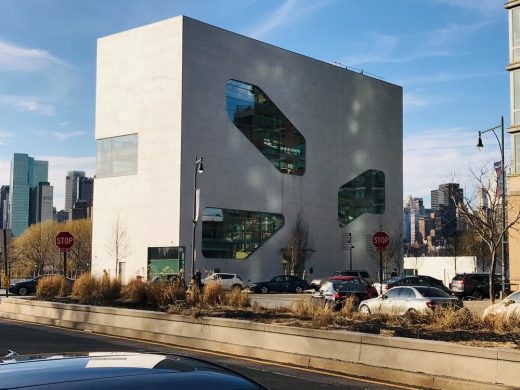 Photos of the building taken March 5th by Sarah Schmerler, all copyrighted.
Writing on architects and their role in the no longer imminent but already here global Baby Boom housing crisis. The crisis extends beyond the term "housing" because shelter is ineffective isolated from the rest of the built environment. This isolation violates the principles of urban planning.
Hunters Point Public Library, Queens, New York, by Steven Holl Architects: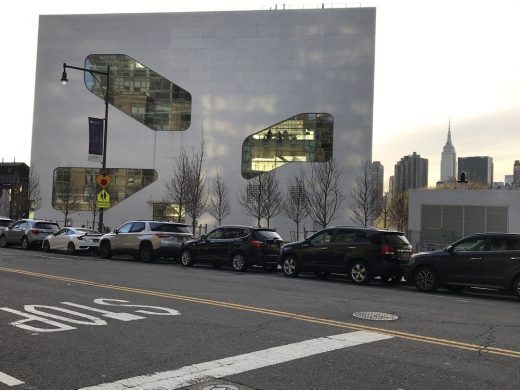 Within the past 10 years, the crisis has evolved into a societal one. Gentrification of major urban areas is excluding the low and moderate income elderly and disabled (for many of whom driving an automobile is contraindicated) with often critical services such as access to public transportation, doctors offices, office buildings and libraries.
"A building should not stand out. It should fit in."
— Lewis Mumford, my favorite architecture critic
stair access: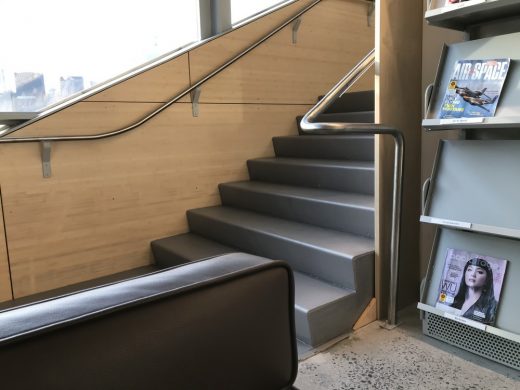 This column returns to its sixth year with a shameful scandal in New York City. The scandal will have mayor implications for global architects over the next 25 years.
In 25 years, I will be 97 years old and am a good representative of the powerful Baby Boom generation—a generation born after World War II. Baby Boomers have the financial and political power to determine the vast bulk of architectural commissions not only in New York City and the United States, but throughout the developed world.
external ampitheatre / terrace: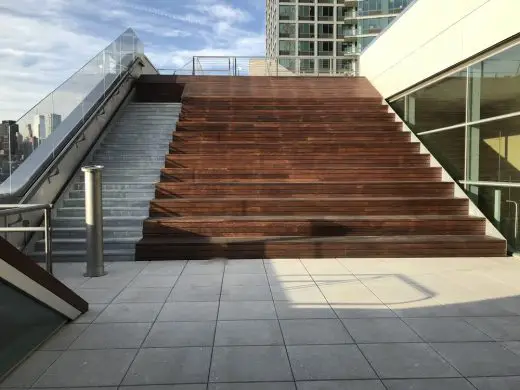 How not to design a library
On September 24th of last year, a $41.5 million library opened in the New York City Borough of Queens where disabled children, women and men cannot access its books and reference materials.
The library— located in the scenic Hunters Point section of Queens (a Borough most identified in the public's mind with LaGuardia and Kennedy airports) was designed by Steven Holl. Holl is a prominent New York City architect. His Wikipedia profile notes: "Holl is not a recipient of the Pritzker Architecture Prize which is viewed by some in his profession as an omission."
desks: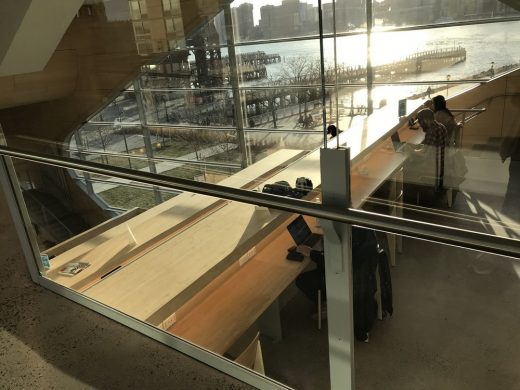 On November 26, 2019, Tanya Jackson, a low income resident of the Hunters Point library neighborhood filed suit in federal court against the City of New York for violating the terms of the Americans with Disability Act. The ADA will celebrate its 30th anniversary this summer. Then, President George Bush, on behalf of the then 43 million disabled residents of the US [according to the United Nations, now 47.5 million persons; nearly 30 percent of the US population is disabled] signed the ADA passed with bipartisan votes. The President noted:
"With today's signing of the Americans with Disabilities Act, every man, woman, and child with a disability can now go through once-closed doors into a bright new era of equality, independence, and freedom."
Center for Independence of the Disabled of New York (CID-NY), the powerful disability rights group that filed the lawsuit asserted,: "Visitors with mobility disabilities encounter difficulty even entering the Library. Beside the main entrance—a revolving door—is a single wheelchair-accessible door, which is heavily trafficked by visitors with young children in strollers, causing people with mobility disabilities to have to wait to even use the door."
occupants and shelving: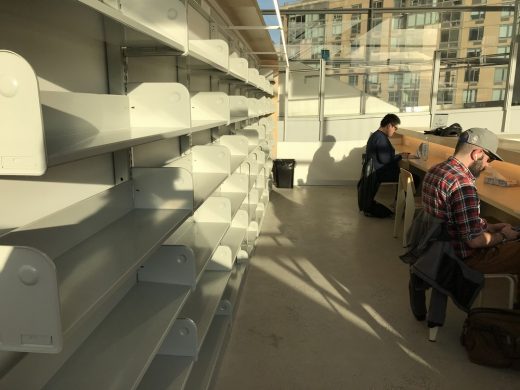 ++++
Michael Kimmelman – Joel Solkoff's Column Volume VI Number 1
The dangerous embrace of conspicuous consumption ( the wealthy spending of public money on luxuries to enhance social position; namely, an ostentatious "library" that may make the place look good but violates its function ) by The New York Times' powerful architecture critic.

"Against a phalanx of mostly dreary new apartment towers, the soon-to-open Hunters Point Community Library by Steven Holl Architects is a diva parading along the East River in Queens, south of the famous Pepsi sign," wrote The New York Times' influential architectural critic Michael Kimmelman.
++++
Wikipedia: Michael Kimmelman (born May 8, 1958 [he is 11 years younger than I] ) is an American author, critic, columnist and pianist. He is the architecture critic for The New York Times and has written about public housing, public space, landscape architecture, community development and equity, infrastructure and urban design. He has reported from more than 40 countries and twice been a Pulitzer Prize finalist, most recently in 2018 for his series on climate change and global cities. In March, 2014, he was awarded the Brendan Gill Prize for his 'insightful candor and continuous scrutiny of New York's architectural environment that is 'journalism at its finest.'"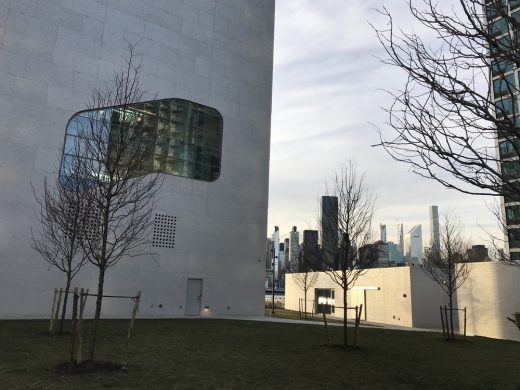 ++++
When praising Steven Holl's design in September, Kimmelman took special note of the library's panoramic views—the best of which are not wheel chair accessible. The praise continues, praise for which he remains unrepentant despite the federal law suit which details the architect's failure to make the library accessible to the disabled. Steven Holl like me is 72 years old; unlike me regards aesthetics as more important than function.
Kimmelman continues: "With its sculptured geometry — a playful advertisement for itself — it's even a little like the Pepsi sign. Compact, at 22,000 square feet and 82 feet high, the library is among the finest and most uplifting public buildings New York has produced so far this century.
"It also cost something north of $40 million and took forever to complete. So it raises the question: Why can't New York build more things like this, faster and cheaper?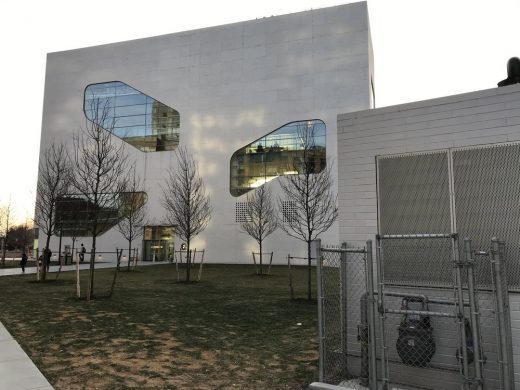 "Opening Sept. 24, Hunters Point is surely what Queens Library officials and the borough's former president, Helen M. Marshall, had in mind when the project was proposed more than 15 years ago: a crown jewel among Queens branches, at a singular, symbolic spot facing the United Nations and Louis Kahn's exalted Four Freedoms Park across the water."
What Kimmelman fails to acknowledge is that 15 years ago, when the library was first proposed, the New York City Borough of Queens was a very different place than it is now. Today, gentrification—most visibly in the form of expensive condominiums—has replaced Queens as the low-cost alternative to the City's Borough of Manhattan. Manhattan is where Steven Holl's firm has its offices.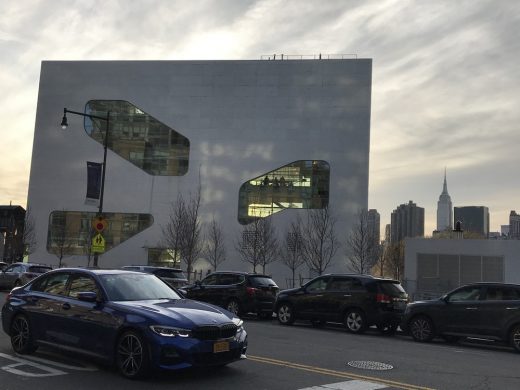 Marshall, the first African-American woman to be elected Queens President was a strong supporter of creating a library for a community dominated by by public housing projects. Marshall's intention was to create a library for people like the plaintiff Tanya Jackson, who does not own a computer, but relies on her public library for its access to information to improve her life. At Holl's library Jackson, dependent upon a walker, feared for her safety when rolling along the uneven floor in an attempt, which she gave up, to get to the computer.
stairs: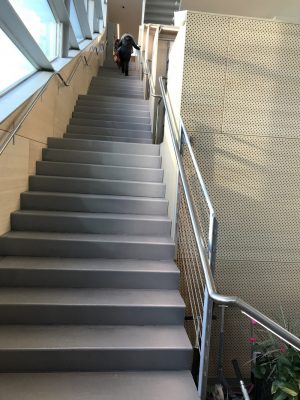 ++++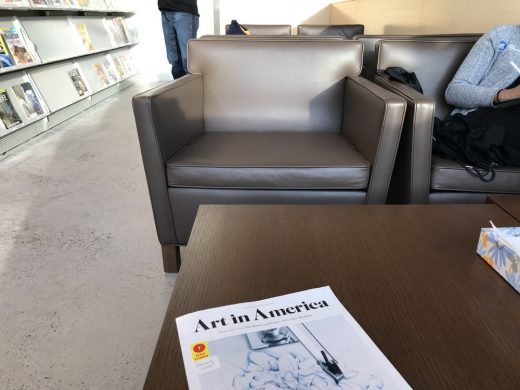 ++++
The New York Times' bizarre attempt to make amends
Rarely, do I have flights of fancy, but in this case I do. If only I could have been there when Michael Kimmelman, who still remains unrepentant, read religion and education reporter Sharon Otterman's denunciation of Kimmelman's perspective beginning with this denunciationing headline:
"New Library Is a $41.5 Million Masterpiece. But About Those Stairs."
empty shelves: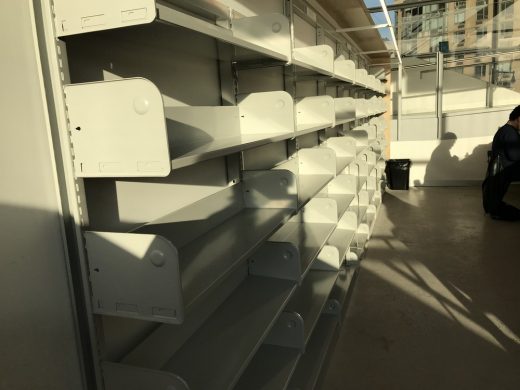 The headline says it all. How can a library be a masterpiece if it fails to fulfill its basic function to adequately serve its users—in architecture parlance to meet the needs of its clients? It cannot. What begins with a denunciation continues with paragraph after paragraph of eviscerating; such as:
"[S]everal of the terraces at the Hunters Point Library are inaccessible to people who cannot climb to them. A staircase and bleacher seating in the children's section, judged too risky for small children, has been closed off. And the five-story, vertically designed building only has one elevator, creating bottlenecks at times.
"The accessibility issues, some of which have been angrily called out in social media posts and elsewhere online since the library's Sept. 24 opening, have left officials with the Queens Public Library hurrying to find solutions and the architects exploring ways to retrofit the building."
view looking through glazed partition down to a flight of stairs: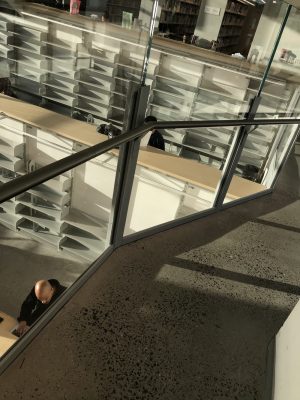 The New York Times and me
All my life, I have had a love hate relationship with The New York Times which began before my birth. In the 1930's my father Isadore Solkoff, in a heroic attempt to avert the coming Holocaust, published several letters in the Times.
Beginning in the 1970s, my publications in the Times on agriculture policy led to my book The Politics of Food. Most significantly, my articles on surviving cancer resulted in the 15 minutes of fame Andy Warhol accurately described when I appeared on the popular ABC Network television program, "Good Morning America."
However, because The New York Times is without question the US' newspaper of record, the Times (much like the City of New York) has with exceptions functioned not (as popularly assumed) as a trend maker. Rather, generally it is at the end of a trend often begun in California and in the West, but in European publications as well, most notably The Guardian.
A notable exception to the rule is Ada Louse Huxtable, who created the Times's architecture critic position where previously there had been none. Unlike Michael Kimmelman, the most recent of Huxtable's successors, who has not won a Pulitzer Prize, the Pulitzer Prize Committee created a special prize just for her acknowledging the extent to which Huxtable influenced the direction not only of New York City architecture, but also that of the world.
I suspect Huxtable's most significant contribution was the major role she played as a Pritzker Prize juror in uplifting the sadly late Zaha Hadid from her previous position as an architecture academic into a SuperArchitect.
Despite her frequently documented acerbic personal behavior, which would make her appear to be uncaring, it is difficult to believe that when using her geometric magic, she had designed a library or indeed any public structure that is not wheel chair accessible.
Joel Solkoff's Column Vol. II, Number 3
++++
Column Volume VI Number 1 Copyright © 2020 by Joel Solkoff. All rights reserved.
Hunters Point Public Library, Queens, New York
Visit to Hunters Point Public Library, Queens, New York City
by Sarah Schmerler
Notes on returning from Hunter's Point, March 2020
Hunter's Point, Long Island City is a fine place to visit on a mild winter day – and a rapidly accessible one at that. Board the 7 train at Grand Central-42nd Street, and inside of 4 minutes you will be in Queens. A rather lengthier walk (tk) down long windy streets (after you pass a lovely stretch of Vernon Blvd full of small restaurants and small businesses – echt New York, the way it used to be) will find you face-to-face with The Queens Public Library at Hunter's Point.
Empty Shelf Syndrome
Frankly, it's not much of a library. It's more of a…space to use your laptop. It's got lovely light, and nice pale wood, lots of glass, views of the river and the Manhattan skyline, but not a whole lot of, you know, books. What's more, there's not a lot of room to maneuver around whatever books you do find — once you manage to get around the ramps and stairs. It seems that if you were really intent on finding something, and if the library were actually used and filled with lots of people, you'd be saying "Excuse me," a lot, the way we all do when we try to reach the oatmeal off the shelf in a crowded urban Key Food. It's almost like the books are an afterthought. Like somebody played Chutes and Ladders with them and they ended up just sort of puddling at the bottom of the chutes.
From the outside, the building has a cracker-box-y feel, and almost seems to morph and play with your perception of scale. Is it narrow? Is it large? Hard to say. You can see people moving from one height (I can't really call them "floors") to another, their bodies totally visible from the outside, even at a good distance, and it's kind of fun to watch them going up and down the stairs and wonder what they're up to, like ants in a farm, busy with some task. (A curtain is drawn over a part of the windows, to afford the interior some respite from the constant light, but that only ads to the frisson of being able to peep in. It seemed to me like the eyelash in the Dali painting 'The Persistence of Memory', or that is to say, surreal.
So, to get to the issue at hand: the shelves were bare – not a little bare – completely bare in the narrow tier levels that must have once held the Fiction collection. Clearly, they'd been emptied, and fast. Was I able to access adult fiction by ramp and elevator when I visited? Absolutely, yes. Someone has done their job. That said, it felt like I was being served my dose of fiction on a technicality. Not much of quality, and not much of it. The soul of the building is its air and space; we humans are afforded a much more narrow place to inhabit, and books the least of all. I go to libraries because I do this arcane thing called "reading"; I don't really see a bibliophile digging this place.
So what's to like? Well a lot, including: the biomorphic shapes punctuating the solid box; the peek-a-boo fenestration that lets you look in one window straight through the building and out another…lots of things are very cool. Very fun, but: where are the books?
Sarah Schmerler
Sarah Schmerler is an artist, art critic and journalist living in New York City, and is a regular contributor to Photographmag.
Here is another review by Sarah on e-architect: Special Wooden Floors for Renzo Piano's Whitney in New York
Second part of this Column Volume VI Number 1 column:
New York City Mayor Bill de Blasio, Queens Library
Comments on this Column Volume VI Number 1 – shameful architecture scandal column are welcome
Architecture Columns
Architecture Columns – chronological list
Renzo Piano's Whitney Neighborhood
Disability-Access Architecture
US Architecture
Joel Solkoff's Column Vol. IV, Number 2
Joel Solkoff's Column Vol. IV, Number 1
Special Wooden Floors for the Whitney
Belt and Suspenders Routine – Joel Solkoff's Column
Joel Solkoff's Column Volume II No. 6
Joel Solkoff's Column, Vol.II, Number 7
Shameful architecture scandal in Queens, originating in NYC and extending to the global architectural community
Comments / photos for the Column Volume VI Number 1: Queens Public Library at Hunters Point, NY, by Steven Holl Architects, USA Architecture – page welcome