Jiuzhou Bay Waterfront Neighborhood Zhuhai, Guangdong Province Architecture
New Waterfront Neighborhood for Zhuhai
17 + 16 Sep 2020
Jiuzhou Bay – New Waterfront Neighborhood in Zhuhai
Design: Skidmore, Owings & Merrill (SOM)
Location: Jiuzhou Port, Zhuhai City, Guangdong Province, China
SOM Designs New Waterfront Neighborhood for Zhuhai, China's Most Livable City
Sculptural canopies inspired by Zhuhai's maritime history create a lively, low-carbon waterfront community in the burgeoning tech hub on the Pearl River Delta.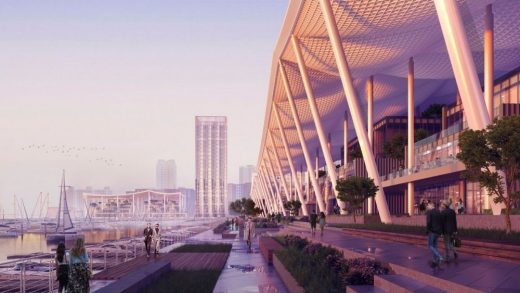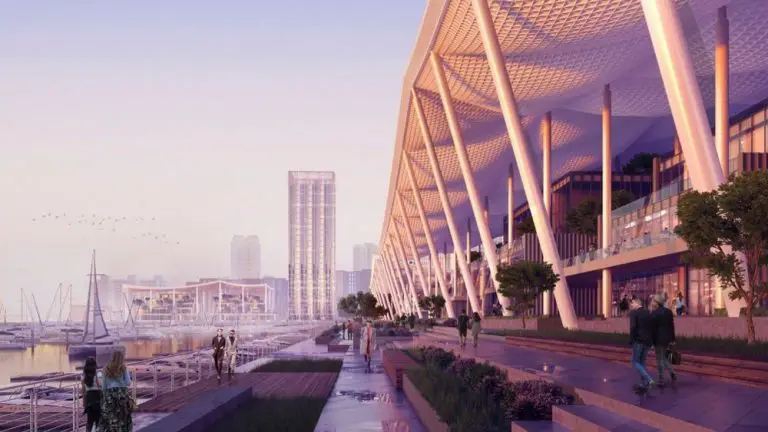 image © ATCHAIN
Recently connected to international finance and tourism centers Hong Kong and Macau via the longest sea-crossing bridge in the world, Zhuhai has emerged as an eco-conscious city in the coastal region known as the Greater Bay Area. Named the most livable city in China by the Chinese Academy of Social Sciences, Zhuhai plays a pivotal role in the region's growing tech hub, which might soon rival Silicon Valley.
In an effort to transform the city's waterfront and create a blueprint for future development, Skidmore, Owings & Merrill (SOM) was selected from a shortlist of 10 global design firms to create Jiuzhou Bay—a new 5.6 million-square-foot mixed-use neighborhood that features offices, residences, retail, and infrastructure.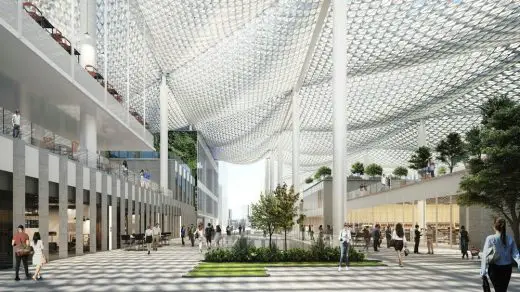 image © ATCHAIN
The design sets a new standard for public transit in the region, with plans for a robust transportation hub that offers connections to land, sea, and rail across more than 40 acres. It also features five modular canopies that envelop three sides of a 1.8 million-square-foot port, weaving together a landscape of towers rising behind it and creating a series of covered pedestrian alleyways, a lively retail environment, and interlinked courtyards along the waterfront promenade.
"The forms of the canopies are inspired by the local legend of the Fisher Girl and reflect the fishing nets commonly seen on the coastline throughout the region," said SOM Design Director Sean Ragasa. "We wanted our design to resonate with the culture and history of Zhuhai, and to evoke a story that's familiar to everyone who lives there."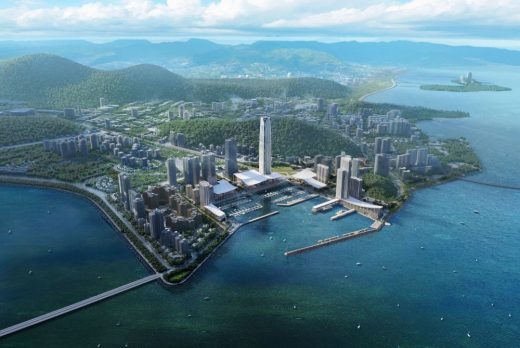 image © ATCHAIN
Complementing the site's maritime heritage is a 1,045-foot-tall tower that rises at the heart of the neighborhood, creating a recognizable structure with a design inspired by the form of a lighthouse Fresnel lens. The tower comprises 35 floors of office space topped by a 20-story Ritz-Carlton Hotel complete with a skybar and observation deck. The tower is diagonally bisected by an axis that appears to peel open the facade, revealing a vertical atrium that offers visitors breathtaking views of the bay.
The new neighborhood is designed to utilize Zhuhai's most abundant natural resources—the sea and sun—to reduce natural gas consumption, conserve water, and create a comfortable environment for residents, office workers, shoppers, and nightlife seekers, helping to activate the site both day and night. The canopies also increase interior comfort and building efficiency by filtering daylight, harvesting energy via photovoltaic panels, and capturing rainwater.
SOM has designed a number of mixed-use projects globally, including Guoco Tower in Singapore, One World Trade Center in New York City, Foshan Lingnan Tiandi Master Plan, and Burj Khalifa in Dubai.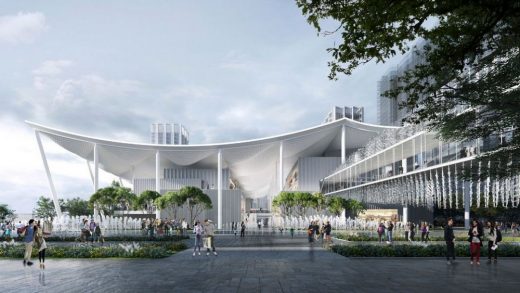 image © ATCHAIN
Jiuzhou Bay Waterfront Neighborhood Zhuhai – Building Information
Project: Jiuzhou Bay
Location: Zhuhai, Guangdong Province, China
Client: Zhuhai Jiuzhou Bay Holdings Group
Project Summary
SOM's design for Jiuzhou Bay—a new mixed-use neighborhood located along the Pearl River Delta in Zhuhai, Guangdong Province—will transform the waterfront of the Greater Bay Area's burgeoning tech hub and create a blueprint for future development in China. The lively, low-carbon community is inspired by the city's maritime history and features offices, residences, retail, and infrastructure for the city's many new residents and visitors.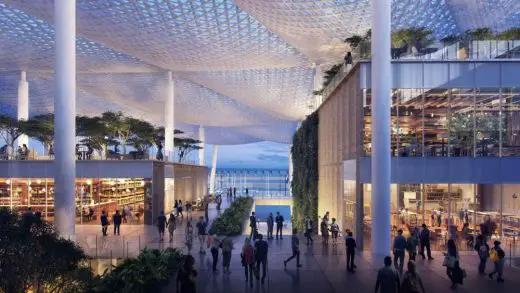 image © ATCHAIN
Project Size
– Area: 40 acres
– Port Site Area: 1.8 million square feet
– Office: 1,643,100 square feet
– Residential: 1,020,900 square feet
– Service Apartment: 1,304,800 square feet
– Retail: 588,000 square feet
– Hotel: 573,300 square feet
– Bus Station: 173,900 square feet
– Ferry Terminal: 327,300 square feet
Jiuzhou Bay Tower
– Height: 1,045 feet
– Total Floors: 64
– Office Floors: 35
– Hotel Floors: 20
Skidmore, Owings & Merrill Team
www.som.com
(415) 981-1555
Services Provided:
Architecture
Graphics + Branding
Interior Design
Structural Engineering
Sustainable Design
Leadership Team:
Leo Chow, Design Partner, San Francisco
Keith Boswell, Technical Design Partner, San Francisco
Larry Chien, Managing Partner, San Francisco
Sean Ragasa, Design Director, San Francisco
Joanna Zhang, Project Manager, San Francisco
Michael Leung, Design Architect, San Francisco
Christopher Wollaston, Design Architect, London
Phil Obayda, Technical Design Architect, London
Alexander Welsh, Technical Design Architect, San Francisco
Alessandro Beghini, Structural Engineer, San Francisco
Design Team Leaders:
Mikolaj Adamus, Senior Designer, San Francisco
Sonia Mak, Senior Designer, San Francisco
Vivien Sin, Senior Technical Architect, Hong Kong
Greg Williams, Design Architect, San Francisco
Yi Yuan, Senior Technical Architect, San Francisco
Nic Bornman, Senior Designer, London
Mattia Collo, Senior Designer, London
Core Architectural Design Team:
Grant Cogan, Design Architect, San Francisco
Jamie Lee, Architectural Designer, San Francisco
Kam Lei, BIM Specialist, San Francisco
Grant Mattingly, Architectural Designer, San Francisco
Ana Morris, Architectural Designer, San Francisco
Poap Panusittikorn, Architectural Designer, San Francisco
Eric Stimmel, Technical Design Associate – BIM Manager, San Francisco
Guanyi Zhang, Architectural Designer, San Francisco
Mikel Rueda, Architectural Designer, London
Mauricio Vieto, Architectural Designer, London
Richard Stewart, BIM Manager, London
Project Assistants:
Rachel Johnson, Architectural Designer, San Francisco
Hannah Kim, Architectural Intern, San Francisco
Jennifer Li, Architectural Designer, San Francisco
Ian Sheng, Architectural Designer, San Francisco
Sirui Zhou, Architectural Intern, San Francisco
Chen-Chi Lo, Architectural Designer, London
Adam Namespetra, Architectural Designer, London
Andrea Castineiras, Architectural Designer, London
Alvaro Martinez, Architectural Designer, London
Vincenza Russo, Architectural Designer, London
Beatrice Cappuccilli, Architectural Intern, London
Mercedes Muzquiz, Architectural Intern, London
Digital Design Specialists:
Daniel Inocente, Senior Digital Design Professional, New York
Masaaki Miki, Senior Digital Design Professional, San Francisco
Stephanie Tabb, Senior Digital Design Professional, San Francisco
Management & Coordination Team:
Gabriele Pascolini, Project Manager, London
Tiffany Lee, Project Coordinator, San Francisco
Marie Asistin, Specifications Administrator, San Francisco
Jessie Huang, Translator, Shanghai
Kiki Liu, Translator, New York
Claire Yu, Translator, New York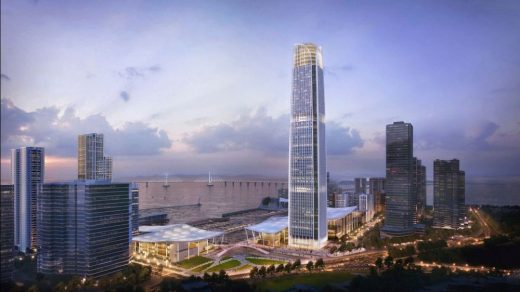 image © ATCHAIN
Core Structural Team:
Mark Sarkisian, Structural Engineering Partner, San Francisco
Alessandro Beghini, Structural Engineering Associate Director, San Francisco
Eric Long, Structural Engineering Director, San Francisco
Rupa Garai, Structural Engineering Associate Director, San Francisco
John Gordon, Structural Engineering Associate Director, San Francisco
Nicole Wang, Senior Structural Engineer, San Francisco
Jin Chen, Structural Engineering Associate Director, Chicago
Eleanor Siow, Structural Engineer, San Francisco
Hao Wu, Structural Engineering Intern, San Francisco
Zhixin Yin, Structural Engineer, San Francisco
Hao Chen, Senior Structural Engineer, New York
Yang Xie, Structural Engineer, San Francisco
Structural Contributors:
Zhaofan Li, Structural Engineering Associate Director, Shanghai
Daniel Koroski, Senior Structural Engineer, Los Angeles
Lester Virata, Structural BIM Technician, San Francisco
Jun Racines, Structural BIM Technician, San Francisco
AnnMarie Gonzalez, Structural BIM Technician, Chicago
Jaime Melendez, Structural BIM Technician, Chicago
MEP & HPD Team:
Luke Leung, MEP Director, Chicago
Samuel Jiang, MEP Team Leader, Chicago
Stephen Ray, HPD Team Leader, Chicago
George Sun, Electrical Engineer, Chicago
Margaret Hamielec, Electrical Engineer, Chicago
Sheya Finkelstein , Electrical Engineer, Chicago
Erisa Randazzo, Mechanical Engineer, Chicago
Ricardo Quintero, Mechanical Engineer, Chicago
Marion Wnuk, Plumbing/Fire Protection Engineer, Chicago
Paul Gangloff, Plumbing/Fire Protection Engineer, Chicago
Interiors Team:
Susan Orlandi, Interior Design Director, San Francisco
Craig Wora, Senior Interior Designer, San Francisco
Katherine Stempien, Senior Interior Designer, San Francisco
Matthew Wasylciw, Senior Interior Designer, San Francisco
Lauren Jenkins, Interior Designer, San Francisco
Mengxin Sun, Interior Designer, San Francisco
Miki Sullivan, Furniture Designer, San Francisco
Shihomi Yamanokuchi, Interior Designer, San Francisco
Yoojoung Hwang, Senior Interior Designer, London
Ioanna Vassiliades, Senior Interior Designer, London
Fino Fan, Interior Designer, London
Cyril Manyara, Interior Design, London
Environmental Graphics Team:
Lonny Israel, Director of Environmental Graphics + Branding, San Francisco
Dan Maxfield, Graphic Designer, San Francisco
Peter Laura, Graphic Designer, San Francisco
Consultant Team
Landscape: SWA Group
Lighting: Francis Krahe & Associates
Sustainability: Atelier Ten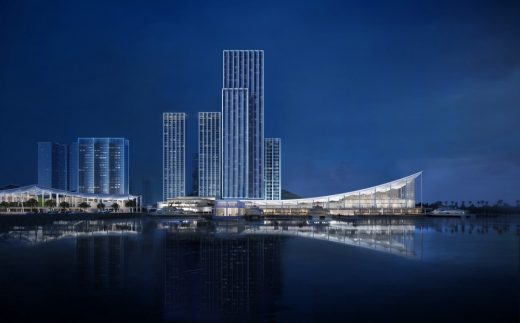 Jiuzhou Bay Waterfront Neighborhood Zhuhai, Guangdong Province images / information received 160920 from Skidmore, Owings & Merrill, Chicago, IL, USA
Location: Jiuzhou Port, Zhuhai City, Guangdong Province, China
Zhuhai Architecture
Contemporary Architecture in Zhuhai
Hong Kong-Zhuhai-Macao Bridge for HK Port
Architects: Aedas and RSHP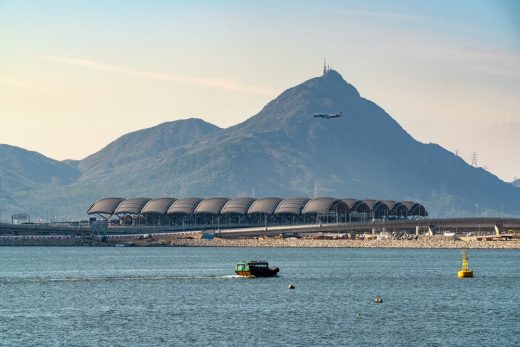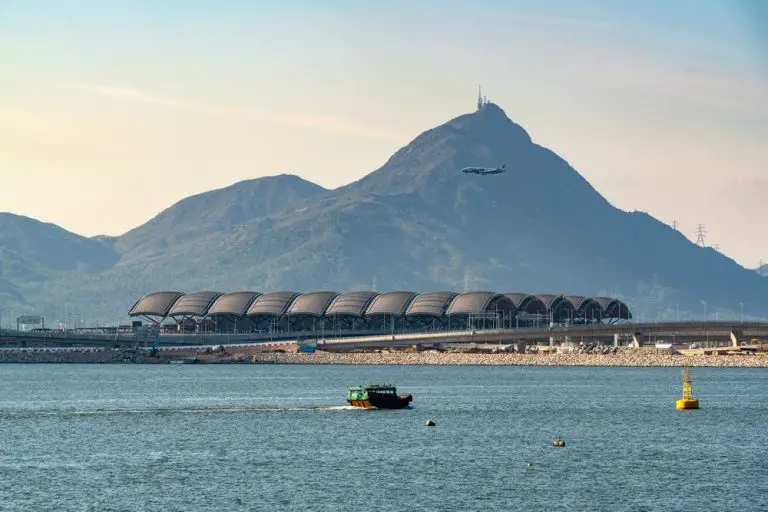 image courtesy of architects
Hong Kong-Zhuhai-Macao Bridge for HK Port
Intercontinental Hotel, Gongbei Area, Xiangzhou District, Zhuhai City
Interior design firm: CL3 Architects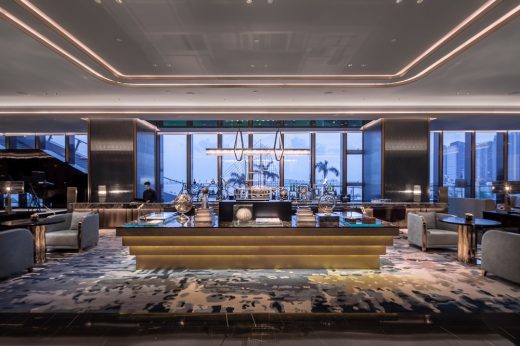 image courtesy of architecture office
Intercontinental Hotel in Zhuhai, Guangdong
Zhuhai Hengqin Headquarters Complex
Huafa International Seafront Garden, Shizimen CBD Zhuhai
Zhuhai Hengqin Tianhu Hotel Development
International Hi-tech Innovation Park in Zhuhai
Lotus Square Art Center in Zhuhai
Zhuhai Hengqin International Tennis Centre
Huarong Hengqin Tower, Zhuhai Waterfront Building
Infinity Loop Bridge, Zhuhai Shizimen
Water Edge Housing, Zhuhai Houses
China Architecture
Contemporary Architecture in China
China Architecture Design – chronological list
Chinese Architect – Design Practice Listings
Yiwu Cultural Square, Zhejiang Province
Architect: The Architectural Design & Research Institute Of ZheJiang University Co,Ltd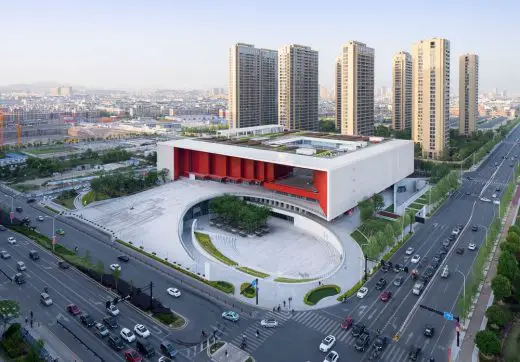 photograph : Qiang Zhao
Yiwu Cultural SquareBuilding
Shuyang Art Gallery, Suqian City, Jiangsu Province
Design: The Architectural Design & Research Institute Of ZheJiang University Co,Ltd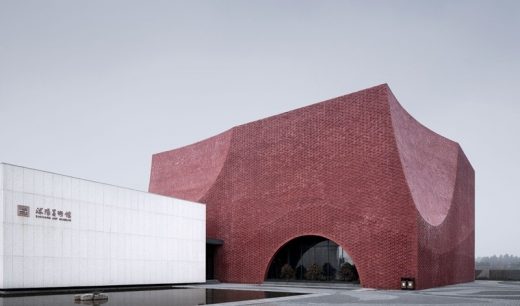 photograph : Qiang Zhao
Shuyang Art Gallery Building
Comments / photos for the Jiuzhou Bay Waterfront Neighborhood Zhuhai, Guangdong Province design by SOM page welcome