Banyan Tree Anji, Huzhou City Hotel, Zhejiang Commercial Building Development, Restaurant Interior, Images
Banyan Tree Anji Huzhou City
Contemporary Hotel Building Design in China architectural design by gad
27 Jun 2019
Banyan Tree Anji
Architectural Design: gad
Location: Anji County, Huzhou City, Zhejiang Province, China 313311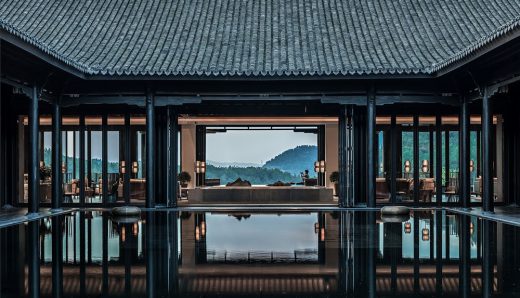 Anji is an exquisite and serene city in south of the Yangtze River, and named after The Book of Songs, which means comfortable and wonderful.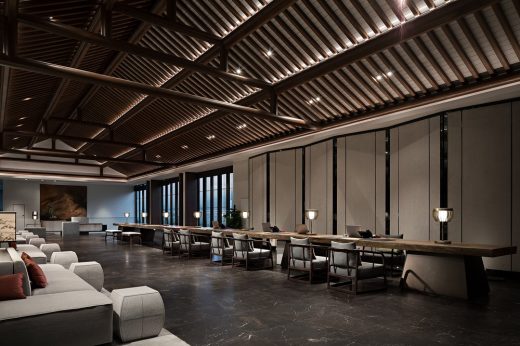 Banyan Tree Anji is located in Lingfeng National Tourist Resort, and surrounded by mountains at four sides, water at one side. After entering the national highway, various lakes and reservoirs scatter, peach trees are planted near lakes, tea gardens are layered, secluded yards with white walls and black tiles scatter, fertile soils, beautiful ponds and mulberry and bamboo forests are everywhere, this is exactly a peach colony for people who live in seclusion.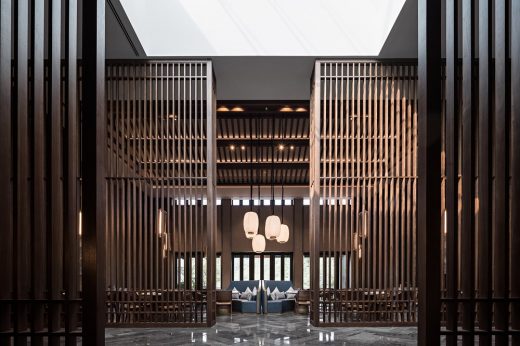 Greentown and Banyan Tree jointly entrust ZSD to integrally plan the interior design of Banyan Tree Anji, so as to create a more unique Banyan Tree.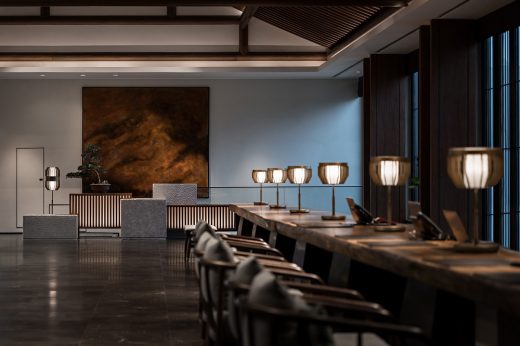 Based on experience in design and construction and abundant knowledge about hotel operation, ZSD has planned and arranged the hotel space, independently completed designing guest rooms in the main building, and cooperated with CL3 to on designing the main public space of hotel, meanwhile, it also coordinates and leads all teams which participate in hotel design.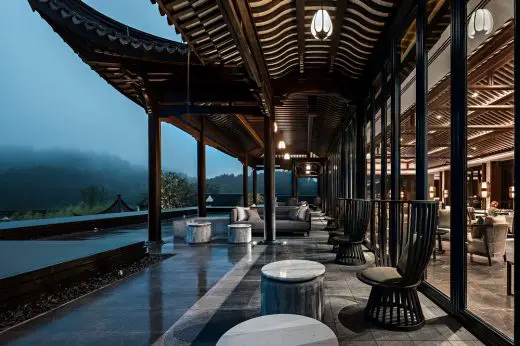 Architects have created a set of Chinese courtyards among mountain ridges by conforming to terrain, sought for the balance between neatness and nature, combined rectified axes with free village layout, instead of sticking to exquisite artistry adopted by buildings in Suzhou and Hanghzou, a natural and unrestrained ancient conception is more pursued.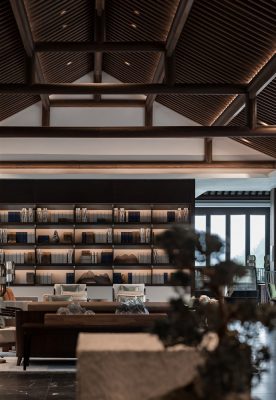 By inheriting local style, interior design is aimed at connecting dialogue and perception between man and nature through a thorough spatial shaping and depiction. At the preliminary stage, through comprehending historical scenery in Anji, architects have defined the space as a residence for substantial literary family, expected to deliver the traditional temperament of Banyan Tree by adopting a popular technique in modern times, hence formed an artistic conception of tranquil luxury and contemporary elegance.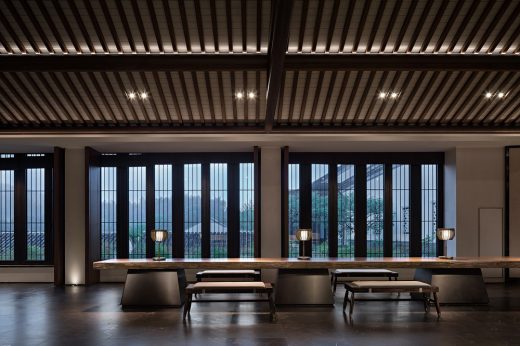 Lobby
The lobby is a square quadrangle. Initially, a landscape axis spreads out from the main entrance, water courtyard to mirror platform, and further links reflection pool on the outdoor platform, eventually, guests will be attracted by continuously rising and falling mountain ridges and reservoirs in the distance, and instantly feel tranquil and open.
Water courtyard, reception lobby, lounge and book bar are orderly distributed around center courtyard, column-free and spatially raised, unlike the traditional Chinese wooden beam system that separated space, interior design intends to integrally connect these three spaces in series, create extended and broad modern spatial perception with warmly and elegantly warm texture and color, besides, Chinese potted landscape, abstract art and lanterns with metal details are used for embellishing, guests wander between classics and modernity without sensing any conflicts.
On the right side of water yard, a 20-meter-long timber table top and three sets of waiting sofa lie near both sides of the vertical circulation of reception lobby. At the end of view, there is a set of abstract artistic furniture made of stone, wood and copper, the scattering of textures and volumes are hideously compared to nestled mountain ridges.
A successive screen is applied to conceal imperfect landscape for one wall side of reception, and hence form a constant background for reception, through traditional doors, windows and bamboo curtain splints, the distant mountain scene and close classical cornices contrast with the reading area at the far end of table top. On the other side, a set of serial island sofa faces center water yard, guests may take a rest while waiting and then enjoy the coming holiday.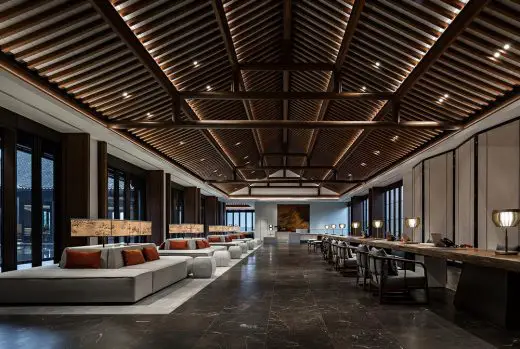 After walking past the lobby, it leads guests to a widely open lobby bar which is the most resplendent part of lobby area and encircled by nearby view, medium view and distant view. The massy water scenery at the center reflects the outdoor scenery and brings it into interior, a set of simple and elegant Chinese modern sofa is arranged on both sides of water, in the daytime, guests can immerse in magnificent landscape, and appreciate breeze and bright moonlight at night.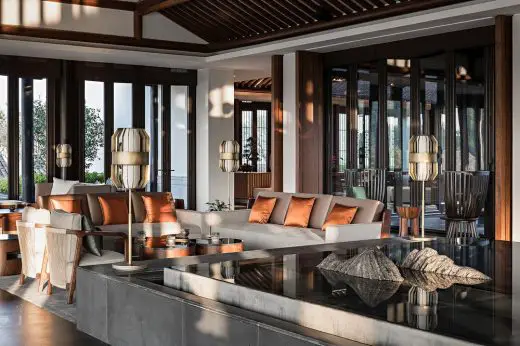 Book bar locates on the left side of water yard, the horizontal inscribed board of Comfortable and Wonderful concisely epitomizes the spirit of the site, custom-made furniture, capacious bookcase and subdued lighting are blended as a whole, paintings, calligraphies and bamboo slips bring out the theme of literary family, set off the beauty of stability by contrast, and comfort souls. Combined art furniture, Chinese screen, and timber table top reappear to echo the opposite lobby reception area.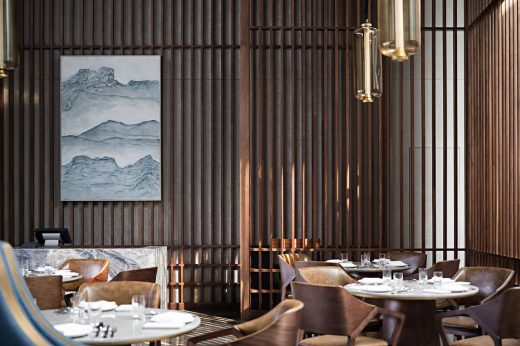 Chinese restaurant
Chinese restaurant area is a set of scattered yards, including dining hall, wine bar, 7 private dining rooms and 2 VIP dining rooms. The dinning hall is a 6-meter-high mansion, after passing the front courtyard and gallery, a huge and square skylight comes into sight, the interior space is planned to be vibrant and orderly, which is separated into half-private spaces for dining by several wooden screens, in addition, lighted by lantern-like ceiling lamps, guests feel like immersing in flourishing woods and tall bamboo bushes.
Private dining rooms are connected by an indoor courtyard, in the courtyard, tree shadows are flickering and rocks are charming in shape, besides, these rooms maintain to be simple and natural. A clustering of lamps in various sizes and shapes are hanging under the traditional sloped roof, a piece of light-colored carpet with peach blossom pattern is laid on the floor, and abstract landscape paintings are dotted to each the outdoor mountains in the distance.
VIP private dining rooms are installed with individual entrances from the small courtyard, antique furniture collected by owners directly faces the entrance. A round table for 20 people and a round table for 28 people are respectively places in two rooms, it's rather magnificent to see a lantern-like lamp which is hanging from the 6-meter high sloped roof falling on the huge marble table top. Emerald green and gold carpet with pine tree, bamboo and plum blossom figures becomes particularly noble and elegant by matching with the landscape painting on the wall.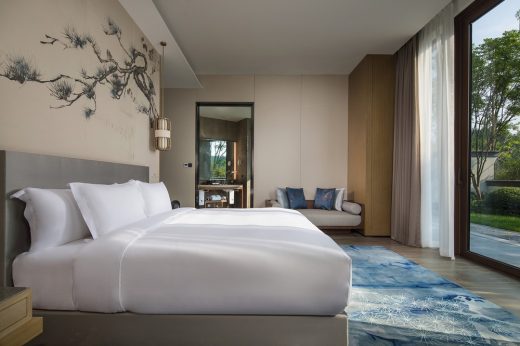 Guest rooms in main building
If the public space is viewed as the luxurious hall of a mansion, then guest room must be the serene and private place for residence. Guest rooms mainly centralize in a modern curtain-wall building, in order to make it convenient for viewing, all guest rooms are equipped with oversized glasses towards landscape.
By abandoning bamboo-centered technique applied by other hotels in Anji, interior design innovates to concentrate on pine, bamboo and plum, adopt color and pattern to carpet, doorplate, background and artwork which are arranged by layers, so as to provide diverse physical and mental experiences to guests. As for interior layout, nearly all beds directly face to landscape, so guests can fully enjoy the scenery while sitting or lying.
Interior design is aimed at creating a relaxed and tranquil home-like atmosphere for guests, wooden floor is amiable and comfortable and silken wallpaper glimmers, for responding to the theme of pine, bamboo and plume, all bed background is painted with plant designs to bring the artistic conception of Chinese literati painting into interior space, the laid carpet and other decorations correspond to related plant theme. The design applies exquisite, soft texture and color, stresses on details and usage convenience, other than focusing on strikingness and particularity, so guests won't be oppressed by the space, and completely relax and merge with the culture in rooms.
Conclusion
It's noteworthy that the hotel consists of 11 quadrangles of different sizes and each area is comparatively independent, so how to make these spaces unified, continuous and also distinctive? Through spatial arrangement and texture planning, ZSD adopts modern depiction of traditional details like potted landscape, landscape paintings and lanterns to pervade the whole hotel space, guests walk through, stay and experience an abundance of different feelings, then return to a unified and tranquil mental experience, at last, they get relaxed and satisfied with this journey, and expect to return.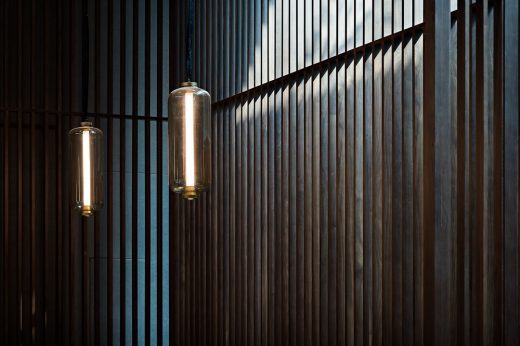 Banyan Tree Anji, Huzhou City – Building Information
Architectural Design: gad
Interior Design Coordination: ZSD
Joint Interior Design: ZSD, CL3 Architects Limited and Design Department of Banyan Tree Group
Address: Anji County, Huzhou City, Zhejiang Province, China 313311
Investor: Greentown Group
Operator: Banyan Tree Group
Date of Completion: March 2018
Guest Rooms in Main Building: ZSD
Lobby and Chinese Restaurant: ZSD & CL3 Architects Limited(www.CL3.com)
Villa, All-day Restaurant, SPA and Conference Area: Design Department of Banyan Tree Group
ZSD Team: Wang Weiwei, Zeng Bin, Shi Feng, Zhang Xuan, Yang Shiyi, Han Dan, Zhang Haiquan, Wang Xiaodong, Xu Baichun
CL3 Team: William Lim, Ricky Chung
Area: 3,160 sqm
Furniture: GERMANE, Shanghai TAIYI Hotel furniture Co., Ltd.
Luminaries: Guangdong Kamtat lighting Co., Ltd.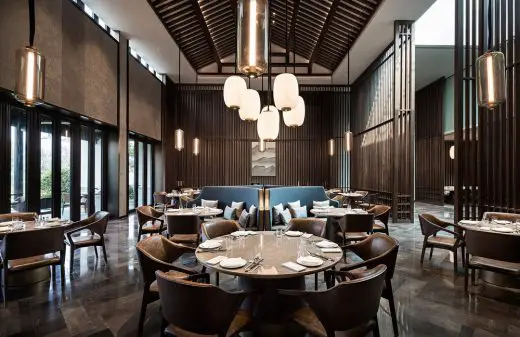 Photography:b+m Studio, ENVANER (guestrooms)
Banyan Tree Anji in Huzhou City images / information received 270619
Location: Anji County, Huzhou City, Zhejiang Province, China 313311
Hangzhou Buildings
Recent Hangzhou Building Designs
Junxi Mountain Villa Sales Centre, Vanke Junxi, Yuhang District, Hangzhou City, Zhejiang Province, China
Architects: More Design Office (MDO)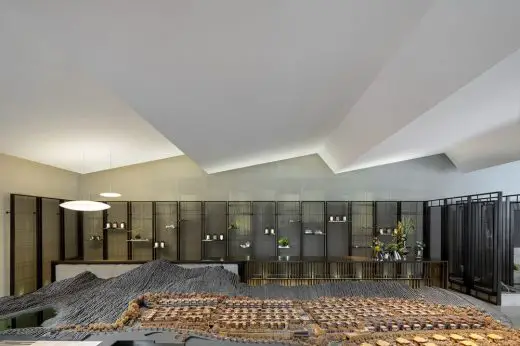 photograph : Sicong Sui, Dirk Weiblen
Junxi Mountain Villa Sales Centre in Hangzhou City
Integrated Campus Complex for Hangzhou Normal University
Design: WSP ARCHITECTS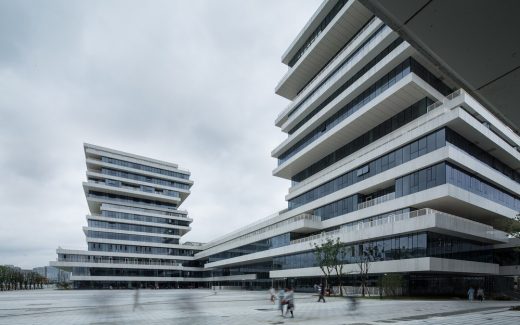 photograph : RUIJING Photography/Zhang Hui
Integrated Campus Complex for Hangzhou Normal University
JOOOS Fitting Room, Xingguang Avenue
Architects: X+Living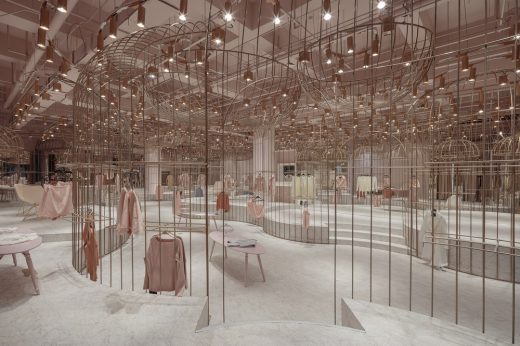 photographe : Shao Feng
JOOOS Fitting Room Hangzhou
Xixi Wetland Estate in Hangzhou
Design: David Chipperfield Architects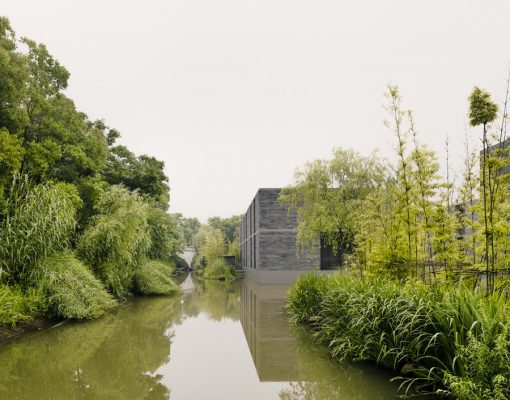 photograph : Simon Mengese
Xixi Wetland Estate in Hangzhou
Zhejiang World Trade Center Hangzhou
Jingshan Boutique Hotel Hangzhou Building
Ripple Hotel Hangzhou Building
Architecture in China
China Architecture Designs – chronological list
Chinese Architect – Design Office Listings
Website: Hangzhou
Comments / photos for the Banyan Tree Anji in Huzhou City page welcome