Anglia Ruskin University Building Photos, ARU Young Street Campus Cambridge Architect News
Anglia Ruskin University Building, Cambridge, UK
Young Street Campus Architecture, southeast England design by Richard Murphy Architects, UK
2 March 2020
ARU Professor Vogiatzaki goes in search of 'the new'
Inaugural lecture in Chelmsford will question lack of architectural innovation
Professor Vogiatzaki at Anglia Ruskin University (ARU):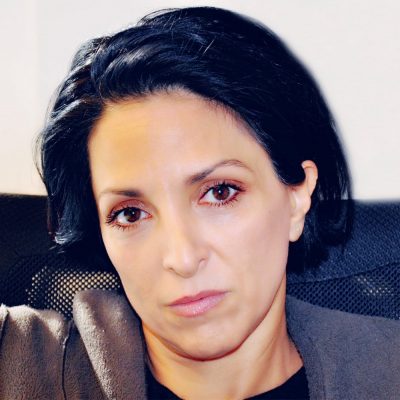 photo courtesy of Anglia Ruskin University (ARU)
Anglia Ruskin University Lecture
Maria Vogiatzaki, Professor of Architecture at Anglia Ruskin University (ARU), will go in search of "the daring", "the modern", and "the new" during her inaugural public lecture on Wednesday, 11 March.
Titled "The evolution of design, from its beginnings to contemporary times", it will cover Professor Vogiatzaki's investigation into the evolution of the relationship between humans and design.
The lecture will journey through time, providing insights into design from its early beginnings to the rise of intelligent machines, the Internet of Things, big data and machine learning.
Professor Vogiatzaki will go on to question the dearth of innovation in modern architecture, despite the numerous recent technological advancements.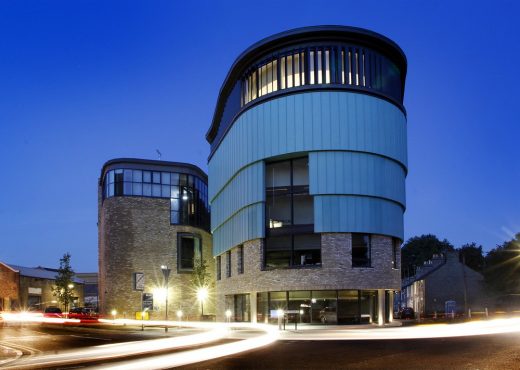 Professor Vogiatzaki said: "The paradox we are confronted with nowadays is that despite the mediation of intelligent machines and the respective unprecedented fast pace of changes in the sphere of the intellect, sciences, technology, and geopolitics of the globalised world, there are no apparent signs of novelty in contemporary architectural production."
Professor Roderick Watkins, Vice Chancellor of ARU, said: "Inaugural lectures are important, celebratory events in any university's calendar. I warmly encourage colleagues, students and members of the public to join us in learning more about the outstanding work of some of our newest professors."
The inaugural lecture, which will take place at ARU's Lord Ashcroft Building on the Chelmsford campus, begins at 7pm on 11 March. The event is free to attend and open to the public. Reserve a place at http://angliaruskincommunity.eventbrite.com/
Previously on e-architect:
15 Apr 2016
Anglia Ruskin University Building, Young Street Campus Cambridge
Winner of Cambridge Design and Construction Forum for Best Large Building in Cambridge 2015
Location: Young Street Campus, East Road, Cambridge CB1 1PT, UK
Design: Richard Murphy Architects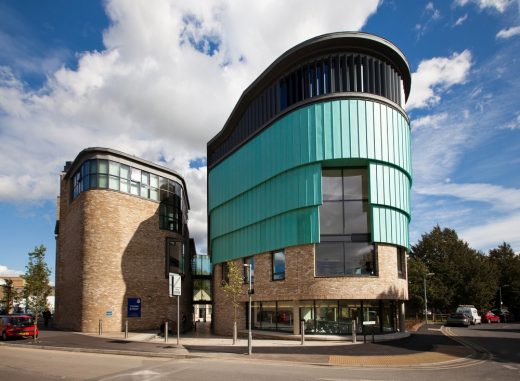 The Cambridge Design and Construction Forum awarded Richard Murphy Architects their highest accolade at a prestigious black tie dinner in the magnificent surroundings of King's College Great Dining Hall.
The Award for the Best New Building in the Large Buildings Category went to the completed design for Anglia Ruskin University on their Young Street Campus.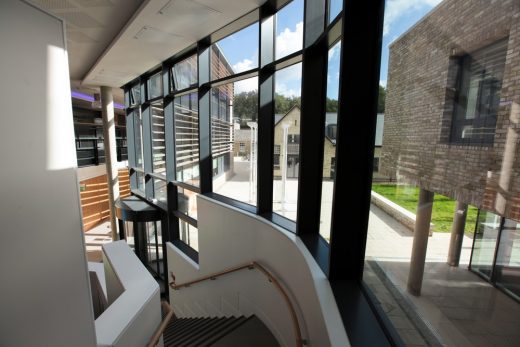 The Campus has been built in phases and consists of an academic building to house the Faculty of Nursing and Social Care, a lecture theatre and, within the renovated former derelict "Ragged School", a Department of Music Therapy.
Architect Richard Murphy said "The £14 million project is our first completed commission in Cambridge and it is doubly pleasing therefore that it should have won such a prestigious award".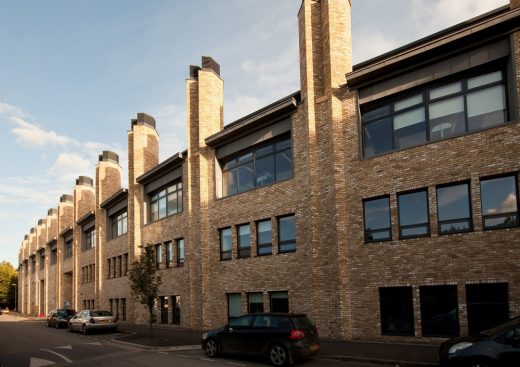 Sandy Lynam, Director of Estates and Facilities at Anglia Ruskin University, said
"The new facility at Young Street has been a tremendous addition to our Cambridge campus, providing state-of-the-art facilities for our students studying subjects such as nursing and midwifery. These are the key workers of the future and it is vital they have the best possible environment in which to learn. We're delighted that the Young Street development has won the Best New Large Building award from the CFCI against some very strong competition. Credit must go to Richard Murphy Architects for their excellent design."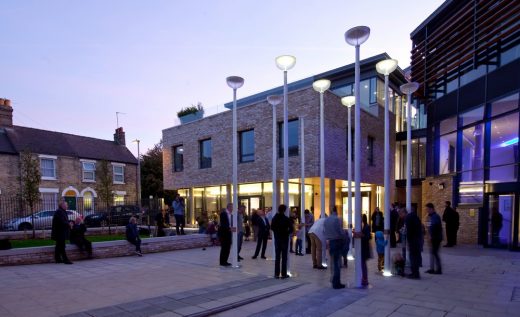 Judges at the CFCI awards praised the development for its "striking" details and enlivening its location in the place of a derelict former primary school and disused college buildings. They also stated that it was "neighbourly" to the surrounding residential area.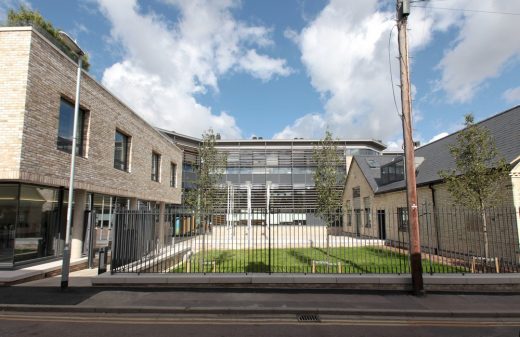 The design makes a complete mini campus for the University. The two main entrances align with the gables of the Ragged School and the long New Street façade expresses the need for passive ventilation with a composition of chimneys inspired by the famous historic elevation on Trinity Lane in the City Centre.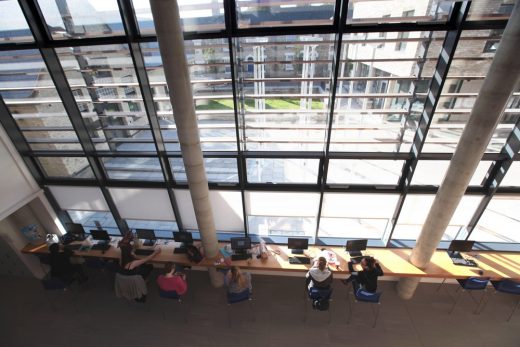 The height of the building varies to acknowledge a nursery school and small scale terrace housing at one end and builds up to converse with the law courts at the other and have a presence when seen from East Road. The lecture theatre is identified with pre-patinated copper cladding sitting on otherwise the homogenous material of Mystique brick.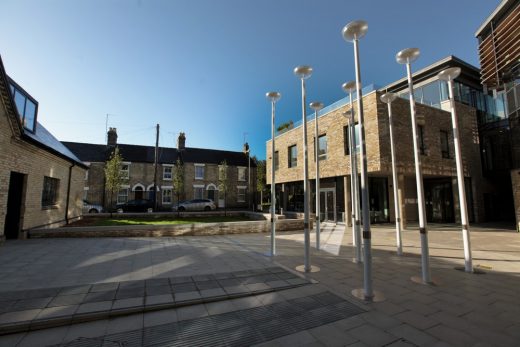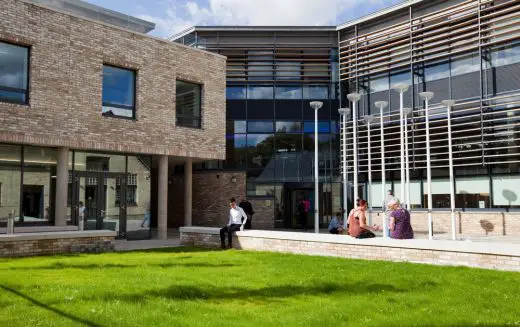 In the centre of the campus the University commissioned a public art work from the artist Michael Pinsky called "I'm Laughing at Clouds".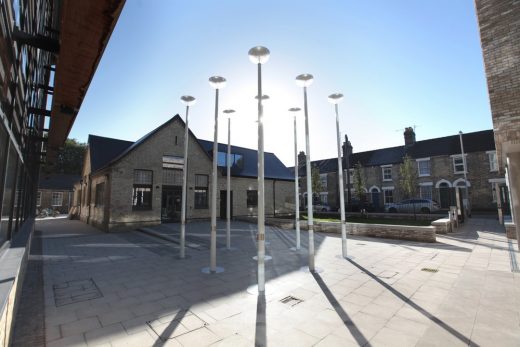 Young Street Campus Cambridge – Building Information
Client: Anglia Ruskin University/Bishop Hall Properties
Architects: Richard Murphy Architects
Contactors: Mulalley and Company (Phase 1); R G Carter (Refurbishment of Ragged School and Phases 2 & 3)
Structural Engineers: Clark Smith Partnership
Service Engineers: Van Zyl and de Villiers (Phase 1); Roger Parker Associates (Phases 2 & 3)
Project Managers / Quantity Surveyor: Gardiner and Theobold LLP
Fire Engineers: Jeremy Gardner Associates
Acoustic Consultant: Adrian James Acoustics
Photographers: Stephen Leonard/James Mason – Richard Murphy Architects; In house – R G Carter
BREEAM: Sustainable Construction Services
CDM Coordination: Stace LLP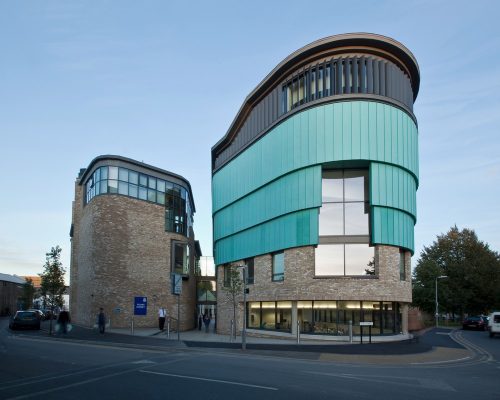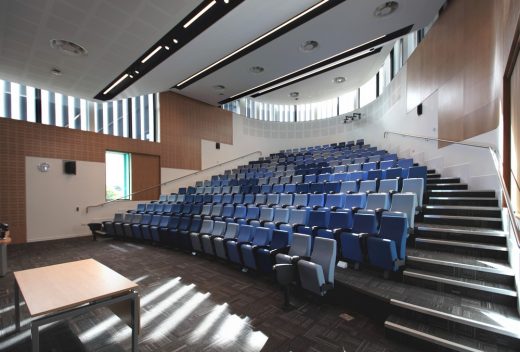 Richard Murphy Architects Ltd
The Breakfast Mission
15 Old Fishmarket Close
Edinburgh
EH1 1RW
T (UK) 0131 220 6125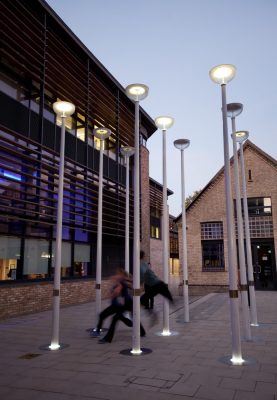 Address: Anglia Ruskin University Cambridge Campus, East Rd, Cambridge CB1 1PT
Phone: 01245 493131
Website: Anglia Ruskin University Young Street Campus Cambridge
Another Cambridge building by Richard Murphy Architects on e-architect:
Jesus College Cambridge Architecture Competition
Jesus College Cambridge Competition Shortlist
Burrell Foley Fischer ; Haworth Tompkins ; Rafael Moneo ; Richard Murphy Architects
Cambridge building by Richard Murphy Architects
Richard Murphy Architects to develop proposals before a formal appointment is made.
Website: Anglia Ruskin University Building, Cambridge
Location: Young Street Campus, East Road, Cambridge CB1 1PT, UK
Cambridge Architecture
Cambridge Architecture Design – chronological list
Cambridge Building – Architecture Tour of the city on one page
Cambridge Architects – Alphabetical list of all featured designers
Jesus College Competition – Shortlist Architects
Burrell Foley Fischer
Haworth Tompkins
Rafael Moneo
Richard Murphy Architects
Anglia Ruskin University – ARU
ARU is an innovative global university, brimming with ambition. Students from 177 countries gain qualifications with us in four continents. Students, academics, businesses and partners all benefit from our outstanding facilities; we've invested £100 million over the last five years and plan to invest a further £91 million over the next five years.
ARU's Research Institutes and four faculties bridge scientific, technical and creative fields. We deliver impactful research which tackles pressing issues and makes a real difference, from saving lives to conserving water. Our academic excellence has been recognised by the UK's Higher Education funding bodies, with 12 of our research areas assessed as world-leading.
ARU are ranked in the world's top 350 institutions in the 2020 Times Higher Education World University Rankings, and in 2016 we featured in a list of the 20 "rising stars" in global Higher Education compiled by strategy consultants Firetail.
aru.ac.uk
ARU Cambridge | ARU Chelmsford | ARU London | ARU Peterborough
Cambridgeshire Collhe Buildings
Comments / photos for the Anglia Ruskin University Building, Young Street Campus Cambridge design by Richard Murphy Architects page welcome