Performing Arts Center College Hill Campus Providence, Rhode Island architecture, RI building
Performing Arts Center for Brown University, Rhode Island
University Building, College Hill Campus, RI design by REX architects, USA
May 25, 2022
Brown names The Lindemann Performing Arts Center
The Lindemann Performing Arts Center Brown University
Feb 14, 2019
Performing Arts Center for Brown University, RI
Brown University Performing Arts Center Building
Design: REX Architecture
Location: College Hill Campus, Providence, Rhode Island, United States of America
Performing Arts Center for Brown University
With a radical, one-of-a-kind approach to spatial, acoustic and technical flexibility, Brown University's planned Performing Arts Center (PAC) is designed to inspire innovative new art-making, enable unprecedented artistic collaboration and serve as a hub for performance at Brown.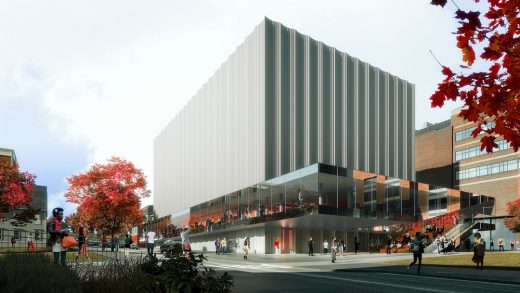 That singular flexibility, along with a horizontal "clearstory" that slices through the building's façade at stage level, are among the signature elements of the PAC, as debuted in a set of architectural renderings and animations released by Brown and New York-based architecture firm REX on Wednesday, Feb. 13.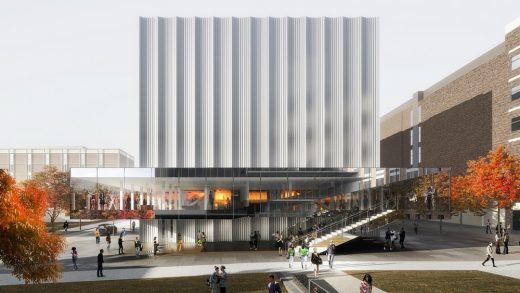 The renderings reveal plans for a state-of-the-art main performance hall that can transform into any of five vastly different stage/audience configurations — ranging from a 625-seat symphony orchestra hall, to a 250-seat proscenium theater, to an immersive surround-sound cube for experimental media performance.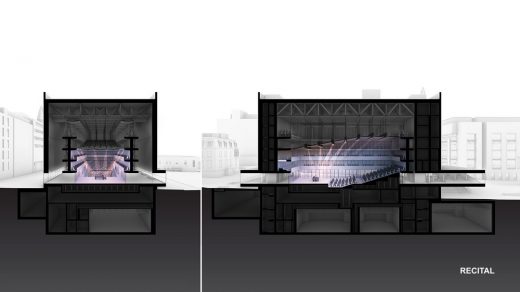 Beyond the main hall, a suite of modern studios, rehearsal spaces and intimate performance venues will serve as everyday academic resources for students and faculty. Custom-designed for theater, music and dance, the spaces aim to inspire generations of performing artists to create cutting-edge, original artwork and re-examine well-known works, practices and traditions.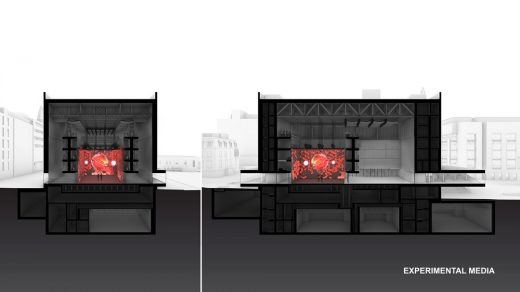 And a transparent slice that intersects the PAC will enable performances, rehearsals and arts scholarship to extend into the Brown campus and local neighborhood, inviting the community to witness and engage in the creation of art within the building.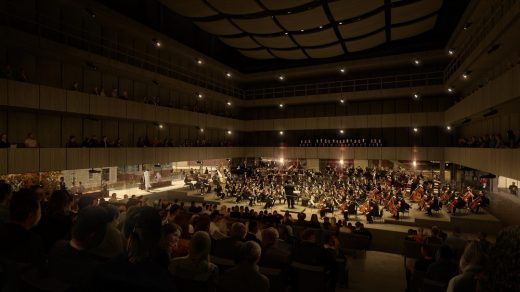 Brown University President Christina Paxson says that REX achieved a remarkable design — sophisticated and adaptable to multiple art forms, yet also intimate in scale and feel.
"The Performing Arts Center's innovative, flexible design will establish the building itself as a deeply integral part of the artistic process," Paxson said. "It promises to inspire groundbreaking creation, collaboration and experimentation in ways we can't even yet imagine."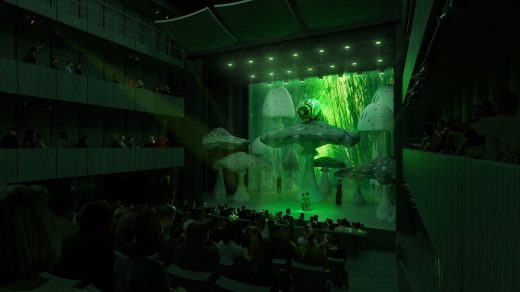 US architect Joshua Ramus, founder and principal of REX, called the building both radically flexible and extremely precise. No arts space like it exists, he said.
"It is not a 'one-size-fits-all' auditorium, mediocre to all and excellent for none," Ramus said. "It is literally five very specific, high-performance configurations in one. No other single-space venue can be a 250-seat chamber for spoken word and a 625-seat hall for a 100-piece orchestra, both with exceptional acoustics and intimacy."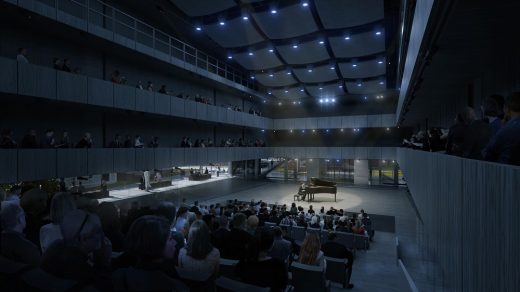 Brown unveiled initial plans for the PAC in 2017 after launching the Brown Arts Initiative (BAI), a campus-wide effort to make the University a vibrant laboratory for inventive arts practice and scholarship. Brown's strategic plan positions the arts as an integral presence throughout the curriculum and fundamental to cultivating creative expression, stimulating discovery and fueling innovative thinking.
As envisioned, the PAC will vastly expand Brown's ability to create and stage new and existing works, combine art forms, and welcome world-renowned faculty and artists to learn from and inspire scholars across disparate fields of study. The release of the renderings follows a two-year planning, design and community engagement process and a recent vote by the Corporation of Brown University to authorize site work at the PAC's approved location on Angell Street in Providence. The University's target date for completion is spring 2022.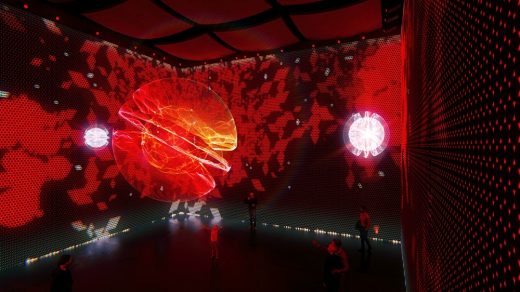 A tour of the new design
On its striking exterior, the building will be shrink-wrapped in an extruded aluminum rainscreen, composed of fractal-like fluted geometry, Ramus said. The appearance of color and pattern on the façade will shift with seasonal changes and time of day.
Intersecting the vertical flutes, the 13-foot horizontal clearstory slices through the building, revealing the interior of the main floor, including the main performance hall, to passersby in every direction. The glass gives those inside, particularly in the Diana Nelson and John Atwater Lobby and a south-facing promenade, expansive views of The Walk, a series of linked green spaces that intersect the Brown campus.
According to Ramus, while most performance halls have fixed seats and stages intended primarily for specific art forms, Brown's main hall will depart radically from that convention. REX designed a space in which all six surfaces of the shoebox-shaped hall can modulate physically and/or acoustically. Components such as seating gantries, acoustic curtains, reflector panels and lighting bridges can be shifted, hidden and stretched to configure the space.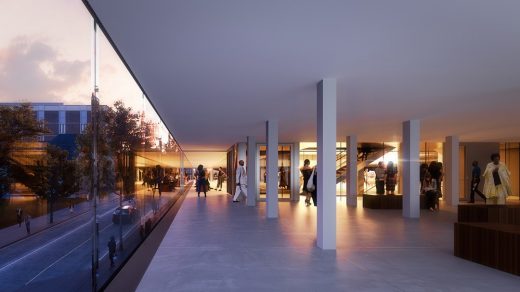 With the capability to move walls, floors, seats, ceiling and lights, the PAC can host a Brown University Orchestra concert, a dance recital, an interactive digital media installation, a proscenium theater performance and a formal banquet — all in the same space and all in a matter of a week or two.
Of the five presets designed by REX, the Orchestra configuration looks most like a traditional concert hall, with a stage that accommodates a 100-piece orchestra, a choir loft with space for 80, raked seats for audiences and additional seating in two levels of balconies. The Recital configuration creates a more intimate 350-seat venue ideal for soloists, small ensembles and chamber orchestras, and the walls pushed closer together for optimal acoustics.
The End Stage configuration, designed with theater and dance performances in mind, raises the stage and adds wing space on either side. Experimental Media configures the space into a small cube and tucks the seats below the stage, creating a blank canvas ideal for projections, experimental sound installations, standing concerts or immersive art installations. And the Flat Floor configuration removes all fixed seats and stages to accommodate a wide range of events, from conferences to galas.
All five configurations include access to a lighting catwalk and a control room for sound. Technology will be state-of-the-art, including professional touring-grade amplification, multi-channel ambisonic audio, immersive video projection, scenic projection and a full complement of fixed lighting.
Interior glass walls will allow visibility through the main performance hall, the lobby and promenade, though light can be blocked by blackout drapes as required. Butch Rovan, a professor of music and faculty director of the BAI, said the extensive use of glass will offer insight and transparency into the fascinating, sometimes messy process of art-making.
"What's brilliant about this visible slice of the building is the ability for anyone to see a production in development," Rovan. "You may come to see the performance on the weekend, but you've also seen the sets and lighting being developed. It makes the performing arts less of a mystery."
Viewed from the exterior, the clearstory projects outward beyond the building's vertical perimeter on three sides. Outside, REX prioritized pedestrian and gathering space, creating a plaza at the base of the building's east entrance where performers, students and the public can congregate. Most visitors will enter via amphitheater-like steps leading from the exterior ground level up into the lobby's raised entry vestibule.
A small "tribune" space adjacent to the steps and underneath the overhang of the clearstory can be used for outdoor performances, student events and more.
Below street level in the PAC, spaces for theater, music and dance will allow students and faculty to create cutting-edge, original artwork, Rovan said, and offer spaces for student groups and other collaborative endeavors. Each includes a control room and customizable performance equipment; they can function as studios, classrooms, stages or meeting spaces.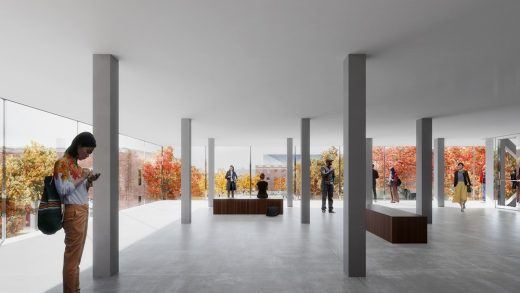 The largest of the lower-level spaces was created with an orchestra in mind, with floor-length curtains around its entire perimeter for acoustic dampening. When not used for rehearsals, the space will double as an intimate 165-seat performance venue for smaller ensembles. The medium space, a dance studio, has true sprung floors, a mirror and barre along one wall and adjustable curtains. For performances, the space can seat 110. The smallest space can be used as an acting studio and black-box theater with 50 seats. Its walls and floors are made of rugged materials that can be painted, drilled into and otherwise customized to create sets.
The PAC's lower floors will also house a percussion studio and an array of small practice rooms and dressing rooms, along with space for event support, administrative offices and meetings. Rooms to store instruments and sound and lighting equipment are included as well.
An incubator for art-making
Ramus said that from early planning sessions, it became clear that the need for a dedicated performance space suitable for large ensembles — most notably, a venue for joint performances by Brown's acclaimed 100-piece symphony orchestra and 80-singer chorus — would drive the size of the main hall.
Yet the wide-ranging nature of performance by artists and scholars at the University demanded the ability to also host intimate events in a variety of configurations. Brown needed a space to match the ethos of the BAI, which supports all things experimental, forward-thinking and collaborative in the arts.
"The project's ambitions were defined through 'dreaming sessions:' rigorous interviews, workshops and precedent tours with the Brown Arts Initiative, its arts departments, facilities staff, and student-led performing arts groups," Ramus said. "These conversations coalesced into the invention of a 'new animal,' a uniquely malleable yet exacting arts typology where performance is not the final product, but another piece of vital research in the creation — and pedagogy — of groundbreaking art and arts leaders."
According to the BAI's Rovan, the malleability of the space will bring to life Brown's vision of the arts as a catalyst for creativity, discovery and innovation.
"The adaptability of the main performance hall essentially future-proofs us," Rovan said. "Students and faculty and visiting artists will be able to experiment with configurations and adapt the space both in established and in unforeseen ways to new forms of art."
With a wide variety of cultural events open to the public throughout the year, the PAC will serve as an asset to the greater community, Rovan said. It will also be a significant new addition to the College Hill neighborhood, so the University ensured ample opportunity for community feedback from the project's early stages.
That process — which included public meetings, conversations with community groups and approvals from the City of Providence — informed the site ultimately selected for the PAC, as well as REX's approach to designing a building that would welcome visitors and encourage interactions between those inside and outside the center.
Anne Bergeron, managing director of the BAI, says the building will be an art form in its own right.
"Shifting the way the building manifests itself becomes a crucial part of the artistic process," Bergeron said. "We can invite an artist-in-residence to inhabit the space for a while — work with students and faculty in a studio, then stage a show for performance. The building will enable an artistic process that moves from concept to execution with research and development built in for everyone to see."
The PAC — fully accessible to individuals with disabilities — will be open for gatherings before and after performances in the main hall, with the lobby designed also to accommodate events and functions. The building is envisioned as a space that will encourage informal interactions, both social and intellectual, as members of the Brown community venture through on a daily basis.
Longtime Brown supporters Diana Nelson and John Atwater made a $20 million gift to the University in November 2018 to create the lobby as a central convening space. Support from other generous donors has been essential in enabling the project to advance, and a fundraising campaign for the PAC remains active.
Space for research, rehearsals and experimentation
In addition to its role as a hub for performances that will welcome members of the Brown community and beyond, the PAC will serve students, faculty and staff who engage in teaching and research in the performing arts. That includes many who don't specialize in the arts directly.
Rovan explained that in a recent semester, the Brown Orchestra included students from 31 different academic concentrations, ranging from anthropology and applied math, to English and environmental studies, and music, public policy and visual arts.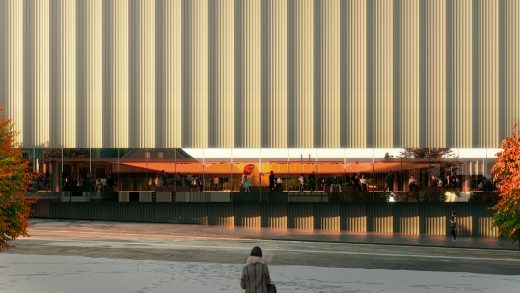 "On any given day, you'll see students constantly traveling through the outdoor plaza to the lower-level spaces," Rovan said. "There will be an incredible amount of academic activity happening throughout the day and into the night, from classes to rehearsals to performances."
Rovan said the entirety of the building — from the main performance hall to the gathering spaces to the lower-level rehearsal rooms and informal performance venues — is designed to encourage the collaborative spirit for which Brown is known.
"We have had a thriving ecosystem of performing arts at Brown for many decades," he said. "Yet our current spaces don't adequately enable even simple collaborations, like music and theater joining forces for a performance. The building will be a magnet for creative artists from across campus and from well beyond."
Images © LUXIGON
Performing Arts Center for Brown University, Rhode Island images / information from REX
Private Ivy League research university in Providence, Rhode Island, United States, founded in 1764.
Previously on e-architect:
Jun 5, 2017
Brown University Performing Arts Center Building, Providence, RI, USA
Brown University Performing Arts Center
Address: Providence, RI 02912, USA
Phone: +1 401-863-1000
Rhode Island Architecture
Joukowsky Institute for Archaeology and the Ancient World
Design: Anmahian Winton Architects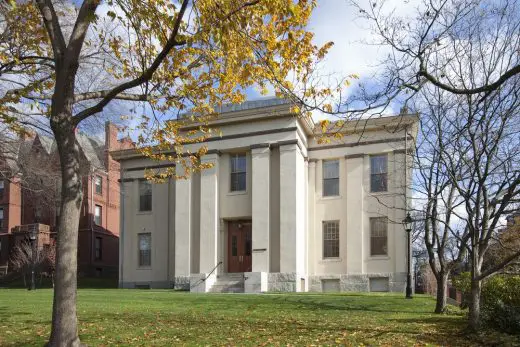 photo © Peter Vanderwarker
Joukowsky Institute for Archaeology and the Ancient World in Providence, RI
A New House on College Hill, Providence
Design: Friedrich St.Florian Architects
Boston Architecture Design – chronological list
American Architecture Walking Tours : city walks by e-architect
Architecture near Providence, USA
Frank Lloyd Wright house : Zimmerman House, Manchester, New Hampshire
Bryant University Building
Gwathmey Siegel & Associates Architects
Bryant University Interfaith Center
New York Architecture Walking Tours
New York University Buildings – Selection
The Roy and Diana Vagelos Education Center, Columbia University
Architect: Diller Scofidio + Renfro ; Executive Architect: Gensler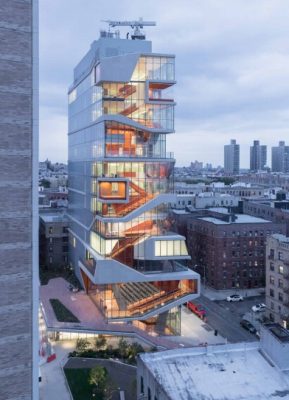 photograph : Iwan Bann
Columbia University Medical Center
Columbia University Extension, West Harlem
Design: Renzo Piano Building Workshop with SOM
Columbia University Extension Building
Northwest Corner Building, Columbia University, NYC
Design: José Rafael Moneo architect
Columbia University Northwest Corner Building
Temple Hoyne Buell Center for the Study of American Architecture
Campbell Sports Center Columbia
Comments / photos for the Brown University Performing Arts Center – College Hill Campus Providence design by REX architects, USA, page welcome
Website: Brown University