LafargeHolcim Awards Europe Competition Winners, Architects, Buildings Projects News, Design
LafargeHolcim Awards for Europe
International Architectural Contest – global prize in sustainable design
29 Sep 2017
LafargeHolcim Awards 2017 for Europe
LafargeHolcim Awards 2017 for Europe Winners News
Winners of the LafargeHolcim Awards 2017 for Europe
Sustainability – systematic and multi-functional
Marseille, September 28, 2017 – The days when the sustainability of a construction project was a matter of ad hoc measures are over – sustainable construction has become systematic and specific. This was emphatically shown by the results of the LafargeHolcim Awards in region Europe: The first prize was shared by two projects in Brussels, both of which excel in terms of multi-functionality.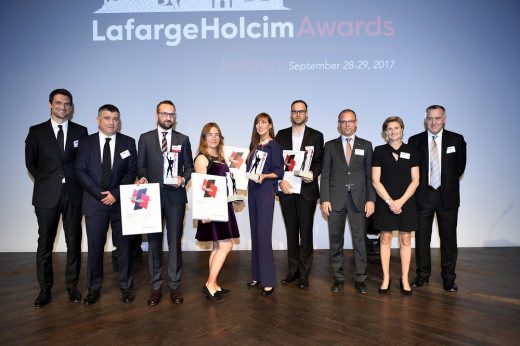 The LafargeHolcim Awards is about more than just beautiful buildings. It stands out as the world's most significant competition for sustainable design. The criteria of the USD 2 million competition are as challenging as the goal of sustainability itself. The competition is for projects at an advanced stage of design, not finished works. It seeks designs that go beyond current standards, showcase sustainable responses to technological, environmental, socioeconomic, and cultural issues affecting contemporary construction and deliver new, surprising, and truly visionary solutions to the way we build.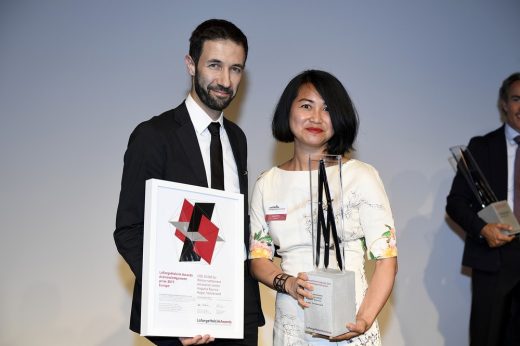 From urban planning to technical innovation
The notion of sustainability has radically evolved, explains Professor of Architecture Marc Angélil, Member of the Board of the LafargeHolcim Foundation: "Sustainability used to mean that you enhanced a project with some sustainable components – for example, solar panels. Today sustainability is seen in a much more comprehensive way; sustainable construction has become much more systematic and specific."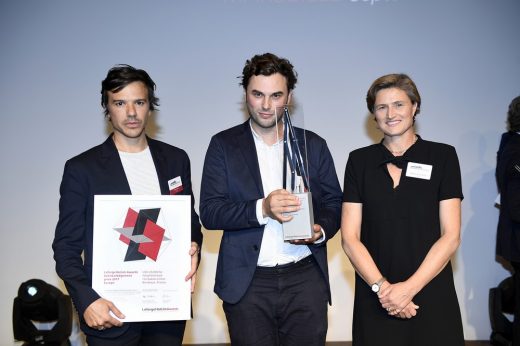 The spectrum of the 792 valid projects from region Europe is equally broad – ranging from urban design to technical innovation. In the end, the expert jury, headed by Harry Gugger, Professor of Architecture at the EPFL Lausanne (Switzerland), decided to award two entries with equal first place. They exemplify a new era in sustainable construction because they are characterized not by stand-alone measures but by holistic concepts that integrate technical, social, economic, and ecological aspects in a balanced way.
Both projects are located in a Brussels district for which an urban masterplan has been developed – the Willebroek Canal. This masterplan supports the preservation of land use diversity within the industrial district and thereby seeks to maintain Brussels as a diversified and vibrant city. As center of a dynamic Europe, it is an especially fitting objective for the Belgian capital.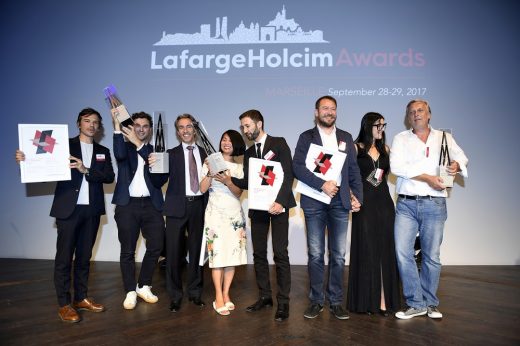 Gold ex aequo: Clever waste management in Brussels, Belgium
With their project, BC architects and studies in Brussels plan to integrate the needs of a waste management company with the rapidly developing canal district: Within the (infra-)structure, space is made available for public uses such as green areas. The carefully balanced building allows future transformations and leaves development options open – a particularly clever interpretation of the term "sustainability." "Bringing infrastructure to the fore, the design ultimately merges economic and aesthetic considerations, offering a form of resilient architecture that turns limitations into a quality," praised the jury.
Gold ex aequo: Integration of a concrete plant in Brussels, Belgium
The complimentary project by the team of TETRA architecten in Brussels proposes appropriate measures to integrate an existing concrete plant into the burgeoning urban context – and thereby prevent the loss of a significant piece of the city's industrial base. Here too, permeability is a central aspect. "The range of architectural moves gives credence to the ambition to combine what at first sight might have seemed improbable: the literal cohabitation of otherwise incompatible functions," said the jury.
Bronze: Inhabited parking spaces in London, United Kingdom
As in many large cities, the British capital has a severe affordable housing deficit. ZEDpods in London aims to change that. The project envisages using the footprint of existing parking spaces to create residential space through vertical stacking for commuters, students, and other stakeholders – all with locally produced elements that can be quickly assembled into sustainable "apartments on stilts". Multi-use space is again at the forefront. The project author has "a vision of an architecture that is socially responsible, ecologically sound, and economically affordable," found the jury.
Acknowledgement prizes: Bringing the past into the present
In the regional LafargeHolcim Awards, four projects in each region receive an Acknowledgement prize. The team of Ascociata Culturala Grivita 53 wants to give Bucharest in Romania its first independent theater in several decades, through the clever use of an existing structure. AGi architects in Madrid plan to develop an archeological excavation site in Pontevedra, Spain; here too, multi-functionality plays a key role. Karamuk Kuo Architekten in Zurich have planned sustainable flexibility into their design of an excavation center at Roman archaeological site Augusta Raurica in Switzerland. And NP2F in Paris are planning a recreation center in Bordeaux, France, that is as airy as it is audacious.
Next Generation prizes: The future is in their hands
Four prizes were awarded in the Next Generation category for students and professionals up to 30 years. This category has become increasingly popular and seeks visionary projects and bold ideas, and gives young professionals public exposure and a platform to receive recognition. For the first time in the history of the LafargeHolcim Awards, more projects were submitted in the Next Generation category than in the main category. The two top prizes of the European Next Generation category went to Poland.
Malgorzata Mader plans to transform an old factory building in Lodz into new flexible-use living space. Jakub Grabowski won the second prize; he plans the restoration and adaptive re-use of a dilapidated historic building complex in Otyn. Anna Andronova from Russia received the third prize for a virtual model based on Kazan that aims to propel sustainability into the digital realm. The fourth prize went to Frédéric Bouvier of Switzerland. He proposed a structure that could help fight forest fires in the Collobrières region of France.
From project to reality for French scholars
This is the fifth time the LafargeHolcim Awards competition has been conducted and more than 200 projects have been awarded worldwide. Over half are either soon to be built or have been completed. Thus, the LafargeHolcim Awards are not about castles in the air, but about tangible measures that advance the science of construction. This element of real change is underscored by a prize that is awarded for the first time in 2017: the "LafargeHolcim Building Better Recognition".
It is awarded for a winning project from a previous competition, one which has been built and has stood the test of time as a particularly successful example of sustainable building. In Europe, this recognition went to Gilles Delalex and his team from Muoto Architecture Studio in Paris. The architects excelled in accommodating infrastructure for eight universities under the roof of a highly economical and cost-efficient building. The project won LafargeHolcim Awards Silver in 2014. The building was completed in 2016 and stands as proof that theory can indeed exist in practice.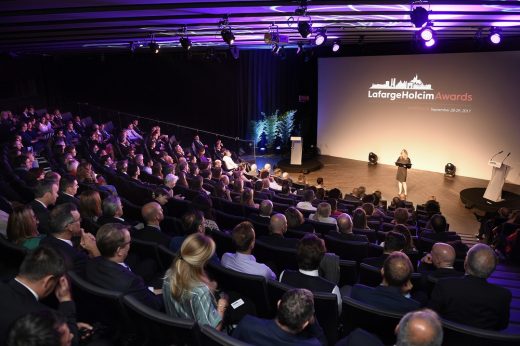 Prizes help make common sense commonplace
The magnified interest among architects, engineers, urban planners, and developers proves that sustainability has become embedded as "common sense" in the construction industry. The fifth cycle of the competition attracted more than 5,000 entries from authors in 121 countries. 3,606 entries were deemed valid, and more than half of these passed the pre-screening phase.
They advanced for qualitative assessment by five independent expert juries in the competition regions Europe, North America, Latin America, Middle East Africa, and Asia Pacific. The juries evaluated the projects based on the five "target issues" for sustainable construction set forth by the LafargeHolcim Foundation – principles which define sustainable construction in a holistic way. The Gold, Silver, and Bronze winners from each region will compete for the Global LafargeHolcim Awards in 2018.
For more information about the LafargeHolcim Awards 2017, the jury members, and the prize winning projects, including high-resolution images, visit www.lafargeholcim-foundation.org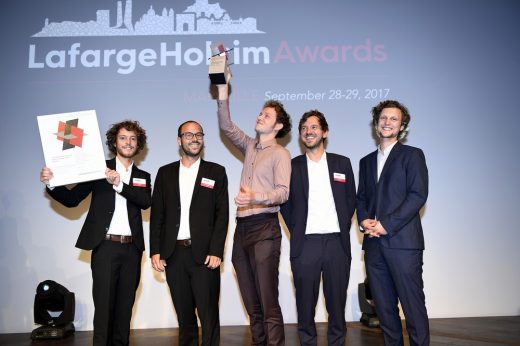 LafargeHolcim Awards winning projects Europe
LafargeHolcim Awards Gold ex aequo 2017 Europe
Urban integration of an existing concrete mixing facility, Brussels, Belgium: Project for the integration of an existing concrete mixing facility in an industrial neighborhood mixing industry, workspaces, and public functions. By Wes Degreef, Ken De Cooman, Nicolas Coeckelberghs, Laurens Bekemans, Jasper Poesen, BC architects and studies, Brussels, Belgium.
LafargeHolcim Awards Gold ex aequo 2017 Europe
Adaptable structure for a garbage collection company, Brussels, Belgium: Design for an adaptable garbage collection facility making a plea for the re-integration of logistics infrastructures in urban settings. By Ana Castillo, Lieven de Groote, Jan Terwecoren, Annekatrien Verdickt, TETRA architecten, Brussels, Belgium.
LafargeHolcim Awards Bronze 2017 Europe
Zero (fossil) Energy Development units on parking lots, London, United Kingdom: Prototype for a low-carbon architecture built above existing public parking spaces – an ingenious solution to solve London's housing shortage. By ZEDpods Ltd, London, United Kingdom.
LafargeHolcim Awards Acknowledgement prize 2017 Europe
First independent theater, Bucharest, Romania: A community-supported independent theater – the first since 1946 – that transforms a dilapidated plot into a cultural venue. By Chris Simion-Mercurian and Tiberiu Mercurian, Ascociata Culturala Grivita 53; Codrin Tritescu and Petre Frangulea, Arhitecture Office Codrin Tritescu, Bucharest, Romania.
LafargeHolcim Awards Acknowledgement prize 2017 Europe
An ecological approach to archaeological sites, Pontevedra, Spain: Landscape park of simple means and layered interpretations for a series of archaeological sites. By Joaquín Pérez-Goicoechea, AGi architects, Madrid, Spain.
LafargeHolcim Awards Acknowledgement prize 2017 Europe
Roman settlement excavation center Augusta Raurica, Augst, Switzerland: An archaeological center for Roman ruins finds a flexible structural system to meet diverse uses and adapt as they change over time. By Ünal Karamuk and Jeannette Kuo, Karamuk Kuo Architekten, Zurich, Switzerland.
LafargeHolcim Awards Acknowledgement prize 2017 Europe
Neighborhood recreation center, Bordeaux, France: An array of sporting facilities stacked in one volume, but in open air – uses sport as a social condenser. By François Chas, Nicolas Guerin, Fabrice Long, Paul Maître-Devallon and Ana Miscu, NP2F, Paris, France.
LafargeHolcim Awards Next Generation 1st prize 2017 Europe
Converting a factory into housing, Lodz, Poland: Project entitled "ecommunity" for the conversion and transformation of an existing factory into collective housing. By Malgorzata Mader, Lodz University of Technology, Lodz, Poland.
LafargeHolcim Awards Next Generation 2nd prize 2017 Europe
Monastery conversion for a behavioral addictions rehabilitation facility, Otyn, Poland: Project for a rehabilitation center in the ruins of a monastery – an environmentally conscious design of tectonic quality and social value. By Jakub Grabowski, Gdynia, Poland.
LafargeHolcim Awards Next Generation 3rd prize 2017 Europe
Spatial concepts for the city of the future, Kazan, Russia: Exploration of new architectural vocabularies for a future city in an era marked as much by the physicality of things as by the liquidity of the digital realm. By Anna Andronova, UCL Bartlett School of Architecture, London, United Kingdom.
LafargeHolcim Awards Next Generation 4th prize 2017 Europe
Fire cistern and forest shelter, Collobrières, France: Water tank to combat wildfires designed as a handsome artifact in the landscape. By Frédéric Bouvier, Renens, Switzerland.
LafargeHolcim Awards for Europe information received 290917
LafargeHolcim Awards for Sustainable Construction 2020
LafargeHolcim Awards for Sustainable Construction 2020
LafargeHolcim Awards for Sustainable Construction
Call for exemplary construction projects, visionary design concepts
LafargeHolcim Awards for Sustainable Construction 2019
15 Sep 2018
LafargeHolcim Next Generation Awards Lab
Workshops at Universidad Iberoamericana in Mexico City
LafargeHolcim Next Generation Awards Lab
5 Apr 2017
LafargeHolcim Awards Competition Design
Skystation in New York / kayak architects for LafargeHolcim Awards Competition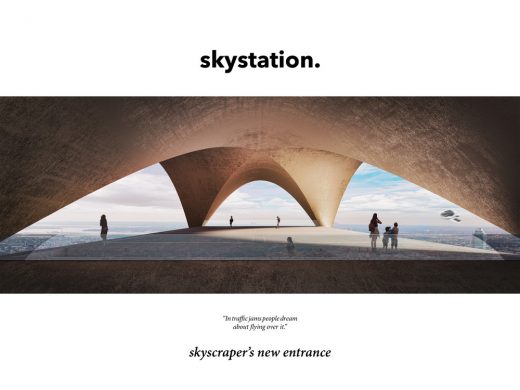 image from International Holcim Awards
LafargeHolcim Awards Competition
Location: Zurich, Switzerland
Architecture Awards
World Architecture Festival Awards
Holcim Foundation Awards 2013
Holcim Awards
Holcim Awards 2012 : further information
Holcim Foundation Awards : winners from 2011
Comments / photos for the LafargeHolcim Awards for Europe in 2017 page welcome
Website: Holcim