2017 LafargeHolcim Awards Competition Winners, Architects, Buildings, Projects, News, Design
LafargeHolcim Awards Competition
International Architectural Contest – global prize in sustainable design
29 Sep 2017
LafargeHolcim Awards 2017 for Europe
LafargeHolcim Awards 2017 for Europe Winners News
Winners of the LafargeHolcim Awards 2017 for Europe
Sustainability – systematic and multi-functional
Marseille, September 28, 2017 – The days when the sustainability of a construction project was a matter of ad hoc measures are over – sustainable construction has become systematic and specific. This was emphatically shown by the results of the LafargeHolcim Awards in region Europe: The first prize was shared by two projects in Brussels, both of which excel in terms of multi-functionality.
LafargeHolcim Awards 2017 for Europe
5 Apr 2017
LafargeHolcim Awards Competition Design
Skystation in New York / kayak architects for LafargeHolcim Awards Competition
Project designed for Lafarge Holcim Competition.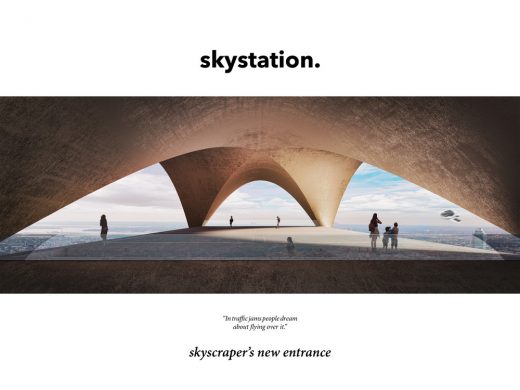 Given that the drone market is increasing rapidly, designing infrastructure for drones is an area of expanding interest.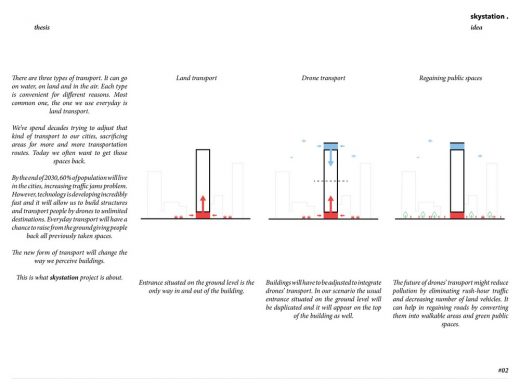 The Skystation proposal in New York intends to demonstrate an innovative approach to drone transport integration with existing buildings in urbanized areas.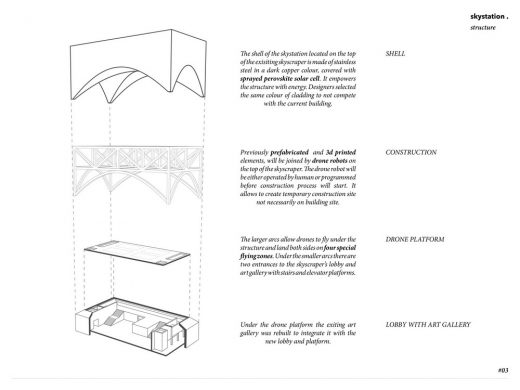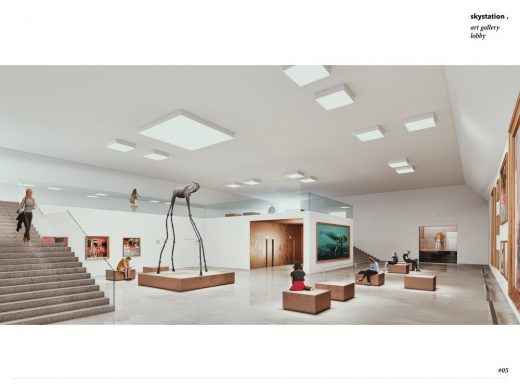 The designers believe that the concept of future Skystation might be the beginning of a larger discussion about drone transport in our daily life.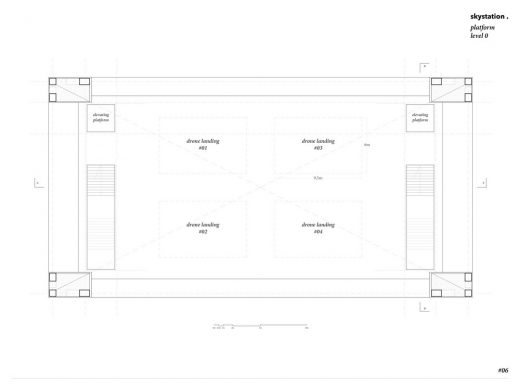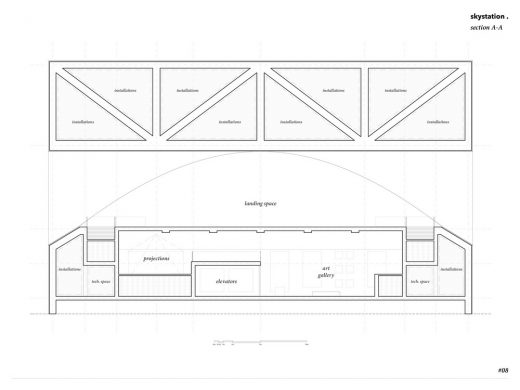 Project Title: Skystation
Client: World Trump Tower
Architect: kayak architects // www.kayak-architects.com
Site area: 900 m2
Gross Floor area: 2400 m2
Location: New York
Status: Concept
Collaborators: ELEMENT Visualizations // www.welcometoelement.com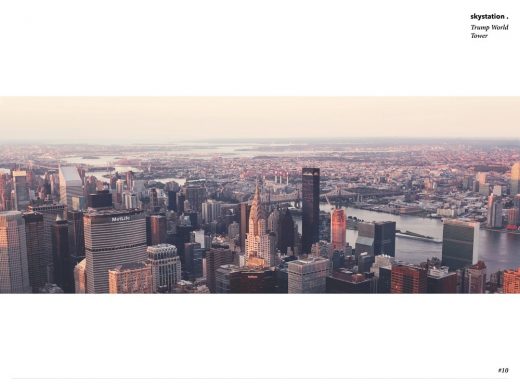 4 Apr 2017
LafargeHolcim Awards Competition in 2017
LafargeHolcim Awards Competition for 2017
5th International LafargeHolcim Awards competition
Juries to evaluate record number of LafargeHolcim Awards projects
– Zurich, Switzerland – April 04, 2017 – Diversity of entries from across all regions in most significant global competition in sustainable design

The 5th International LafargeHolcim Awards competition for projects and visions in sustainable construction closed at the end of March 2017. From a total of 5,085 entries by authors in 121 countries, 70% are valid and will be examined by independent juries in five world regions. The winners will be announced in the fourth quarter of the year, where seven Main Awards and four Next Generation prizes carrying a purse of USD 330,000 will be presented in each region.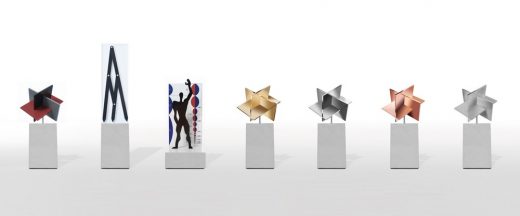 The claim of the LafargeHolcim Awards to be the world's most significant competition in sustainable design is underlined by the diversity of entries from across all regions: Asia Pacific counts for roughly one third of all entries, Europe, Latin America and Middle East Africa provided about 20% each, and almost 200 projects were submitted in North America.

The number of valid entries is 40% higher this year with 3,574 projects (2,514 in 2014) from 131 countries to be evaluated by the juries according to the location of the project. Although the overall number of submissions in the Awards was over 6,000 in the last two competition cycles, upgrades to the online entry form have significantly reduced duplicates and partial entries. Countries boasting entry numbers in triple figures are Indonesia (469), India (280), China (162), USA (148), France (127), Mexico (126), Nicaragua (124), Egypt (120), Russia (112), Colombia (106), El Salvador (106), and Algeria (102).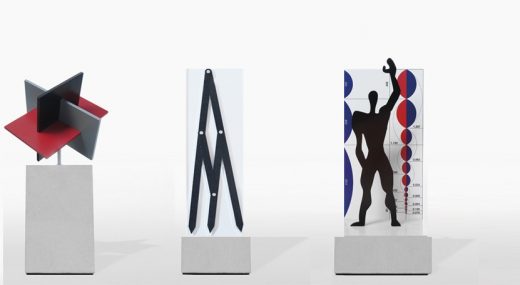 In previous Awards competitions, more entries were received in the Main Awards category than in the Next Generation category for students and young professionals. In 2017, the balance has tipped toward authors 18-30 years of age. This confirms the personal engagement in sustainability of the Next Generation of architects, engineers, planners and construction specialists, particularly in Indonesia (334), India (159), Nicaragua (103), Egypt (87) and China (75) where the most submissions in the Next Generation category were made.
The 5th Awards competition is the first one involving countries that joined LafargeHolcim as part of the merger of the two entities to form the world's leading building materials and solutions company. This boosted the response to the competition, especially in Middle East Africa with countries contributing far more entries than ever before.
Thanks to the support of the Partner Universities, Ambassadors and LafargeHolcim Coordinators of the Awards, the competition also fostered excellent results in other regions: with pronounced growth in entries from El Salvador, Poland, Slovenia, and the United Kingdom. A considerable increase in submissions also occurred in the Czech Republic, Ecuador, France, Germany, Indonesia, the Netherlands, Nicaragua, Morocco, Russia, Serbia, Spain, and Switzerland.
The LafargeHolcim Awards promotes and rewards sustainability in construction since 2003 and is an initiative of LafargeHolcim – providing innovative products and building solutions with a clear commitment to social and environmental sustainability.
LafargeHolcim Awards information received 4th April 2017
Holcim Foundation Awards 2013



image from International Holcim Awards
Holcim Awards
4th International Holcim Awards for Sustainable Construction: The 4th International Holcim Awards competition celebrates projects and visions that contribute to a more sustainable built environment and features total prize money of USD 2 million. The competition is open for projects in architecture, building and civil engineering, landscape and urban design, materials, products and construction technologies. The competition has two categories and is conducted in parallel as five separate regional competitions.
Holcim Awards 2012 : further information
Holcim Foundation Awards : winners from 2011
Location: Zurich, Switzerland, central Europe
Architecture Awards
World Architecture Festival Awards



photo : Roland Halbe
Comments / photos for the LafargeHolcim Awards Competition page welcome
Website: Holcim