Wrought Iron Doors Advice, House Entry Tips, Building Entrance Access Guide
Wrought Iron Doors in your home
8 Sep 2020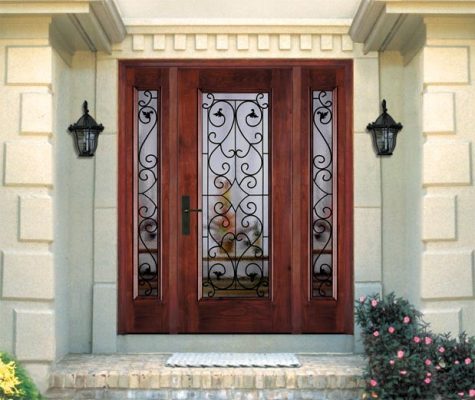 Do you find yourself staring at celebrity houses on lifestyle magazines, and particularly their beautifully crafted iron doors? Are you looking to build your dream home or undertake a major door remodeling project? Then, you have come to the right place!
Over the past few decades, iron doors have gained popularity not only among the rich but also the average American. A fact is that many homeowners now appreciate the use of wrought iron doors from New York iron door company as compared to their wooden doors and for good reason.
In this article, we are going to look at reasons why you should ditch wooden doors and embrace wrought iron doors.
Out With Wooden Doors And In With Wrought Iron Doors
Let us delve into specifics.
They have aesthetic appeal
What other way to improve your home's aesthetic than by investing in wrought iron doors for your home? Not only are they appealing but they come in sophisticated designs. They will surely attract the attention of passersby and neighbors alike. So, if your home has wooden doors, the next time you are doing a home renovations project, consider iron door alternatives for their elegance, among other traits.
Warping is a deformity that occurs in wood due to excessive moisture content seeping into the wood grains. Additionally, when one part of wood dries faster than the other, warping occurs. The wood then changes unevenly losing its original shape. With iron doors, homeowners need not worry about warping or rotting, meaning they are maintenance-free.
Security is one of the biggest concerns of homeowners. So, when building your home, it is essential to go for products and features that enhance your home's security. Wrought iron doors are one of the most secure doors in the market. They offer greater protection against theft, burglary, and other home invasions as compared to wooden doors.
Furthermore, the decorative grills seen on most iron doors make it hard for intruders to gain access to the locks. Since burglars understand that these doors are hard to beat, they will avoid houses that have wrought iron doors installed.
Iron is a durable material and can withstand extreme conditions. They are highly resistant to fire and strong winds, making them ideal for areas susceptible to frequent storms.
A double wrought iron door, which is a favorite of celebrities, is made of high-grade steel. To further enhance durability and strength, these iron doors are treated to ensure they last a lifetime.
They allow in natural light
The importance of allowing natural light to seep into our homes cannot be downplayed. It provides illumination and to some extent, killing harmful bacteria. With wrought steel doors, homeowners have clear but strong glass installed, without compromising on your home's security.
They are energy efficient
An energy-efficient home is a necessity as it brings down utility costs. Wrought iron doors are injected with polyurethane foam, a material that offers excellent insulating properties. If you live in areas with extreme temperatures, this is the best door option for you.
Comments on this Out With Wooden Doors And In With Wrought Iron Doors advice article are welcome.
Doors
Doors Posts
Door hardware to complement your architecture guide
Do bi-fold doors add value to your home
Most Popular Door Styles for your Home
Buildings
Building Articles
Comments / photos for the Out With Wooden Doors And In With Wrought Iron Doors page welcome