Door hardware to complement your architecture guide, Property design tips, Online house advice
Door Hardware Complementing Your Architecture
30 Dec 2021
Doorknobs and locks seem to be small things but have a vital role to play. Internal door knobs keep your privacy intact from other residents while living in the same house, and the exterior door lock prevents break-ins. Moreover, they also add the element of style and elegance to the doors when chosen wisely. An excessive variety of door locks and knobs are accessible in the market. Hence, it is the crux of the matter which one would be ideal hardware to pull off the style as well as do the job (to secure the property) proficiently.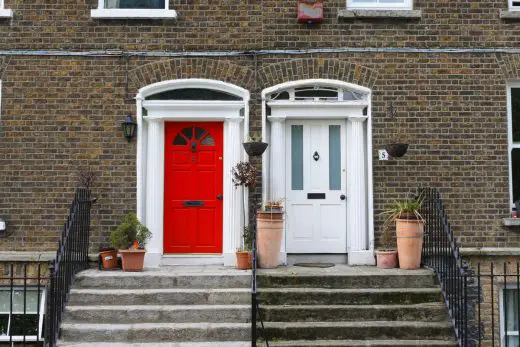 A Guide To Choose Door Hardware Complementing Your Architecture
With technological advancement, innovations are made every day to add value to your home. This feature of security compels you to choose the most appropriate lock. Otherwise, your safety and privacy would be compromised. Further modifications in the security system, design, and installation technique have also complicated the process. Take a look at Design Theory Hardware for excellent design options.
So here we are, making this selection process a bit easier for you with our article about choosing the ideal door hardware.
Let's go ahead.
Lever Handles or Door Knobs – Which Is Better?
Referring to the functionality, doorknobs and lever handles are of equal importance. However, the variability in design, style, and size is vast enough to confuse you on how to choose between them. If you want subtle and traditional hardware because it will complement your interior, then levers are the type you should go for.
But for a modern and sleek statement, doorknobs are considered the best. You can find a huge variety in both types now; different hardware manufacturers produce a good number of door locks with sufficient diversity. Still, the final decision will be yours to pick any one of them.
Hardware for The Popular Sliding Doors
Sliding Doors are trendy nowadays. There are multiple reasons for sliding doors being the most prevalent type and popular among people. It adds a definition to your architecture with its stunning, modern look. It is also a space-saving option on the list of various types of indoors. They are also quite secure with an additional feature of a multi-locking system.
Since the sliding door itself is a statement piece, you would need some aesthetic or phenomenal door lock for it. According to the different types of sliding doors, such as wood sliding, fiberglass sliding, and vinyl sliding patio doors, you can choose the finishes that complement your door. We came across three different types of locks to enhance the beauty of sliding glass doors.
The Classic type for contemporary appeal includes nickel, brass, oil-rubbed bronze, and more. The Rustic type gives vintage vibes, whereas the modern type shines in chrome, matte black, nickel, and brass. You can either color-match your door lock with the doorframe or coordinate it by picking up complementary colors with upgraded metal finishes.
Things To Consider When Choosing The Door Lock
Door locks are particularly chosen based on the type of security you want or need, the design of your door, the location (such as garage door, bedroom door, or front door), the individual's preference, and sometimes the budget too. However, the two most important factors among which you don't want to compromise are functionality and appearance.
Since doors are the focal point during entrance to and exit from any property, they should look seamlessly attractive. And door locks are the jewel of external and internal doors; hence, you should choose them thoughtfully.
In addition to this, you should also acknowledge how frequently it will be used. For instance, you don't need to keep your bedroom always locked, but the garage does. Also, who will have access to these locks is a key factor. Just like you can't use locks that demand high strength to unlock if an elderly person needs to use them more frequently. Similarly, lever handles are not good if you have kids in your home.
Different Shapes and Styles of Door Locks
Door locks, as said above, are broadly divided into two classical types, lever handles and knobs. Furthermore, each of them comes in various shapes and designs featuring the desired security system to safeguard your belongings. Depending upon your door outlook and style, you have to choose the shape and design of your door lock. The door locks can be oval, round, or angular in shape. Classic rectangular backplate with curved handle and minimalist modern-day lock are also among them.
If we talk about the latest trends in door locks that are mostly in because they also complement the modern-day architecture, a few are listed below:
Chrome finish
Satin finish
Matt black door knobs and handles
Antique brass knobs and handles
Door Locks with colorful patina
Bold tones
Lever handle on roses
Traditional mortice door knob
Rim knobs
Modern mortice door knob
Some Top Designs For 2022
If you have been bored with your previous lock system, or it is outdated, or you are planning to renovate your place, then the old locks won't look good anymore. Here are a few ideas from our top picks of 2022 for the best door locks.
Door handles with golden finish.
Door handles with silver finish.
Door handle locks in a chrome finish
Door handle with a round keyhole
Lightly curved interior door handle
Decorative door handles in matt black
Glassdoor handles of metal
Door handle in white plastic
Door lock handle with ceramic and metal
Special glass door lock handles
Steel door handles
Stainless steel door handles
Vintage steel doors
An Average Lifespan of A Door Lock
According to a general notion, any kind of door lock may last for at least 7 to 10 years. Despite the amount of usage, you should consider replacing your locks after this period. And if you are going to change the architecture, then also it is important to reconsider the installation of modern locks.
Door hardware to complement your architecture – Final Verdict
At the end of the day, it is all about how well you have researched before buying door hardware that not only complements your interior but also enhances the overall look of your house.
Comments on this guide to door hardware to complement your architecture article are welcome.
Door Locks
Doors Posts
Homeowner's guide to door lock maintenance
Help from a Professional Locksmith
Locksmith for NYC: New York City home security firm
Security Posts
Video intercom system for apartments
Installing a home security system guide
Buildings
Residential Architecture
Comments / photos for the Door hardware to complement your architecture advice page welcome