How to detect shady casino sites, Gambling architectural design, Wynn Macau building, Las Vegas style
Gorgeous Casino Buildings: World's Biggest Casinos with Inspirational Interior
18 Jan 2023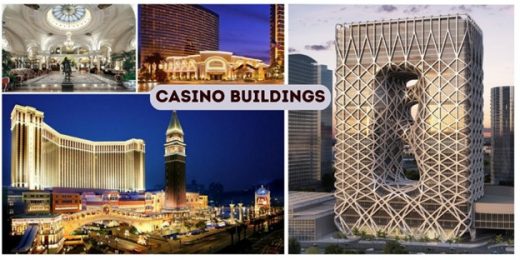 All images & research have been provided by PokiesLAB's Chief Content Editor on this page here, large hub of the best online pokies Australia with free spins.
The largest gambling cities include Las Vegas, Macau, Atlantic City, and Monte Carlo. Cities like Macau host the world's most profitable casinos: Galaxy Macau, SIM Grand Lisboa Casino, and The Wynn Resort. MGM Resorts, Caesars Entertainment, and Wynn Resorts have the highest gross revenue. Monte Carlo, Crown Melbourne, and Baden-Baden offer the most beautiful casino buildings and interiors.
The Most Beautiful Casino Buildings in the World
Casino building designs, floor plans, interior decorations, and games contribute to ambiance and experience. The leading casinos have plush exteriors and finishing, premium quality fixtures, and world-class amenities, with peculiarity and exclusive competition.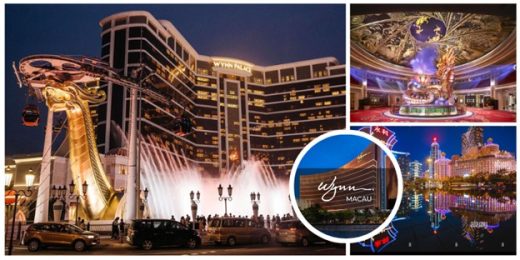 №1. Wynn Macau
The Enormous Wynn Macau sits on Macau's waterfront and offers more than 100,000 sq ft of gaming space. Wynn Macau also features over 1,000 luxurious rooms, a shopping center with expensive goods, top-notch wellness facilities, fine-dining restaurants, and other world-class resort services. This is one of the most striking examples of casino interior designs that has presented more than 840 slot machines and 500+ table games to players from all over the world – see https://www.wynnresortsmacau.com.
№2. The Venetian in Las Vegas
The Venetian is another example on the list of the world's most famous casino buildings. Built on the property of the former Sands Hotel, the casino cost about $1.5 billion to complete and was launched in 1999. The Venetian is built to replicate the romantic setting of Venice and features alleys, canals, and gondolas. Explore over 250 table games, including blackjacks, roulettes, craps, and enjoy the sophistication of casino architecture.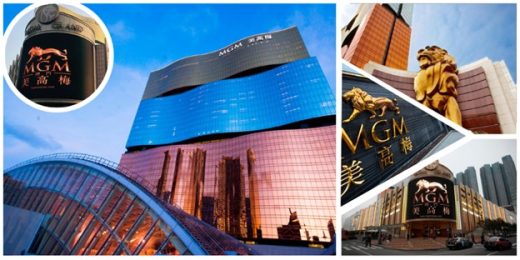 Source: mgm.mo
№3. MGM Macau in Macao
Portuguese-style squares and a giant aquarium run from floor to ceiling are a feature of this casino architecture. The gaming floor plan spans more than 220,000 sq ft. and offers more than 1,000 games. Guests can explore blackjacks, roulettes, and baccarat. The building hosts world-class dining options, authentic cuisines from Korea, Italy, and Malaysia, and expensive vintage wines. Deejaying and live bands are also available, along with 600 luxury accommodation rooms.
№4. Baden Baden Casino in Germany
Baden Baden Casino sits on a 250-year-old structure in Germany and offers more than 140 slots, table games, and other authentic gambling products. Although the casino was closed for over six decades, it reopened in 1993 and retained its antiquated beauty. Gambling stations are named after iconic people, and visitors must wear the correct dress code to sit at the tables. Slots stations don't require a unique code. Baden Baden also features a spa resort, conference complex, and luxury accommodations.
№5. Atlantis Paradise Island in the Bahamas
Atlantis Paradise is another world's biggest casino with a chic design. Hub offers a stunning location to gamble, dine, shop, and encounter a world-class entertainment complex featuring Las Vegas kitsch and Disney World theatrics. You'll find over 700 slot machines and 85 table games inside the casino. Salon Prive also offers a gaming experience tailored to elite casino customers. The casino architecture is large rooms, ocean glass views, and arches overlooking beautiful beaches.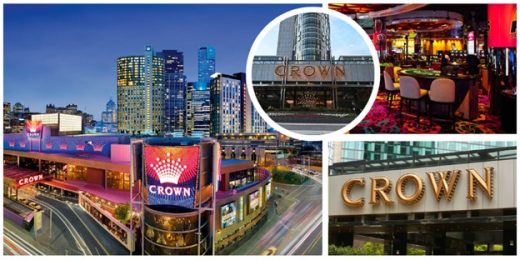 №6. Crown Casino in Melbourne, Australia
One of the largest casinos in the world that was launched in 1994 and moved to Yarra River in 1997. The casino has a total gaming space of 220,000 sq ft and has 1604 rooms. Casino layout design was designed by internationally renowned architect Daryl Jackson and featured a stunning Atrium entrance with falling fountains and flashing towers. Lighting corresponds with the current season outdoors. Players can explore games like blackjack, craps, roulette, poker, pai gow, and baccarat. Big glass walls also offer clear views of the river and surrounding city.
№7. Caesars Palace, Las Vegas
Caesar's Palace is in a sprawling complex of Roman-themed buildings and offers 166,000 sq ft of gaming space. You can expect extravagance, plush finishing, and world-class services. The complex also features an enormous spa with Roman baths and exquisite mosaics. Caesars Palace has classic architecture with interiors modeled after Ancient Rome. Palace also features elegant guest rooms and suites, five-star restaurants, and shops with specialized merchants. Punters can also explore thousands of games, spanning slots, video poker, blackjacks, keno, and more.
Casino Architecture That's Breathtaking
There is a huge list of the world's biggest casinos with stunning décor, floor plans, and finishing is famous all over the world. Some casinos have breathtaking architecture, making them perfect for sightseeing and taking pictures.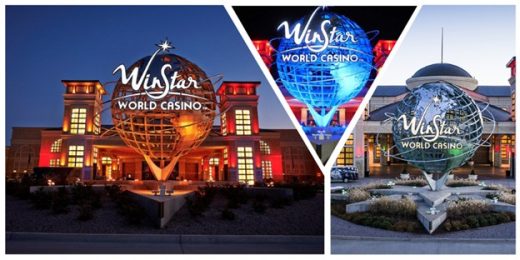 №8. WinStar World Casino and Resort
WinStar is an American tribal casino sitting on 756,000 sq ft. with more than 8,600 games, including slot machines, table poker rooms, craps, roulettes, and racer's off-track betting. The casino has a large globe at its entrance and a tower on either side. While not as grand as Macau and Las Vegas casinos, the design/architecture is breathtaking. Many people are impressed with the globe, but the interior is just as unique.
№9. Venetian Macao, Macao, China
Venetian Macao is another top-rated casino destination with breathtaking architecture. Casino architecture is grand by the reputation that precedes this casino. Encounter the quasi-Venetian design used in the sister site in Las Vegas. Expect the lagoon city's canals, elegant hotel suites, and restaurants serving international cuisines. The Venetian Macao, also known as the "Monte Carlo of the Orient," also features a play zone, swimming pools, leisure amenities, and about 3,000 slot games. Casino floor layout costs around $2.4 billion to build and features a gaming area spanning 550,000 sq ft.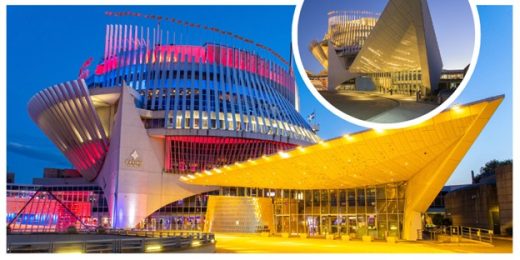 №10. Revival Of The Casino Montréal
Revival Of Casino Montreal has one of the most stunning architectures in world-famous casinos. The casino was launched in 2013 and mimicked the design of a luxury cruise ship. Complex lights up in bright yellow when the night falls to provide aesthetic visuals. The complex sits on more than 484,000 sq ft and harbors popular casino games, including slot machines, table games, and card rooms. Montreal offers plush interiors with world-class restaurants and hotel suites. Cruise ship modeling is an outstanding architectural element in the design, but the entire complex is fascinating.
№11. Foxwoods, Ledyard, Connecticut, USA
Foxwoods Ledyard Casino in Connecticut is the largest in the northeast. Players can explore more than 5,500 slot machines and 250 table games, including blackjack, craps, poker, and roulette. Two hotel towers harbor 2,228 rooms. The first tower opened in 1997, and the second in 2008. Foxwood Resort Casino offers stunning aerial views of the majestic architecture that spans towering buildings, an arcade, malls, pools, and more.
№12. SkyCity Casino, Auckland, New Zealand
SkyCity Casino in Auckland boasts the tallest sky tower in the southern hemisphere, climbing 1,000 feet high. Ascend the tower for magnificent city views and an opportunity to enjoy bungee jumping. Punters will be drawn to the two casinos, offering popular table games like baccarat, blackjack, roulette, and jai sai. The flagship Auckland casinos are located in a complex featuring the sky tower, a theater, a 700-seat auditorium, hotels, and leisure amenities. Sky tower is the casino's landmark feature that qualifies it into all lists of casino buildings with breathtaking architecture.
№13. Casino La Seyne
This Southeastern France casino is located strategically by the sea and features a glass architecture to maximize the view. The complex features hotels, restaurants, and live performance theaters. Punters will also find standard gambling products, including slot machines and table games like blackjack, baccarat, poker, and roulette. The building sits on more than 54,000 sq ft and features two levels with stunning interior design and exterior views. Check out casino 30 freispiele ohne einzahlung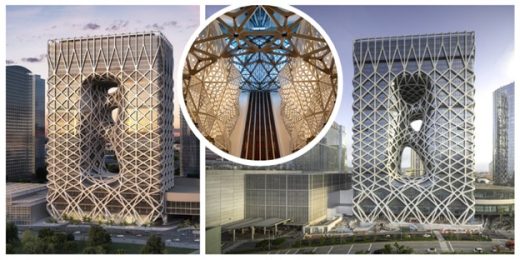 №14. Morpheus Hotel
Morpheus Hotel Casino is located in Cotai, Macau, and towers 160 meters high, offering a space of about 1.6 million sq ft. Inside the mesmerizing building, you'll find 772 guestrooms, sky villas, suites, and pool villas. The complex also features communal spaces, conference and event facilities, spas, world-class restaurants, rooftop pools, and ancillary facilities. Morpheus Hotel is known for its organic free-form triangular curtain wall and exoskeleton structure. Punters will also love the interior and game offers, which include slot machines, blackjacks, roulettes, baccarat, poker, and more.
№15. Empire City Casino
Empire City Casino Hotel is provided by MGM Resorts and features exciting slot machines and table games. The complex has the sixth largest gaming floor in the country, hosting 5,200+ slot games, blackjacks, roulettes, baccarat, and sic bo. Empire City also has live entertainment six days a week, and the crowd features iconic celebrities. Gaming floors and performance theaters offer luxurious settings with picturesque wall graphics and decorations. Each space is uniquely designed to fit the purpose, so you'll feel like you're moving from section to section in a different establishment.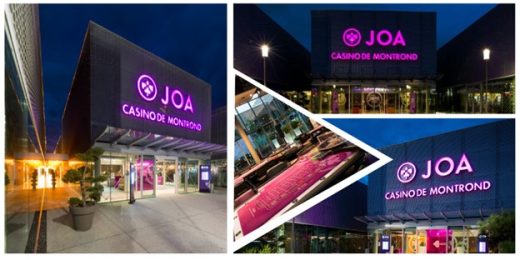 №16. Montrond-Les-Bains Casino
Montrond-Les-Bains Casino spans over 40,000 sq ft. It features six blocks with different entities arranged on a single level. The organizational system accommodates additional volumes for future expansion. Complex doesn't feature towering buildings, but the design's elegance is axiomatic. Find a plush interior and finish with spacious organizations and game floor plans. Punters can enjoy a wide range of amenities and enjoy slot machines, table games, bowling, and eSpace with immersive video games.
Most Elegant Casino Interior Designs
Casino buildings' exterior and architectural design may give a glimpse of what to expect inside. Some casinos don't top the list for most gorgeous buildings but feature uncontested interior design. Material choice, finishing, floor plans, ceiling, walls, and lighting are all on display. Here are the most elegant casino interior designs:
№17. Harrah's Waterfront Tower Casino
Harrah's Waterfront Tower Casino is located in the Marina District and offers thousands of slot machines and table games. Complex features spacious rooms with mini-fridges, blackout curtains, and coffee makers. Gaming floors are also well-lit, with stunning artwork and unique design elements. Accommodation rooms have expansive bay and brigantine island views. Find the adult-only indoor pool that turns into a trendy nightclub. Other casino highlights include world-class restaurants, entertainment shows, aquatic aerobic classes, and a huge conference center. The casino boasts clean, polished flooring with mesmerizing art and light effects.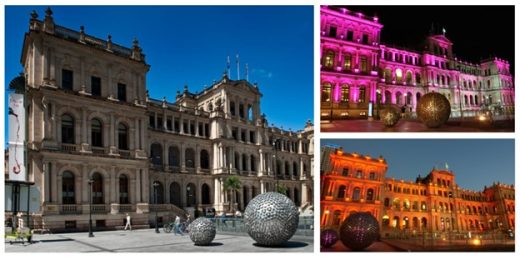 №18. Treasury Casino Hotel
Despite the vintage exterior, the casino rooms are modern, with impressive visuals and premium fixtures. Explore exciting electronic gaming machines, table games, and dragon titles. The building complex also features restaurants, a computer station, conference space, and spas. The rooms with expensive works of art, masterpieces, and decoration are equipped to also feature 55-inch screens with premium TV channels, colonial-style décor, and accommodation types.
№19. The Ritz-Carlton, Puerto Rico
Elegant décor, luxury finishing, and expansive rooms designed after a bygone era make Ritz Carlton one of the most luxurious gambling hubs in Puerto Rico. Casino interior is also among the most gorgeous in the world and offers a wide variety of state-of-the-art slot machines. You can also explore traditional table games like roulette, blackjack, dice, and poker. Rooms offer spectacular decorations with lively lighting effects, clean surfaces, and views of the magnificent Atlantic Ocean.
№20. Baden-Baden Kurhaus, Germany
Baden-Baden Kurhaus was designed 190 years ago and featured all the luxuries expected from a classic getaway. Kurhaus offers opulent casino gaming rooms with highly maintained machines, captivating wall graphics, and plush finishing. Explore slot machines, blackjacks, poker, and roulette. The setting is also enhanced by the dress code required for all guests looking to explore table games. Other highlights include massive red and gold walls and floors, huge chandeliers, and vintage architectural elements.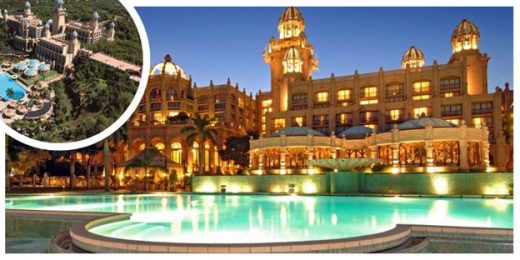 №21. Sun City Casino Resort, South Africa
Sun City Casino in South Africa features four hotels with multiple restaurants, bars, live entertainment, and a legendary casino. It's one of the most profitable casinos in the world with hundreds of slot machines and table games. The ceiling space has been recreated into a tropical jungle, with greenery and premium paintings of the wild.
№22. Bellagio Las Vegas
Punters looking for the most extravagant casino hotel in Sin City end up in Bellagio, despite the ferocious competition. The casino has 3,000 lavish rooms and suites with a 115,000 sq ft gaming area. Bellagio was used as the setting for Hollywood's blockbuster movie Ocean's Eleven, which sets it apart from other destinations in Las Vegas. Encounter aesthetic graphics and breathtaking design elements. The beautifully designed gaming space is expansive and offers a wide range of table games. Players will also explore modern interiors exuding style and sophistication.
№23. Las Vegas Palms Casino Resort
Palms Casino Resort in Las Vegas has completed a $690 million renovation to usher in a new era of gambling and entertainment. The forward and ambitious transformation has resulted in one of the most luxurious casino interiors in the world. Encounter expanded gaming spaces with modern flooring, screen walls, premium artwork, and spectacular lighting. The interior design reflects current technology and sophistication. Explore 1,500 slots, table games, and high-limit rooms with exciting, mysterious themes. The overhead lighting system is a spectacle with bright led panels and screens that change to different colors to match the theme/atmosphere.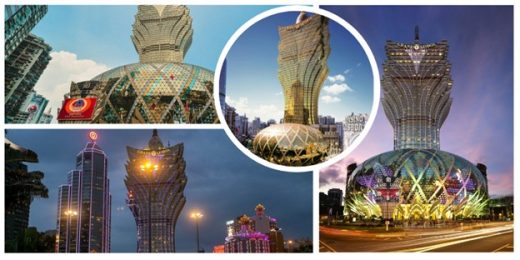 №24. Grand Lisboa Hotel, Macau
The Grand Lisboa Hotel is known for its magnificent tower, designed to represent the spirit of Macau. The casino is housed on the base of the tall tower podium and features 800 table games and 1,000 slot machines. The interior construction oozes sophistication and complex design. Finishing touches and fixtures are also exemplary of luxury. Lighting fixtures, chandeliers, and massive columns are hard to miss and stand out – building is enough proof of luxury.
№25. Casino De Genting
Casino De Genting is one of the biggest in Southeast Asia and the only legal land-based gambling hub in Malaysia. The Resorts World Genting features two casinos, Casino de Genting and Sky Casino, which are technically the same.
De Genting offers a more intimate setting, while Sky has a wide-open floor plan with tall ceilings inspired by the enchanted forest theme. Interior design features luxurious gold-colored finishing, high rails, and colorful artwork and ceilings. De Genting brings the outside ambiance indoors with spacious gaming rooms hosting slot machines, blackjacks, baccarat, roulette, pontoon, poker, and more.
Frequently Asked Questions – World's biggest casinos with inspirational interior
What is the most famous casino in Nevada?
Wynn Las Vegas is one of the most famous destinations in Nevada, located in one of the largest hotels with gorgeous interior design. Players can also explore various games, including slot machines and table games like roulette, blackjack, baccarat, and poker.
What is the oldest casino in the world?
Casino Di Venezia, formed in 1683, is the world's oldest that still exists today. Di Venezia is located on the city's famous canals and features historic Venetian architecture. You'll encounter luxurious interior settings in large gaming rooms that host 600 slot machines and traditional options like poker, blackjack, and roulette.
What is the most famous casino?
Bellagio La Vegas is the most popular and one of the biggest in the US. High rollers looking for luxurious resorts with beautiful settings, world-class accommodation, and premium entertainment and amenities will find Bellagio irresistible. It oozes elegance and offers exciting slots, table games, and modern entertainment services.
What is the biggest gambling city in the world?
London is the biggest gambling city in the world based on its size, like Hippodrome. However, Las Vegas is the biggest gambling metropolis by fame. The city hosts some of the largest gambling resorts, including MGM Grand, Caesars Palace, Mandalay Bay, and Bellagio.
Comments on this guide to the World's biggest casinos with inspirational interior article are welcome
Casino Buildings
Casino Building Designs
Venetian Macao Resort Hotel Casino building in China: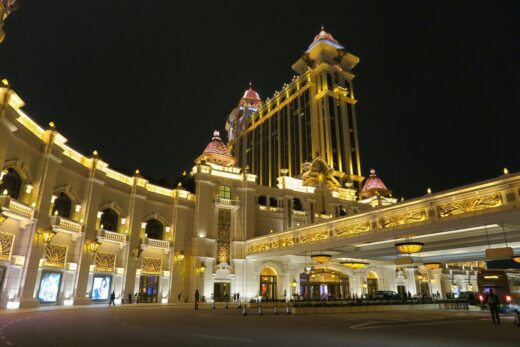 5 most beautiful casino buildings in world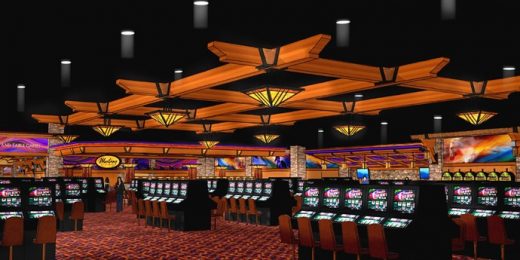 Casino Architecture Design Guide
What countries suffer most from online casinos?
Cryptocurrency & Bitcoin
Crypto and Bitcoin Posts
Bitcoin decentralized currency
Comments / photos for the World's Biggest Casinos with Inspirational Interior page welcome