Why and how to layer sheer and blackout curtains, Building design style tips, Online home decor guide
Why and How to Layer Sheer and Blackout Curtains?
15 Nov 2022
We have all heard that matches are made in heaven. Well, when it comes to sheer and blackout curtains, their match is certainly heavenly for your home. You must also have heard that opposites attract. Again, this is certainly true in the context of sheer and blackout curtains. These two extremes of the curtain spectrum complement each other to perfection.
Let's begin at the very beginning" to "Let's begin at the very beginning with Wall Curtains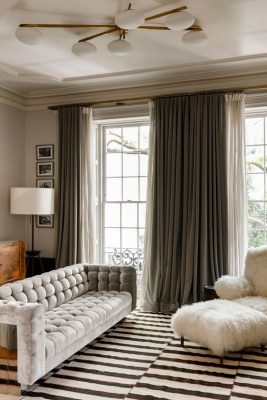 What are sheer and blackout curtains?
Here's some information regarding these two curtain varieties-
Sheer curtains – As the word itself explains, sheer curtains are semi-transparent. Think lightweight organza, mulmul, net, lace, or tulle swatches, and you will know exactly what we mean. Sheer custom curtains are available in every color under the sun. These are also available in plain, patterned, printed, and embroidered varieties. When drawn across an open window, sheer curtains let some light diffuse in through them. This helps cut the sun's glare and also lets fresh air through. On the downside, as sheer panels are somewhat see-through, these aren't too great at protecting your privacy.
Blackout curtains – Again, the word 'blackout' explains itself. Blackout curtains are made from dense – double or triple woven – fabrics that block light rays from traveling through them. As no one can look through them, these can protect your privacy quite efficiently. Draw them across the window or the door and if of suitable width and length, these will not only block the onlookers' view but also muffle the sounds a bit. Like sheers, blackout curtains too are available in a wide range of colors, prints, and patterns. On the downside, these curtains stop the breeze and natural sunlight from venturing into your space too.
Why pair them instead of using any one of them?
Well, as mentioned earlier. simply to have the best of both worlds!
Flexible light control – Unlike custom roman shades, even custom curtains might not offer the range of light control that you would ideally want. Good news is, layering of sheer and blackout curtains lets you have the best control over the amount of light filtering into your room. If you want ample sunlight pouring in, just draw aside both layers and let the light in unhindered. If you want moderate natural light, draw aside the blackout curtains and draw across the sheer ones. If you want total blocking of light, draw across blackout curtains (the sheers can be stretched across or gathered at sides, your choice). It is completely in your hands to choose the amount of light that comes into your space.
Flexible privacy control – Layer sheers with blackouts and you get the power to keep your interiors open or shielded from outsiders' gaze. Draw aside both layers and your windows will let in ample sunlight and air from outside. This state of affairs will allow an inside view to those outside. Stretch the sheer curtains across and keep the blackouts drawn to the sides and you will have partial privacy. Draw across the blackout panels (sheers either swept aside or stretched across), and you will be able to block outside eyes from venturing in.
Room aesthetics – Thoughtfully layered sheer and blackout curtains can do wonders for your room's look. For this, the sheer has to be the top layer, of course. If blackout panels are on top of sheers, only the top layer will be visible. Sheers, being translucent, can soften the denseness of blackout curtains. Sheers in lacy patterns can create an independent design element when paired with contrast colored blackout curtains below. Monochrome or contrast, match the layer palette to the accent wall, and you can ensure a room that stands out.
Tips on pairing and layering sheer and blackout curtains
When blackouts and sheers are layered together in a single window treatment, they are the perfect pairing in terms of both functionality and looks for your space. To create eye-catching couplings of sheer and blackout curtains and get the best of both worlds, you should keep the following points in mind.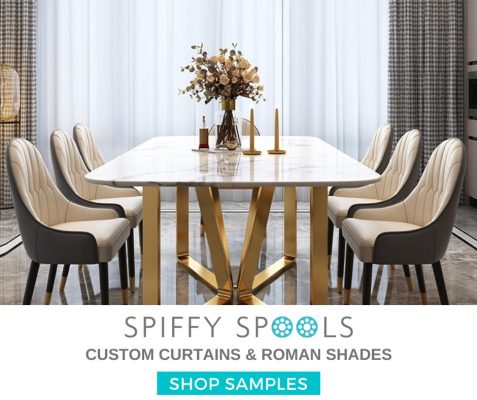 What comes on top?
When sheer and blackout panels are layered, one faces the window and the wall, and the other faces the room-
Blackout on top: Blackout curtains face the room interior and sheer curtains are behind them. You can see the sheer panels only when the blackout ones are drawn aside. This is a great choice if you want that extra bit of light and privacy control.
Sheer on top: Sheer panels face the room and blackout panels fall behind them. As the sheers are translucent and put up a peep-through show, the blackout curtains stay visible whether drawn aside or pulled across behind the sheers. If paired wisely, this gives an interesting visual edge to any room. The intricacy of this style imparts a sense of sophistication in and the flowy sheers add extra texture to the simpler blackouts, creating a chic and elegant look.
Heading Style- If you are choosing to have sheers over blackouts, you must remember that both the curtains will be visible. To create a visual uniformity, you should ideally keep the heading styles the same for both. In case of blackouts, whether you have them on the front or back, the functional aspect of the curtain should be prioritized.
Blackout curtains are made to block out light and heading styles like grommet, tab tops or tie tops can allow light to come through. To avoid such a problem, you can choose between pencil pleats, pinch pleats, french pleats or rod pocket with header frill. If you have sheers at the back, you can be a little experimentally adventurous with its healing style. One style that always works with sheers is pinch pleats which accentuate the seamless wavy flow of these chic curtains.
How to choose the pairs?
The decor style of your room, the color palette and aura of the room play a considerable role in determining the curtains for your rooms. You should have a pattern on one of the layers ideally, i.e., if you are having a sheer curtain with patterns, use solid blackouts to complement them.
How to decide the length of the curtains?
Deciding the length for curtains can often be tricky. If the sheer curtains are the underlayer, keep their length just touching the floor or an inch or so higher.
Similarly, if sheer curtains are the upper layer, make the blackout curtains behind them just a little bit shorter than or barely skimming the floor level. Sheers are always the best when they are voluminous both by width and length. While for width you should buy them in 3x volumes; and as for length, the longer the better- they should always graze the floor or even puddle down gracefully.
You will agree that sheer and blackout curtains are a pair for keeps once you put them up in your room. They enhance the look of your room adding layers and textures that are creative and visually pleasing. When done right, these can change the entire look of your place, adding a newness that makes the place inviting and youthful with the juxtaposition of the flowy and solid nature of the two fabrics.
Comments on this guide to Why and how to layer sheer and blackout curtains article are welcome.
Curtains
Curtains Posts
Ways to Customize Your Curtains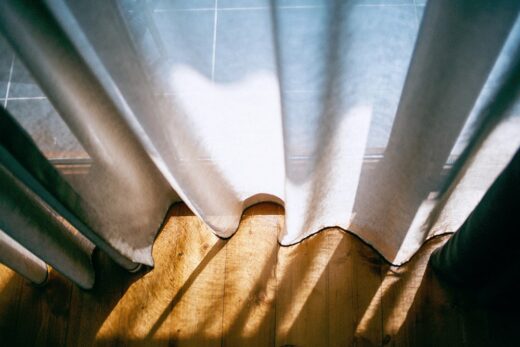 How curtains can change your office look
How to select living room curtains?
Learn to choose your curtains well
Building Articles
Residential Architecture
Comments / photos for the Why and how to layer sheer and blackout curtains advice page welcome