Value of Home Security Companies Advice, global shutdown Property Guide
What construction can learn from manufacturing
24 Apr 2020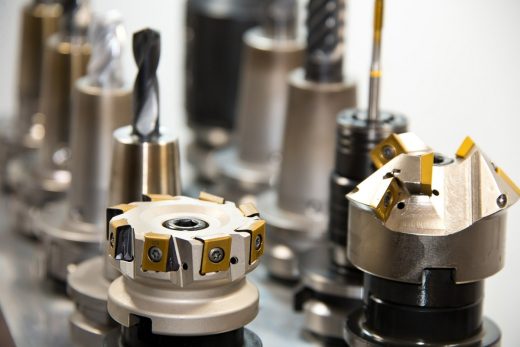 What construction can learn from global manufacturing
In the UK, house building has ground to a halt due to the almost global coronavirus shutdown. As one of the key accelerants of the economy, this simply cannot remain the case for much longer. And in late April, Taylor Wimpey announced it was due to resume work on sites around the UK. The same is true for car manufacturing in the UK. Jaguar Landrover and Aston Martin have both already announced their plans for a cautious resumption of activity too.
It won't simply be a case of picking up tools and carrying on through. The shock of the coronavirus pandemic has exposed global supply chain vulnerabilities, with the shortage of personal protective equipment (PPE) and ventilators two stark examples of the downstream impact. Most businesses in manufacturing and construction will experience shortages and delays.
The short-notice shutdown has been a shock.The firms best placed to absorb this shock will already have partially or fully digitalised their supply chains. Either because it has made business sense for a long time, or because their hand was already forced.
Loftware, a New Hampshire based packaging provider, is an example of the later. Owing to New Hampshire's brutal winters that regularly cause brick and mortar commerce in the state to grind to a halt, the firm has for years run dress rehearsals for a global lockdown. So they've developed supply chain systems to mitigate this. Getting things done from home isn't a new challenge for them.
In the UK, we've been relatively lucky with weather related shutdowns. But parts of the manufacturing sector have nonetheless been digitalising. And now the benefits are becoming clearer.
Two leaders in the manufacturing space, both of whom have been able to assist the NHS due to the flexibility and resilience supply chain digitalisation has afforded their respective organisations, are now urging industry peers to resist the instinct to treat the Coronavirus pandemic as a crisis to solve in the short term, and to view it as an imperative to build long-term resilience into their own supply chains.
Martin Vares, founder and MD of the cloud-based metal fabrication platform Fractory and recent honoree in the 2020 Forbes 30 Under 30 list, believes the current situation will cause entire industries to reconsider their approach to procurement and supply chain management:
"The current situation is of course extreme. A lot of supply chains are suffering, as manufacturing companies are reducing their workforce or even halting operations. International freight adds an extra layer of complexity. Thus, a lot of engineering companies are searching for solutions that address the manufacturing process and the shipping process at the same time. I think this is why we've experienced a significant increase in interest in our service, as it addresses both problems simultaneously.
"Our platform offers instant manufacturing quotes online and we take care of everything from quoting to delivery. But the manufacturing side is outsourced to our pre-vetted partners. Some engineers have been wary of us "being just a middleman". They are now seeing the perks. With over 25 partners, we are not affected by small fluctuations in capabilities. And the same applies to our customers.
Fractory's automated manufacturing platform can rapidly switch between a network of partners to secure continuity of supply for our customers. Thus, it continues to run on full power and has been able to assist with large orders related to the NHS.
"While the current situation brings a lot of uncertainty, digital manufacturing's strength is becoming evident," concludes Vares.
Tata Steel's Matt Yeates, managing director of their SteelScout procurement platform, believes that manufacturing companies with existing digitised supply chains are uniquely placed to support the economy.
"Everybody now is experiencing major changes to their daily lives, learning to adapt to the guidelines for safe operation of our businesses, through to protecting our communities during the pandemic. These challenges mean we reach for new solutions or enhance current approaches.
"The power of digital in solving these problems, from 3D printing to multiple participant video conferencing, has never more been more apparent. Digital enablers for the manufacturing value chain are developing fast and their value at the moment is magnified against the challenges of continuity for key industries and workers.
"Being a digital business means that we're able to respond quickly and rapidly connect the right buyers with the right suppliers in order to guarantee materials and jobs. We have already supported companies working on key projects, including the manufacturing of ventilators for the NHS, by being able to rapidly quote for and turn around materials and guarantee jobs. And we're here to support businesses in any way we can during these challenging conditions."
Comments on this guide to What construction can learn from manufacturing article are welcome.
Building Articles
The Plus Furniture Factory, Magnor, Norway
Architects: BIG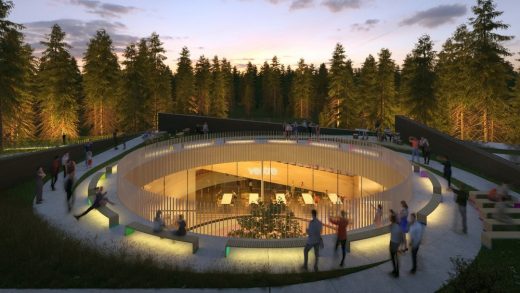 image © Lucian R
The Plus Furniture Factory, Magnor
Screw Factory Boiler House, Areál Šroubáren, Libcice nad Vltavou, Czech Republic
Design: Atelier Hoffman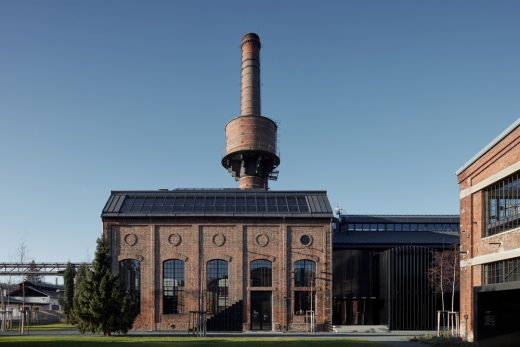 photo : BoysPlayNice
Screw Factory Boiler House
Comments / photos for the What construction can learn from manufacturing guide page welcome