Vacation rental interior design guide, US holiday home style advice
Vacation Rental Interior Design – 6 Tips and Tricks
15 June 2020
Vacation Rental Interior Design – 6 Tips and Tricks to Try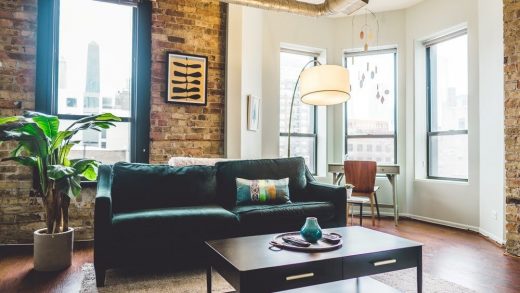 In the ever-competitive world of vacation rental marketing, image is everything. You need to do all that you can to ensure that your vacation home is eye-catching and enables would-be guests to feel at home just by looking at the space through their screen. Say hello to the world of vacation rental interior design! See more great tiny homes for rent on Airbnb.
As a vacation rental owner, it's your job to make sure that your vacation rental interior design is up to scratch — sometimes even literally! Having a neat, stylish, and standout interior is one of the best ways to optimize your occupancy. Without any further ado, here are 6 tips to design vacation rentals that will be permanently booked.
Pick and Stick to A Style
If your design scheme is confused, your guests will be too. That's why it's important to pick one design style or cohesive elements from multiple to create a harmonious space. There are hundreds of design styles you can pick from. You can pick any interior design style that you'd like although it is advised to go for classic styles that aren't at risk of going out of style.
Of course, this isn't a rule and you are free to play around with whichever styles you feel suit your property's location. For example, if your property is in a coastal area feel free to run with a beach style. Keep your location in front of mind when planning your vacation rental interior design.
Vacation Rental Interior Design Tips and Tricks – Plan Ahead
Very few spaces that are haphazardly "thrown together" work.  This is why when it comes to design vacation rentals, everything needs to be planned out beforehand. You'll need to carefully consider the layout and flow of rooms, available space, and natural as well as artificial lighting.
Functionality should be your top priority and every vacation rental interior design decision needs to be given the proper thought. You can plan your interior design out on your laptop, on a piece of paper, or you could enlist the services of a professional interior designer. You can also hire vacation rental management companies to accomplish this task as they have years of experience as well.
Invest in Your Interior
When you have a constant stream of guests in and out of your holiday rental home, wear and tear is inevitable. Therefore, you need to invest in furnishings that are exceptionally durable. This may cost you more initially but it's sound long-term financial advice as you won't need to waste money replacing cheap furniture down the line.
On top of being durable and able to withstand continuous usage, your interior furnishings need to be comfortable. Which brings us to our next point.
Keep Comfort and Convenience in Mind
The key to design vacation rentals that will keep guests coming back lies in comfort and convenience. For starters, your interior and all furnishings need to be physically comfortable to help guests relax. Make sure that the living room and bedroom ooze comfort. But further to that, they need to make your guests feel comfortable in the space as a whole.
This means making the space as "close to home" as possible. Don't ever make your guests wonder where something would be. Install hanging hooks in the kitchen, bathroom, and in the front hall. Place lamps next to the bed, near a coffee table, or in another logical spot. Make sure that the closets have enough hangers in them and that each plug has an adapter nearby.
Include a Pop of Personality… But Not Too Much
Personality is important in any design. Naturally, you don't want the space to have so much personality that guests feel like they're in someone else's space, but you also don't want the space to be bland or boring.
Consider adorning the walls with framed photographs of local scenery, pick flowers that are native to your area and place them in a vase, collect driftwood from the beach down the road or ask a local artist to create a custom piece or two.
As much as you may want your vacation rental interior design to be a true reflection of your personality, there are some things you simply cannot include in your design. We're talking religious items, alternative lifestyle paraphernalia, expensive antiques, and your personal belongings.
Keep it Clean and Maintained
While you're getting your vacation rental interior design sorted, it's easy to overlook keeping it sorted. When you're planning to design vacation rentals, do whatever you can to make sure that cleaning the space in between bookings will be easy.
When it comes to cleaning your property and keeping it properly maintained, you should seriously consider calling in the pros. We recommend hiring a professional cleaning company to come in after every booking in preparation for the next one.
Vacation Rental Interior Design Tips and Tricks Conclusion
Vacation rental interior design doesn't have to be difficult and creating a standout rental is easily achievable. Just use the 6 tips outlined above to design vacation rentals that dreams are made of.
Comments on this guide to Vacation Rental Interior Design Tips and Tricks article are welcome.
Home Renovation Articles
Home Renovation Posts
Decorating Hacks to Make Your Home Feel Unique
10 sleek home renovating design ideas for the holidays
7 Renovation Tips for Homeowners
7 Tips To Spice Up Your Home And Increase Value
Residential Property Articles
Contemporary Property Articles – architectural selection below:
Comments / photos for the Vacation Rental Interior Design Tips and Tricks page welcome