The best ways of using Instagram for gaining mileage in the home decor business, Building Design Tips, Online Advice
Use Instagram to improve Home Decor Business
3 Jun 2021

Home decor business promotion thrives on creating an impressive portfolio comprising stunning images about the projects and products for which Instagram is the chosen platform. The never-ending opportunities of showcasing your business on Instagram through vivid photos make it the ideal venue for engaging with clients who get ready proof of your aesthetic capabilities and start engaging with your business. Clients looking for home décor ideas, services in interior design projects, or home décor products rely heavily on Instagram. It provides the most authentic information that helps appropriately evaluate and make the right decisions about the choices.
Interior decorators can display their design abilities, and aesthetic tastes about projects completed that bear testimony to their achievements, which helps attract new clients. They can demonstrate how they helped change their client's lifestyle that fulfilled their aesthetic and functional needs. Clients can thoroughly evaluate the works of interior designers. By looking at the number of followers and likes earned by the account, they can judge their credentials to a fair extent to make well-informed decisions.
The importance of Instagram likes
Likes are similar to votes earned by the designer or home décor company that reflects the extent of their reach and popularity and point to their capabilities in meeting client expectations. Posting high-quality content regularly and taking various measures in optimization to attract more traffic is the way to earn likes. Still, it takes quite some time for any content to gain popularity.  Waiting to gather likes can be a cause of setbacks in the competition. To cut a long story short, it is better to buy Instagram likes that instantly spike the popularity and give you some time for garnering likes organically. Soon after buying likes, which must be from real people, there is a remarkable improvement in content visibility that starts the flow of organic likes. More likes translate into more leads and higher conversions.
To get the most from the Instagram platform in promoting your interior design and décor business, you must take a systematic approach not to miss any of the essential steps to ensure success.
Business name optimization
To create a business account on Instagram, never make the mistake of using your phone number because you might have to change the phone number for some compelling reasons, in which case the account would become inaccessible.  Instead, use your business email address to create the account, which becomes the gateway for receiving all trade inquiries without any miss.
Moreover, you can redirect the emails to the marketing department and customer service department for a prompt response. First, choose a business name that serves as the profile name and fits within 30 characters. Including a keyword in the profile name increases its visibility to people interested in your offer's products or services. Next, choose an IG user name, also known as Instagram Handle, consisting of alphanumeric characters and symbols but restricted to 30 characters.
Business description in the bio
The Instagram bio is much more than a visiting card because it is the place to provide the most pertinent and valuable business information in a concise manner that deftly describes your business. Writing an Instagram bio is an art because you must share all-important business information within 150 characters only, which is no easy task. However, structuring the content with a mix of paragraphs and bullet points to highlight the desired sections makes reading easy. In addition, it directs the viewers' attention to the right places that helps incomplete understanding of the business.
On completing your Instagram profile in all respects, you are now ready to post content.
Content posting schedule
Knowing the right time to post content on your Instagram account is critical for generating high engagement through live interaction with clients. Research the behavior of your followers or target audience on Instagram to understand when they are most active on the platform and schedule your content posting accordingly.   Even if the hours might seem awkward to you, being there at the right time is your responsibility and shows how serious you are in interacting with your client. Create a schedule of posting, daily, three times a week or bi-weekly, or even weekly, depending on what you feel would give the best results in engagement.
Use captions for images
Although images speak a thousand words, every image must have catchy captions that can even include some CTA to increase the appeal and trigger some response. Captions allow you to speak elaborately and educate your audience, as the allotted space of 2200 characters is enough to convey additional useful information that increases the chances of engagement. Captions are like the toppings of cakes that attract viewers to the content.
Use the opportunity to pose yourself as an authority in the niche that enhances the brand trust as viewers look upon you as a solution provider and soon become your loyal followers that brighten the business prospects.
Comments on this The Best Ways Of Using Instagram For Gaining Mileage In The Home Decor Business article are welcome.
Instagram Articles
Why should architects buy instagram followers and likes
Should architecture firms buy Instagram followers
Should architects buy Instagram followers?
5 steps to improving your instagram strategy
Building Articles
Architecture
KAP – The Kapellenhof Estate (1220 Vienna) – 450 Living Units, Kapellenweg
Architects: ARGE AllesWirdGut | feld72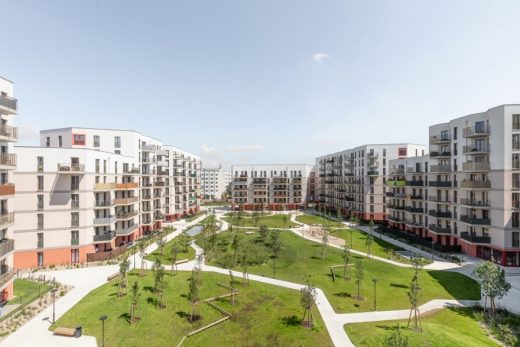 image courtesy of architects office
Kapellenhof Estate Vienna housing
Comments / photos for the Best Ways Of Using Instagram For Gaining Mileage In The Home Decor Business page welcome