Unsung Architects, James Paul, Denis Anderson, Eddie Oribin, Architecture Aesthetic
Pre Critical Regionalism : Architects
'Not an architecture of imposition' – article for e-architect by Lindsay Johnston
15 Mar 2013
Unsung Heroes
Unappreciated Architects
Article by Lindsay Johnston, NSW, Australia
James Paul, Scotland
Denis Anderson, Ireland
Eddie Oribin, Australia
Lindsay Johnston, who 'did' architecture in Dundee in the early 1960's and then worked in Ireland before emigrating to Australia, looks back at two architects who have had a major influence on his life and work, and then at very different work of an architect he recently discovered in tropical north Queensland from that early '60's period.
My article 'Wisdom of the Elders' published in March 2012, has proved to be much visited text on the e-architect Newsletter –
Glenn Murcutt Wisdom of Elders
In that, the key word that has attracted readers may be 'Murcutt', with whom I have had the good fortune to spend time since I emigrated to Australia from Ireland a quarter of a century ago. So here are another few words of wisdom on a similar theme – 'unsung heroes' – a few architects whose excellent work has been little recognised even within their own countries, and certainly not internationally, two of whom have been immensely influential in my life, another that I only discovered, literally, yesterday Thursday 28 February 2013.
I think what made the 'Wisdom' editorial so appealing to readers was that it was an antidote to much of the popular architecture of the now, that is – form driven, extrovert, possibly superficial, resource indulgent, disrespectful to the environment, not responsive to climate or place, homogenised architecture of anywhere – the new new international style (yes two 'news').
Last Saturday 23 February 2013 Glenn Murcutt closed a week-long summer school we held at Pittwater north of Sydney, with 34 senior architecture students, he gave a short impassioned talk, that someone was quick enough to record –
I am appalled at current trends in international architecture. I would like to warn you against the idea that form is the only thing that matters …… the computer, which we all use, at some levels it is a tool, but it is not a design instrument. Mere form making is a real problem, we are seeing some of the most extraordinary things, but they are becoming boring.
Unfortunately things have become so interesting, they are now, in my view, 'desperately interesting'. Young architects – be careful – use everything that you are using wisely, as we always have had to use things wisely, and remember that architecture is not about form making, form in my view is the consequence of all the other things that go together to make architecture, it is not an element in itself. Don't get into the shock of the new, just understand that good architecture is simply good architecture.
Like postmodernism, when it arrived, to many people was very exciting, for me it was boring from the outset, but to young minds these things can seem very exciting – be careful, be suspicious of anything that is coming to you as a 'movement'. Adhere to the good principles, and you will not have a problem, you will find a direction that is clear. We all produce different work, but the principles are the same, the principles are transferable, take the principles to different places, it is not aesthetics, it is simply ideas, understanding light, structure, order, space, and all these things are there to make an architecture of response, not an architecture of imposition".
Glenn Murcutt, February 2013
James Paul, 'Jimmy' or, as we used to know him, 'Rory', was a larger than life figure at the Dundee School of Architecture in the '60's when I was there, a Scottish James Robertson Justice, with a Peterson pipe nestled in his red beard and a rich Moray Firth dialect, from his home village of Portsoy. He had worked in London and had come back to Scotland with a passionate cultural nationalism.
James Paul House, Broughty Ferry, Tayside, eastern Scotland: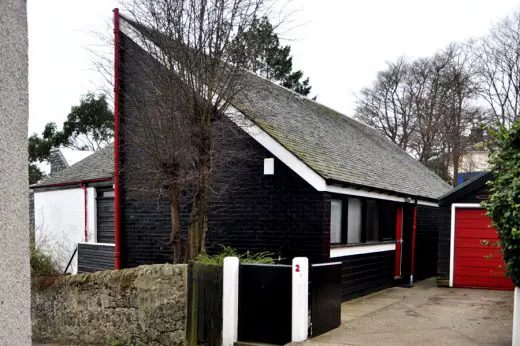 James Paul House, Later Addition: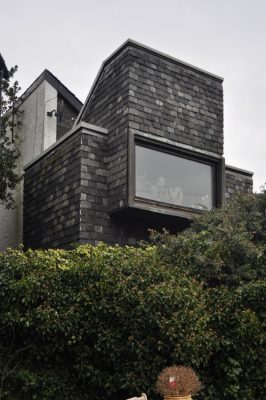 (photos of any other Jimmy Paul works welcome please)
As very young students, the one book we had to buy was 'A History of Modern Architecture' by Jürgen Joedicke (which I have on my knee as I write this) it was a world where the Gods were FL, Mies and Corb, and Jørn Utzon had recently won the Sydney Opera House competition. But from an early stage, it was not the international masters who provided the adrenaline in Dundee, it was the Scottish villages of the Moray Firth that 'Rory', and Jimmy McKinnon and Ian Imlach, told us about, and we shared our studios with students from Fife fishing villages Anstruther, Pittenweem, and Culross (we were told pronounced 'Coo-ross'). As early as second year, 1962, we had become intoxicated by (and in, on) visits to these Fife towns. Who was it that introduced us to the 'mono-pitch roof'?
Fife Village Roofs ; Culross, Fife ; Student Project Gauldry Fife:




We must have seen Jacobsen's Chain Houses, Søholm, 1950, or somebody had, but we were transposing the crow stepped gables of Culross and applying the red clay tiles to student project for old peoples' group housing in Gauldry in Fife. We were all impressed as students by the house Jimmy Paul designed and built for his family, that still stands today on Dundee Road, Broughty Ferry. I never got to see inside, but the sharp lines and steep mono-pitch roof are still etched in my mind. I am delighted that someone has found it on 'Street View' and has gone and taken some photos of this seminal Scottish house (thanks to Penny Lewis). We lost James Paul in June 2009. For detail of his life and extensive list of his work see –
http://www.scottisharchitects.org.uk/architect_full.php?id=400177
This passion for the 'vernacular' has been something that has stayed with me now for fifty years in architecture. 'Rory' Paul was an architect ahead of his time, before Frampton and Critical Regionalism. So what is it that is important about a reading of the local, Rudofsky's 'Architecture without Architects'. Two things possibly. First, it expresses accurately the indigenous response to place, climate, available materials and local human skills. Secondly, it reflects lifestyle, topography, land ownership, community, communication – in both senses of the word, and occupation – in both senses of the word. Fishing villages, wild aggressive cold weather, huddled together, turning the back to the wind and rain, refuge inside away from the elements, seeking warmth – small windows, thick walls, clipped eaves so that the roofs do not blow off.
Student Project Tayport, Fife ; Baxter Clark and Paul, Dundee Housing



Ten years later, I had relocated to Dublin, Ireland. 1971, at a time that I needed to, I met an architect who was doing that kind of stuff. Denis Anderson, like myself a north of Ireland man trained in the UK, had designed – 1969-70 – a holiday village in Co. Cork, in the south west of Ireland, across the water from a significant fishing port of tight knit houses, winding streets and slate clad stone gables, to repel the penetrating rain. To my good fortune, I became the project assistant on Castlepark Village, Kinsale, living with it until its completion in 1975. Denis, another man ahead of his time, in Ireland, was the first architect there to explore the potential embedded knowledge of traditional Irish settlements, including those known as 'clachans', in the Irish language meaning 'a pile of stones'. Rugged villages, mostly in the impoverished west, where the native Irish clustered having been driven from more fertile land by the colonisers, were absolute responses to the topography, climate and available local materials and skills
The absence of any discernible plan as compared with many English or German villages has led visiting critics to regard the clachan as a reflection of the disordered Irish mentality. The word that best fits the untidy house cluster is one often heard in Ireland – 'throughother' ………….. Despite this apparently casual disorder the selection of a house site was a matter for the most careful deliberation. Shelter from the prevailing winds was a prime need, so that houses seem to snuggle together, generally located in a hollow or on a lee slope. To this end a man might throw his hat into the air on a day of wild winds and mark its falling place.
Estyn Evans, Irish Folk Ways, 1957
Castlepark Village, Kinsale, Co.Cork, Ireland ; Irish Clachan computer reconstruction



It is important to understand this cultural, environmental and technical grounding which allowed Denis Anderson to conceptualise a destination in his design process that was an intuitive journey. Ruari Quinn, architect, who had studied with Doxiadis in Athens (subsequently leader of the irish Labour Party and currently Minister for Education in the Irish Government), in his review of Castlepark Village, Kinsale, for the Architects' Journal wrote –
He (Anderson) talks enthusiastically of his response to the site and the urban aesthetic of Kinsale. He is an intuitive designer who claims early on to have abandoned the tee-square and worked with models and sketches in an attempt to design a mixed housing cluster, which would evoke and draw from the traditions of the area. … Anderson's design approach is a reversal of the conventional wisdom of the architecture schools, as he first formulates the solution and works back from there, linking the various elements together, achieving economies of design and construction by repeating details and alternating elements. It is an approach which is altogether at odds with the linear method of brief formulation, methodological analysis, etc., which we have heard so much of and which seems to have produced soulless architecture.
Ruari Quinn, Architects' Journal, 30 October 1974
Castlepark Village, Kinsale, Co.Cork, Ireland





There was no hint of pastiche. There was always a serious integrity about the concept. The black slate roofs and white walls are the local language, the slate wall cladding is Kinsale, the forms a transposed abstraction. Pressures from the developers for large windows to capture the views were resisted with the argument that, like fishermen and women in traditional villages, the occupants would be out in the views all day and would return to shelter in the houses. The interiors were rich in natural timber, with interesting section geometries with, in some houses, ladders to galleries and high level clerestorey windows.
The light in this part of Ireland has an extraordinary quality which Anderson has perceived – the contrasting effects of the rapidly changing sky have been most effectively understood and framed; the combination of high-level lighting and small windows provides a very pleasing quality of light. Ruari Quinn again
Ruari Quinn in his review was critical of the lack of private open space in the development, there virtually is none, and this can possibly be defended by an egalitarian view that people should 'commune' in the shared defensible village 'squares', as is predominantly the case in those Scottish villages or the villages of the Mediterranean. At the time of the development we fought hard to resist the intrusion of vehicles into these communal spaces, local fishermen built a fine stone wall to define an external parking area, cars are now in there, but it still works. Denis was rigorous to avoid any non-indigenous planting and Irish ash, ivy hedera hibernica and catoneastor horizontalis were specified.
Castlepark Village, Kinsale, Co.Cork, Ireland





Castlepark Village was and remains a seminal work of Irish residential architecture, and was awarded a European Architectural Heritage Year Award in 1975, and, one would feel, a rather inadequate 'Highly Commended' in the RIAI Housing Awards in the same year. Other works by Denis Anderson are too few due to difficult economic circumstances in Ireland – Claremont Court Glasnevin, Martello Mews Sandymount, Oak Apple Green Rathgar, all around Dubliin.
Denis Anderson and I worked together on a house on Lough Corrib, Diamond Redfern Anderson were joint winners of the Dublin Corporation City Quay Housing Competition, and we did a lot of work with designing on models. Including, in 1976, a proposed holiday village on a wild exposed headland at Dunmanus Bay, Co. Cork, which never went ahead. It was a first in building a complex physical model first before trying any plans. We intended, if the local authorities would have let us, to go on site and make it up as we went along, as the locals would have done when building their 'clachans' – what I have called "freehand architecture". We could have digitised the model long before Frank Gehry did that sort of thing.
Castlepark Village, Kinsale, Co.Cork, Ireland



So these are two unsung heroes who have had a major impact on my life – James Paul and Denis Anderson – and the traces of their influence can be seen through many of my subsequent projects. I started my own practice in 1976, but had to emigrate to Australia in 1986, where remnants of my early influences persisted for a time.
Bray House; Kilcroney House; Johnston Killiney House; Roscath House; Lake Macquarie House




Now, here is a third unsung hero, in a very different context, completely new to me, my loss until yesterday, when I was introduced in tropical Cairns, Queensland, Australia, to the work of Eddie Oribin, born the same year as James Paul in 1927.
Almost unknown in Australia, but held locally in such high regard, Eddie Oribin was honoured by the local region of the Australian Institute of Architects who have named their annual Building of the Year Award after him. The only web reference I could find is his own family house for sale by new owners, with a brief account of his colourful life. This is one of the Oribin houses I visited yesterday.
http://www.oribinhouseforsale.com/143157228
Here we are talking about the tropics, not the east coast of Scotland or the west coast of Ireland, not a place for refuge from wild cold weather and sitting around a fire, but somewhere that needs protection from strong sun and torrential rain and where there is a desperate quest for air movement to combat the heat and humidity, the only recourse for any kind of comfortable living – it was 36˚C yesterday and about 95% humidity. Obviously influenced by FLW, this house, built by himself in the early 1960's, consists of the house itself (which has now been recently extended) and a studio as a completely separate building on the other side of a creek, now under separate ownership. We got to visit both. Apart from the overt FLW references, the complex geometry and the wonderfully crafted detail, the responses to the climatic conditions are superb. The converse of Scotland, and many local codes, which require buildings to be sealed air-tight, the whole game in the tropics is to find ways of catching and moving air through habitable spaces.
Eddie Oribin House, Cairns, Australia, c.1963






The huge roof overhangs are like an Aussie with a big hat. Look at the external walls of this building on the street frontage with hinged windows open as breeze catchers, there is a continuous open slot along the bottom of the wall, which can be closed on winter evenings, all the internal fixtures are raised on legs off the floors to allow air movement across the house to extensive glass louvred walls on the private side, bedrooms have breeze paths and no ceilings under the sloping roof line (no acoustic privacy is the compromise). The earlier studio building, originally linked to the main house by a footbridge across the gully, is a small almost single room building, which responds to its climatic location with overt sun shading and ingenuous opening vents, with geometries and motifs reminiscent of the work of Bruce Goff.
Eddie Oribin Studio, Cairns, Australia, c.1961





Like many other architects I have met along the way, Eddie Oribin is one of those who, if I had discovered them earlier in my life, I would have been a much better architect myself.
As Glenn Murcutt said last weekend –
Adhere to the good principles, and you will not have a problem, you will find a direction that is clear, we all produce different work, but the principles are the same, the principles are transferable, take the principles to different places, it is not aesthetics, it is simply ideas, understanding light, structure, order, space, and all these things are there to make an architecture of response, not an architecture of imposition.
LNJ 050313 16.00


photo of Lindsay Johnston
Lindsay Johnston is Founder and Director of the Architecture Foundation Australia and former Dean of Architecture and Design and Head of the School of Architecture at the University of Newcastle, Australia. He is convener of the annual Glenn Murcutt International Architecture Master Class, curator of the exhibition 'Glenn Murcutt – Architecture for Place' currently touring Europe, and has recently published the book 'Under the Edge – the architecture of Peter Stutchbury' (www.ozetecture.org).
Unsung Heroes Image Titles
1a. James Paul House, Broughty Ferry, circa 1963. Photo: Penny Lewis
1b. James Paul House, Later Addition. Photo: Penny Lewis
2. Fife Village Roofs. Photo: Lindsay Johnston
3. Culross, Fife. Photo: Lindsay Johnston
4. Student Project Gauldry Fife, 1963. Drawing: Lindsay Johnston
5. Student Project Tayport, Fife, 1965. Drawing: Lindsay Johnston
6. Baxter Clark and Paul, Dundee Housing. Photo: Lindsay Johnston
7. Denis Anderson, Diamond Redfern Anderson, Castlepark Village, Kinsale, Co.Cork. Model, 1970. Photo: Henk Snoek
8. Irish Clachan computer reconstruction. Render: Bruce Yaxley
9 – 14. Denis Anderson, Castlepark Village, Kinsale, Co.Cork, 1970-5. Photos: Henk Snoek
15. Castlepark Kinsale Context. Photo: Henk Snoek
16. Diamond Redfern Anderson, Castlepark Kinsale Layout
17. DRA Dunmanus Bay Sketch, 1975. Drawing: Lindsay Johnston
18. DRA Dunmanus Bay Design Model ,1975. Photo: Lindsay Johnston
19. Lindsay Johnston, Bray House, 1975. Photo: Lindsay Johnston
20. Lindsay Johnston, Kilcroney House, 1976. Photo: Henk Snoek
21. Lindsay Johnston, Johnston Killiney House, 1977. Photo: Lindsay Johnston
22. Lindsay Johnston, Roscath House, Co.Wicklow, 1978. Photo: Lindsay Johnston
23. Johnston, Lake Macquarie House, Australia, 1991. Photo: Lindsay Johnston
24. There is no 24
25 – 29. Eddie Oribin House, Cairns, Australia, c.1963. Photos: Lindsay Johnston
30 – 33. Eddie Oribin Studio, Cairns, Australia, c.1961. Photos: Lindsay Johnston
Glenn Murcutt at Murcutt-Lewin House, Mosman, Sydney:



photo © Anthony Browell
Glen Murcutt



photo : Wojtek Przywecki 2007
Glen Murcutt
Peter Stutchbury Architecture



photo : Michael Nicholson
Peter Stutchbury Architecture
Leplastrier and Stutchbury Lecture



photo : Michael Nicholson
Leplastrier and Stutchbury Lecture
Under The Edge : The Architecture of Peter Stutchbury



photo : Lindsay Johnston
The architecture of the Edge, architecture of the Asia Pacific Antipodes, may be a counter-proposition to the mainstream architecture of the developed world. In order to understand one's self, it is illuminating to attempt to understand the opposite, and it is for this reason that the architecture, particularly of Australia, the biggest land-mass in the Antipodes, now attracts international interest.
Book on Peter Stutchbury
European Irish Master Class, Glencree, Co Wicklow, Ireland



photo : Lindsay Johnston
with Leplastrier Stutchbury and Juhani Pallasmaa
2011
European Master Class
Glenn Murcutt Master Class 2011


photo : Lindsay Johnston
Glenn Murcutt Master Class
Location: Brooklyn, NSW 2083, Australia
Architecture Articles – Selection
Property Designs
Comments / photos for the Unsung Architects – James Paul, Denis Anderson, Eddie Oribinarticle page welcome
Unsung Heroes