Top 5 most expensive casinos ever built guide, Luxury gambling buildings, Betting, Wagering gaming play
5 Most Expensive Casinos Ever Built
20 May 2021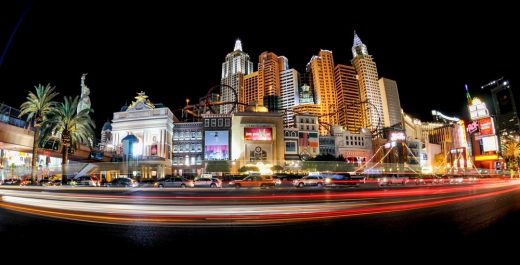 Las Vegas – home to some of the world's most expensive casinos (Image via Pexels.com)
Casinos are renowned for their luxury and opulence, with operators often sparing no expense when it comes to the design of their venues.
Destinations such as Las Vegas, Atlantic City, Monte Carlo and Macau boast some of the most extravagant casino resorts in the world.
At the top end of the scale the build costs can run into billions of dollars as architects come up with increasingly lavish design concepts. We look at five of the most expensive casinos ever built.
Some people have taken their preferences on online gambling over land-based casinos. They have found it more attractive due to the commodity, variety of games, bonuses or free demos like playing free slots.
Whether you love playing online or wagering like a high-roller, it is impossible not to be impressed by the architectural magnificence some land-based casinos have around the world.
CityCenter Las Vegas – United States
The project was the brainchild of Ehrenkrantz, Eckstut & Kuhn Architects, and has been estimated to have cost in the region of $9 billion to build.
Completed in 2009, the resort boasts more than 4,000 hotel rooms and 2,400 condominium and condo-hotel units, distributed within several high-rise towers around The Crystals.
CityCenter Las Vegas covers an eye-watering 18 million square feet of real estate, and is widely considered to be the most expensive private construction in US history.
Design elements include a two-story indoor pavilion that resembles a wicker basket, offering a contrast to other more angular features.
More than 45 different interior designers were used during the construction including Bentel and Bentel Architects, Karim Rashid and Adam Tihany.
Marina Bay Sands – Singapore
Marina Bay Sands is an integrated resort situates on Bayfront Avenue, Singapore, which was estimated to cost around $6 billion when it opened in 2010.
Designed by Moshe Safdie, the resort includes a convention-exhibition centre, a 2,561-room hotel, a shopping mall, a theatre and world-class restaurants.
There is also a museum, art-science exhibits, two floating crystal pavilions and the world's largest atrium casino with 1,600 slot machines and 500 gaming tables.
Marina Bay Sands incorporates three stunning towers topped by a connecting 340-metre-long SkyPark which includes a 150-metre infinity swimming pool.
There are plans to spend a further $3.3bn to develop a fourth tower at the resort, which will allow for a further 1,000 gaming machines to be installed.
The luxurious nature of Marina Bay Sands has sparked an increase in the number of international visitors to Singapore and the expansion is expected to drive further growth.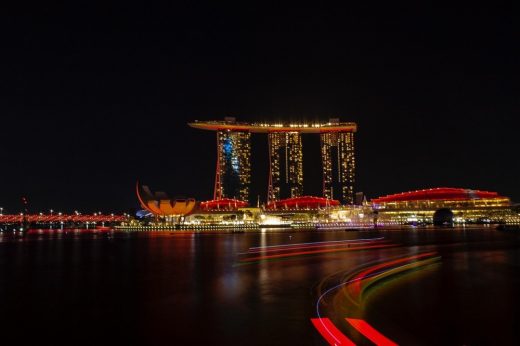 Head to Singapore for high-rolling poker action (Image via Pexels.com)
Resorts World Sentosa – Singapore
Resorts World Sentosa is an impressive resort located on the island of Sentosa, off the south eastern coast of Singapore.
The $5bn venue was designed primarily by New Classical architect Michael Graves, with the original plans including a casino, two theme parks, six hotels and a maritime museum.
There are also theatres, a conference centre, shopping and restaurants, making Resorts World Sentosa one of the most popular destinations in the region.
Graves expertly mixed open spaces and water routes to organise the site and create a plethora of outdoor experiences for visitors.
The casino covers three levels and 45 feet below sea level, allowing visitors to have one of the most unique gaming experiences in the world.
EFTE canopies and eco-coolers are used to keep people comfortable in the hot Singaporean climate, further adding to the sense of luxury at Resorts World Sentosa.
Resorts World – United States
Scheduled to open in 2021, the construction of Resorts World in Las Vegas has been beset by delays, redesigns, lawsuits and controversies.
The project features a design developed by two architects and nine interior design consulting firms, with the work being managed by Kara Siffermann.
She has previously directed major projects for Virgin Hotels, Wynn Design and Development and MGM Hospitality.
The 88-acre resort will include around 3,500 hotel rooms, a 117,000-square-foot casino, four nightlife concepts, meeting and events space and a spa.
There will also be a 5,000-seat concert and entertainment venue and a 5.5-acre outdoor complex that houses seven stunning swimming pools.
The $4.3bn project has taken time to come to fruition, but will undoubtedly be one of the most impressive casino destinations in the world.
Cosmopolitan – United States
Opened in 2010, the Cosmopolitan in Las Vegas consists of two stunning towers – Boulevard and Chelsea – which are both more than 600 feet tall.
The $3.9bn venue boasts a large casino, over 3,000 hotel rooms, retail units, top-class restaurants, fitness facilities, a theatre and exhibition space.
The Cosmopolitan's construction was led by Friedmutter Group as executive architect, with Arquitectonica serving as the design architect for the building's exterior.
Friedmutter also contributed to the interior design, along with Digital Kitchen, Prophet, Rockwell Group, Jeffrey Beers, Adam Tihany and Bentel & Bentel.
The Cosmopolitan is heaven for fans of slot machines, with the venue boasting around 1,300 different games with denominations ranging from $0.01 to $500.
With classic table games like blackjack, roulette, poker, craps and baccarat, the Cosmopolitan is well worth checking out on your next visit to Las Vegas.
Comments on this Top 5 Most Expensive Casinos Ever Built article are welcome
Las Vegas Buildings
Las Vegas Buildings
The Luxor Las Vegas: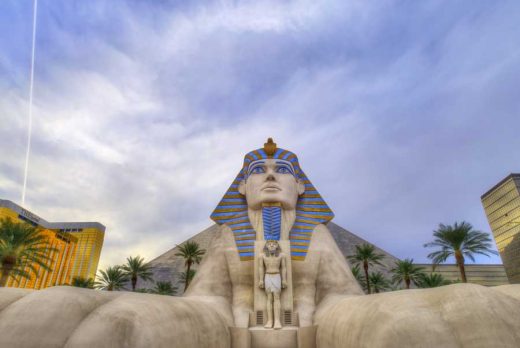 photo © Joe Lekas
Vdara Hotel Las Vegas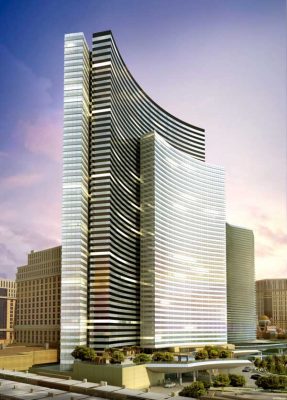 image : CityCenter Land, LLC
Casino Buildings
Casino Building Designs
5 tricks casinos use that make you spend more
Casino Architecture Design Guide
5 of most extraordinary casinos in world
Comments / photos for the Top 5 Most Expensive Casinos Ever Built page welcome