The Surface & Materials Show 2017, NEC Event, Architectural & Interiors Event, Images
The Surface & Materials Show 2017
International Festival of Creativity in West Midlands, England, UK
23 Oct 2017
An International Festival of Creativity
Surface & Materials Show at NEC Birmingham
This year's Surface & Materials Show celebrated all that is innovative, beautiful and high-performance in the industry, while also enjoying significant growth in visitors and a buzz of excitement for the future. Drawing in those keen to discover and explore 'the material world' – from a variety of professional disciplines – the show offered a multitude of valuable solutions and hosted several exciting UK launches.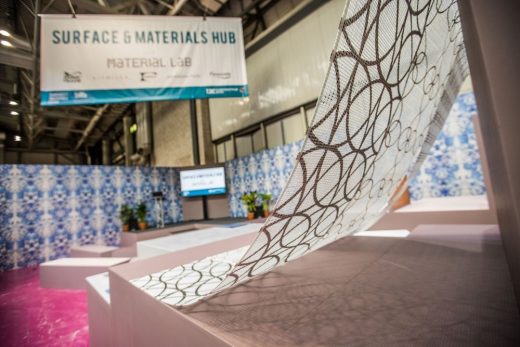 A flying start…
Choosing to make their UK debuts at the show were a number of international brands, including OODhouse from Estonia, an easy-build structure designed to add extra space with distinctive style, and the winners of best stand, AY YAPI from Turkey, who offer an advanced technique for ultra-glamorous metallic coating.
Andrea Tiik of OODhouse says: "The Surface & Materials Show was an amazing experience that went well beyond our expectations. We have now established distribution partnerships not only in the UK but also in Ireland, Austria, Australia, Scotland, Germany, Portugal and Iceland. We can't wait to see what lies ahead, this has been a dream kick-off for us!"
Emre Ipekli of AY YAPI adds, "This was the best show for us, being new to the UK Market. It was absolutely the right target audience for our innovations and for meeting high-profile professionals working on large scale projects. It was such a diverse audience, from all over the UK, plus from Romania, Spain, Switzerland, Bulgaria and Turkey. We took over 200 high quality leads and we look forward to exceeding that next year, when we exhibit again."
Bo Floor, creators of 100% recycled flooring, plus Lumentile, a multi-functional electronic illuminated tile developed by the Universita di Pavia in Italy, and Minercell, a new sustainable form of 'Bioboard' for cladding, also reported a great response from their first exposure to the UK market.
From established brands to emerging talent
Established UK brands such as Formica, part of the British Laminate Fabricators pavilion, H.G. Matthews ceramic design and Barham & Sons flooring were also impressed by the quality and range of interest in their products, from architects, developers and designers, and from as far afield as the Middle East, the Seychelles and Asia.
Meanwhile experts Material Lab, with the support of Dulux and Johnson Tiles, drew together a fascinating selection of designs from emerging talent, such as Kit Miles, Emma Jack, Flowcrete, I-Mesh and Pintark. Show newcomers Impact Solutions won InnovateUK funding for their new plastic composite shortly before the exhibition opened, making it the ideal platform to gain some well-deserved attention.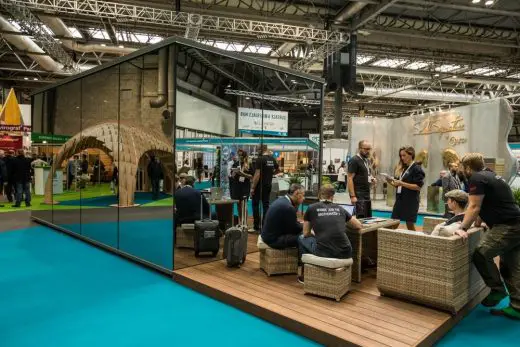 Knowledge sharing
Speakers in the seminar theatre also attracted keen interest, discussing a variety of themes. There was a full house for the colour trends investigation by Marianne Shillingford of Dulux and an eager response to learning more about the 'wonder material' from the Cambridge Graphene Centre, while representatives from Grimshaw, Envelope and Rachel Bevan architects, together with a number of experts in their respective fields, explored the future of materials in design… from technologies enabling sculptural creativity to enhancing sustainability, and from wellness in the workplace to the circular economy.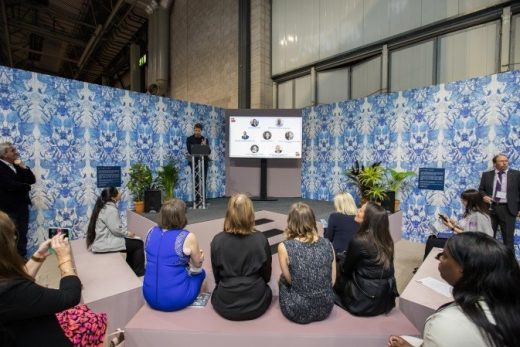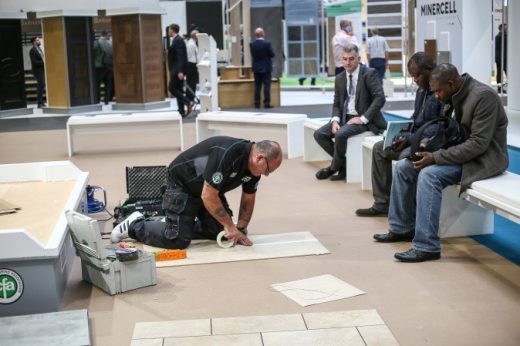 Improving skills was also central to the show's agenda, and was the heart of the Finishes & Interiors Sector's presence at the show, where the organisation offered their Fit Out Futures presentation and George Clarke handed out awards for their #IBUILTTHIS campaign. The Flooring Industry Training Association's programme of live demonstrations was also a popular place to pick up new tips and improve techniques.
The Surface & Materials Show is one of nine specialist exhibitions within UK Construction Week, a vibrant industry gathering that takes place at the NEC every October. Overall the 2017 edition saw an 11% growth in visitors, with over 40% of exhibitors immediately rebooking stands for next year, including Fibo, Fundermax, Autokitchen and the Decorative Panels Group. The three dedicated CDP hubs at UKCW, which focused on a schedule of building safety, also enjoyed packed audiences and a highly appreciative response.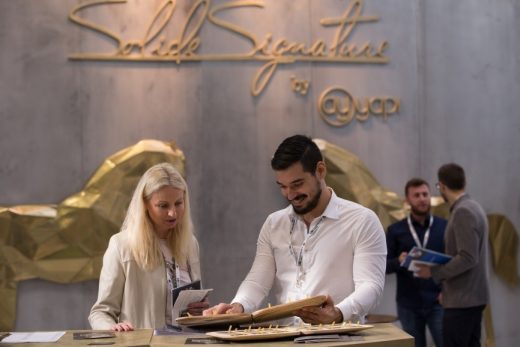 Next year's show is already starting to take shape, with significant interest from a wide cross-section of the architecture, design and developer worlds. It will take place at the NEC, Birmingham from the 9th to the 11th October, 2018.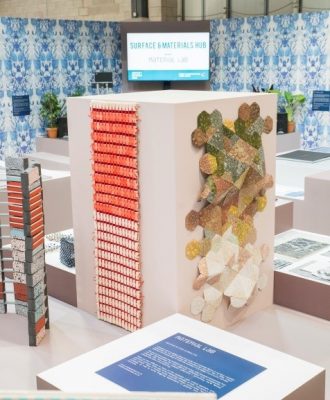 Keep in Touch:
www.surfaceandmaterialsshow.co.uk
Instagram: @smshowUK #SMShow
Surface & Materials Show 2017 information received 231017
Address: Perimeter Road, Birmingham B40 1NT, UK
Phone: 0121 780 4141
Architecture Articles – Selection
Real Synthetic Architecture : article by Brian Carter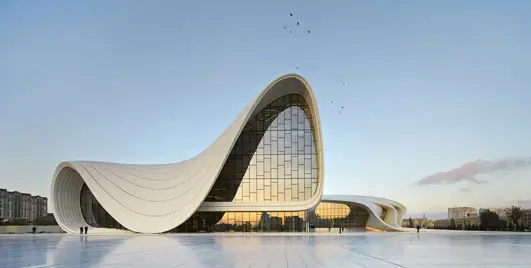 photograph : Hufton + Crow
Architectural Narrative : article by Trevor Tucker
Old World / New World Architecture : article by Brian Carter
The Surface & Materials Show Programme 2016
Sustainable Building Design : article by Trevor Tucker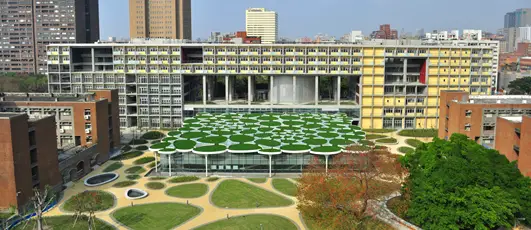 photograph courtesy of Toyo Ito & Associates
Surface Design Awards
Surface Design Show 2017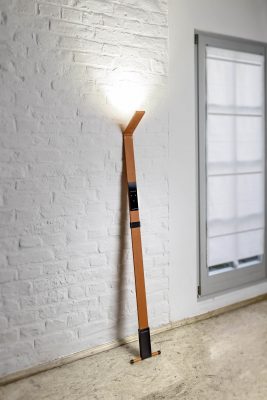 Surface Design Show 2017 UK
Website: Surface Design Show
Comments / photos for the Surface & Materials Show NEC Birmingham Article page welcome
Website: NEC Group