The Shed London Affordable Living, Micro Urban Homes, Small Flat Design Concept
The Shed: Sustainable Affordable Living in City Centres
Sustainable Urban Housing Modular Solution, Architecture Design – Architectural Article: design by Studio Bark
7 Jul 2017
Sustainable Affordable Living in City Centres
Studio Bark's Modular Solution to Urban Housing Shortage
A team of London designers and a guardian living scheme have developed a design concept to re-assess how vacant space can provide a sustainable approach to affordable living in city centres.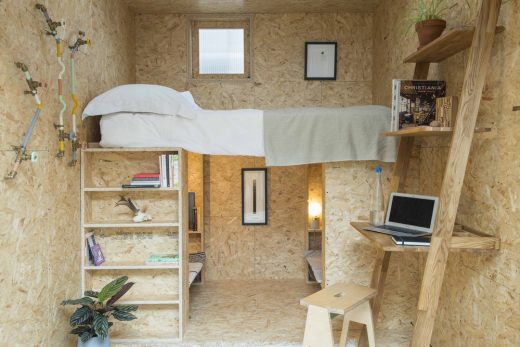 A pod made of Smartply (formaldehyde free OSB), lamb's wool insulation, and recycled polycarbonate can be constructed in a single day to provide secure and sustainable accommodation in otherwise abandoned properties.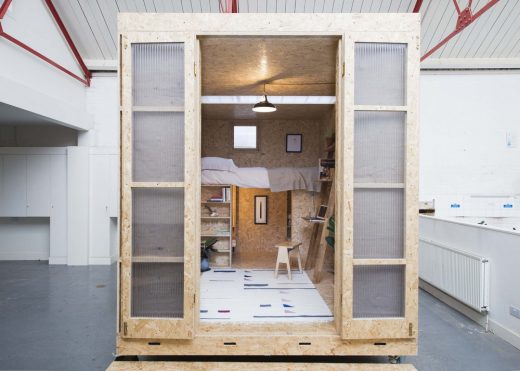 Studio Bark and Lowe Guardians, a progressive guardian scheme, teamed up to develop the solution to provide quality, affordable accommodation for London's young professionals, key workers and creatives.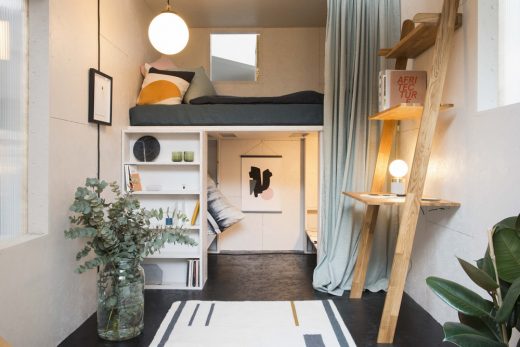 Tim Lowe CEO of Lowe Guardians, said: "We currently occupy many forms of vacant space; from offices, warehouses and pubs and police stations on a short term basis. Every site we occupy, we fit the spaces out to a habitable standard.
"On every site, we create a considerable amount of waste; both financially and environmentally. We were looking for a solution which allowed us to much more creative with the space, and take everything with us when we went onto the next site.
"With the number of abandoned buildings in London and elsewhere across the UK, we believe that our Shed concept could provide a safe, sustainable alternative for workers seeking short-term accommodation."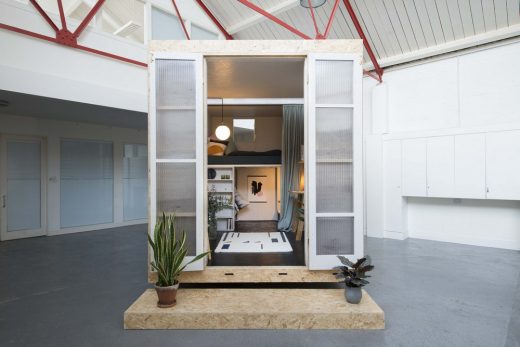 Studio Bark's primary aim was to create an alternative housing solution which addressed the amount of waste created by traditional temporary schemes. Simplifying the construction process formed a key driver in developing a suitable solution, giving the occupants more control and helping strengthen temporary living communities.
The SHED is constructed from affordable, low- impact materials in the form of 'U-Build' Modules, a system designed and developed by Studio Bark. A mixture of Smartply (formaldehyde free OSB), lamb's wool insulation, and recycled polycarbonate, all made in the UK, form the insulated envelope of the SHED.
The OSB is CNC cut for accuracy and minimal wastage; it is then assembled on site using just a mallet and drill to form modular building blocks. The modules are then connected to each other using bolts set out on a regular grid. This method of connecting the boxes means that they can be easily dismantled and reassembled in a new location without the need to throw anything away.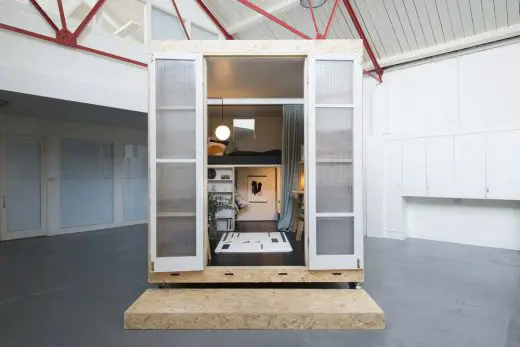 The SHED is 7.5m2 and contains a raised double bed with storage beneath and room for a work space. It takes one day to construct and can be easily adapted to accommodate different requirements. Due to the simple nature of the assembly, the intention is for each occupant to build their own SHED, taking ownership of their living quarters whilst creating the potential to develop a new community of SHED builders and dwellers.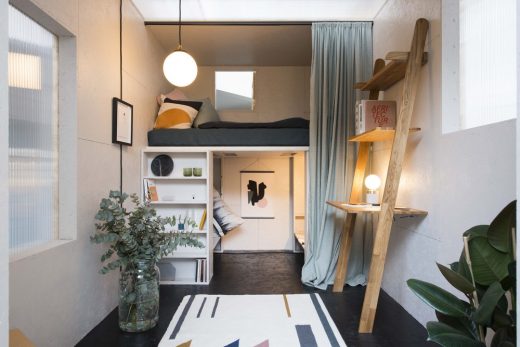 The interior of each pod offers a blank canvas to those occupying it. Anna Glover took charge of the interior fit out of the test SHED demonstrating how customisation and personalisation can enrich the inhabitants experience.
"The focus on community is a key part of making these schemes work," explained Tim Lowe. "Although our primary focus is on housing property guardians, we believe there are multiple areas this can be used in: from providing affordable workspace, helping alleviate homelessness and other solutions to the refugee crisis."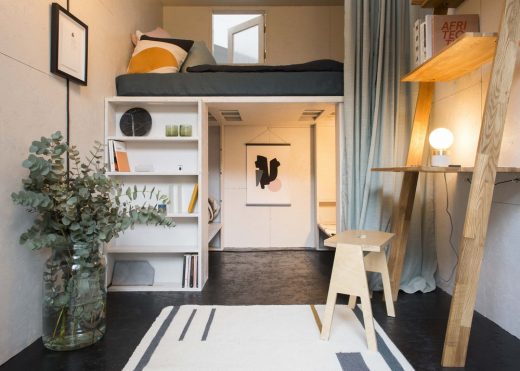 "Before meeting Tim, we had been developing our modular 'U-Build' system for some time, yet specifically for the self-build housing market. The SHED project presented us with the opportunity to explore new options of temporary housing and shelter.
We were hugely excited by Lowe Guardian's environmental ethos and were keen to develop a pod that could be easily reused and re-appropriated, helping to minimize building waste to landfill. The SHED project provides the opportunity to put a stop to substandard and wasteful temporary development in London and across the UK."
Wilf Meynell, Director, Studio Bark
About Studio Bark: Studio Bark is a London based pioneering architectural practice that delivers inspiring, yet cost conscious environmental architecture with a hands on approach to research, design and fabrication.
studiobark.co.uk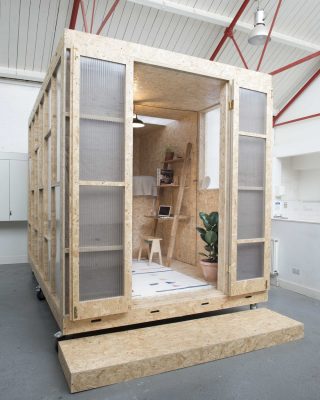 About Lowe Guardians: Lowe Guardians provides property owners with a professional, efficient and low-cost solution to the problems created by leaving a building vacant and at the same time, providing quality affordable accommodation for.
loweguardians.com
About Anna Glover: Anna Glover set up the design studio in 2014 and has since won both an Elle Decoration British Design Award 2015 & the House Beautiful Editor's award 2016.
The studio's distinctive aesthetic has evolved from Glover's background in artworks for high end fashion and trend forecasting. This unique angle has resulted in a refreshing approach to the specialist interiors areas of bespoke wallpaper, textiles and colour consultancy.
annaglover.co.uk
Residential Property Articles
Architectural Articles
Orthogonal Architecture by Richard Weston
Modernist Architecture by François Lévy
Comments / photos for the The Shed: Sustainable Affordable Living in City Centres – Small Flat Design in London article page welcome