The Evolution of Casino Architectural Design, Gaming Resort Buildings Style, Gambling Tips
The Evolution of Casino Architecture Design
23 Feb 2021
The architecture combines the natural and built environment to create space. But design isn't limited to square feet. Time also influences architecture design. The construction has evolved in terms of aesthetics and functionality. Casinos have not been left out of these design changes. Although platforms like Mr bet allow you to gamble online, physical casinos still exist. With the ongoing COVID-19 pandemic, design changes are necessary for casinos, seeing they enhance employee and customer safety. Expect the following casino architectural trends going forward.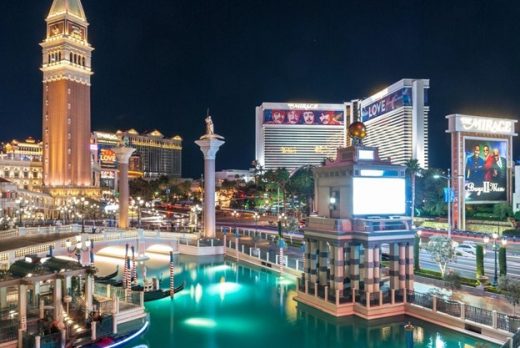 Image source: www.pexels.com
Time & Space Architectural Design Trends for Casino
Safety
It's not uncommon for tragic incidents like fires and intrusions to occur in casinos. The result is a loss of lives and property. Cheating and scams also slash the casino's income, hence, the need for advanced safety measures in the casino design. To regulate guest numbers, casinos are introducing one entry point with tight security and secondary access points. Employees also follow particular routes to and from their posts to avoid loitering in the gambling section. This is in addition to emergency exits in the design to allow safe evacuation in the event of disasters like fires.
Not forgetting surveillance cameras to prevent theft, fights and monitor large crowds and suspicious players. Although they're expected at entrances, gaming floors, and bars, installing cameras in toilets violates privacy. COVID-19 has also influenced gaming establishments' design. For example, casinos have placed non-contact thermometers at entrances to monitor gamers' temperatures before admission. Another advancement is disinfecting gambling stations with robotic systems. Don't be surprised to see hands-free gadgets on restroom doors to minimize touching. Ventilation is also a crucial design component post-pandemic.
That includes fitting modern HVAC systems that supply fresh air while eliminating smoke and odor. Similarly, casinos have increased HVAC maintenance frequency, for example, cleaning air filters. Architects are also designing casinos with open, well-lit spaces to make gamers more relaxed. By doing so, players feel comfortable placing higher bets since they're confident of winning. This is unlike previous designs that are dark to dissociate you from the outside world.
Interior Design
The interior design of the casino project influences customer behavior. For starters, attractive interior design creates a great first impression, increasing gamers' trust in the casino. An elegant design also increases players' productivity and creativity. Moreover, employees are comfortable at work, making them efficient and happy to market the casino.
Several components come into play when improving the casino's atmosphere. The first one is the theme. Gambling establishment will create a unifying atmosphere that communicates time, space, and place to the player's mind. New designs will also focus on color. Although designers previously combined several sharp colors, single shades will feature in most casino concepts to satisfy the design's aesthetic and psychological aspect. But color isn't limited to the paint job.
Casinos are also incorporating graphics into their interior design. Slot machines have pleasing imagery to relax players and improve the gaming experience. This goes hand in hand with music that enhances the establishment's ambiance, encouraging guests to play more. Though the music shouldn't be too loud, the volume shouldn't be too low either. The sound should be audible to guests on the gaming floor. Low-tempo music increases gamblers' resilience when placing bets. Conversely, upbeat music makes gamers more aggressive.
When it comes to smell, guests prefer scents to odorless spaces.  For starters, scents create positive first impressions, triggering familiar memories to extend a gamer's visit. Scents also neutralize odors like cigarette smoke that irritates some guests. Furthermore, some smells energize players, making them alert during the game. They also improve work environments by motivating employees. Additionally, smells appeal to gamblers' emotions, reminding them of the thrill from past casino visits. In the future, casinos will not only scent gaming floors but also restrooms and parking lots.
Space
Traditionally, casinos maintained a labyrinthine design to disorient and keep you gambling. This is according to Bill Friedman's 13 design principles. Similarly, the design featured small winding passages lined with gaming opportunities to entice you into playing. Friedman also recommended small rooms and low ceilings to increase player intimacy during games. Again, segregated spaces encourage player exploration since you experience different styles without switching casinos. Another suggestion was placing gaming stations immediately after entrances to influence playing right away.
Friedman discouraged clocks to hide the passage of time. But the rules have since changed thanks to designer Roger Thomas. Unlike Friedman, who believed décor stole gamers' attention, Thomas recommended European-style furnishings and flowing fabrics in the interior design to create a relaxed mood. Casinos are adopting high ceilings in their design to create open, pleasant spaces. Players are more likely to stay longer and place riskier bets when they're comfortable. Cigarette smoke is also less noticeable with high ceilings. Furthermore, coronavirus will impact future casino architectural design trends.
For instance, establishments must designate spots away from gaming floors to eat and smoke while maintaining social distance. Instead of clustering patrons into small spaces, casinos will limit players at a table and design barriers. Staff isn't exempted from these measures. While some employees can work from home, those at the casino should maintain social distancing and disinfect their stations.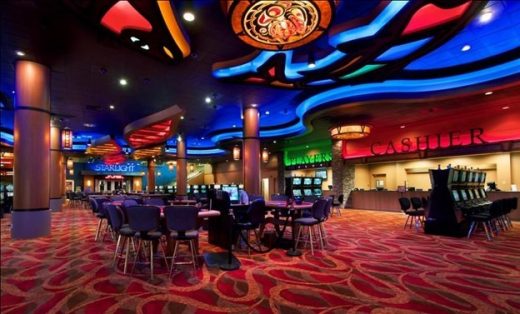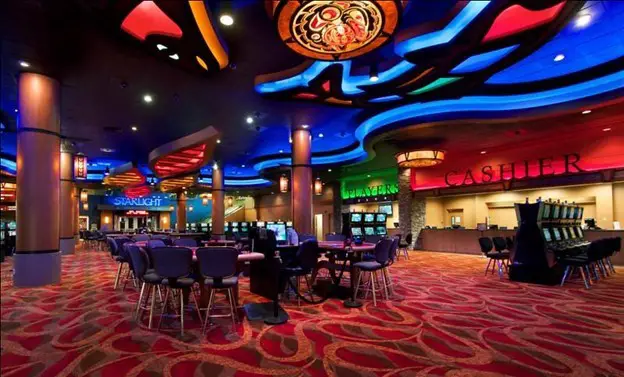 Image source: https://flickr.com/photos/i5design/
Client Convenience
Gambling establishments are creating customer-friendly venues to increase loyalty. For instance, they're incorporating secondary entrances in their design for a welcoming atmosphere. With premium gaming establishments occupying several floors, escalators will be a common casino design feature. Casinos will also include restaurants, shops, and membership counters in their design to extend guests' stay.
This way, gamers don't leave the building in search of refreshments. What's more, restrooms will be easier to find to guarantee patrons' comfort. This is in addition to high-end salons and VIP rooms in the design for extra luxury. The increased non-gaming activities are meant to attract more people and increase casino profits.
The Evolution of Casino Architectural Design Conclusion
The perfect design is yet to be created, seeing casino architecture is continually evolving. However, future design projects are likely to appeal to gamers' desire to become rich. As such, expect more elegant designs that inspire lavish lifestyles.
Online platforms may increase in popularity, but they won't replace physical casinos. Gamers still desire to be in a community and the intense casino atmosphere. What are your casino design predictions? Let us know in the comments.
About The Author:
Thomas Glare has more than ten years of combined experience in content, editing, and copywriting. He's also participated in hackathons, mentored startups, and has served with digital agencies (with clients such as Disney) and as the Marketing Manager for a B2B software company.
Comments on this The Evolution of Casino Architectural Design article are welcome
Casino Buildings
Casino Building Designs
Casino Architecture Design Guide
5 of most extraordinary casinos in world
10 reasons online casinos are better than traditional ones
Comments / photos for the The Evolution of Casino Architectural Design page welcome