The Case for Brutalist Architecture Advice, Robarts Library University of Toronto Guide, Ontario Campus
The Case for Brutalist Architecture
17 Apr 2020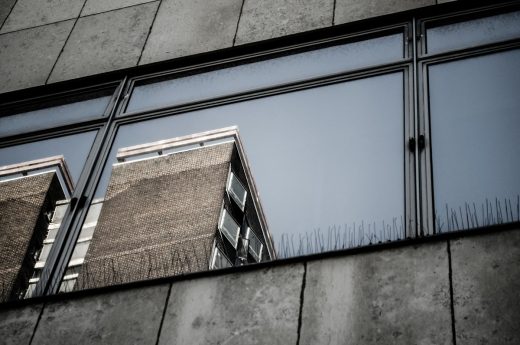 Robarts Library – a monstrous, multi-faceted complex with the footprint of an equilateral triangle in heart of the University of Toronto's downtown campus. It houses the university's main humanities and social sciences library. And depending on who you ask, has been an iconic architectural monument, or the biggest ugliest eyesore of the Toronto landscape for over 40 years. You may have seen monstrous buildings like this one yourself.
These geometric fortress like buildings – usually made of rugged, unfinished concrete – rose up all around the world during the mid 20th century. Originating in Western Europe, it quickly also spread to many cities in Eastern Europe, North America, and reaching as far as Brazil, Israel, Japan and Australia. These types of buildings have since been collectively defined by architectural critics and writers as "Brutalism." The article is provided by Casinoslots: no deposit casino bonus guide.
Brutalism
The term "Brutalism" was popularized by British architectural critics of the 1950s. While it's obvious to English speakers that the term was derived from the word "brutal" meaning crude and and harsh. It actually also originates from the French words "Beton Brut" meaning "Raw Concrete". Of course not all concrete buildings are brutalist. And in fact not all brutalist buildings are necessarily made of concrete.
But a defining principal of Brutalism is an overt focus on material itself and attention to the sculptural form. But Brutalism is not just aesthetics, it's also a philosophy. In the mid-20th century it became associated with the "anti-bourgeois" and "socially progressive." And supporters of brutalist architecture saw them as bold monuments of egalitarianism and democracy.
During the postwar decades of the 1950s and 60s, there was a strong reaction among many designers, architects and the general public against both the overly ornamental styles of Beaux Art architecture, as well as the rigid, "glass-box" forms of the International Style. Many associated "shiny glass towers" with the wealthy, privileged elite. And to many progressive thinkers – Brutalism was the more honest, unpretentious and egalitarian approach to architecture.
For the most part, Brutalism was a favoured style of public or institutional buildings such as government facilities, libraries, universities, museums, and social housing. Concrete is a product that is relatively inexpensive, plentiful and accessible. The heavy and enclosed building envelope with limited glazing made it easier for climate control, thus making it economically sensible and practical for institutional use, which in turn also symbolized a degree of modesty and public accountability. Brutalists placed heavy emphasis on the exposure of structural materials and celebrated the internal functional use of the building.
A famous American Brutalist building – Boston City Hall, MA, USA: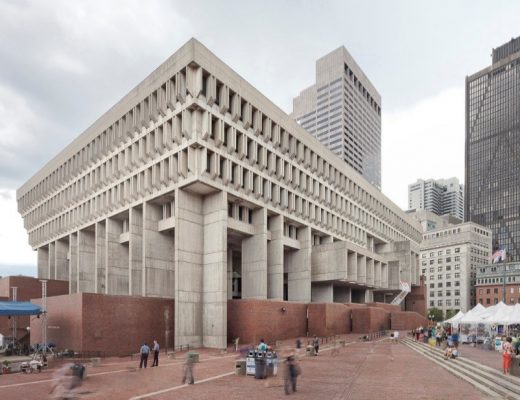 photo © Naquib Hossain/Dotproduct Photography
Brutalist Buildings
Brutalist architecture also often aimed to connect with a building's local context. The Kyoto International Conference centre, situated on the beautiful shores of Lake Takaragaike – utilized a triangular base to compliment the forms of the surrounding mountains, while its inverted triangle is inspired by the shape of a traditional Japanese Pagoda.
Whether Brutalist structures today still embody the once promising utopian dream of social progressivism is debatable, and perhaps entirely dismissible. In popular culture, especially film, Brutalist buildings have been used extensively in futuristic, dystopic films such as A Clockwork Orange, and Bladerunner. Toronto's Robart's Library was actually used for exterior shots of the zombie film Resident Evil: Afterlife, while the University of Toronto's Scarborough Campus Meeting Place was used for Interior Shots of the Prison scenes.
In a way, Brutalism has become synonymous with dystopian films – similar to how Gothic is synonymous with horror films. But just like how many Gothic buildings can be breathtakingly beautiful despite being associated with the horror genre. Many brutalist buildings have become iconic for being associated with the dystopian genre. Over the years, many once abhorred Brutalist buildings have evolved into deeply treasured and loved landmarks by its citizens.
Today – the legacy of Brutalist architecture is complicated but its ideas and have lived on in the works of many contemporary designers and artists. There's a growing appreciation for Brutalist works, but unfortunately there is also a growing risk of Brutalist buildings being demolished. Many already have been. And maybe you think they're ugly and should be demolished. But some of us grew up surrounded by its towering walls and it has since taken on a historic and personal importance for us. And maybe if you look a little more closely – you may begin to appreciate the artistic beauty in its rugged, monumental sculptural form.
Comments on this guide to The Case for Brutalist Architecture article are welcome.
Brutalist Architecture
Brutalist Architecture
Brutalist Buildings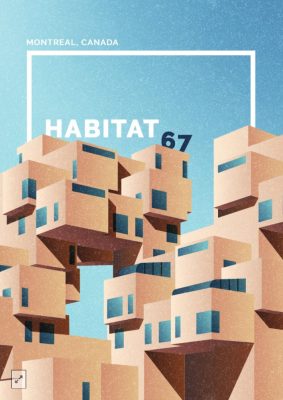 image courtesy of article provider
Brutalist Buildings
Brutalist Architecture in London – New Photos


photos © Andy Spain Photographer
Brutalist Architecture in London
World's Most Popular Brutalist Buildings
Building
Architecture Designs Articles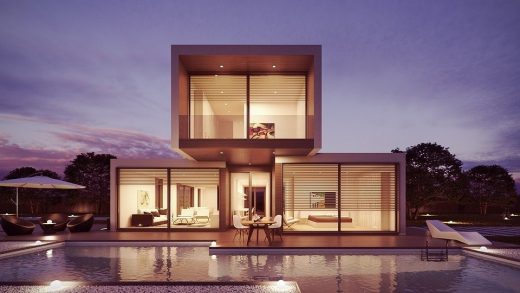 image courtesy of article provider
Comments / photos for the The Case for Brutalist Architecture Advice page welcome